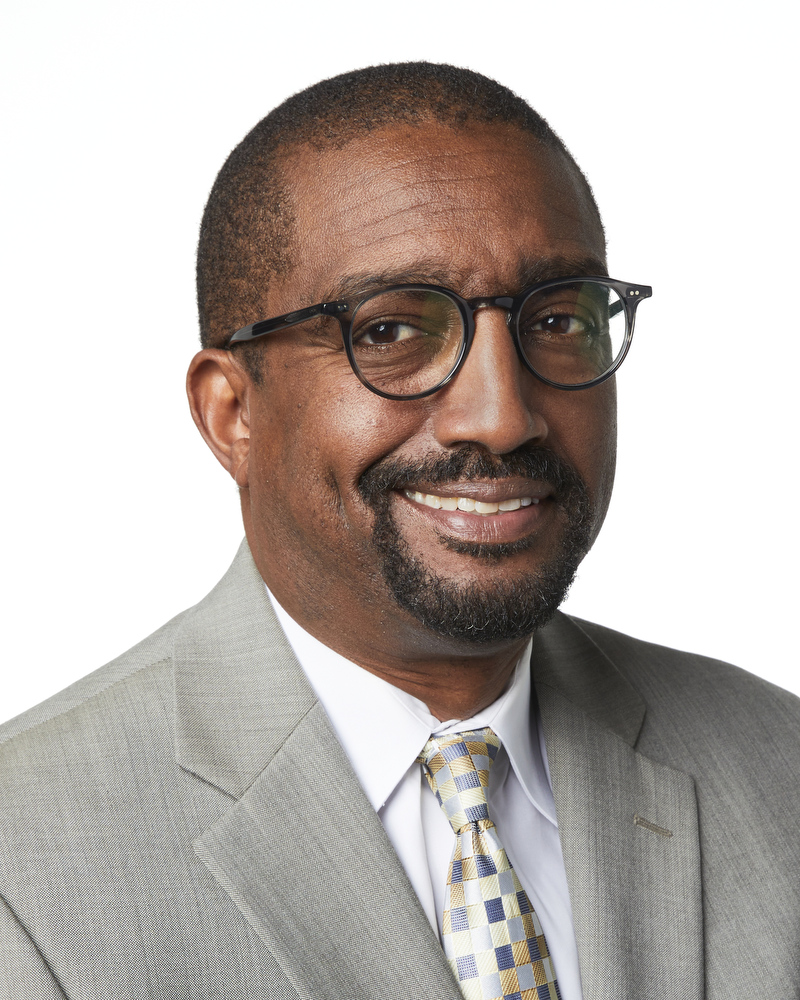 André Anderson is first vice president and chief operating officer of the Federal Reserve Bank of Atlanta, a position he assumed in July 2018. He oversees the day-to-day operations of the Atlanta Fed, including all operating and support activities at the corporate headquarters in Atlanta and at the branch offices in Birmingham, Jacksonville, Miami, Nashville, and New Orleans. He is also vice chair of the Bank's executive leadership committee; a member of the Discount Committee, which reviews district discount window lending; and backup to the Atlanta Fed president in the execution of his monetary policy responsibilities.
Anderson is a member of the Conference of First Vice Presidents and is involved in various projects and initiatives to enhance the efficiency and effectiveness of the Federal Reserve's System-wide operations.
After working as an assistant national bank examiner for the Office of the Comptroller of Currency, Anderson began his career at the Atlanta Fed in 1984 at the Birmingham Branch as a management intern in the data processing department. He was promoted to assistant vice president in January 1993 and assistant branch manager in May 1995. As assistant vice president, he was directly responsible for the Personnel and Payment Services Departments. He also had responsibilities in data processing, check collection, personnel, automation support, and business development. He was promoted to vice president and branch manager in 1997 and led the relocation of all branch operations to a new branch facility. In January 2002, he transferred to the Atlanta office, becoming vice president over community affairs in the Supervision and Regulation (now Supervision, Regulation, and Credit) Division. He later assumed responsibility for consumer affairs and for the division's quality assurance program for all supervision, then became senior officer responsible for bank applications, staff professional development, and division administration. In January 2007, he assumed responsibility for all district community bank supervision. In January 2010, he was promoted to senior vice president and member of the Executive Leadership Committee, responsible for the Corporate Engagement Division.
Anderson has served in numerous other leadership roles during his Fed career, both in the Sixth District and at the Federal Reserve System level. Locally, he has been a member of the district's subcommittees on automation, information security, and personnel and has chaired the district's subcommittee on check collection. He also served as the Sixth District's product director for Protection Services (what is now our Law Enforcement Department). At the System level, he has or is serving on groups such as the Savings Bonds Task Force, Securities Services Advisory Group, Community Banking Organization Management Group, Staff Development Subcommittee, Information Security Council, and Business Technology Council. He is currently serving as chair of the Committee on Plan Administration. He is former chair for the System's Subcommittee on Human Resources. In August 2014, he completed an 11-month interchange assignment with the Board of Governors, where he served as deputy director of the Reserve Bank Operations and Payment Systems Division.
Outside the Bank, Anderson sits on the boards of directors of the Atlanta Police Foundation, the Midtown Alliance, and Leadership Atlanta.
A native of Mobile, Alabama, Anderson holds a bachelor's degree in corporate finance from the University of Alabama. He also completed the executive development program at Cornell University.
Updated April 2023