Chapelle Davis, Senior Vice President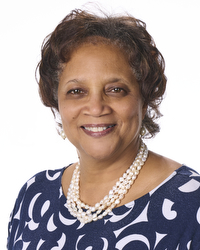 Chapelle Dabney Davis is senior vice president, chief diversity officer, and director of the Bank's Office of Diversity, Equity, and Inclusion. In this role, Davis leads the Atlanta Fed's diversity and inclusion efforts and is the architect of and champion for diversity and inclusion strategies. She is also a member of the Atlanta Fed's executive leadership committee.
Davis joined the Bank in 1980 as an assistant examiner trainee and was promoted to examiner in 1984. In 1991, she was promoted to assistant vice president with responsibility for a variety of areas across the Bank's Supervision and Regulation (now Supervision, Regulation, and Credit) Division. Her roles have included overseeing bank and bank holding company merger applications and enforcement functions, the division's staff and fiscal management function, staff professional development, and crisis communications planning and implementation. She has also had responsibility for information technology examinations, operations risk examinations, and commercial bank and bank holding company examinations.
Davis served as a charter member of the District Diversity Steering Group and the Bank's Executive Council on Diversity and Inclusion. She previously served as chair of the Bank's Diversity Advisory Council and as an executive sponsor for the Women Inspiring Success and Empowerment, or WISE, employee resource network.
A native of Sandersville, Georgia, Davis earned a business administration degree at Emory University, with a major in accounting. She has been a certified public accountant in the state of Georgia and completed the executive development program at the Kellogg Graduate School of Management at Northwestern University. Davis previously served on the board of directors for the Arthur M. Blank Family YMCA.