Mary Kepler, Senior Vice President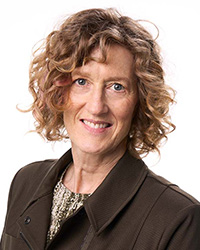 Mary McGuire Kepler is senior vice president and chief risk and compliance officer at the Federal Reserve Bank of Atlanta. She leads the compliance and enterprise risk identification and management efforts and is a member of the executive leadership committee. She also directs the Atlanta Fed's Retail Payments Risk Forum, which collaborates with financial institutions and other industry participants, including regulators and law enforcement, to identify, understand, and mitigate risks in retail payments.
Kepler joined the Atlanta Fed's Supervision and Regulation (now Supervision, Regulation, and Credit) Division in 1992 after spending nearly eight years at the Kansas City Fed. In 1998, she was promoted to assistant vice president in the Information Technology Department and in 2002 was named vice president. Kepler later joined the Retail Payments Office, where she managed the Federal Reserve System's retail payments services to the US Treasury Department and oversaw the Retail Payments Office's initiatives on intellectual property rights. In 2005, she became the senior officer over human resources. There, she chaired the Bank's human resources committee and was an adviser to the executive leadership committee. In 2006, Kepler took on new responsibilities in the Financial Management and Planning Department, where she oversaw the accounting, budgeting, procurement, strategic planning, and enterprise risk management functions. She assumed her current responsibilities in 2012.
Outside the Bank, Kepler is a member of the board of directors of Access to Capital for Entrepreneurs, a Georgia-based community development financial institution.
A native of Missouri, Kepler received a bachelor of business administration with a concentration in finance from the University of Central Missouri. She has also completed the executive development program at Northwestern University.