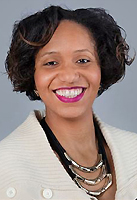 Clair Minson
Founder and Principal Consultant, Sandra Grace LLC
Biography

Clair Minson is an experienced nonprofit professional with a decade of experience in workforce development and mental health counseling. Since 2017, Minson has focused on the intersection of racial equity and workforce development, examining the manifestations of systemic and institutional racism in workforce policies, practices, and cultural messaging. She is a nationally sought-after speaker, trainer, and workshop facilitator.

Minson is the founder and principal consultant at Sandra Grace LLC, a change management firm that provides training, consulting, and thought partnership to nonprofit, for-profit, and public organizations seeking to embed racial equity practices in their organizational, operational, and programmatic activities. In this role, she leads racial equity work with organizations and cross-sector collaborations in various communities around the country.

Her professional highlights include the development of a sector-based training program for the maritime, transportation, distribution, and logistics (TDL) industry; creation of an Industry Advisory Council comprised of employers from across the TDL industry in Maryland; development of the "10 Essential Questions for Workforce Development," the application of a racial equity lens for workforce development programming; development of the "10 Essential Questions for Employers, Business Owners, HR Professionals, and Hiring Managers"; and other workforce development initiatives focusing on documenting and operationalizing racial equity. She has a bachelor's degree in psychology from Clark Atlanta University, a master's in community counseling from Argosy University, and is currently pursuing a master's of divinity at Lutheran Theological Southern Seminary. She is a nationally certified counselor and a licensed clinical professional counselor in Maryland.