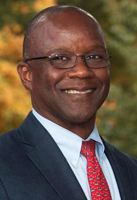 William M. Rodgers III
Professor and Chief Economist, Heldrich Center for Workforce Development
Biography

William M. Rodgers III is a professor and chief economist at the Heldrich Center for Workforce Development at Rutgers, the State University of New Jersey. In spring 2006, he joined the graduate faculty at Rutgers' School of Management and Labor Relations. He is also a senior research affiliate of the National Poverty Center at the University of Michigan. Previously, he served as chief economist at the U.S. Department of Labor. Rodgers was also the Frances L. and Edwin L. Cummings Professor of Economics at the College of William and Mary.

His research examines issues in labor economics and the economics of social problems. Recently, he and coauthor Richard Freeman of Harvard University published a series of articles titled "Jobless Recovery: Whatever Happened to the Great American Jobs Machine?" Rodgers has also published articles in the Journal of Policy Analysis and Management, the Journal of Post Keynesian Economics, the Review of Black Political Economy, and Family Economics and Nutrition Review.

Rodgers is a past president of the National Economic Association and a former cochair of the Programs and Planning Committee of the United Way of Greater Williamsburg. He is a member of the American Economic Association's Committee on the Status of Minorities in the Economics Profession and runs the association's mentoring program. He is a member of the National Urban League Institute for Opportunity and Equality Advisory Board and was appointed to its Council of Economic Advisers in spring 2007. He has served on the Congressional Black Caucus Foundation's Council of Academic Advisers and the Economic Policy Institute's Research Advisory Board, and he serves on the board of the University of Kentucky Center for Poverty Research.