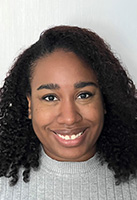 Tiffani Williams
Senior Adviser
tiffani.williams@atl.frb.org
Areas of Expertise:
research, policy, and practice
Biography

Tiffani Williams is a senior adviser for community and economic development within the Atlanta Fed's Center for Workforce and Economic Opportunity. Leveraging expertise in research, policy, and practice, her work focuses on creating more robust pathways to economic mobility within our education and workforce systems. Williams brings over a decade of experience as a leader at impact-driven organizations including, most recently, Education Strategy Group (ESG), a national consulting firm, where she offered technical assistance for organizations–government agencies, philanthropies, and higher education institutions–looking to increase opportunities for learners to access and complete meaningful credentials. After starting her career as a counselor on a college campus, Williams went on to work for academic affairs at the University System of Maryland, providing guidance to local educators, practitioners, and other stakeholders on improving pathways to college and career. She also conducted evaluations and impact studies to address equity, affordability, and basic needs in higher education as a senior researcher at Temple University. She holds a PhD from New York University and a master's degree from the University of Maryland–College Park, both in higher education.

Publications

Podcast Episodes

Tiffani Williams (interviewer) with Connor Diemand-Yauman, Michael Grossman, and Rebecca Taber Staehelin. "How Merit America Uses Google Career Certificates Training to Create a More Equitable, Inclusive Job Market." February 28, 2023.

Tiffani Williams (interviewer) with Troy Blackwood, Jake Edwards, and Hector Mujica. "How Google Drives Economic Mobility with an Innovative Investment Fund." February 28, 2023.

Tiffani Williams (interviewer) with Sarah Keh, Jake Segal, and David Socolow. "New Jersey Pay It Forward Program Prepares Students for Good-Paying Jobs." February 28, 2023.