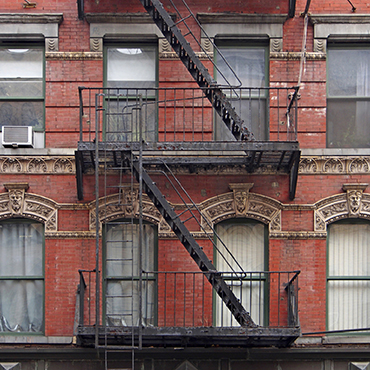 It's no secret that quality housing is increasingly out of reach for low- and moderate-income households in the United States. For policymakers and researchers, the issue can be seen as an abstraction. We discuss housing prices, average ratios of rent-to-income, and "demographic change." Often, it's easy to ignore the human stories hidden in the numbers.
But a recent event in Atlanta brought some of those stories out of the shadows.
On March 10, the Federal Reserve Bank of Atlanta, Georgia Advancing Communities Together, and the Georgia Tech School of City and Regional Planning hosted a reception for Matthew Desmond, author of Evicted: Poverty and Profit in the American City. During the reception, Desmond outlined the book's findings in a presentation that was equal parts policy and passion. He was joined in his remarks by Professor Dan Immergluck of Georgia Tech, a housing policy expert and a visiting scholar with the Atlanta Fed's Community and Economic Development group. Together, they painted a picture of a badly broken system, and what might be done to fix it.
Evicted has been hailed by reviewers as both a brilliant study and a heartbreaking portrayal of urban poverty. In its pages, Desmond describes the plight of evicted tenants in Milwaukee, combining personal stories with piercing data analysis. Desmond, the John L. Loeb Associate Professor of the Social Sciences at Harvard and a 2015 MacArthur Fellow, gathered research for the book by living in Milwaukee's poorest neighborhoods and forming relationships with local residents. Some reviewers have compared Evicted to paradigm-shifting works such as Jacob Riis's How the Other Half Lives, Rachel Carson's Silent Spring, and Upton Sinclair's The Jungle.
Throughout his presentation, Desmond focused on the story of Arlene, a single mother of two young boys in Milwaukee. Forced to spend 88 percent of her income on rent, Arlene and her family are constantly on the move from one home to another. In one case, Arlene was evicted after her rental home was condemned for code violations. In another particularly devastating turn of events, Arlene's family was forced onto the street on a brutal winter day with a negative-40-degree wind chill. As tragic as it seems, Arlene's story is not unusual. In Milwaukee, 16,000 people are evicted every year—a rate of 40 per day. According to Desmond, rates of eviction are highest among people like Arlene: poor African-American women with children.
While eviction is often seen as a simple result of poverty, Desmond says it can also be a cause of poverty. One eviction can make it impossible to be accepted by another landlord. The cumulative stress of eviction, instability, and homelessness can cause depression, making it difficult to maintain employment. After all, a home isn't just a place to sleep—it's a powerful source of security and well-being.
After Desmond's presentation, Immergluck discussed U.S. housing policy in an international context. Compared to other developed countries, the United States offers fewer legal protections for tenants and fewer housing subsidies for poor citizens. This creates a perfect storm for evictions: poor renters have difficulty coming up with enough money to cover rent, and very little protects them from eviction once they fall behind.
The problem of eviction is compounded by the sheer cost of housing. To drive this point home, Immergluck pointed to ongoing Atlanta Fed research that has documented the dramatic loss of affordable rental housing in the Southeast. Atlanta, for example, is losing around 1,000 affordable rental units per year. According to Immergluck, this decline can be attributed to increased development of luxury apartments as well as the conversion of homes into high-cost rentals after foreclosure. As housing becomes more difficult to obtain, the sort of evictions that Desmond has documented are bound to rise.
Identifying a problem is one thing; solving it is another. Both Desmond and Immergluck offered possible policy prescriptions to stem the tide of evictions. Desmond voiced support for a universal housing voucher program that would reduce rent payments to 30 percent of a family's income. Like food stamps, everyone who financially qualifies for a housing voucher would receive one. Although housing vouchers currently exist in various forms, their supply is limited. In fact, Desmond stated that only 25 percent of qualifying families currently receive housing assistance. Immergluck offered a number of other suggestions, including increased legal aid for renters taken to housing court, and tax breaks for landlords who provide affordable housing.
Desmond and Immergluck also emphasized the importance of increased awareness. If affordable housing remains on the periphery of the political conversation, it is unlikely things will change for the better. To jump-start a national conversation, Desmond has started an organization called Just Shelter to raise awareness about housing issues and provide resources for organizations working to preserve affordable housing, prevent eviction, and reduce homelessness. The organization's website is justshelter.org
.
Financial institutions play a key role in making affordable housing possible, by extending loans, investments, and services to low- and moderate-income communities. These activities are supported by the Community Reinvestment Act (CRA), which the Federal Reserve helps regulate. The Atlanta Fed organizes events like Desmond's presentation to shine a light on community needs that could be addressed by CRA activities and to increase engagement from housing industry partners.
Awareness of housing issues is clearly building, but more research and policy work on housing affordability remains to be done. The stories Desmond highlights in his work are devastating, but they are not uncommon. Housing prices, poverty, eviction, and homelessness are intertwined issues that touch every region of the country. Although nonprofits, policymakers, and community members may disagree on the right solution, one thing is clear: ignoring the problem will not make it go away. Desmond's work has sparked a vital conversation on housing policy's human impact.
By Abram Lueders, Community and Economic Development intern