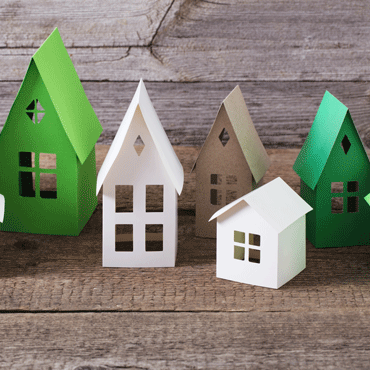 Federal funding for housing has been in decline since the recession, but the need for affordable rental housing has exceeded the current stock. In response to the growing need for affordable rental housing, a recent discussion paper from the Atlanta Fed's Community and Economic Development (CED) program examined the challenges and opportunities for mixed-income housing, and how those concepts can improve affordable housing options. Atlanta Fed visiting scholar Renée Lewis Glover, the founder and managing member of the Catalyst Group and former president and chief executive officer of the Atlanta Housing Authority, senior CED adviser Ann Carpenter, and former CED intern Richard Duckworth have written "Developing Inclusive Communities: Challenges and Opportunities for Mixed-Income Housing" to offer strategies to increase the production of mixed-income communities.
Why mixed-income communities?
A mixed-income community consists of households of varying income levels, with an array of owner- and renter-occupied housing set aside at various levels of affordability, often with some publicly assisted housing. Mixed-income communities have a variety of positive effects, such as leveraging federal subsidies, substantially improving living environments, deconcentrating poverty, reducing crime, increasing workforce participation (Chetty, Hendren, and Katz, 2016), improving education and health outcomes (Ludwig et al., 2013), increasing real estate values, increasing private investment in surrounding neighborhoods (Popkin, 2010), and strengthening a city as a whole. Advocates for mixed-income communities argue that contact with people of diverse income levels provides greater access to social capital, better networking opportunities, and more help navigating government services (Chaskin and Joseph, 2011). According to previous studies, this decrease in social isolation helps to build more secure environments and reduce crime.
Recent cuts to federal housing assistance programs coincide with major declines in naturally occurring affordable units (Immergluck, Carpenter, and Lueders, 2016). "Developing Inclusive Communities" explores new ideas about how affordable housing in an economically integrated, mixed-income community setting could be developed and operated with fewer government subsidies.
Investigating challenges and opportunities for creating mixed-income communities
To meet the goal of increasing mixed-income communities, the study examined one important question: how to create mixed-income communities, given the current environment of increased costs and reduced subsidies. To find strategies to pursue this goal, an exploratory study was performed. Data collection included semistructured interviews with 19 stakeholders from three cities in the Atlanta Fed's District: Atlanta, Jacksonville, and Nashville. These cities were selected due to relatively high net losses of low-cost rental housing, based on an earlier Atlanta Fed discussion paper (Immergluck, Carpenter, and Lueders, 2016). Public, private, and nonprofit sector stakeholders discussed the cost reductions, policy changes, political support, and incentives that would be necessary to implement mixed-income neighborhood characteristics on a greater scale.
Challenges for mixed-income communities
The issues most frequently brought up as barriers to creating mixed-income communities by stakeholders being interviewed were:
The high price of land
The disproportionate regulatory burden associated with affordable housing subsidies
The need for better coordination at various levels of government and with other sectors such as education and health care.
The rising cost of land was the greatest obstacle identified by stakeholders. Property that is both undeveloped and affordable is increasingly difficult to find and acquire, particularly urban land with transit and employment accessibility. The second most common obstacle was the regulatory burden that developers face when creating subsidized affordable housing. For example, zoning practices like parking requirements, minimum square footage requirements, and neighborhood character designations that limit the types of residential housing that can be developed effectively drive up the cost of development. The third major challenge was the lack of interagency coordination. Multiple funding sources are common in the development of affordable housing and balancing federal, state, and local conditions and requirements requires tenacity. Each funding source has its own income limits. For example, state qualified allocation plans (QAPs) set the criteria for Low-Income Housing Tax Credit (LIHTC) awards, but those requirements often conflict with the requirements of other funding sources. Furthermore, application deadlines and reporting requirements are often on varying timelines, depending on the funding source. With regard to other sectors, a better balance of jobs and housing would make the system more efficient and provide greater access to health care and educational opportunities. Coordination with transit authorities would also improve ridership and better serve the communities located near transit stops.
These obstacles were identified as significant in restricting the production of affordable housing and the development of mixed-income communities, but the stakeholders interviewed also identified potential strategies for promoting mixed-income communities.
Strategies for facilitating the development of mixed-income communities
A number of strategies were proposed to combat the challenges addressed during stakeholder interviews. To address high land costs, stakeholders proposed implementing land banking and community land trusts and limiting exclusionary land use regulations. Land banking is a local strategy to acquire and hold land for future development. A nonprofit community land trust owns land in common and may lease that land to create permanently affordable housing. Both methods offer solutions to land acquisition during economic downturns. Additionally, zoning restrictions can be reexamined in order to promote greater density and mixed land uses.
To decrease regulatory and administrative burdens, federal and state agencies could provide greater flexibility in using funds from existing programs. Funders may also streamline application, reporting, and monitoring requirements across agencies. Interviewees recommended greater coordination among agencies and some standardization of requirements to improve programming flexibility. By increasing incentives for affordable housing investment and creating state and local housing trust funds, multiple levels of government can work together to facilitate the creation of affordable housing options.
According to the National Housing Preservation Database, a total of 52,377 affordable housing units with LIHTC, PBRA (Project-Based Rental Assistance), and other subsidies are set to expire between 2017 and 2027 in Atlanta, Jacksonville, and Nashville (see the chart). To aid in the preservation of existing but vulnerable affordable units, stakeholders proposed incentivizing owners to renew affordability commitments and funders to set aside subsidies for preservation that don't compete with new development. When interviewees were asked about possible solutions to improve funding options, the most common response was to increase the supply of LIHTC. Interviewees also offered options to generate cost savings, such as green building techniques that would reduce operating expenses.
Finally, in order to build political support for mixed-income communities, stakeholders encouraged framing affordable housing as an economic advantage for localities and improving outreach and education to the public and elected officials. By enhancing those lines of communication, housing challenges can be connected to broader community issues.
In order to create mixed-income communities, developers pursue a variety of strategies and deal with a number of unique challenges along the way. This discussion paper shows that the development of mixed-income communities can be approached from multiple angles and offers strategies that can be used to bolster both affordable housing in general and mixed-income communities in particular.
By Claire Bleckley, an intern in the community and economic development group
References
Chaskin, R.J., & Joseph, M.L., (2011). "Social Interaction in Mixed-Income Developments: Relational Expectations and Emerging Reality." Journal of Urban Affairs 33(2), 209–237.
Chetty, R., Hendren, N., & Katz, L.F. (2016). "The Effects of Exposure to Better Neighborhoods on Children: New Evidence from the Moving to Opportunity Experiment." The American Economic Review 106(4), 855–902.
Immergluck, D., Carpenter, A., & Lueders, A. (2016). "Declines in Low-Cost Rented Housing Units in Eight Large Southeastern Cities." Federal Reserve Bank of Atlanta Community and Economic Development Discussion Paper 04-16, May.
Ludwig, J., Duncan, G.J., Gennetian, L.A., Katz, L.F., Kessler, R.C., Kling, J.R., & Sanbonmatsu, L. (2013). "Long-Term Neighborhood Effects on Low-Income Families: Evidence from Moving to Opportunity." American Economic Review: Papers & Proceedings 103(3), 226–231.
Popkin, J.J., (2010). "A Glass Half Empty? New Evidence from the HOPE VI Panel Study." Housing Policy Debate 20(1), 43–63.