SYMBOLS
Fugio Cent (Franklin Cent)
Move your cursor over the coin or tap it on your screen to see the reverse side.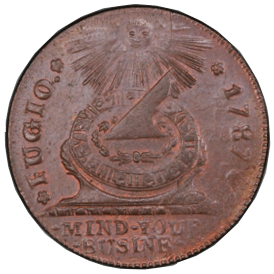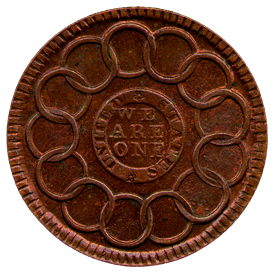 In 1787, this became the first coin issued by the U.S. Congress, according to the Journal of Congress. Abel Buel of New Haven, Connecticut, created the dies used to strike the coins.
The copper used to strike the coins was from U.S. military supplies, from the bands used to hold together powder kegs that the French government sent to the United States during the American Revolution.
Featured on the front, or obverse, is a sundial that represents time and a motto popularized by Benjamin Franklin: "Mind Your Business."
The back, or reverse, features 13 linked circles symbolizing the original 13 colonies with the words "United States" encircling the center motto, "We Are One."