Spring 2012
Articles
Departments
Calendar of Events
FAQs
Subscribe Online
Health care employment: The prognosis is good
Jobs in health care are alive and kicking. Despite the significant challenges the health care sector has faced in a weakened economy—including budget cuts, Medicare and Medicaid cuts, and uncertainty regarding health care legislation—the U.S. Bureau of Labor Statistics (BLS) says that health care jobs have increased every month going back to July 2003. As of November 2011, health care employment holds a 10.8 percent share of total employment, a number that is up about 1.3 percentage points from the start of the recession in December 2007 and up more than 2.25 percentage points from a decade ago. As further evidence of its robustness, health care employment has seen cumulative growth since December 2007 of 8.5 percent, compared to a drop of 5.9 percent in non-health employment, according to the nonprofit research agency Altarum Institute in its December 2011 labor brief.
Although job growth in the industry has slowed in recent months— it contributed 17,000 jobs in November, compared to the overall monthly average of 27,000 for the past year—it still added jobs at a faster pace than the rest of the economy. In its November 2011 report, the Altarum Institute says that health care employment in the past year grew by 323,000 jobs, a rate of 2.3 percent, while non-health care employment grew by nearly 1.3 million jobs, or just 1 percent. This growth occurred across all of the major health care settings, with outpatient care centers showing the highest 12-month rate of increase, at 4.3 percent, and nursing and residential care facilities showing the lowest, at 1.6 percent.
Similarly, the Southeast's health care employment sector has outperformed the overall job market in the region. From November 2010 to November 2011, the Southeast gained about 171,600 nonfarm jobs, an overall rate of about 0.9 percent. In comparison, health care added 44,300 jobs, which is a growth rate of almost 2.6 percent (see the chart).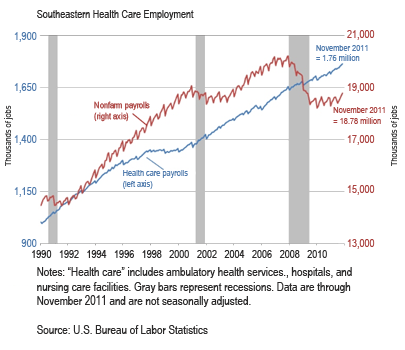 The BLS categorizes components of labor and employment according to the North American Industry Classification System (NAICS). In this system, health and education are a suprasector, of which health care and social assistance are a subsector. This article does not consider social assistance, except in the discussion of overall job numbers. Health care is further broken down into hospitals, which account for about a third of all health care employment; nursing and residential care facilities, about 22 percent; and ambulatory health services, about 44 percent. Ambulatory health services include doctors' and dentists' offices, home health care services, outpatient care centers, medical and diagnostic laboratories, and other services.
A shot in the arm
During the 2007–09 recession, when most other industries were shedding jobs, the national health care sector continued to add jobs at a relatively vigorous rate of 22,000 jobs per month. In fact, this segment had robust growth throughout the last three recessions, though it's been slightly weaker in this last one. Catherine Wood, an economist in the Office of Employment and Unemployment Statistics at the BLS, examined the health of health care employment during recessions in the April 2011 issue of the Monthly Labor Review, a BLS publication. She wrote that "historically, health care employment has been immune from fluctuations in the business cycle. Indeed, the industry has been among the leading contributors to overall job growth during recessions."
Prognosis
Wood and other researchers have noted that the growing and aging American population is naturally increasing demands for health care services. The U.S. population tripled during the 20th century, for example, while adding on average 30 years to life expectancy. So as the population expands and ages, it pours more money into the health care system. A 2010 study on longevity by researchers at the Stanford Center on Longevity (Adele M. Hayutin, Miranda Dietz, and Lillian Mitchell, New Realities of an Older America) reports: "Given the number of age-related health conditions, it is no surprise that per capita health care spending skyrockets with age. Annual per capita spending on those age 65+ totaled $14,800 in 2004, more than triple the amount spent on working-age adults. Public spending, including Medicare and Medicaid, accounted for about two-thirds of total spending for those 65+."
According to the Occupational Outlook Handbook, 2010–11 Edition (OOH), the BLS's biennial compendium of job-growth estimates for the decade 2008–18, projected rates of employment growth for the various segments of the industry range from 10 percent in hospitals, the largest and slowest-growing industry segment, to 46 percent in the smaller home health care services.
Indeed, of the top 20 fastest-growing jobs that the OOH lists, eight are related to health care. On the national level, home health aides will increase by 50 percent; physician assistants by 39 percent; physical therapist aides by 36 percent; medical assistants by 34 percent; physical therapist aides, dental hygienists, and dental assistants by 36 percent; medical assistants by 34 percent; and physical therapist assistants by 33 percent.
Although the BLS estimates that wage and salary employment in the health care industry will increase 22 percent through 2018, for most of these positions—with the exception of physician's assistant, which requires a master's degree—education requirements are comparatively minimal and wages are on the lower end of the pay scale. Still, the average earnings of nonsupervisory workers in most health care segments are higher than the average for all private industry ($20.38 per hour compared to $18.08 per hour), with hospital workers earning considerably more than the average and those employed in nursing, residential care facilities, and home health care services earning less.
Analysts believe that despite the recent slowdown, health care will almost certainly remain a growth area, as America's population ages and federal health care legislation provides that more people can be insured. Indeed, according to Lee McPheters, director of the JPMorgan Chase Economic Outlook Center at the W. P. Carey School of Business at Arizona State University and editor of the Western Blue Chip Economic Forecast newsletter: "The brightest spot in the jobs growth picture is health care, the strongest employment sector in the nation right now."
By Nancy Condon, managing editor of Extra Credit and associate editor of EconSouth
January 24, 2012
Related Links On other Sites
Bureau of Labor Statistics Occupational Outlook Handbook, 2010–11 Edition
InformationWeek, Healthcare's "The Workforce Challenge"
CNN Money's "10 hot careers for 2012–and beyond"
Forbes's "Health Care Future Bright for Nurses, Stinks for Doctors"