Spring 2015
Articles
Departments
Calendar of Events
FAQs
Subscribe Online
Using Service Learning and Community Outreach in the Personal Finance Classroom
Mariah Phillips, a personal finance teacher at Daniel McKee Alternative School, said that her class had just completed a unit on zero-based budgeting, and they took that information to a local elementary school's career week. The students hosted a reality fair, setting up and staffing budget stations where the elementary participants, who were each assigned a job and income, made choices on how to spend their money.
Phillips's students helped the participants make wise choices and discussed how to plan for the unexpected. For example, at the housing station, the participants could choose from monthly expenses of a large 4-bedroom home for $1,922, a modest 3-bedroom home for $1,086, or a small apartment for $650. After the participants visited all of the budget stations, they reviewed their budgets and adjusted their choices if they went over budget or had money left over (zero-based budgeting). They were also thrown "curveballs" like going on vacation, getting a speeding ticket, or owning a pet, and the students had to adjust their budgets accordingly.
What Phillips's students had done was to supplement their regular classroom learning of a topic with service learning. The National Commission on Service Learning defines service learning as "a teaching and learning approach that integrates community service with academic study to enrich learning, teach civic responsibility, and strengthen communities."
Phillips differentiates service learning from volunteering: "Service learning is different from volunteering. You don't want to just be present at an event; you want your students to use their knowledge to have an impact." She added, "I incorporate service learning wherever possible because I see the value that it adds to my students' education and overall self-worth."
Barbara Turner, a personal finance and family and consumer sciences teacher at Oakland High School, described why she feels service learning is important. "National studies suggest that students in effective service-learning programs improve academic grades, increase attendance in school, and develop personal and social responsibility," she said.
Both educators have effectively used student learning in their classrooms. Let's look at their successful personal finance service learning projects.
Reaching out to a local elementary school
Phillips indicated that her students were initially nervous to work with the younger students. She said, "They felt like they wouldn't know what to do, how to answer their questions, or explain what they know to the other kids. I assured them that they knew their information, and I stayed present, moving throughout the gym as they worked with the students.
"As expected, the elementary students were excited and inquisitive and my students were engaged and knowledgeable," continued Phillips. "When we reflected on the event afterwards, the feedback I received from my students was how impressed they were with the younger students and how excited my students were to be able to answer the younger students' questions. They realized how knowledgeable they actually were!"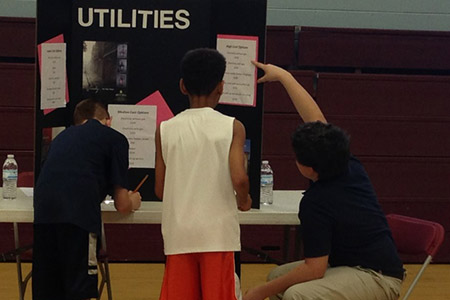 A student from Daniel McKee Alternative School points out utility options to students participating in the Reality Fair.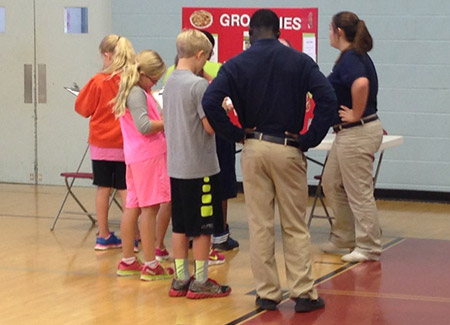 Students from Daniel McKee Alternative School advise students participating in the Reality Fair about budgets.
A financial fair for students and the community
Turner planned with her class a service learning project involving community outreach, and applied for and received a mini-grant that provided funding for the project.
"We proposed to plan and conduct a Personal Finance Fair open to students and families in our community. Our vision was that attendees would be able to visit with experts in areas related to their specific financial needs," said Turner. She added that she believed the project would allow the students to take their learning of the course content to the next level by teaching the content to others. "They had to become the experts both in the personal finance content and in event coordination," she said.
Turner's students collaborated with another personal finance class to organize the event. Students were responsible for all aspects of the Personal Finance Fair, including:
Selecting dates
Reserving the facility
Setting the budget
Obtaining additional funding
Securing speakers and facilitators
Developing marketing materials
Ordering materials
Assigning duties
Managing the event
As part of the project and class requirements, all students had to be a part of the main session or develop a hall display.
"We had a good crowd of about 150 attendees at the event," said Turner. "We received great comments on the evaluations and from the invited presenters."
Turner indicated that they would like to conduct a similar event in the future. "It takes time and teamwork," she said. "I think the teachers and the students all learned valuable lessons from this project that we will utilize when doing future community outreach projects."
Attendees review the hall displays at the Oakland High School Personal Finance Fair.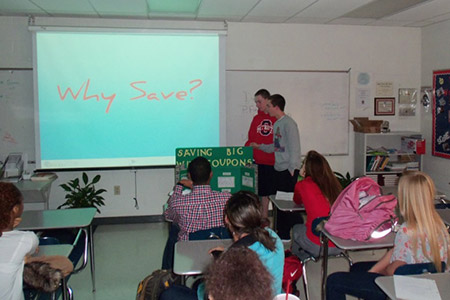 Oakland High School students practice their presentations in preparation for the Personal Finance Fair.
Finding service learning opportunities
Phillips suggested that there are many avenues to finding service learning opportunities. "I look to local elementary schools, community centers, and nursing homes. I try to involve my students in activities that are already in existence to alleviate overall event planning. These events are fairly easy to find if you keep your eyes open and contact the organizers on ways you can help."
Turner suggests considering competitive events available through career and technical student organizations, since many of them have service learning components or specific competitive events. These national student organizations have community service project competitive events in which students organize, implement, and evaluate a community service project. Here are three:
Family and consumer sciences: Family, Career and Community Leaders of America (FCCLA)
Marketing: Distributive Education Clubs of America (DECA)
Business: Future Business Leaders of America (FBLA)
Resources for service learning
Other resources for service learning include:
National Service-Learning Clearinghouse, Generator School Network
What Is Service Learning or Community Engagement?, Vanderbilt University Center for Teaching
Teaching Guide: Using Service Learning in Writing Courses, The Writing Studio, Colorado State University
Learning in Deed, National Commission on Service Learning
The Federal Reserve offers many resources to use in conducting outreach. Here are some of them: