Fall 2017
Articles
Departments
Calendar of Events
FAQs
Subscribe Online
Welcoming the Atlanta Fed's New President: a Webcast for Students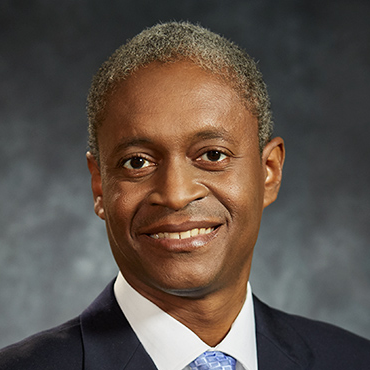 Raphael Bostic became the new president of the Federal Reserve Bank of Atlanta on June 5, 2017. These five fascinating facts will help you get to know him a little better.
Bostic is the 15th president and chief executive officer of the Atlanta Fed, and the first African American president of a regional Federal Reserve Bank.
This is Bostic's second venture with the Federal Reserve. He worked with the Federal Reserve Board of Governors from 1995 to 2001 as an economist and then a senior economist in the monetary and financial studies section.
Most recently, Bostic was the Judith and John Bedrosian Chair in Governance and the Public Enterprise at the Sol Price School of Public Policy at the University of Southern California.
Bostic's biggest hobby is bird watching.
Growing up, Bostic was influenced by an educator, his great-aunt Vi, who was a school principal.
To learn more about Bostic, review his biography, read an article highlighting a conversation with him, or watch a recent television interview.
An opportunity for students to meet the new president
We are excited Bostic will be the featured speaker on the September 28 Maximum Employment Matters webcast that will highlight careers in economics. This episode will be focused toward students and conducted during the school day at 1:30 p.m. ET/12:30 p.m. CT, so that students and teachers can collaboratively participate in this event. Educators can register their classes for this session.