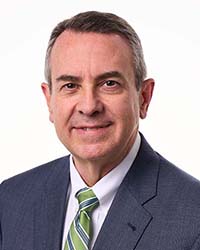 Jeff Devine is executive vice president of Operations and Administrative Services and a member of the executive leadership committee for the Federal Reserve Bank of Atlanta. He oversees financial services and all branch operations, including the Sixth Federal Reserve District's cash function office, facilities management, event management, law enforcement, records information management, and business continuity.
Devine joined the Atlanta Fed in 1985, serving in the New Orleans Branch for 17 years in various capacities and operational areas. He was promoted to assistant vice president in 1993 and was branch officer over several functions. In September 2002, he transferred to Atlanta, where he assumed the district's sales manager position and transitioned district financial sales to a functional management arrangement. While serving as the System's regional sales leader for the Sixth District, he was also responsible for financial sales support and law enforcement.
In 2008, he transferred to the Federal Reserve Bank of Chicago as vice president of the customer relations and support office. He and his colleagues were responsible for developing and executing the System's transition to a centrally managed national sales team. Devine was responsible for the east region (the Boston, New York, and Atlanta Federal Reserve Districts). He returned to the Atlanta Fed in June 2010 to manage the district's law enforcement and facilities functions. In January 2016, he was promoted to senior vice president in the Retail Payments Office, where he had various responsibilities including product and revenue management, strategic business relations, operations, financial management, and vendor management. He assumed his current role in July 2018.
Devine has been active in several community organizations including the YMCA's Educational Services Board and Catholic Charities' Big Brother program.
A native of Erie, Pennsylvania, he earned a bachelor of science degree in finance from Florida State University.