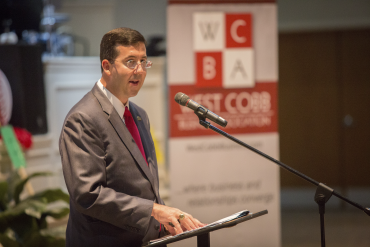 Atlanta Fed economists, senior officers, and subject-matter experts are available to speak to your organization.
Learn about available dates, our policies, and how you can book a speaker for your program or event below.
About the Speakers Bureau
As part of the Federal Reserve Bank of Atlanta's outreach program, employees are available to speak to a variety of organizations on several topics, including but not limited to:
Banking supervision
Economic and financial education
Economic mobility and resilience
The Fed Explained
National economic outlook
Payments and risk/Safer payments innovation
How speaker requests are evaluated
We evaluate requests from business and civic groups, nonprofit organizations, academic institutions, and professional and trade associations in the Sixth District, which includes Georgia, Florida, Alabama, and parts of Tennessee, Mississippi, and Louisiana. The minimum audience size is approximately 25.
Speaking engagements are free of charge. Please submit requests at least 60 days before your event to allow sufficient time for preparation.
The Atlanta Fed evaluates speaker requests according to the forum, subject matter, and availability of speakers. Speakers are not available during the following Federal Reserve blackout periods:
2023
January 21–February 2
March 11–23
April 22–May 4
June 3–15
July 15–27
September 9–21
October 21–November 2
December 2–14
2024
January 20–February 1
March 9–21
April 20–May 2
June 1–13
July 20–August 1
September 7–19
October 26–November 8
December 7–19
Please note that Federal Reserve policy prohibits our employees from speaking to political organizations, at political gatherings, or at fundraising events. Other restrictions may apply.
Atlanta Fed policy also prohibits employees from accepting gifts, honoraria, or compensation. We kindly ask that you do not purchase or present any gifts that our speakers would be required to decline or return.