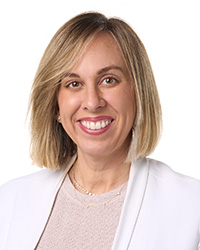 Julie Schoen Hower is a senior vice president and general auditor at the Federal Reserve Bank of Atlanta. In this role, Hower leads the Audit Department and is responsible for the district's audit processes. She also serves as an adviser to the executive leadership committee.
Hower has extensive, global audit and data analytics experience and a broad leadership background. Before joining the Atlanta Fed in March 2020, she served as vice president of internal audit and enterprise risk management at Carters Inc. During her eight-year tenure with Carter's, Hower developed and executed the company's annual internal audit plan, led the enterprise risk management program, and developed an internal audit data analytics strategy. She also spent 11 years with Deloitte & Touche LLP, consulting with organizations to solve strategic, operational, financial, technology, and compliance challenges.
Hower earned bachelor's degrees in accounting and management information systems from Florida International University and is a certified information systems auditor. Hower serves on the boards for the Initiative for Affordable Housing and the Atlanta Chapter of the Institute of Internal Auditors (2020–21 president). She also spent nine years on the board for the Center for the Visually Impaired.