About
---
Policy Hub: Macroblog provides concise commentary and analysis on economic topics including monetary policy, macroeconomic developments, inflation, labor economics, and financial issues for a broad audience.
Authors for Policy Hub: Macroblog are Dave Altig, John Robertson, and other Atlanta Fed economists and researchers.

Subscribe by email

Subscribe by RSS
Comment Standards:
Comments are moderated and will not appear until the moderator has approved them.

Please submit appropriate comments. Inappropriate comments include content that is abusive, harassing, or threatening; obscene, vulgar, or profane; an attack of a personal nature; or overtly political.

In addition, no off-topic remarks or spam is permitted.
Useful Links
February 3, 2022
Rounded Wage Data and the Wage Growth Tracker
The US Census Bureau recently announced some changes it plans to make this year to the Current Population Survey Public Use File (CPS PUF). Here at the Atlanta Fed, we use data from the CPS PUF to construct the Wage Growth Tracker, and one of the planned changes will significantly affect the tracker. Specifically, a person's usual weekly or usual hourly earnings, which are unrounded currently, will be rounded.
The Wage Growth Tracker bases its results on the median, or middle, observation in the distribution of percent wage changes for a sample of individuals linked between the current month and the same month a year earlier. The Wage Growth Tracker time series has yielded useful insight into the rapidly shifting dynamics of the labor market in the wake of COVID-19, especially as compositional effects have distorted wage data. It's also helped economists and policymakers understand which income levels were seeing the greatest growth and that job switchers were finding the most wage gains.
How will the rounding of wage data affect the Wage Growth Tracker? The announced CPS PUF rounding rules vary by wage level and are different if the earnings are reported on an hourly or weekly basis. (You can see more details here

.) Most people in the CPS report earnings on an hourly basis, and most wage observations range from $10 to $99.99 an hour. Under the rounding rules those earnings will be rounded to the nearest dollar. So, for example, if someone reports making $14.50 an hour, that wage will be rounded to $15, while workers reporting a wage of $15.40 an hour will also have that wage rounded to $15.
One implication of the rounding rules is that it will make no wage change appear more common than it currently is. To illustrate, suppose someone's pay went from $14.50 to $15.40 an hour. The rounding rules would show no change in the person's wage (both would be recoded as $15) even though that person's actual wage increased by 6.2 percent. Chart 1 shows what happens to the proportion of zero wage changes if the rounding rules were applied to the CPS PUF earnings data used to construct the Wage Growth Tracker from 1998 to 2021.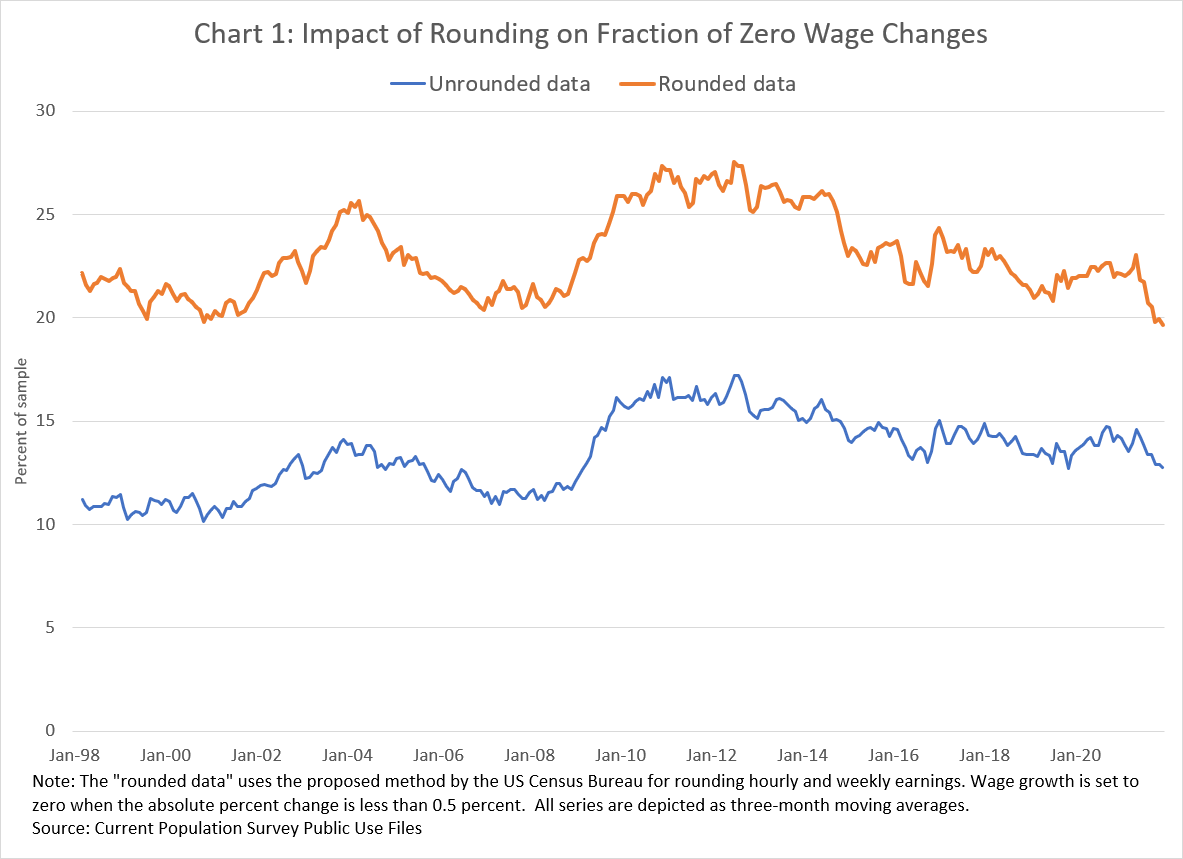 As you can see, during the Great Recession, when labor demand was especially weak, about 17 percent of wage growth observations based on unrounded earnings data were zero. But if the rounding rules had been applied back then, more than 25 percent of wage growth observations would have been zero.
Obviously, this change is a big deal for the Wage Growth Tracker. When more than a quarter of the observations are zero near the middle of the wage change distribution, it is very likely that the median observation will also be zero. This effect is evident in chart 2, which compares the median Wage Growth Tracker series using unrounded earnings data with what it would have been if the rounded data had been used.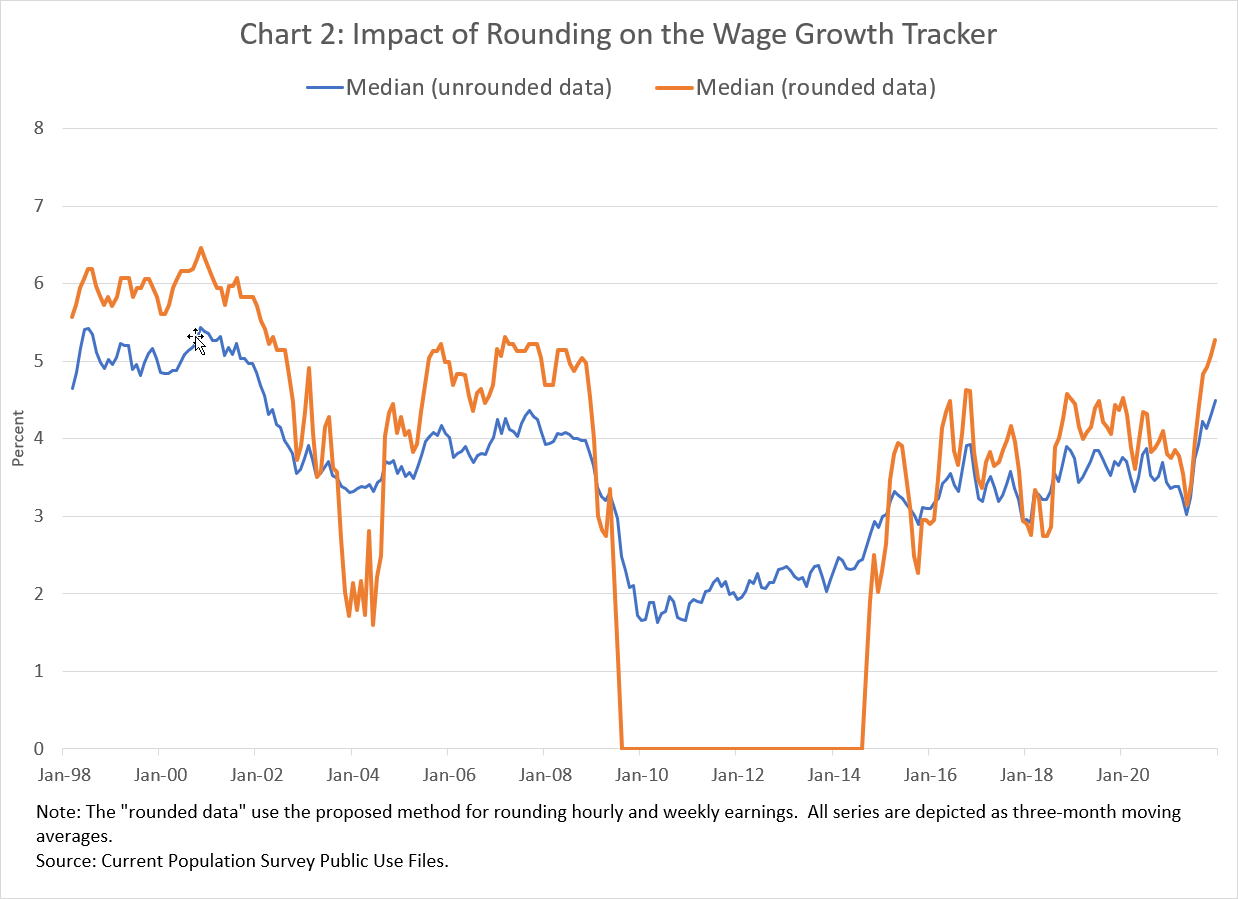 Clearly, if the rounding rules had been in place in the past, the Wage Growth Tracker time-series would be a much less useful indicator of wage growth or labor market trends.
So, what to do? It turns out that the rounding rules don't affect all summary measures of wage growth as much as they affect the median measure. For example, as chart 3 shows, the mean—or average—wage growth comes out of the rounding changes essentially unaffected.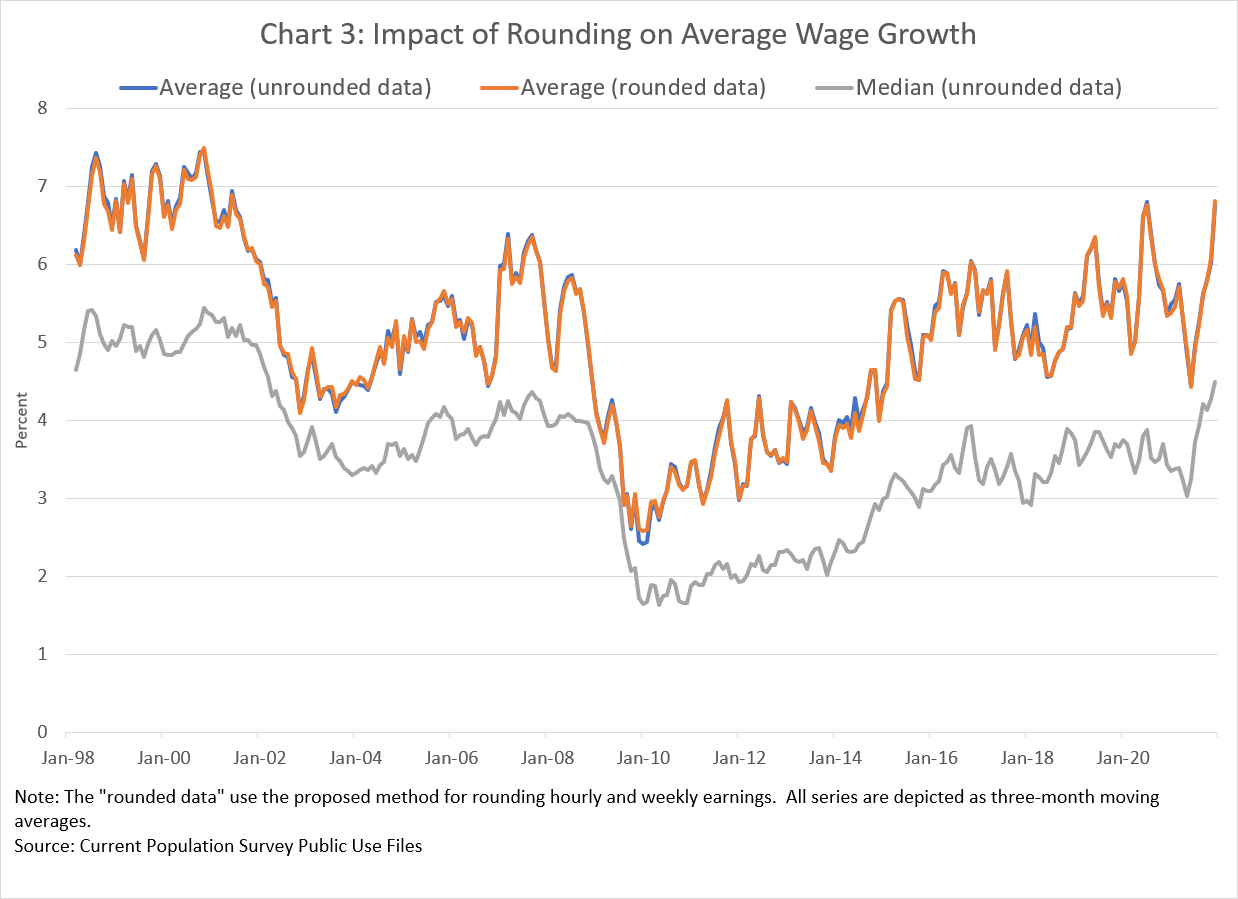 Unfortunately, not only is the average higher than the median, because wage growth varies greatly across individuals (the monthly sample standard deviation is typically around 25 percent), you can also see that both of the average wage growth series are much more variable month to month than the median series using unrounded data. Indeed, the robustness to variability in the underlying wage change data is a primary reason why the Atlanta Fed's Wage Growth Tracker is based on median rather than average wage growth.
But there is potential solution. Borrowing from the research

on using trimmed means of price change data to construct measures of inflation that are robust to extreme price changes, I was able to construct a trimmed-mean wage growth series using the rounded data that has broadly similar properties to the (median) Wage Growth Tracker series constructed from unrounded data. Specifically, for each month's sample, I excluded the bottom 20 percent of wage growth observations (that is, the largest percent wage declines) and the top 25 percent (the largest percent increases) and computed the average of the remaining data. (Note that the trimming is asymmetric because more of the large wage changes tend to be increases than decreases, which is also why the average is higher than the median in the previous chart.)
Chart 4 shows the trimmed-mean series constructed using rounded earnings data, along with the (median) Wage Growth Tracker series that uses unrounded data. I would describe this trimmed-mean series as a reasonable (though not perfect) approximation of the Wage Growth Tracker series (something we could have used if we only had rounded earnings data in the past).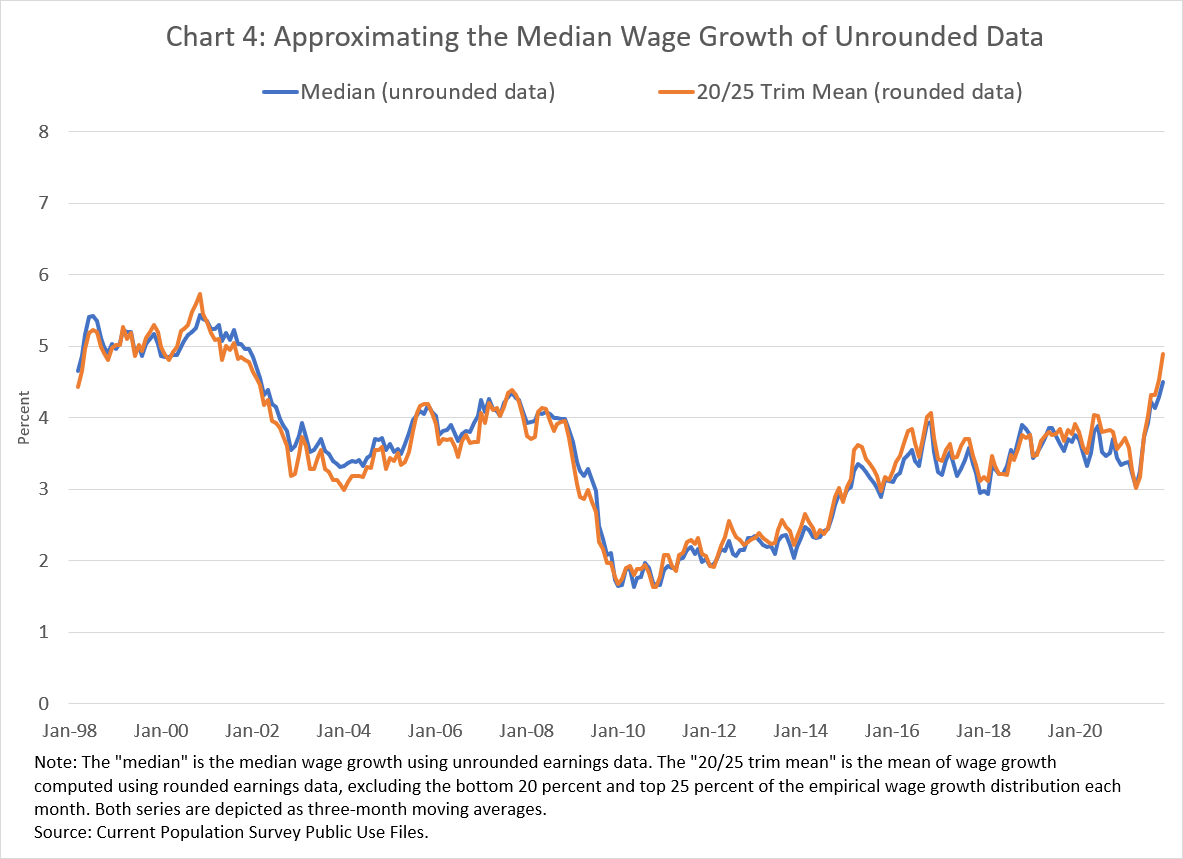 When the January 2022 CPS PUF data become available in February, we will produce the trimmed-mean version of the overall Wage Growth Tracker and add it to the Atlanta Fed's Wage Growth Tracker data set. We are currently exploring if a similar approach will produce useful alternatives to the Wage Growth Tracker for other ways to view the data, such as those for job switchers versus job stayers, or by average wage level. Watch this space for updates.
January 12, 2022
Hybrid Working Arrangements: Who Decides?
Even after—or should we say "if"?—working from home eventually becomes less of a necessity, it's likely to stick around in a hybrid form, with some working days performed at home and some in the office. (This recent study

, coauthored by three of this post's authors, also makes this case.) Still, much remains undetermined about how that hybrid arrangement will work and who at the firm decides how many and which days employers will require workers to be onsite.
To shed some light on how hybrid working arrangements are working, we posed a few special questions to executives in our Survey of Business Uncertainty (SBU) last July and again last month (December 2021). Specifically, we asked, "Does your firm currently have employees who work remotely?" If they said yes, we followed that up with the question, "Who decides which days and how many days employees work remotely?" Respondents selected options ranging from fully decentralized to company-determined schedules. (The results between the July and December surveys were nearly identical, so we've combined them here to simplify this discussion.) Among firms in our panel, 53 percent have employees who work remotely, and their survey responses are interesting (see chart 1).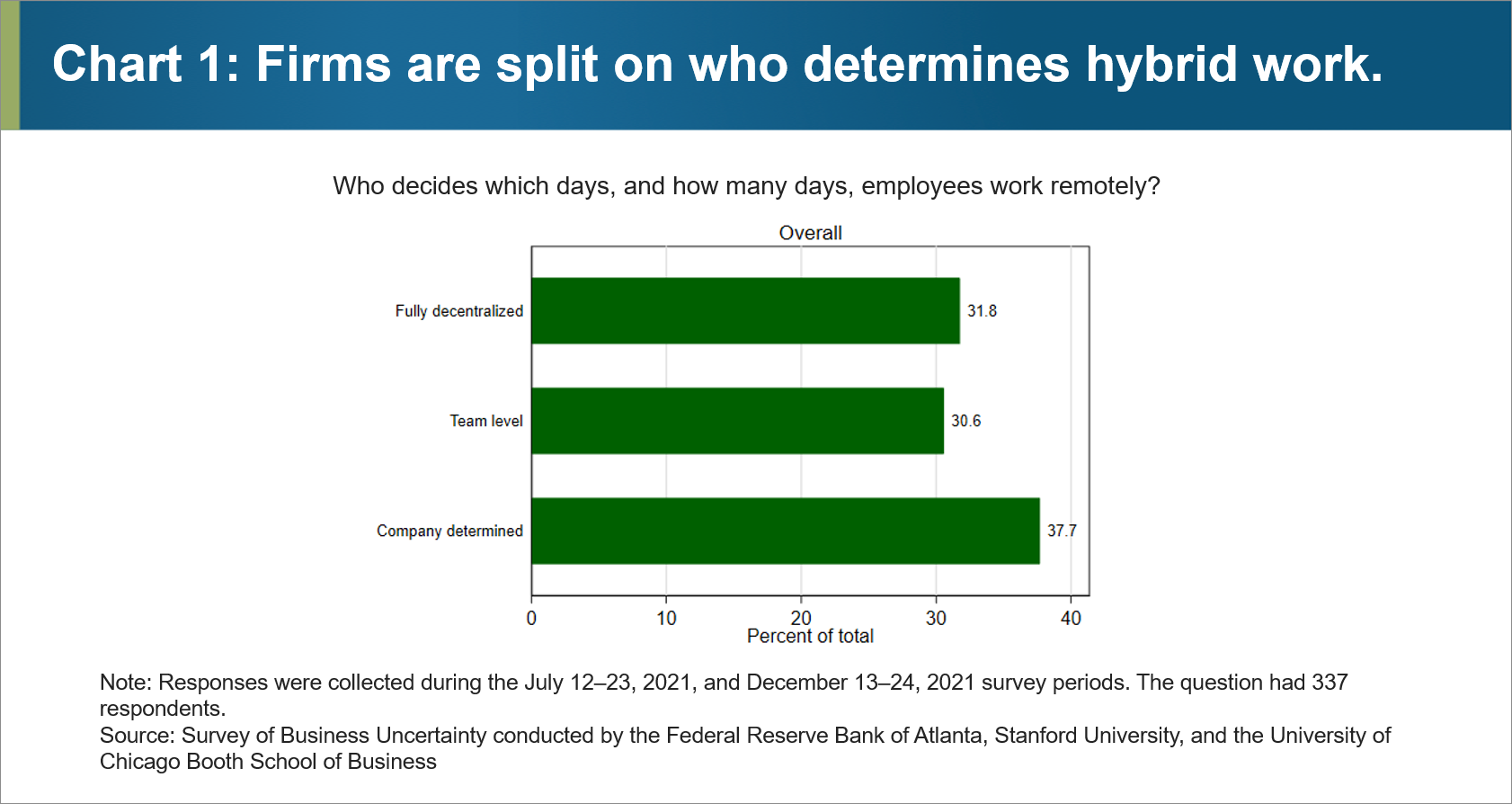 As you can see, respondent firms are roughly split, with about 30 percent leaving the decisions up to their employees, 30 percent giving teams (or team leads) decision rights, and nearly 40 percent indicating the decision on how many and which days employees will be remote resides at the company (management) level.

To dig into these results a bit further, we looked at who makes these decisions over working arrangements by industry and firm size. Given the differences across the industrial sector's ability to work from home (see research by Jonathan Dingel and Brent Neiman

), we find it somewhat surprising that little difference exists across industries about whether the decision to work remotely is fully decentralized, made at the team level, or determined by the company (see chart 2).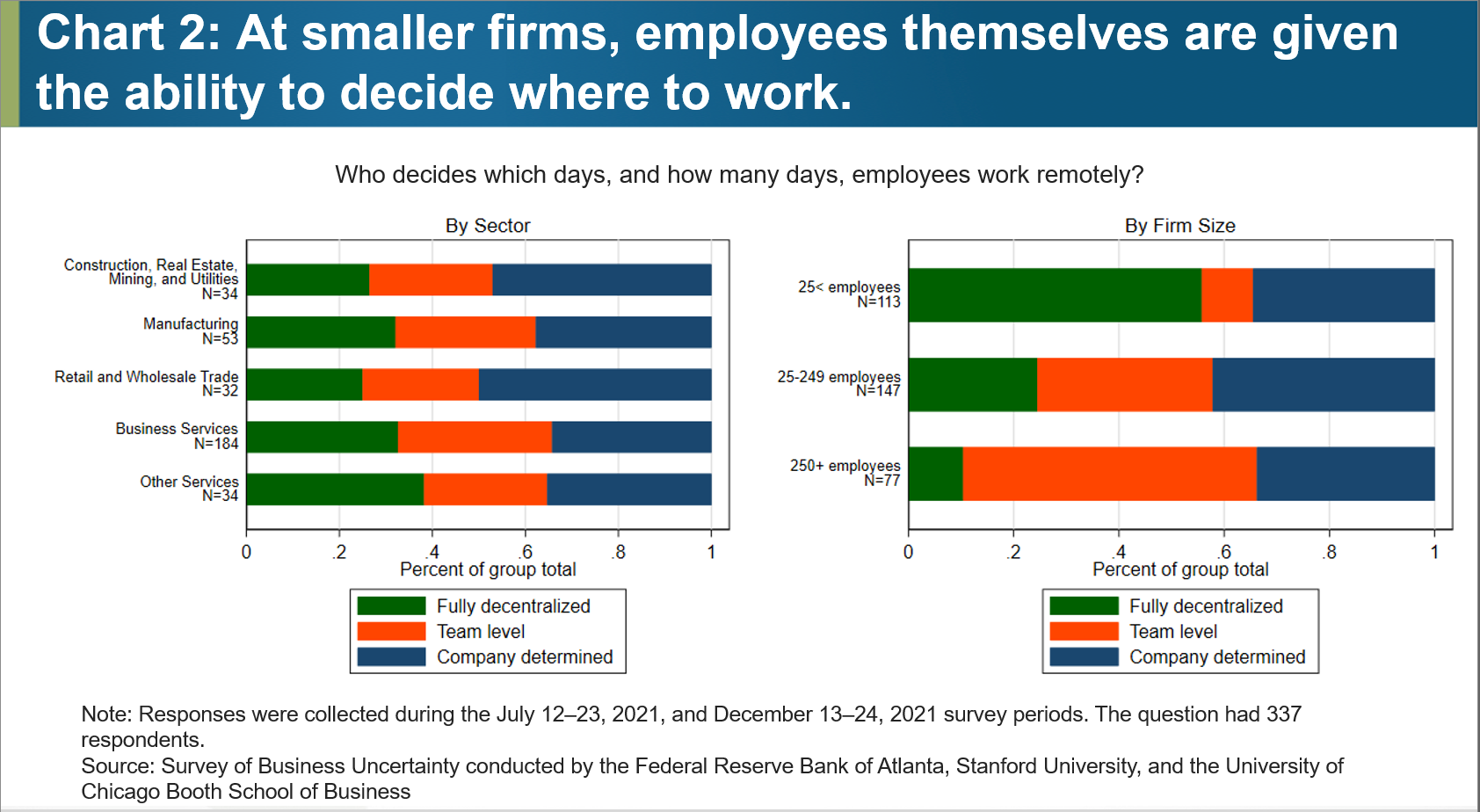 However, we see a stark difference when comparing these decision rights by firm size. More than half of the smallest firms in our panel (those with fewer than 25 employees) allow the employees to decide how and when to come into the office, compared to just 10 percent of larger firms (with 250 employees or more). Instead, these larger firms have left decisions about remote work with the team. Although that's certainly far from a rigid, top-down approach, it can suggest a need for coordination among teams, and this variation highlights remote work's big trade-off: balancing employee choice with the coordination that work life sometimes requires.
Allowing employees to choose their teleworking days has the benefit of flexibility, letting them to plan their work schedules around some nonwork commitments. But it has the cost of limiting face-to-face meetings, as on any given day of the week larger teams will likely find one or more members working remotely, which forces meetings partly or completely online. In our discussions with larger firms, they highlight the importance of face-to-face interactions and so have been promoting team- or company-level coordination. Interestingly, smaller firms appear to be walking another path: providing greater individual choice. Which one of these approaches becomes prevalent should become clear by the summer, when employees can (hopefully) return to the office. Though the future of office work appears to be a hybrid one, the form of decision making that will dominate that future has yet to be determined.
December 2, 2021
Atlanta Fed Conference Investigates Inequalities in the Financial System
A commitment to an inclusive society also means a commitment to an inclusive economy. Such an economy would represent a rebuke of systemic racism and other exclusionary structures. It would represent a true embrace of the principles that all are created equal and should enjoy unburdened life, liberty, and the pursuit of happiness.
— Raphael Bostic, president and CEO of the Federal Reserve Bank of Atlanta, from the essay A Moral Imperative and Economic Imperative to End Racism
Despite the nation's progress toward a more inclusive economy over the last half century, vestiges of structural discrimination are still entrenched in US institutions, and often manifest themselves in the form of disparities in economic outcomes. To promote the topic of racial equality, the Atlanta Fed has partnered with other organizations, cohosting, hosting, or participating in several recent events, including the Atlanta Fed-Princeton University conference on Racial Justice and Finance in September 2020 and the Racism and the Economy webinar series, which began in 2020 and will conclude in early 2022.
On October 14–15, 2021, the Atlanta Fed kicked off the inaugural conference on Racial Inequality and Disparities in Financial Markets to further promote research on inequalities in the financial system. The conference, which was virtual, included presentations and discussions of six papers on racial or gender disparities in various financial markets, including credit markets for mortgages and automobiles, labor markets, and the academic finance profession.
Paula Tkac, associate director of the Atlanta Fed's Research Department, gave the opening remarks. She began by describing how researchers face a dearth of high-quality data in this area, but shared she is hopeful the increased interest in research on racial inequality will spur the effort needed to bring together better data sets. Tkac then called for "a deeper understanding of the 'whys', and insight into potential paths forward toward full economic inclusion" as research progresses. She stressed that this research is crucial in the context of the Fed's monetary policy mission, as a fuller understanding of the barriers stopping individuals from participating to their full potential in labor and financial markets is necessary for good policymaking. Tkac concluded her opening remarks with a quote from Atlanta Fed president Raphael Bostic from last year's Racial Justice and Finance conference:
The influence of race is multidimensional and persists over time. We must look "under the hood" at our institutions to see and truly understand their design and its implications...In your research, think about how you ask questions, particularly how you incorporate historical and institutional realities into your research designs. Examine the role played by institutions and structures and explore how the burdens they impart have contributed to inequities that are still with us...With such an understanding, we can then find more creative and accurate ways to incorporate race into our models, estimation approaches, and narratives. This, I hope, will yield better insights and result in a set of policy prescriptions that can truly create meaningful and lasting change.
Three papers in the conference examined racial disparities in mortgage lending. In "Racial Disparities in Mortgage Lending: New Evidence Based on Processing Time," authors Bin Wei (Atlanta Fed) and Feng Zhao (University of Texas–Dallas) looked at racial disparities in mortgage processing time, which is the time needed for a loan to be processed. Looking at the period prior to the 2008 global financial crisis, they found that Black borrowers experienced significantly longer processing times (about five days more) than did White borrowers for mortgages securitized by the government-sponsored enterprises. In contrast, processing times for the privately securitized mortgages were much shorter for Black borrowers, driven by the fact that Black borrowers were more likely to use nonstandard mortgage financing channels where fast-processing lenders and loan products proliferate.
In the second paper focusing on the mortgage market, "Mortgage Prepayment, Race and Monetary Policy," Kris Gerardi (Atlanta Fed), Paul Willen (Boston Fed), and David Zhang (Harvard) found that Black and Hispanic borrowers pay significantly higher mortgage interest rates than do White and Asian borrowers, and that the primary reason for the large gap in rates is due to differences in refinancing behavior. Minority borrowers are significantly less likely to have refinanced their loans in response to declines in mortgage interest rates, and as a result, they benefited less from lower interest rates.
In the third mortgage paper, "Mortgage Policies and Their Effects on Racial Segregation and Upward Mobility," Nirupama Kulkarni (Centre for Advanced Financial Research and Learning) and Ulrike Malmendier (University of California–Berkeley) noted that housing policies aimed at reducing racial disparities in home ownership can have unintended adverse consequences. Exploiting variation in the ease of mortgage financing created by the 1992 GSE Act, which explicitly targeted underserved neighborhoods, they showed that, while Black home ownership increased in targeted neighborhoods, white families moved out. As a result, segregation increased and the upward mobility of Black children deteriorated. They pointed to declining house prices, reduced education spending, and lower school quality in targeted areas as plausible channels for the decline in upward mobility.
The paper "Testing Models of Economic Discrimination Using the Discretionary Markup of Indirect Auto Loan" by Jonathan Lanning (Philadelphia Fed) examined racial discrimination in auto lending. Lanning presented some compelling empirical evidence for taste-based discrimination in the auto loan market. Auto loans are typically the largest consumer loans after mortgages. More than 80 percent of these loans are indirect, meaning they are arranged by a dealer on the borrower's behalf. The dealer has the discretion to mark up an indirect auto loan by as much as 250 basis points over the rate at which the lender is willing to extend credit. In exchange for the rate increase, the dealer receives additional compensation from the lender. Lanning found that the average markup for Black borrowers is about 14 basis points higher than for White borrowers. More importantly, the racial disparity in the markup is shown to be consistent with the taste-based discrimination theory developed by Becker (1957).
The final two papers in the conference examined the gender gap in the academic finance profession and in the labor market. In the paper "Diversity, Inclusion, and the Dissemination of Ideas: Evidence from the Academic Finance Profession," authors Renee Adams (University of Oxford) and Michelle Lowry (Drexel University) examined how diversity relates to variation in career outcomes within the academic finance profession. They conducted their research based on a survey they administered to current and recent past members of the American Finance Association (AFA) on the professional climate in the field of finance. The survey had 1,628 respondents, about 30 percent of them female. Survey results suggest that female finance faculty members in general have a lower satisfaction level than do their male counterparts. The authors found that gender discrimination is one of the most important causes for this discrepancy.
In the final paper, "Hidden Performance: Salary History Bans and Gender Pay Gap," Jesse Davis (University of North Carolina), Paige Ouimet (University of North Carolina) and Xinxin Wang (University of California–Los Angeles) looked at how salary history bans affected the wage gap between male and female workers. These bans prevent employers from requesting and using a job candidate's prior salary information. Many states have adopted these bans with the explicit intent of reducing the gender pay gap. The idea is that historical pay discrimination against women is propagated if employers are allowed to use past salary information to set pay for new female hires. Presumably, imposing bans should prevent the perpetuation of past discrimination. However, the bans have the additional, negative consequence of preventing potential employers from observing a signal of worker productivity. So the overall effect of salary history bans on the gender gap is unclear. Using a large-panel data set of disaggregated wages covering all public sector employees in 36 states, the authors do not find evidence that salary history bans significantly decrease the gender pay gap.
All in all, the conference proved to be a memorable event. Papers incorporated high-quality micro data and state-of-the-art empirical methods that uncovered evidence of racial and gender inequalities across a variety of financial markets. The paper presentations and thoughtful discussant presentations spurred a lot of dialogue and debate around the nature of the disparities and their implications for future policy. We hope to hold similar conferences in the future, perhaps on an annual or biennial frequency, to continue to promote and raise awareness of this topic.
November 10, 2021
Compositional Distortions to a Measure of Wage Growth during the Pandemic
Measures of year-over-year growth in wages (or hourly earnings) used in economic analysis often tell a fairly consistent story. For example, chart 1 makes it apparent that wage growth was generally higher heading into the 2007–09 recession than heading out of it and that wage growth stayed low for the first half of the 2010s before trending up moderately over the second half of the decade. However, with the onset of the COVID-19 pandemic, growth in average hourly earnings from the US Bureau of Labor Statistics' (BLS) establishment survey (the blue line in the chart) deviated substantially from the other two series depicted.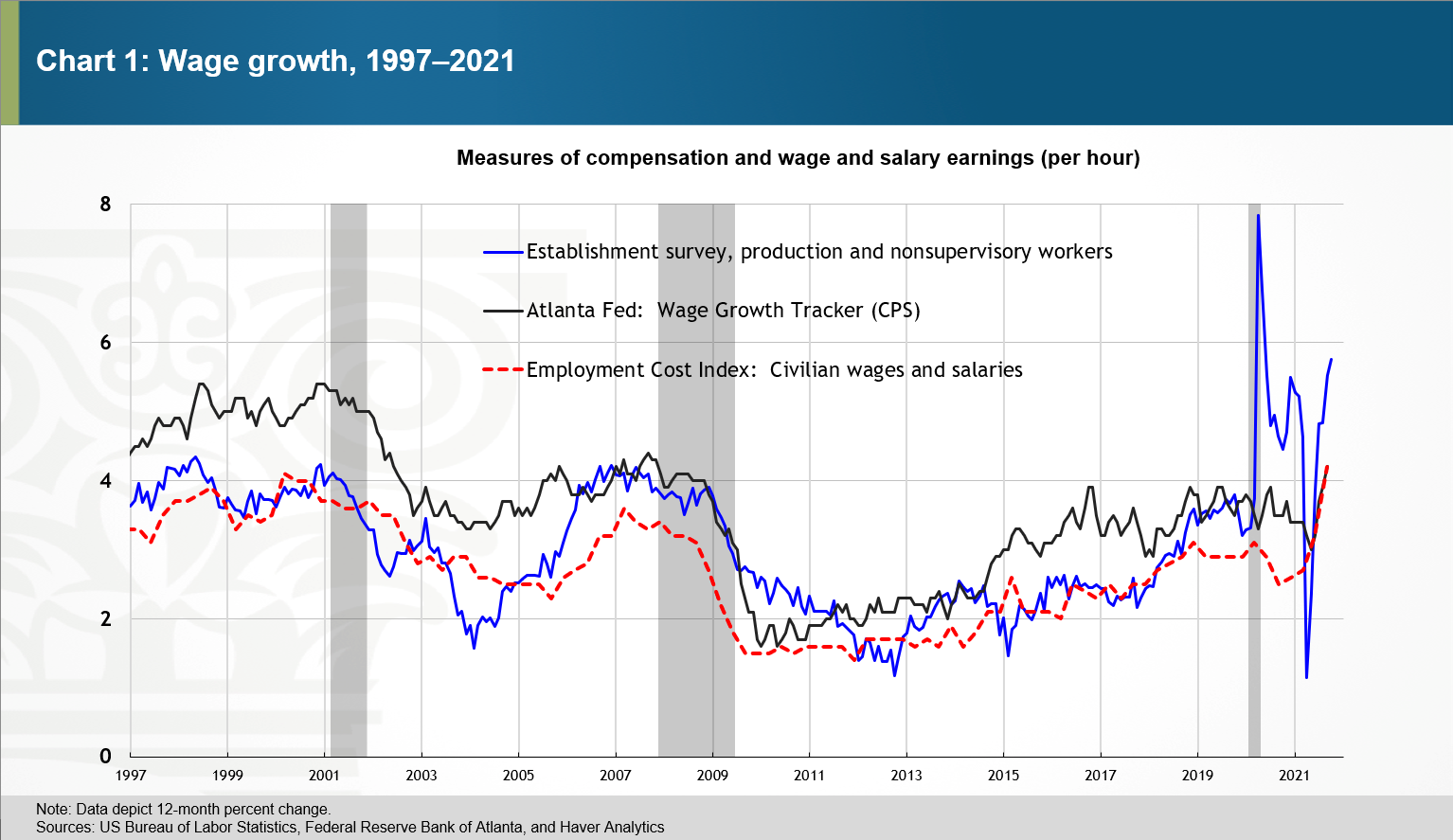 The leisure and hospitality industry provides a useful illustration of why the establishment survey measure of hourly earnings growth spiked in March and April of last year. In February 2020, average hourly earnings for production and nonsupervisory workers

in leisure and hospitality were 40 percent lower than they were for all private nonfarm payroll workers. And although the leisure and hospitality industry accounted for just under 14 percent of private nonfarm production and nonsupervisory jobs in February 2020, it accounted for nearly 40 percent of the lost private production and nonsupervisory jobs in the subsequent two months. The 4.5 percentage point increase from February 2020 to April 2020 in the blue line in chart 1 falls by 1.9 percentage points if we remove leisure and hospitality from the calculation.
The August 2020 FRBSF Economic Letter—aptly titled "The Illusion of Wage Growth"—by Erin E. Crust, Mary C. Daly, and Bart Hobijn shows that restricting the sample to people employed in the second quarters of 2019 and 2020 reduced growth in median usual weekly earnings over that period by nearly 8 percentage points from the published rate of 10.4 percent. The Atlanta Fed's Wage Growth Tracker, which uses the same type of restriction, and the Employment Cost Index (ECI), which controls for employment share changes among industries and occupations

, were not subject to the illusion of wage growth shown by the blue line in chart 1.
Unfortunately, the adjustments used in the Wage Growth Tracker and the ECI are not feasible with the establishment survey measure of hourly earnings because that measure is constructed solely from the information in each month's employment report. As an alternative, Goldman Sachs provides an adjustment

for what it terms the composition bias in the establishment survey measure. This adjustment keeps hours worked fixed at their year-ago level in the wage calculation using industry-level data.
I've written an appendix
that provides the details of a related approach for calculating a composition-adjustment term from the monthly establishment survey data. Besides adjusting for industry composition, this approach also adjusts for types of workers: production and nonsupervisory workers versus nonproduction/supervisory employees. The appendix also shows that adjusting for worker type and industry rather than industry alone materially affects the composition-adjusted measure of average hourly earnings for April 2020. It also shows that—unlike measures from the BLS

and the San Francisco Fed

, which control for educational attainment—the measure of labor composition (sometimes called labor quality
) constructed with only establishment survey data has not trended up much since the mid-2000s.
The basic intuition underlying the approach described in the appendix is that, apart from some trivial rounding error, the BLS measure of aggregate weekly payrolls

is equal to the product of average hourly earnings and aggregate weekly hours worked. So, in much the same way that we can express nominal gross domestic product (GDP) as the product of real chain-weighted GDP and a GDP price deflator, aggregate weekly payrolls can also be decomposed as the product of composition-adjusted measures of wages and hours worked. This approach maintains the equality with aggregate payrolls since the composition adjustments to hourly earnings and hours worked offset each other exactly.
Chart 2 shows the results of adjusting for changes in both industry and worker type for measures of average hourly earnings growth and aggregate hours worked during the pandemic. Adjusting for composition makes average hourly earnings growth during the pandemic more like the ECI and Wage Growth Tracker measures, but, nevertheless, some important differences exist. Unlike the composition-adjusted measure of nominal wage growth, the ECI and Wage Growth Tracker measures languished in the second half of 2020 and surged in their most recent readings. Composition-adjusted hourly earnings grew 1.1 percent from March 2020 to April 2020, which is less than the 4.6 percent spike in the unadjusted measure but still strong enough to suggest that the adjustments made here still miss some meaningful changes in worker composition in the earliest months of the pandemic.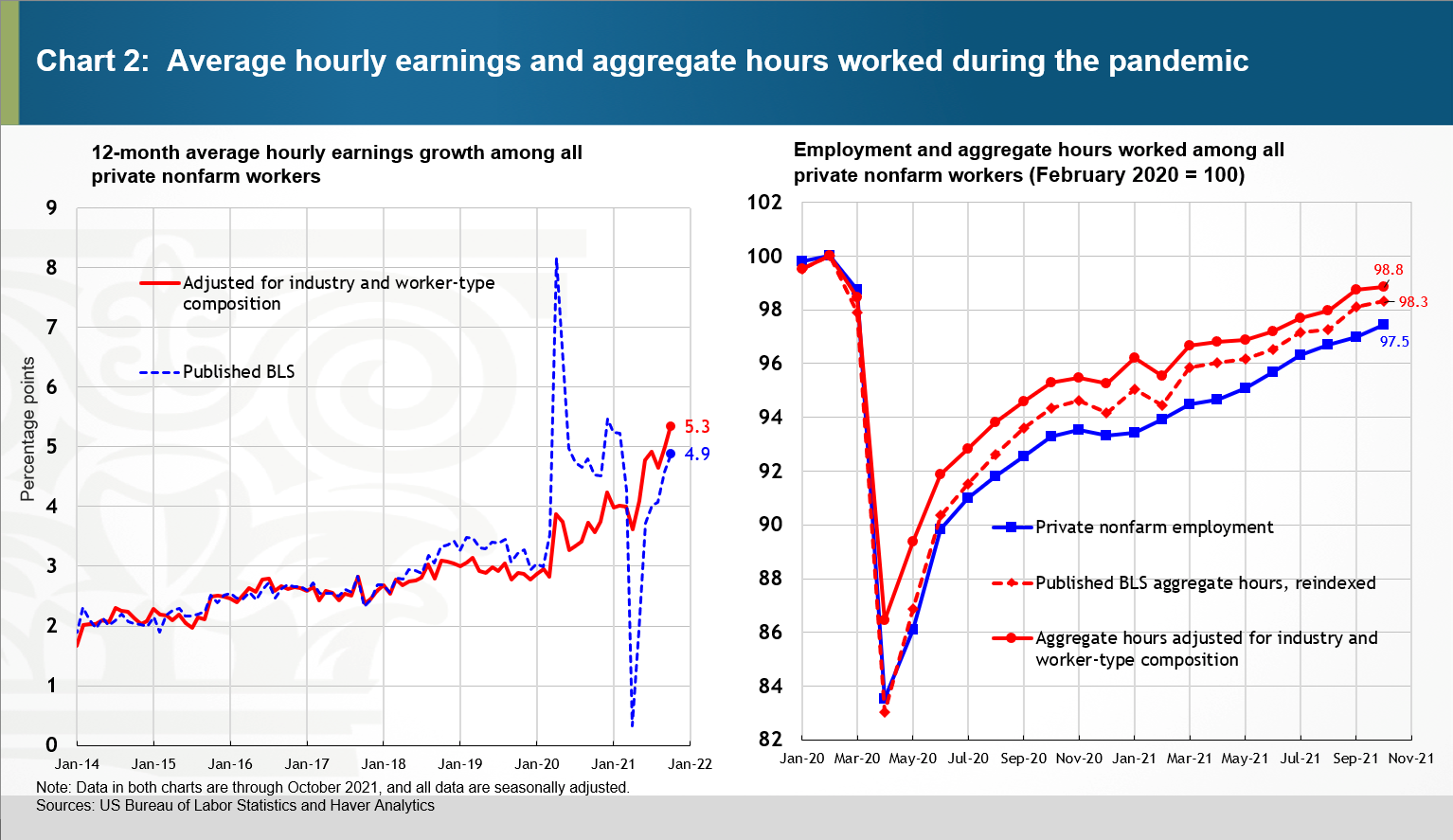 As you look at this chart, note that the adjustment is constructed using wage and hours data for 253 industry groups, all but 10 of which are further split into production and nonsupervisory and nonproduction/supervisory employee groups.
The right panel in chart 2 shows private nonfarm payroll employment alongside the standard measures of aggregate hours worked and a measure adjusted for industry and worker-type composition. In October, private nonfarm payroll employment, hours worked, and composition-adjusted hours worked were 2.5, 1.7, and 1.2 percentage points, respectively, below their February 2020 levels.
The composition-adjustment factor (industry by production/supervisory worker employment type) as well as the associated measures of composition-adjusted hours worked and hourly earnings are available here

. Future updates of this Excel file will also be available at this link.