About
---
Policy Hub: Macroblog provides concise commentary and analysis on economic topics including monetary policy, macroeconomic developments, inflation, labor economics, and financial issues for a broad audience.
Authors for Policy Hub: Macroblog are Dave Altig, John Robertson, and other Atlanta Fed economists and researchers.

Subscribe by email

Subscribe by RSS
Comment Standards:
Comments are moderated and will not appear until the moderator has approved them.

Please submit appropriate comments. Inappropriate comments include content that is abusive, harassing, or threatening; obscene, vulgar, or profane; an attack of a personal nature; or overtly political.

In addition, no off-topic remarks or spam is permitted.
Useful Links
February 24, 2021
WFH Is Onstage and Here to Stay
Chances are you recognize the relatively new acronym WFH as "working from home." In less than a year, WFH has become a ubiquitous, inescapable facet of life for many people, so much so that newswires now ask which cities are best for WFH

, and online job boards compile lists

of companies that allow remote work on a full-time, permanent basis.
Many people are debating the pros and cons of WFH. For employees, gone are the long commutes and cramped cubicles, but other work-related stresses have emerged. As the pandemic drags on, some workers experience feelings of loneliness and isolation

, health problems

, and challenges related to work-life balance

.
Back in May 2020, the Atlanta Fed's Survey of Business Uncertainty (SBU) elicited firms' views on WFH and found that, on average, firms anticipated that WFH would triple to 16.6 percent of paid workdays after the pandemic ends, up from 5.5 percent before it struck. Eight months later, we were curious to see whether and how plans had changed. So, in the January 2021 SBU, we asked two special questions very similar to ones we posed last May. Specifically, to gauge the extent of WFH, we asked, "Currently, how often do your full-time employees work from home?" To assess the future extent of WFH, we asked, "How often do you anticipate that your full-time employees will work from home after the coronavirus pandemic ends?" We asked firms to sort the fraction of their full-time workforce into six categories, ranging from five full days WFH per week to rarely or never.
It turns out that current plans are similar to those in May, with one important exception: firms increasingly favor a hybrid model for the postpandemic economy, walking back plans for the share of staff that will work exclusively from home. Chart 1 summarizes the responses to WFH questions posed in January's SBU and compares them to our May results. We also compare the results to statistics computed from the American Time Use Survey

, conducted by the U.S. Bureau of Labor Statistics in 2017–18, which provides a useful benchmark. Aside from the striking similarity in pre-COVID levels of WFH across the surveys, several findings are worthy of note.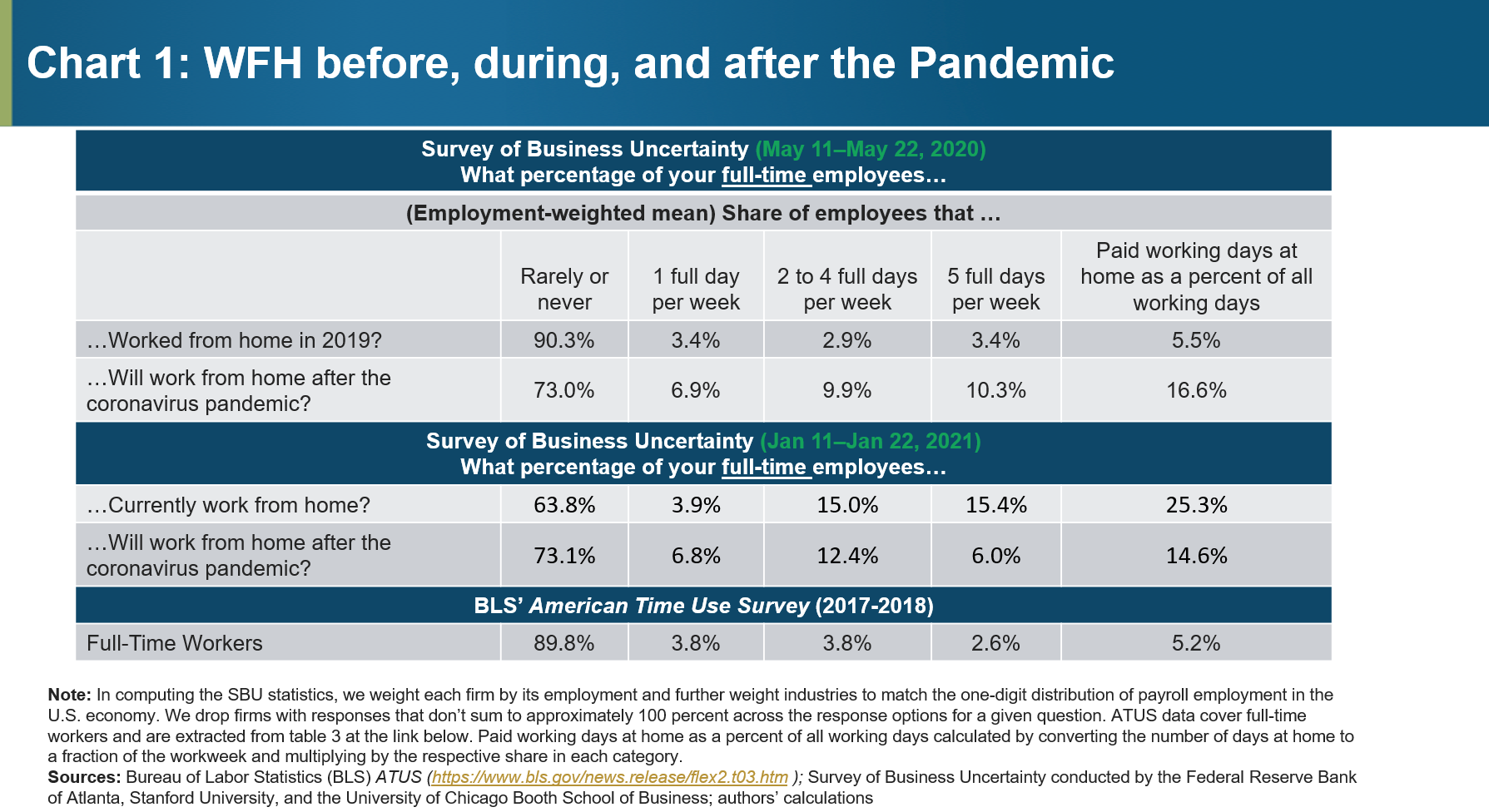 First, according to the January SBU, more than 35 percent of employees currently WFH at least one day per week. This estimate is plausible in light of work by Jonathan Dingel and Brent Neiman of the University of Chicago's Booth School of Business, which indicates that nearly 40 percent of U.S. jobs can be done at home

. Moreover, the current WFH configuration tilts toward multiple days at home. All told, 25 percent of paid workdays are currently performed at home.
Second, firms report surprisingly similar figures in May 2020 and January 2021 for the share of employees whom they expect to work from home at least one day per week after the pandemic. Given the unprecedented nature of the pandemic recession, eight months is a long time over which to hold such stable expectations, suggesting that firms are serious about their intentions.
However, expectations have adjusted in one key respect: last May, firms anticipated that 10 percent of the postpandemic workforce would be fully remote, as compared to just 6 percent as of January. While still double the pre-COVID share, the revised expectation suggests many firms are coalescing around hybrid arrangements, whereby employees split the workweek between home and employer premises. These plans entail a large break from prepandemic working arrangements, but they imply more limited scope for employees to live anywhere—or for employers to hire from anywhere.
Chart 2 shows how the extent of actual and planned WFH varies by industry. Every major industry sector saw dramatic increases in WFH during the pandemic. With the exception of retail and wholesale trade, firms in every sector anticipate that a tenth or more of paid workdays by full-time employees will take place at home after the pandemic ends. For firms in business services, information, finance, and insurance, the postpandemic figure is 30.6 percent. And for the economy as a whole, it's 14.6 percent—nearly triple the prepandemic level.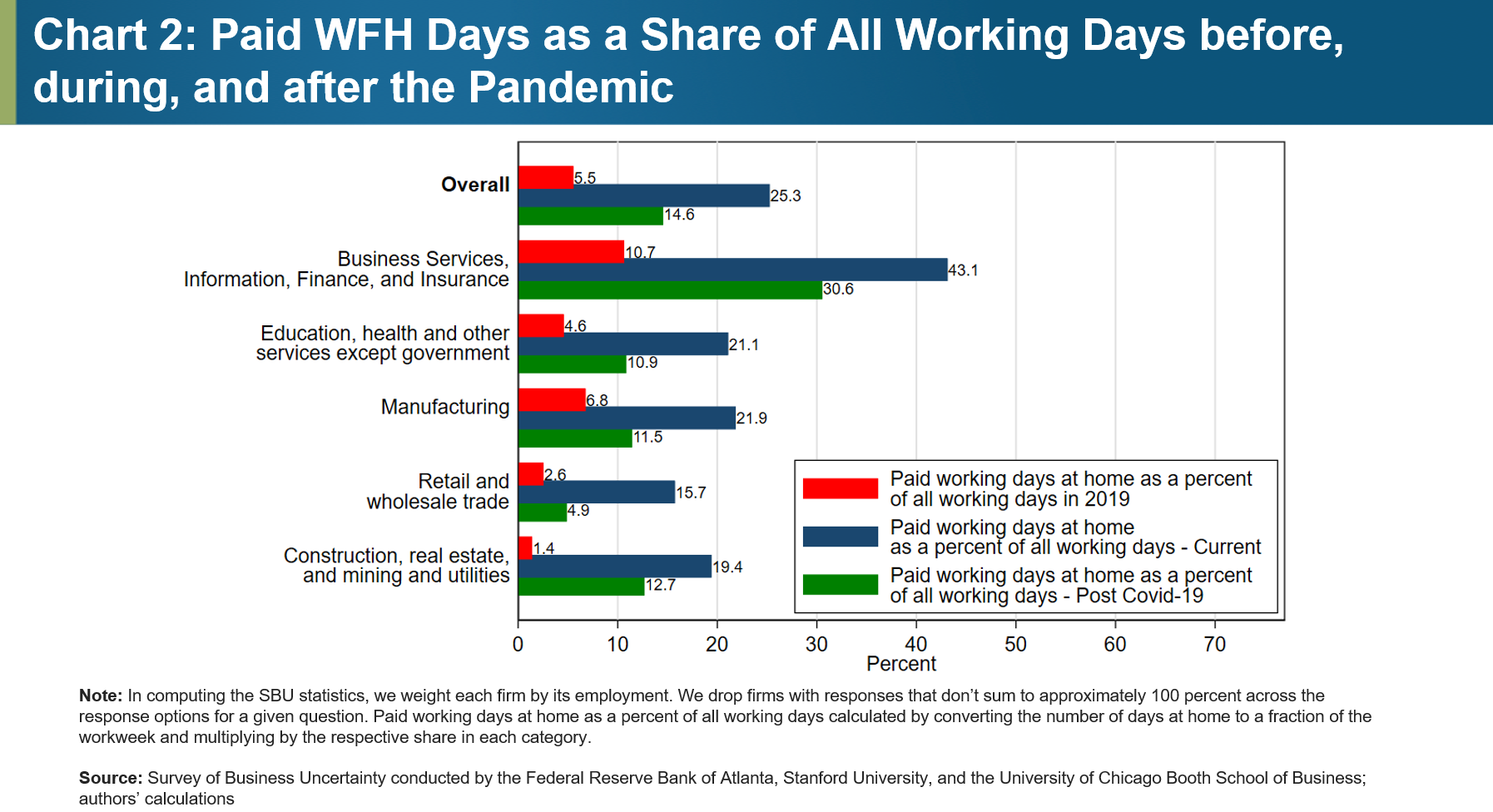 Further digging into our survey results reveals the finding that COVID-19 shifted employment growth trends in favor of industries with a high capacity of employees to WFH and against those less able to accommodate remote work. Firms with a high WFH capacity experienced much higher stock returns

in the past year than did firms with a low capacity. In addition, urban residences have become cheaper relative to suburban ones since the pandemic struck, suggesting that a shift to WFH has lowered the desirability of urban living

. More WFH also means fewer people commuting into city centers and less worker spending on meals, coffee, personal services, shopping, and entertainment near employer premises. A recent study finds that a permanent shift to WFH will directly reduce postpandemic spending

in major city centers by 5–10 percent relative to prepandemic circumstances. Of course, such changes also mean lower sales tax revenue for cities that had high rates of inward commuting before the pandemic.
To summarize, firms have largely stuck to their early expectations about the extent of WFH in the postpandemic economy. There has, however, been a notable drop in plans for employees to work from home five days a week. Remarkably, in every major industry sector except retail and wholesale trade, firms anticipate that WFH will account for one-tenth or more of full workdays by full-time employees, far above prepandemic levels. These shifts toward more remote work are driving a reallocation of jobs across industries and locations, contributing to fewer jobs, lower sales tax revenues, and lower property values in city centers. Our results suggest that these effects are likely to persist.
November 12, 2020
A Dashboard Approach to Monitoring Underlying Inflation
Editor's note: In December, macroblog will become part of the Atlanta Fed's Policy Hub publication.
Measuring progress toward the Federal Open Market Committee's (FOMC) dual mandates of maximum sustainable employment and price stability is often reduced to shorthand: Simply, monitoring the level of the unemployment rate relative to its longer-run trend, and tracking the level of a specific measure of underlying inflation—the so-called "core" measure of personal consumption expenditure (PCE) inflation (which excludes food and energy prices)—relative to the FOMC's 2 percent price stability goal. This ex food and energy "core" measure is often taken as a de facto proxy for the trend in overall (or "headline") inflation. While the unemployment rate and core PCE inflation are, indeed, useful in measuring the FOMC's progress toward its objectives, they are not perfect.
In an influential speech in 2013, Janet Yellen (then chair of the FOMC) argued for a broader, more inclusive approach to monitoring the health of the labor market. The unemployment rate, she pointed out, had significant shortcomings—namely, when unemployed workers became discouraged and stopped looking for work, the unemployment rate would decline. Hence, monitoring a basket or dashboard of indicators (such as payroll employment, data on gross job flows, and quits rates) could help paint a more accurate picture of the health of the labor market.
And, much like former Chair Yellen highlighted the need for a dashboard approach to monitoring the employment mandate, simply using core PCE inflation to track the underlying inflation trend is insufficient. An analogous dashboard approach is needed to monitor progress toward the FOMC's price stability mandate.
For some obvious reasons, movements in the aforementioned core PCE price measure do not always reflect changes in inflation. Explaining why gets a bit academic, but embedded in every price change are, at least, two components. The first is a real component, reflecting changes in the supply and demand for a particular good or service relative to others in the consumers' market basket. The second component is a nominal component, reflecting the supply of money (or the stance of monetary policy) relative to what's needed to facilitate purchases of goods and services in the economy during a given time period. It is that second component—the inflation component—that we are attempting to uncover. Efforts to do this rely on discerning measures of underlying inflation—measures that attempt to remove transitory effects and noise from the price data.
Implicit in using an underlying inflation measure that excludes only food and energy prices is the assumption that every other price change is a reflection of a change in underlying inflation. However, that assumption is off base. Large relative price changes outside of food and energy items, having nothing to do with the FOMC's price stability mandate, often occur. In the abstract, these can be any relative price change, such as a sharp increase in excise taxes, subsidies on prices in particular markets, or temporary supply chain disruptions resulting from natural disasters, pandemics, or a disruption in global trade.
Specifically, over the past six years or so, we've seen at least three of these large and salient relative price changes that have materially affected core PCE inflation. The first example is changes in administered health care prices that lead to a sharp slowing in the price index for hospital services (and thus health care prices in general) shortly after the passage of the Affordable Care Act (often referred to as Obamacare). The second is a methodological change that the U.S. Bureau of Labor Statistics enacted in January 2017, which made cell phone service prices more sensitive to quality changes. In March 2017, a few large national carriers switched to offering largely unlimited data packages, yielding a 50 percent (annualized) decline in this component and having a striking impact on year-over-year core PCE inflation through March 2018. The third is a series of huge price swings in imputed financial services prices in late 2018 and early 2019.
These are just a few of the most salient relative price changes that have altered a "core PCE-centric" view of inflation over the prior expansion, but there have been many more. Thankfully—and in large part due to great work throughout the Fed system to understand and measure inflation—we have a variety of alternative inflation measures designed to limit the influence of these large, idiosyncratic price changes. A few of the better-known ones are the Cleveland Fed's median and 16 percent trimmed-mean CPI and the Dallas Fed's trimmed-mean PCE measure. These measures remove the influence of sharp component price swings on a monthly basis and, as a result, tend to have a lower variance than the usual "core" measures, leading to superior forecasting performance over most time horizons and in a variety of inflation forecasting models.
Another set of inflation indicators reweights, or classifies, detailed components in the consumers' market basket into different groups based on characteristics that a monetary authority (such as the Federal Reserve) should be interested in. First, let's consider indicators such as the San Francisco Fed's Cyclical Core PCE Inflation index and Stock and Watson's Cyclically Sensitive Inflation Index. These measures either exclude or deemphasize the weight of prices that do not move in tandem with the business cycle. The argument goes that certain components of the consumer's market basket (such as health care and education prices) follow strong, idiosyncratic trends, and therefore price changes among these components are more likely to reflect relative price changes rather than the influence of monetary policy working through the pricing mechanism.
A third type of inflation indicator is the Atlanta Fed's Sticky Price CPI. This measure tracks a set of CPI components that are slow to react to changing economic conditions (and hence are "stickier" than other components) and appear to incorporate expectations about future inflation to a greater degree than prices that change on a frequent basis. This measure tends to forecast inflation over longer time horizons more accurately than headline or core inflation measures.
We have pulled together these various measures into the Underlying Inflation Dashboard, which allows users to see a more complete picture of underlying inflation. A quick overview of this dashboard is in order (see chart 1). The first section of the table shows the 12-month growth rate of each underlying inflation measure. It compares the most current data to the value of a measure from one year prior. Each measure is color-coded, in 25 basis point (bp) increments, relative to its price stability target. Admittedly, the choice for each measure's price stability target is somewhat arbitrary, but given the primacy of core PCE inflation in the communications of the FOMC and the Federal Reserve, we chose to express each measure's target as 2 percent plus its average difference with core PCE inflation over the past decade. For example, the growth rate in the core CPI over the past 10 years is 30 bp higher than that of the core PCE, yielding a price stability target of 2.3 percent.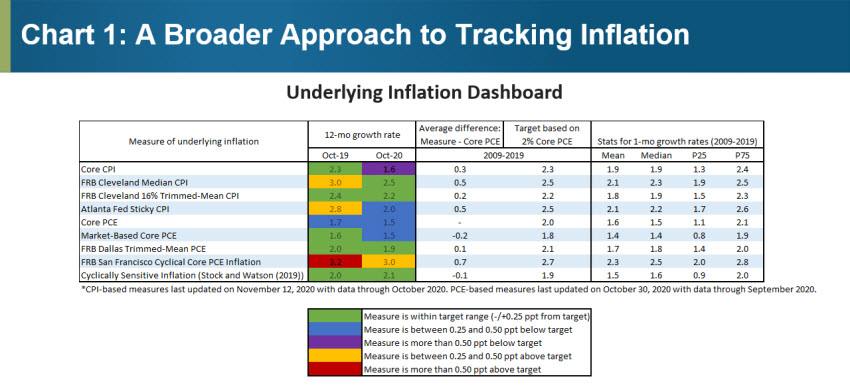 What's interesting to see is the narrative that emerges by taking the dashboard approach to monitoring underlying inflation.
Prior to the onset of COVID-19 earlier this year, the consensus view surrounding inflation was one of persistent shortfall, even after (at least) achieving maximum employment by most measures. Indeed, at least through the beginning of 2020, core PCE inflation continued to trend below target (see chart 2).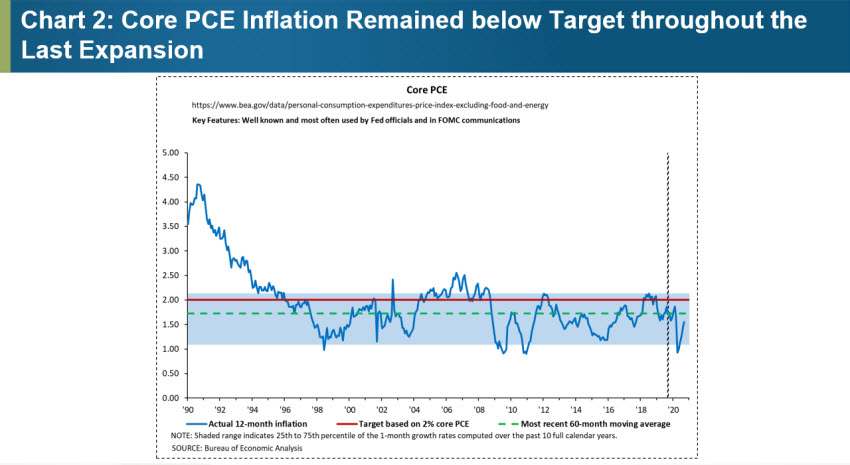 However, every other measure of underlying inflation in the dashboard had converged to a growth rate consistent with the Fed's price stability mandate by early in 2018 and stayed there up until the onset of the pandemic (see charts 1, 3, and 4). Taking a dashboard approach leads us to the conclusion that, while it took some time following the Great Recession, inflation had converged to our price stability target and remained on target until March 2020.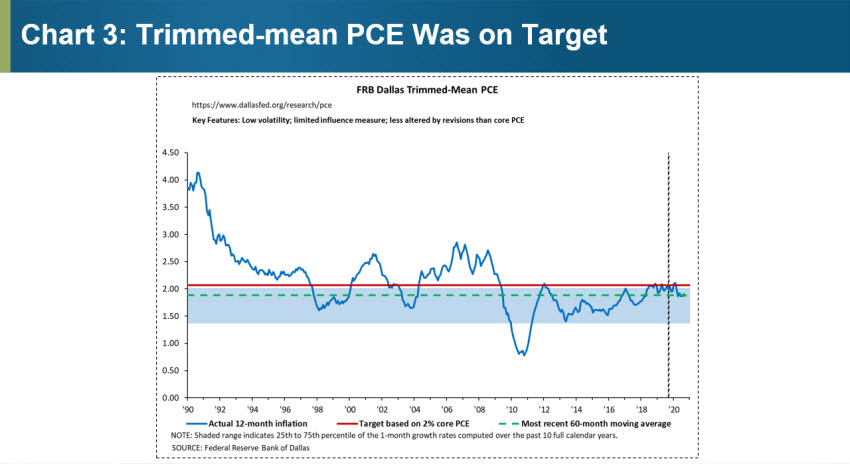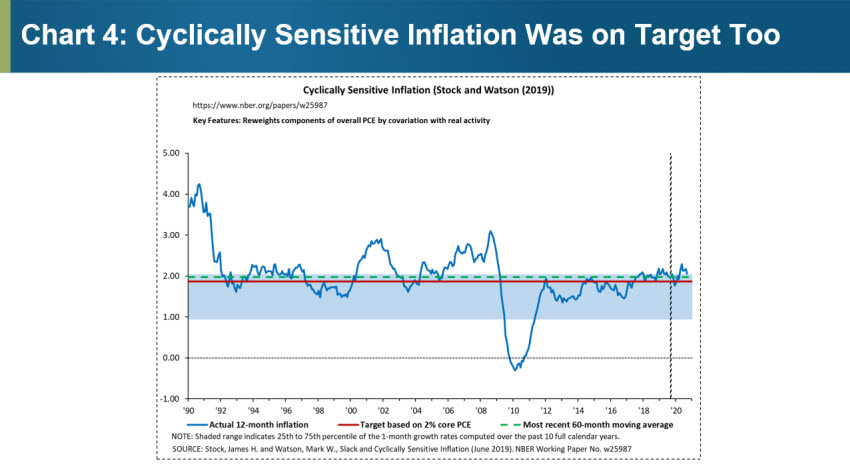 The previous discussion made the case for using a dashboard approach when evaluating underlying inflation prior to the onset of the COVID-19 pandemic. Since then, a series of dramatic relative price swings, along with direct complications in the physical measurement of prices, have further complicated the measurement of underlying inflation.
One particularly salient example comes from used auto prices. Auto prices have surged, rising at a record annualized rate of 75 percent from July to September. This spike is likely the result of a combination of increased demand stemming from commuters attempting to avoid mass-transit options, less confidence over future incomes, and a temporarily reduced supply of new vehicles. This relative price change alone has pushed the 12-month growth rate in core PCE goods prices up by nearly a full percentage point and added nearly three tenths of a percent to the 12-month trend in core PCE inflation. In contrast, trimmed-mean estimators (such as the Cleveland Fed's 16 percent trimmed-mean CPI and the Dallas Fed's trimmed-mean PCE) have largely ignored (hence the "trimmed") the influence of this rather dramatic price swing over the prior three months—leading to much more stable month-to-month estimates of underlying inflation.
It is precisely these types of dramatic relative price swings that argue for the broader approach we've sought to provide with the Underlying Inflation Dashboard. We hope you'll give it a whirl and let us know what you think.
October 22, 2020
COVID, Election Uncertainty Weigh Heavily on Firms' Outlook
Editor's note: In December, macroblog will become part of the Atlanta Fed's Policy Hub publication.
The book A Mathematician Plays the Market, written by the mathematician and writer John Allen Paulos, includes this line, which is a fitting description of the current economic outlook: "Uncertainty is the only certainty there is, and knowing how to live with insecurity is the only security." At the moment, two sources of uncertainty in particular—COVID-19 and the 2020 election—appear to be weighing very heavily on firms' decision-making. And firms in our Survey of Business Uncertainty (SBU) also appear to know how to "live with insecurity," as they are slashing their capital expenditures budget over the next two years by 20 percent, on average.
During the past two months, we've asked firms in our SBU to rank the top three sources of uncertainty influencing their business decisions at the moment. The results, seen in chart 1, show that firms are most concerned about uncertainty surrounding the coronavirus and the upcoming 2020 election. Together, these were firms' top sources of uncertainty and account for close to half of all responses, regardless of whether they are ranked as the first, second, or third source of uncertainty.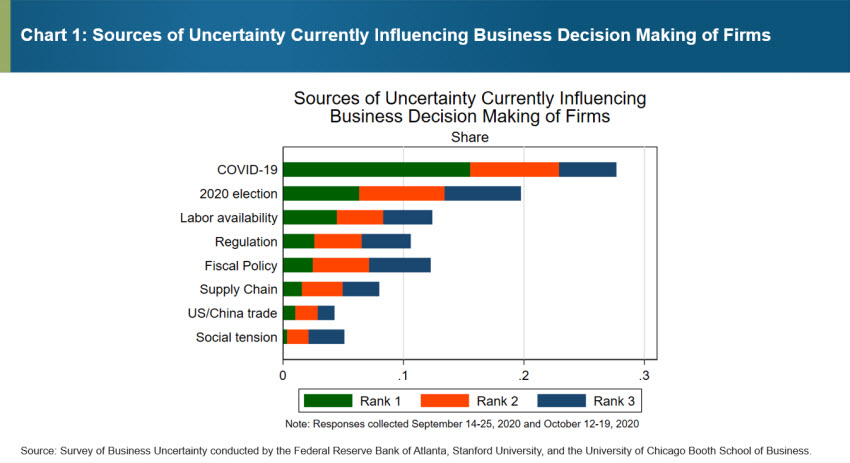 While it likely comes as no surprise that COVID-19 and the pending election are front and center as sources of uncertainty affecting business decisions at the moment, what is interesting is how firms are choosing to deal with these uncertainties. In October, we asked a follow-up question: "By what percentage has the net budgeted dollar amount of your capital expenditures for calendar years 2021 and 2022 changed due to the uncertainties you identified [in the previous question]?" The responses, shown in chart 2, suggest that uncertainty is weighing quite heavily on firms' collective outlook for capital investment.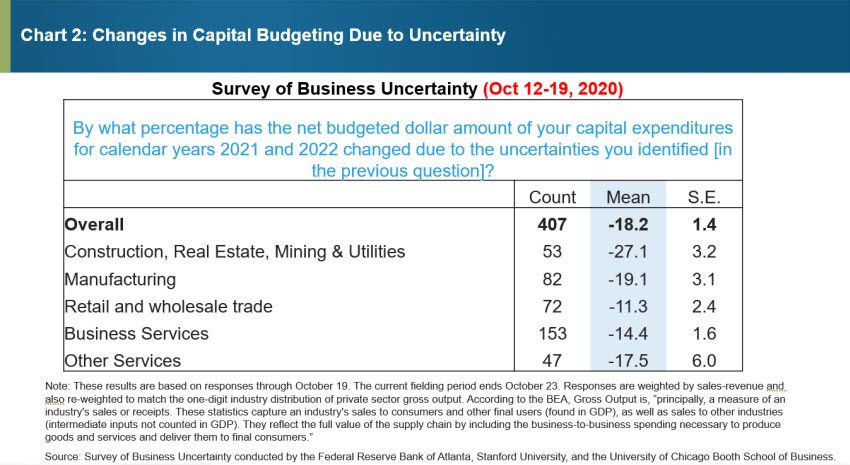 Of the 407 responses we've collected so far, more than half of firms responded that the uncertainties they identified caused them to decrease their net budgeted amount of capital expenditures over the next two years. Furthermore, just 5 percent (20 firms) have increased their capex budget as a result of uncertainties they identified (with the remaining 44 percent leaving their current budgets intact). On average, firms are slashing their capital spending budgets over the next two years by nearly 20 percent. Across major industry sectors, the impact of uncertainty on capital budgets is uniformly negative. However, it appears more severe for capital-intensive industries such as manufacturing, construction, and mining and utilities.
To put these results in context, we previously posed a battery of special questions to this panel in 2018 and 2019 concerning the impact of tariff hikes and trade policy uncertainty on capital expenditures and found only modest (low single-digit) impacts for the overall panel and across most broad industries.
Turning to comprehensive gross domestic product (GDP) data for the U.S. economy, business fixed investment posted its second steepest decline on record (decreasing at an annualized pace of 27.2 percent) in the second quarter of 2020. Our current results imply a sluggish trajectory for business fixed investment for continuing firms (those that are not just starting up), which may contribute to a tepid recovery for overall GDP growth. One caveat worth mentioning is that recent business formation statistics from the U.S. Census Bureau suggest an increase in high-quality business startups, potentially offsetting some anticipated weakness in business fixed investment.
In sum, it's fairly certain (to us at least) that uncertainty—particularly surrounding the COVID-19 pandemic and the outcome of the 2020 election—is weighing heavily on firms at the moment. Consequently, many firms have chosen to slash their capex budgets over the next two years.
As current uncertainties become eventualities, it will be interesting to see if, and to what extent, firms reassess their plans. We'll continue to put the SBU to good use for just that purpose, so watch this space.
October 1, 2020
Post-COVID Recovery? Not So Fast, My Friend
The recent economic data paint a picture of recovery. Our in-house gross domestic product growth tracker, GDPNow, has pegged third quarter 2020 growth at an astonishing 32 percent annualized pace. The unemployment rate has fallen from a high of 14.7 percent in the depths of the pandemic to 8.4 percent alongside the addition of nearly 11 million payroll jobs.
Yet, despite that dramatic initial bounceback, the unemployment rate is more than double its February level of 3.5 percent and nonfarm payrolls still sit 11.5 million below their prepandemic levels. Moody's Analytics and CNN Business's "Back-to-Normal Index" suggests that the economy is operating at about three-quarters of its prepandemic levels. However, progress toward "normal" appears to have stalled out in recent weeks.
The question of how quickly the United States is going to return to prepandemic levels of economic activity looms large. Data from the Survey of Business Uncertainty (SBU) suggest that the road forward is going to be a tough slog. Businesses hold tepid expectations for year-ahead employment and sales growth. Expectations are, in fact, so tepid that, based on the latest average projection, it will take firms more than four-and-a-half years to recover their pre-COVID employment levels and about three-and-a-half years to recover their lost sales revenue. In short, the coronavirus pandemic has knocked the economy off its previous robust path and firms don't see us returning to that path anytime in the foreseeable future.
Charts 1 and 2 make use of SBU survey data on past sales growth rates and current and year-ago employment levels in addition to firms' forward expectations. The indexes plot the cumulative sales and employment growth using January 2016 as a starting point and use data and expectations through September 2020. For reference, we plot a trend line based on the actual, relatively stable and strong sales and employment growth firms reported over the 2017–19 period.
As the charts show, since the onset of the pandemic, firms' sales revenues have plummeted by more than 10 percent and employment levels, which have stabilized in recent months, are on average still about 5 percent below prepandemic levels. Essentially, the pandemic has erased all the growth that firms have enjoyed over the previous two years.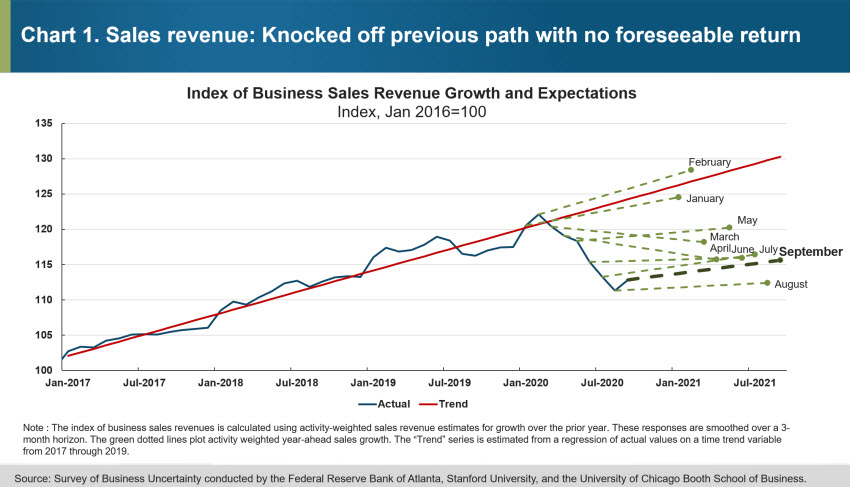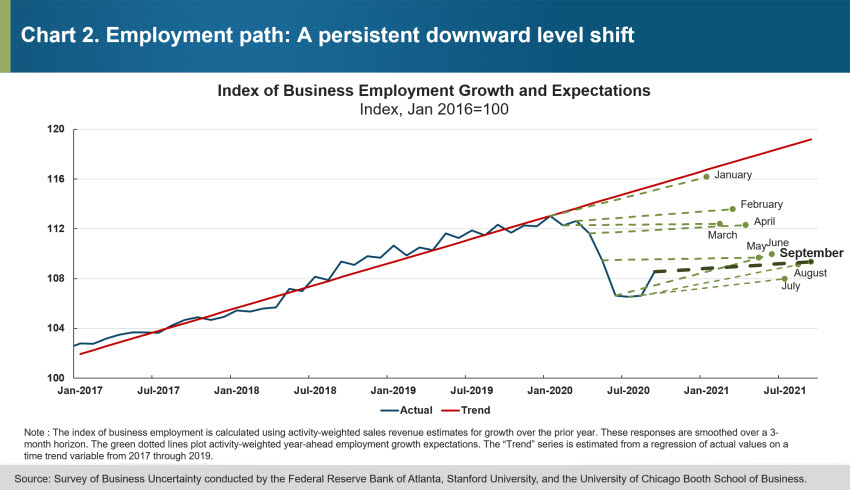 The evolution of firms' expectations since the beginning of the pandemic is also of particular interest. Before the pandemic, firms' expectations for both sales and employment growth remained relatively on trend. However, by April, firms appeared to have rapidly adjusted down their expectations for sales revenues over the year ahead, while holding to an expectation that employment levels would remain more or less constant. However, firms' expectations became much less optimistic over the summer months—perhaps as firms came to grips with the length of time COVID-related uncertainty is likely to remain with us. Firms now anticipate a modest increase in sales revenue and a mere 0.7 percent gain in employment over the year ahead.
So, when will the economy recover "back to normal"? Well, based on firms' latest projections, they do not anticipate regaining their pre-COVID (February 2020) employment level for another 55 months (or until April 2025). For sales revenue, the mean projection suggests that revenues will not retake their February 2020 levels until January of 2024. Effectively, COVID-19 has permanently shifted downward firms' expectations for employment and sales growth trends.
It's worth noting that these projections from firms are somewhat more pessimistic than those of professional forecasters. In a special question posed to the Blue Chip Panel of Economic Forecasters in September, the majority of professional forecasters see real GDP overtaking its prepandemic level sometime in 2022. However, the latest employment projections from the Survey of Professional Forecasters still have nonfarm payroll employment well shy (by roughly 8 million jobs) of its prepandemic peakby the end of their quarterly projection period in the third quarter of 2021. Projecting forward using their last quarterly forecasted growth rate suggests nonfarm payroll employment may return to its prepandemic peak by the first quarter of 2024.
Overall, our results indicate that our survey panel participants do not see the chances of the U.S. economy retaking its pre-COVID levels and getting back on its prepandemic trend anytime in the foreseeable future. As Lee Corso, ESPN college football analyst, would put it: "Not so fast, my friend."