About
---
Policy Hub: Macroblog provides concise commentary and analysis on economic topics including monetary policy, macroeconomic developments, inflation, labor economics, and financial issues for a broad audience.
Authors for Policy Hub: Macroblog are Dave Altig, John Robertson, and other Atlanta Fed economists and researchers.

Subscribe by email

Subscribe by RSS
Comment Standards:
Comments are moderated and will not appear until the moderator has approved them.

Please submit appropriate comments. Inappropriate comments include content that is abusive, harassing, or threatening; obscene, vulgar, or profane; an attack of a personal nature; or overtly political.

In addition, no off-topic remarks or spam is permitted.
Useful Links
August 4, 2020
Businesses Anticipate Slashing Postpandemic Travel Budgets
In the months (and years) following 9/11, airline travel was fundamentally altered. Despite a host of new measures to increase safety, not until April 2004 did airlines see passenger loads reach pre-9/11 levels. When thinking about how that crisis compares to the current pandemic, current and former airline execs say the current pandemic is having a much more significant impact on travel than 9/11 did. On the prospect of when travel could return to pre-COVID levels, a former CEO of American Airlines, Robert Crandall, flatly predicted in the Wall Street Journal that "you are never going to see the volume of business travel that you've seen in the past."
And official statistics confirm this notion. The U.S. Bureau of Transportation Statistics' index for passenger travel (shown in chart 1) registered a roughly 20 percent drop around September 2001, while as of April (the most recent month of data), passenger travel fell off a cliff. The raw index level was 10, which means that passenger transportation across all modes fell to 10 percent of its average level during 2000—two decades ago.
Although higher-frequency data point to a modest rebound in travel since bottoming out in April, the travel numbers at airports are now only about 70 percent below last year's levels (as opposed to down 95 percent in early April). But that hasn't kept many folks from wondering what the future of air travel will look like or how long it will take until people are once again comfortable enough to starting flying for work or leisure.
As we've highlighted during the past couple of months, the coronavirus pandemic has had a profound impact on job reallocation, firms' expectations for employees working from home after the pandemic, and reconsideration of firms' future office space needs. This post also discusses possible coming changes. Results from our most recent Survey of Business Uncertainty (SBU) suggest that firms anticipate slashing their postpandemic travel budgets and tripling the share of external meetings (those with external clients, patients, suppliers, and customers) conducted virtually.
In our latest SBU—which was in the field July 13–24—we asked business decision makers to describe how, relative to 2019 (see chart 2), their travel budgets are likely to change after the pandemic is over and whether the postpandemic share of external meetings conducted virtually will change. (You can read more about the SBU here.)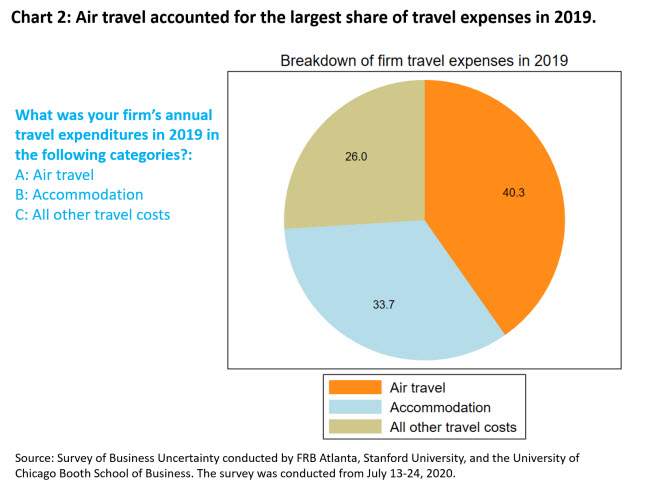 Chart 2 indicates that air travel accounted for roughly 40 percent of 2019 travel expenses for most broad industries, with the remainder split between accommodation and all other travel costs. And, as you may have expected, industries such as business services, information, finance, and insurance accounted for an outsize share of overall travel spending (42 percent of all travel spending in our data).
As chart 1 clearly indicates, the pandemic has led many firms to halt or severely curtail travel, but the important question is whether business travel recovers fully following the pandemic. Unfortunately, for the transportation and travel industries, our results cast doubt on the prospect for a quick and complete rebound in business travel. Firms anticipate slashing their annual travel expenditures by nearly 30 percent when concerns over the virus subside (see chart 3). The expected decline in travel expenditures is particularly severe for information, finance, insurance, and professional and business services. Firms in these industries are marking in a nearly 40 percent reduction in travel spending after the pandemic is over. Overall, these results paint a fairly pessimistic view going forward.
Firms in our survey are not alone in their pessimism. A recent forecast from the International Air Transport Association projects air travel will remain below its prepandemic trend through 2024.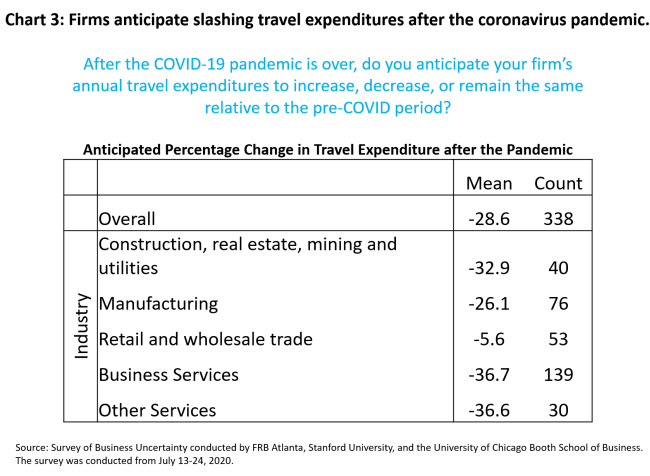 Such a large, broad-based reduction in travel spending not only suggests a sluggish and potentially drawn-out recovery for the travel, accommodation, and transportation industries, but it also indicates that firms expect to shift from face-to-face meetings to lower-cost virtual meetings. And, as chart 4 shows, that's exactly what we found when we asked firms about the share of virtual meetings they held in 2019 versus the share they anticipate holding in a post-COVID world.
After the pandemic ends, firms anticipate conducting roughly half of all meetings with external clients, customers, patients, and suppliers by videoconference. Said another way, they expect the share of virtual meetings to triple relative to prepandemic averages.
The coronavirus pandemic is reshaping the economic landscape in myriad ways. Business travel appears to be front and center in this transformation, as firms anticipate slashing travel expenses by a quarter and tripling the share of external meetings conducted virtually.
Move over, jet lag—here comes "Zoom" fatigue.
---
Authors' notes on this post's charts:
Chart 1: The passenger transportation index consists of: 1) local mass transit, 2) intercity passenger rail, and 3) passenger air transportation. It does not include intercity bus, sightseeing services, ferry services, taxi service, private automobile usage, or bicycling and other nonmotorized means of transportation.
Chart 2: The survey was conducted July 13–24, 2020. In computing the data, each firm is weighted by its employment, and industries are further weighted to match the one-digit distribution of payroll employment in the U.S. economy.
Chart 3: The survey was conducted July 13-24, 2020. These data have been weighted using the same procedure as in chart 2 and have been winsorized at the 1st and 99th percentile to remove the influence of outliers. For firms overall, the 95 percent confidence interval for the anticipated percentage change in travel expenditures is -33.4 percent to -23.8 percent. "Business Services" includes information services, finance and insurance, and professional and business services. "Other Services" includes educational services, health care and social assistance services, leisure and hospitality, as well as other services except government.
Chart 4: The survey was conducted July 13–24, 2020. "External meetings" indicates those involving customers, clients, patients, suppliers, etc. These data have been weighted using the same procedure as in chart 2.
July 10, 2020
COVID Won't Kill Demand for Office Space
Last month, we noted that employers expect working from home to triple after the pandemic as compared to the prepandemic situation. The large shift to working from home has prompted many to speculate about the demise of commercial real estate (CRE) and the demand for office space.
We also wonder what will happen. So, in our latest Survey of Business Uncertainty (SBU)—fielded from June 8 to 19—we asked firms this question: "After the coronavirus pandemic is over, how do you anticipate your firm's floor space needs will have changed, if at all?"
Before we dig into the results shown in the chart, we want to note a couple important caveats. First, we survey only continuing firms. Firms that went out of business in the wake of the pandemic aren't around to answer our survey questions, and we don't capture the reduction in their floor space needs. On the flip side, new firms aren't part of our sample frame, so we miss their new demands for space. Second, our survey yields data at the level of firms and not at the level of individual business facilities. For example, if the pandemic prompts a firm to shift its office workers from a high-rise building in the city center to a low-rise suburban office park with the same square footage, such a change is not captured by our survey.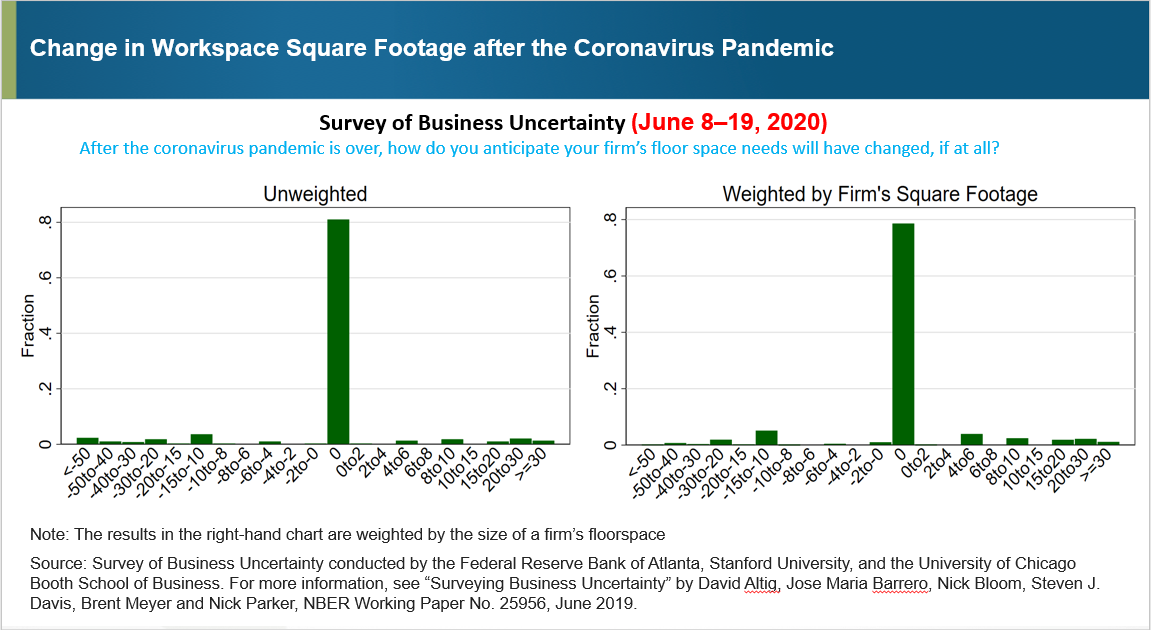 As the chart shows, roughly 80 percent of our 390 respondents anticipate no change to their current floor space needs. Responses from the other 20 percent are highly dispersed, leading to long-tailed distributions. Some of the firms in our sample expect to either reduce or expand floor space by a third or more.
Although firms in our sample don't anticipate their overall square footage to change much, exactly how much change they expect depends on how we weight the sample responses. When we weight by firm size as measured by number of employees, overall demand for floor space is expected to shrink by 2.8 percent (with a standard error of 0.7 percent). When we weight by the firm's current floor space usage, overall demand for floor space is expected to rise by 0.4 percent (with a standard error of 0.6 percent). Either way, the expected change in the overall demand for commercial real estate is quite modest.
If we focus on firms in business services, information, finance, and insurance—industries that dominate the demand for office space—and weight by current floor space, we obtain an expected increase of 1.6 percent (with a standard error of 0.9 percent). One possible interpretation of these results is that new desires for social distancing will offset the impact of greater working from home on the overall demand for office space and CRE more generally.
While overall floor space needs aren't expected to change materially, the long tails in chart 1 imply some reallocation of workspace across firms—that is, footprints will expand for some firms and shrink for others. To quantify this reallocation, we compute two quantities: the extra floorspace needed by firms that expect to expand their footprints, and the reduction in floorspace for firms that expect to shrink their footprints. Taking the minimum of these two quantities, we find that 1.7 percent of floor space will be reallocated across firms, according to our survey responses. This pandemic-induced reallocation of floor space across firms is quite modest.
Our results are consistent with early evidence from asset markets indicates that the COVID-19 shock has materially shifted the distribution of CRE values, improving the relative outlook for real estate devoted to data centers, cell towers, self-storage, and warehousing while worsening the relative outlook for real estate holdings in the hospitality and retail sectors.
To shed more light on the forces driving floor space needs, we performed a regression of the expected percent change in each firm's floor space needs on its expected growth rate of sales (or employment) and its share of full-time employees working from home. Although our regression model explains only a small fraction of expected firm-level changes in floor space, we find a statistically significant negative effect of the firm's current working-from-home share on its expected change in floor space needs. However, that effect is overshadowed by the effect of the firm's expected growth in sales (or employment). The takeaway here is that changes in square footage align more closely with expected growth than with the share of folks working from home.
To sum up, our survey evidence points to a very small impact of the pandemic on overall CRE demand. In fact, our data cannot reject a net effect of zero. Our results also suggest that the pandemic-induced reallocation of total space across firms will be quite modest. Of course, we might see firms change the mix of space—for example, shifting from office space in urban high-rise buildings to suburban office parks.
Finally, subject to the caveats listed above, our conclusion that overall business demand for floor space will be nearly unchanged does not bode well for a resurgence in the growth of nonresidential construction (which has overall been rather flat over the past several years). In terms of thinking about the pace of the recovery, it seems unlikely that the demand for office space will be a big positive or negative factor.
July 8, 2020
Firms Do Not Anticipate Regaining Pre-COVID Employment Levels through 2021
Despite the strength of the past two employment reports, labor markets still have a ways to go to regain their prepandemic levels. And there is a fair amount of uncertainty regarding how quickly employment levels can fully recover, especially given the rising number of coronavirus cases starting in mid-to late June.
Whether firms anticipate sharply ramping up hiring over the second half of the year is of particular importance to understanding the likely path of the recovery. Should firms be aggressive in their hiring, the recovery could take something of a V-shaped path. Conversely, a slow slog back to pre-COVID employment levels would suggest a more prolonged recovery, with more significant labor market disruption.
In our latest CFO Survey—which was in the field June 15–26 and which gathered nearly 300 responses—businesses were fairly pessimistic about the path of employment growth. In fact, the typical firm in our panel does not expect to regain their pre-COVID employment levels until sometime after the end of 2021.
One question in our June survey asked firms what their employment levels were on March 1 (pre-COVID), what they were in June 2020, and what they expected their employment levels to be at year-end 2020 and year-end 2021. Chart 1 shows those results.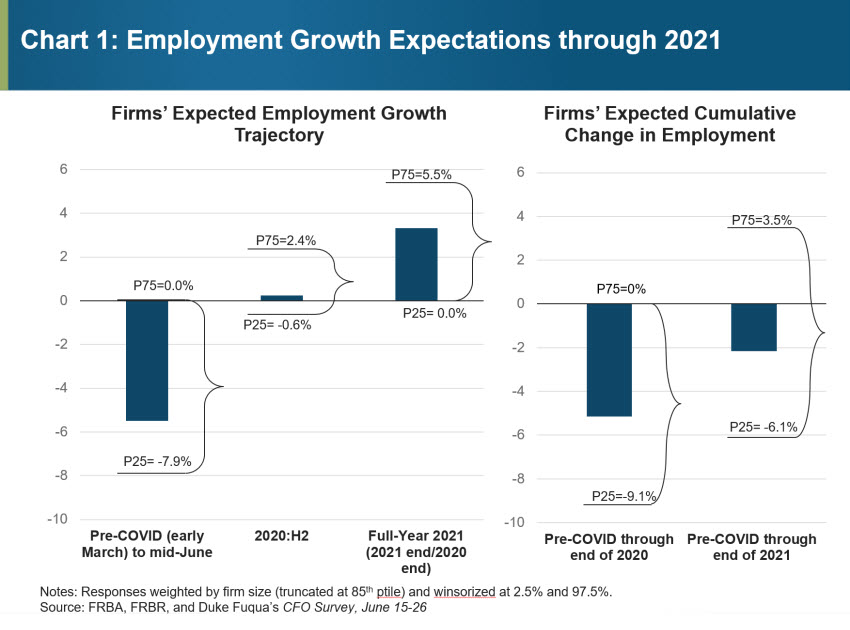 Firms' current employment levels are, on average, a little more than 5 percent lower than they were pre-COVID. Firms anticipate holding their employment levels roughly constant over the second half of 2020 and then ramping up hiring in 2021.
However, these results suggest that the pace of hiring during the next 18 months won't be enough to bring the average firm back to pre-COVID employment by the end of 2021. Although there is a wide range of responses among our panel, there is a definite tilt downward.
Digging a bit deeper into these results and separating these trajectories by large firms (those with 500 or more employees) and small firms (those with fewer than 500 employees), we see that small firms have shed a greater proportion of their full-time staff from March until mid- to late June. However, small firms anticipate much stronger hiring during the next 18 months and expect to surpass their pre-COVID employment levels by the end of 2021. Larger firms, on average, anticipate their head counts to remain well below their pre-COVID levels (see chart 2).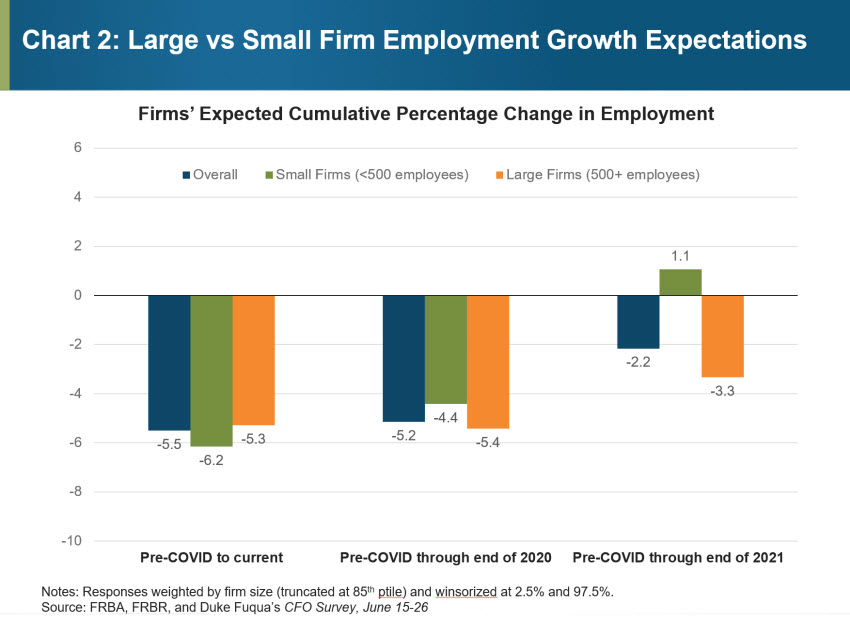 These results are largely consistent with what researchers at the Fed's Board of Governors and the University of Chicago found using weekly payroll data. Their administrative data show that through the end of May, smaller firms took a larger initial hit to their employment levels but have rebounded more quickly than larger firms. Our results suggest this dichotomy is likely to continue.
In sum, despite the strong gains we saw over the past two employment reports, these results suggest that the path forward for employment is going to be more of a marathon than a sprint.
June 18, 2020
Seven in 10 Firms Sought Financial Help during the COVID-19 Crisis
The coronavirus (COVID-19) pandemic has had a shockingly large and swift impact on the U.S. economy since mid-March. And the initial coordinated federal response to the virus was, perhaps, equally swift, as Congress passed the Coronavirus Aid, Relief, and Economic Security (CARES) Act by the end of March. Further evidence of the speed of this reaction is that one of its main programs—the Paycheck Protection Program (PPP)—began taking applications by the first week of April, and it took only 13 days to deplete the initial funding amount.
Some analysts have suggested that emergency financial assistance to firms may have had a hand in May's surprisingly strong employment report, although not all the feedback on the PPP has been uniformly positive.
To shed further light on firms' experiences seeking and obtaining financial assistance during the pandemic, we posed a battery of special questions to our Business Inflation Expectations (BIE) panel in June (the survey was fielded from June 8 to June 12).
We first posed two questions regarding whether firms have requested and received financial assistance since March 2020, and we actually borrowed these questions from the U.S. Census Bureau's Small Business Pulse Survey. We followed those questions up with two more questions asking what share of the financial assistance requested they eventually received and, of that, what share of the amount received did they expect to be forgiven.
As chart 1 shows, about 70 percent of firms in our BIE panel requested financial assistance of any form (ranging from borrowing through an emergency facility, from a bank, and even from family and friends) since March 13, 2020. A majority of the panel sought financial assistance from the PPP. Digging into these responses, we find that very few firms sought multiple sources of assistance. Of the firms seeking financial assistance, three quarters of them sought assistance from only one source, and another fifth or so made requests from two sources.
Many applicant firms appear to have been successful in obtaining funding. The inset in chart 1 shows that, on average, firms received nearly all (95 percent) of the funding they sought. Perhaps more interesting is that, for the most part, firms expect most of these loans to be forgiven.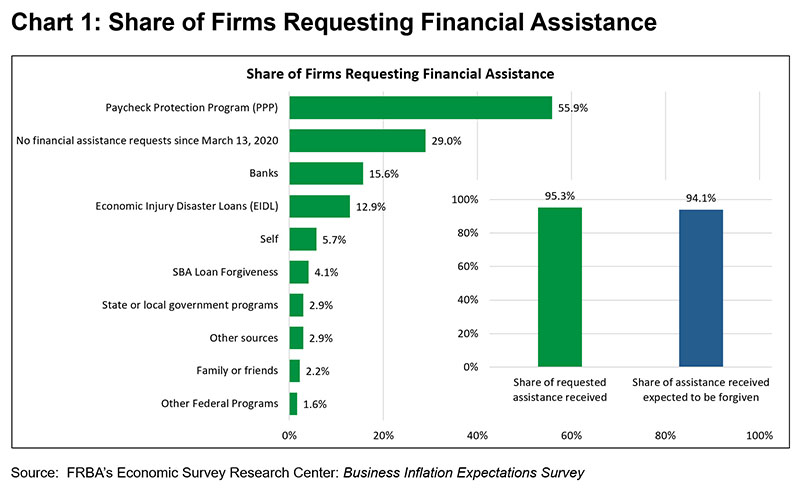 We should note that it's important to keep in mind that our sample includes only firms with employees, and our panel modestly overweights larger firms (the average firm size category in our sample is 50–99 employees). Given the varied experience that some businesses (and especially nonemployer firms, or very small businesses without employees, of which there are more than 25 million), our results cannot necessarily be generalized to the larger universe that includes nonemployer businesses.
Given that an overwhelming majority of requests for and acquisitions of emergency funding came from the PPP, we focus our attention in chart 2 on small firms (those with 500 employees or fewer) and compare our results to the nationally representative sample of small firms from the Census Bureau's Pulse Survey. (The June survey from the National Federation of Independent Business found similar results.) Both the BIE and Census Bureau surveys found that roughly three quarters of small firms have requested financial assistance from the PPP since March 13 and that a little over 70 percent of small firms have received funding from the PPP (implying that a very low share of applications were denied). Although the Census survey stops there, our special questions ask about the amount of funding these firms received relative to their request. Small firms in the BIE panel received an average of 96 percent of the requested funding.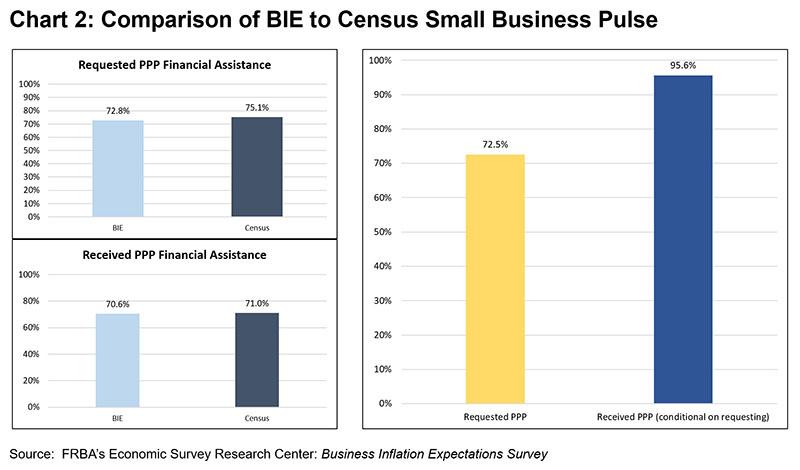 Nearly every survey respondent who received a PPP loan indicated that they expect it to be forgiven, which is interesting for two reasons. One of the stipulations for PPP loan forgiveness is the recipient firm's retaining or rehiring employees. Our results offer an early suggestion that most firms expect to be able to keep their headcount up. Second, it suggests that, as these firms begin to open up and recover from the pandemic, they won't bear the burden of loan repayment.
Analysts and the press often ask if PPP money is going to where it might be most effective (that is, to the firms that need the lifeline merely to survive). Although it's still too early to render anything resembling a verdict, we do have some tentative results that speak to this issue.
Last month, we asked firms in our panel about the level of pandemic-related sales disruption they have experienced, ranging from "no negative disruption" to "severe negative disruption." Of small firms that experienced little to no sales disruption in May, 69 percent applied for PPP funding. More than 90 percent of those applicants received assistance from the PPP (see chart 3). For the group that experienced more severe disruption to sales activity, 77 percent of these small firms applied for funding (and all applicants received funding). That still leaves nearly a quarter of small firms with significant disruption to sales activity that did not request PPP funding. (Our results do not indicate why a small firm under duress wouldn't seek assistance from the PPP.)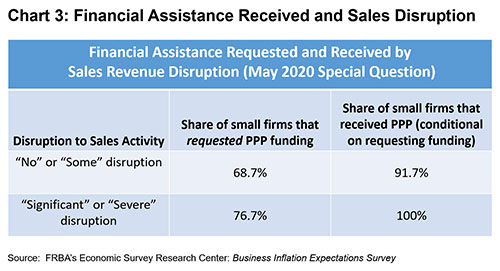 Overall, our results suggest (alongside data from the Census Bureau and others) that the majority of employer firms have requested some form of financial assistance during the COVID-19 pandemic. Firms report that most of those requests are being fulfilled and that they've received amounts close to what they requested. And—although these results are tentative as we are comparing results to firms' previous responses during a period of dramatic changes—it appears financial assistance is going to a greater share of firms that have experienced more significant disruption to their sales activity.