About
---
Policy Hub: Macroblog provides concise commentary and analysis on economic topics including monetary policy, macroeconomic developments, inflation, labor economics, and financial issues for a broad audience.
Authors for Policy Hub: Macroblog are Dave Altig, John Robertson, and other Atlanta Fed economists and researchers.

Subscribe by email

Subscribe by RSS
Comment Standards:
Comments are moderated and will not appear until the moderator has approved them.

Please submit appropriate comments. Inappropriate comments include content that is abusive, harassing, or threatening; obscene, vulgar, or profane; an attack of a personal nature; or overtly political.

In addition, no off-topic remarks or spam is permitted.
Useful Links
December 2, 2021
Atlanta Fed Conference Investigates Inequalities in the Financial System
A commitment to an inclusive society also means a commitment to an inclusive economy. Such an economy would represent a rebuke of systemic racism and other exclusionary structures. It would represent a true embrace of the principles that all are created equal and should enjoy unburdened life, liberty, and the pursuit of happiness.
— Raphael Bostic, president and CEO of the Federal Reserve Bank of Atlanta, from the essay A Moral Imperative and Economic Imperative to End Racism
Despite the nation's progress toward a more inclusive economy over the last half century, vestiges of structural discrimination are still entrenched in US institutions, and often manifest themselves in the form of disparities in economic outcomes. To promote the topic of racial equality, the Atlanta Fed has partnered with other organizations, cohosting, hosting, or participating in several recent events, including the Atlanta Fed-Princeton University conference on Racial Justice and Finance in September 2020 and the Racism and the Economy webinar series, which began in 2020 and will conclude in early 2022.
On October 14–15, 2021, the Atlanta Fed kicked off the inaugural conference on Racial Inequality and Disparities in Financial Markets to further promote research on inequalities in the financial system. The conference, which was virtual, included presentations and discussions of six papers on racial or gender disparities in various financial markets, including credit markets for mortgages and automobiles, labor markets, and the academic finance profession.
Paula Tkac, associate director of the Atlanta Fed's Research Department, gave the opening remarks. She began by describing how researchers face a dearth of high-quality data in this area, but shared she is hopeful the increased interest in research on racial inequality will spur the effort needed to bring together better data sets. Tkac then called for "a deeper understanding of the 'whys', and insight into potential paths forward toward full economic inclusion" as research progresses. She stressed that this research is crucial in the context of the Fed's monetary policy mission, as a fuller understanding of the barriers stopping individuals from participating to their full potential in labor and financial markets is necessary for good policymaking. Tkac concluded her opening remarks with a quote from Atlanta Fed president Raphael Bostic from last year's Racial Justice and Finance conference:
The influence of race is multidimensional and persists over time. We must look "under the hood" at our institutions to see and truly understand their design and its implications...In your research, think about how you ask questions, particularly how you incorporate historical and institutional realities into your research designs. Examine the role played by institutions and structures and explore how the burdens they impart have contributed to inequities that are still with us...With such an understanding, we can then find more creative and accurate ways to incorporate race into our models, estimation approaches, and narratives. This, I hope, will yield better insights and result in a set of policy prescriptions that can truly create meaningful and lasting change.
Three papers in the conference examined racial disparities in mortgage lending. In "Racial Disparities in Mortgage Lending: New Evidence Based on Processing Time," authors Bin Wei (Atlanta Fed) and Feng Zhao (University of Texas–Dallas) looked at racial disparities in mortgage processing time, which is the time needed for a loan to be processed. Looking at the period prior to the 2008 global financial crisis, they found that Black borrowers experienced significantly longer processing times (about five days more) than did White borrowers for mortgages securitized by the government-sponsored enterprises. In contrast, processing times for the privately securitized mortgages were much shorter for Black borrowers, driven by the fact that Black borrowers were more likely to use nonstandard mortgage financing channels where fast-processing lenders and loan products proliferate.
In the second paper focusing on the mortgage market, "Mortgage Prepayment, Race and Monetary Policy," Kris Gerardi (Atlanta Fed), Paul Willen (Boston Fed), and David Zhang (Harvard) found that Black and Hispanic borrowers pay significantly higher mortgage interest rates than do White and Asian borrowers, and that the primary reason for the large gap in rates is due to differences in refinancing behavior. Minority borrowers are significantly less likely to have refinanced their loans in response to declines in mortgage interest rates, and as a result, they benefited less from lower interest rates.
In the third mortgage paper, "Mortgage Policies and Their Effects on Racial Segregation and Upward Mobility," Nirupama Kulkarni (Centre for Advanced Financial Research and Learning) and Ulrike Malmendier (University of California–Berkeley) noted that housing policies aimed at reducing racial disparities in home ownership can have unintended adverse consequences. Exploiting variation in the ease of mortgage financing created by the 1992 GSE Act, which explicitly targeted underserved neighborhoods, they showed that, while Black home ownership increased in targeted neighborhoods, white families moved out. As a result, segregation increased and the upward mobility of Black children deteriorated. They pointed to declining house prices, reduced education spending, and lower school quality in targeted areas as plausible channels for the decline in upward mobility.
The paper "Testing Models of Economic Discrimination Using the Discretionary Markup of Indirect Auto Loan" by Jonathan Lanning (Philadelphia Fed) examined racial discrimination in auto lending. Lanning presented some compelling empirical evidence for taste-based discrimination in the auto loan market. Auto loans are typically the largest consumer loans after mortgages. More than 80 percent of these loans are indirect, meaning they are arranged by a dealer on the borrower's behalf. The dealer has the discretion to mark up an indirect auto loan by as much as 250 basis points over the rate at which the lender is willing to extend credit. In exchange for the rate increase, the dealer receives additional compensation from the lender. Lanning found that the average markup for Black borrowers is about 14 basis points higher than for White borrowers. More importantly, the racial disparity in the markup is shown to be consistent with the taste-based discrimination theory developed by Becker (1957).
The final two papers in the conference examined the gender gap in the academic finance profession and in the labor market. In the paper "Diversity, Inclusion, and the Dissemination of Ideas: Evidence from the Academic Finance Profession," authors Renee Adams (University of Oxford) and Michelle Lowry (Drexel University) examined how diversity relates to variation in career outcomes within the academic finance profession. They conducted their research based on a survey they administered to current and recent past members of the American Finance Association (AFA) on the professional climate in the field of finance. The survey had 1,628 respondents, about 30 percent of them female. Survey results suggest that female finance faculty members in general have a lower satisfaction level than do their male counterparts. The authors found that gender discrimination is one of the most important causes for this discrepancy.
In the final paper, "Hidden Performance: Salary History Bans and Gender Pay Gap," Jesse Davis (University of North Carolina), Paige Ouimet (University of North Carolina) and Xinxin Wang (University of California–Los Angeles) looked at how salary history bans affected the wage gap between male and female workers. These bans prevent employers from requesting and using a job candidate's prior salary information. Many states have adopted these bans with the explicit intent of reducing the gender pay gap. The idea is that historical pay discrimination against women is propagated if employers are allowed to use past salary information to set pay for new female hires. Presumably, imposing bans should prevent the perpetuation of past discrimination. However, the bans have the additional, negative consequence of preventing potential employers from observing a signal of worker productivity. So the overall effect of salary history bans on the gender gap is unclear. Using a large-panel data set of disaggregated wages covering all public sector employees in 36 states, the authors do not find evidence that salary history bans significantly decrease the gender pay gap.
All in all, the conference proved to be a memorable event. Papers incorporated high-quality micro data and state-of-the-art empirical methods that uncovered evidence of racial and gender inequalities across a variety of financial markets. The paper presentations and thoughtful discussant presentations spurred a lot of dialogue and debate around the nature of the disparities and their implications for future policy. We hope to hold similar conferences in the future, perhaps on an annual or biennial frequency, to continue to promote and raise awareness of this topic.
October 18, 2021
Market Response to Taper Talk
As the Fed discusses reducing its $120 billion in monthly purchases of Treasury and mortgage-backed securities, market pundits have begun to form opinions on whether such talk about tapering will roil markets as it did in 2013. Some believe that, given the size of the Fed's monthly purchases, such discussion will lead to similar market reactions. Others believe that markets today better understand the Fed's decision-making process around its asset purchases and interest rate policy. This market knowledge and experience may help mitigate the negative effect taper talk could have this time. In this post, we provide evidence that both perspectives are at least partially correct.
To be specific, we analyze the past and present discussions on tapering, including the effects that the Federal Open Market Committee's (FOMC) September 2013 meeting, often referred to as the "untaper" meeting because plans for tapering were delayed, and the June 2021 "talking about talking about tapering" meeting had on the market's expectations for the future path of the fed funds rate. We show that a market response similar to 2013 has already occurred in the sense that an increase in the 10-year Treasury rate coincided with market participants expecting an earlier liftoff from a fed funds rate of zero. Subsequent taper talk only marginally affected how the market expects the pace of rate hikes to proceed. In other words, the market responds to increasing Treasury rates by first pricing in a strong opinion about how much time will pass before the first rate hike. Subsequent discussions about tapering have little to no effect on the market expectations for future interest rate policy.
For our analysis, we use the Federal Reserve Bank of Atlanta's, Market Probability Tracker (MPT), to measure the market's expectations for the future course of monetary policy. The MPT is computed and reported every day on the Federal Reserve Bank of Atlanta's website and is described in detail in an Atlanta Fed "Notes from the Vault" post. The MPT uses options contracts on Eurodollar futures to estimate the market's assessment of the target ranges of future effective fed funds rate. Using derivative contracts on Eurodollars has one main advantage over studying the effective fed fund futures directly. Unlike the futures market for fed funds, the options on Eurodollar futures market is one of the most liquid in the world, with a wide collection of traded options. Moreover, Eurodollar futures deliver three-month LIBOR (or London Interbank Offered Rate), which bears a stable relation and high correlation with the effective fed funds rate in global overnight money markets. Together, these features allow the MPT to extract more confidently measures of market expectations of future effective fed funds target ranges.
Turning our attention first to 2013, we look at how the market's expectations for the future path of rates changed as taper talk began to heat up. In figure 1, we plot several of the MPT's daily expected fed funds rate paths from before and after June 2013. Each unlabeled path in the figure is represented by a transparent blue line of the market expectations for the fed funds rate path as of Wednesday of that week. These weekly expected rate paths began on May 1, 2013, and ended on December 18, 2013, when the Fed announced it would begin paring down its asset purchases.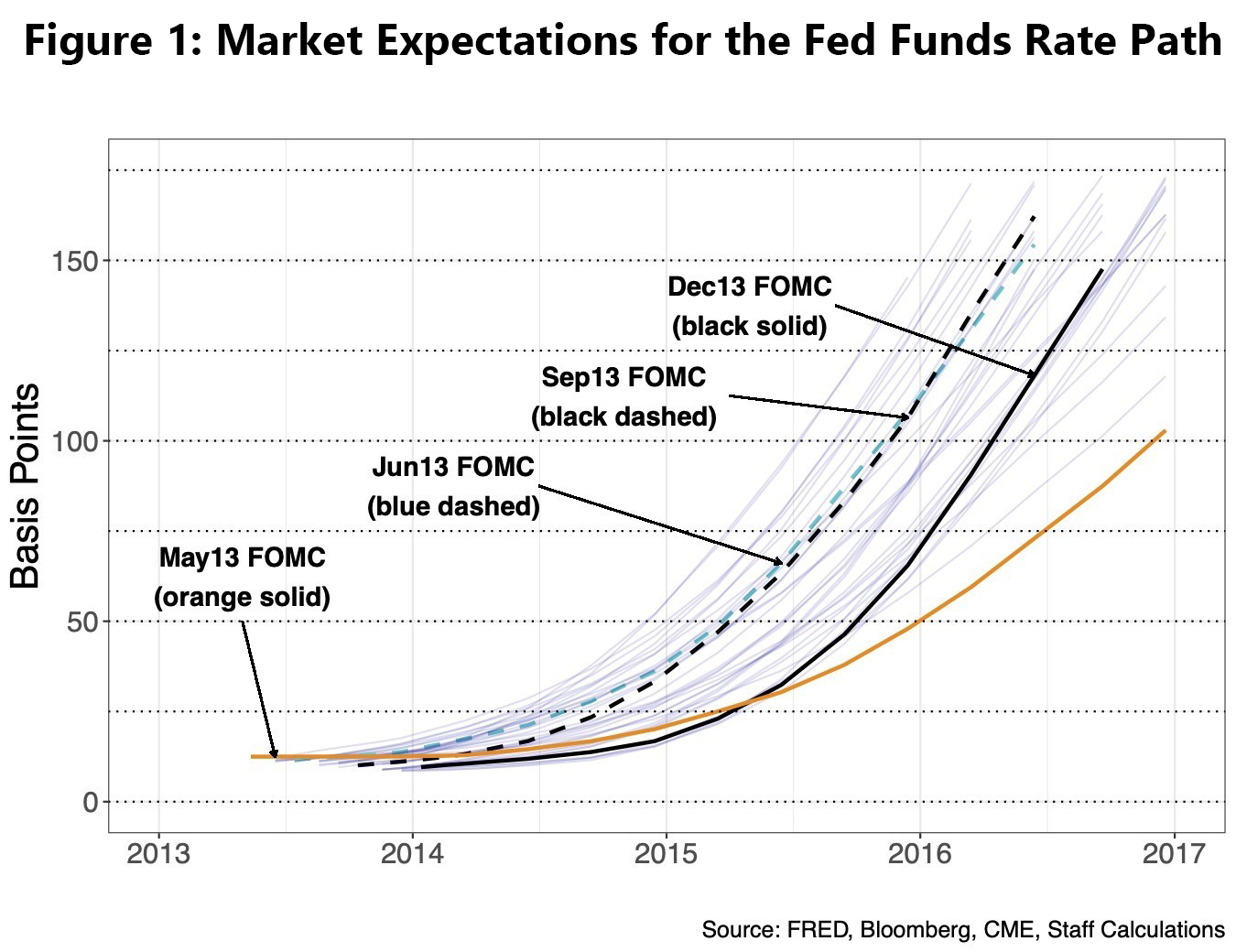 Note: Expectations computed daily with option data on Eurodollar futures contracts from May 1, 2013, to December 18, 2013. Each unlabeled line represents the market's expected path for monetary policy given the data as of Wednesday of the indicated week.
The orange line in figure 1 represents the market expectations as of May 1, 2013. At that time, no substantive discussion about the Fed shrinking its asset purchases had taken place. The FOMC had just released a statement that it would continue to purchase assets "until the outlook for the labor market has improved substantially in a context of price stability." Regarding its interest rate policy, the Committee stated that it "expects that a highly accommodative stance of monetary policy will remain appropriate for a considerable time after the asset purchase program ends and the economic recovery strengthens." Given the Fed's policy, along with the state of the economy, the market expected the first rate hike to be in mid- to late 2015.
Between May 2013 and the next FOMC meeting on June 19, 2013 (the dashed blue line in figure 1), the market's expectation for future monetary policy began to price in an earlier rate hike sometime between late 2014 to early 2015 (see the sequence of transparent blue lines in figure 1 that move up and to the left from the orange to the dashed blue line). During this period between FOMC meetings, Ben Bernanke, then chairman of the Board of Governors, testified to Congress that the FOMC "could in the next few meetings...take a step down in our pace of purchases" (Bernanke Q&A congressional testimony, May 22, 2013).
Bernanke's May 2013 testimony may have contributed to pulling forward market expectations for when the Fed would end its highly accommodative monetary policy since many expected the Fed's asset purchases to end before the fed funds rate was increased from its zero lower bound. The chair's testimony is also credited with setting off what is commonly referred to as the "taper tantrum" in the Treasury market. In figure 2, the blue line shows how much the 10-year Treasury rate had changed since May 1, 2013. According to this figure, Bernanke's testimony was certainly followed by an increase in the 10-year Treasury rate, but this increase continued a trend that began back in May 2013. And market participants had been pricing in an earlier and earlier liftoff date while the 10-year rate was increasing in May, not when the chair testified to Congress.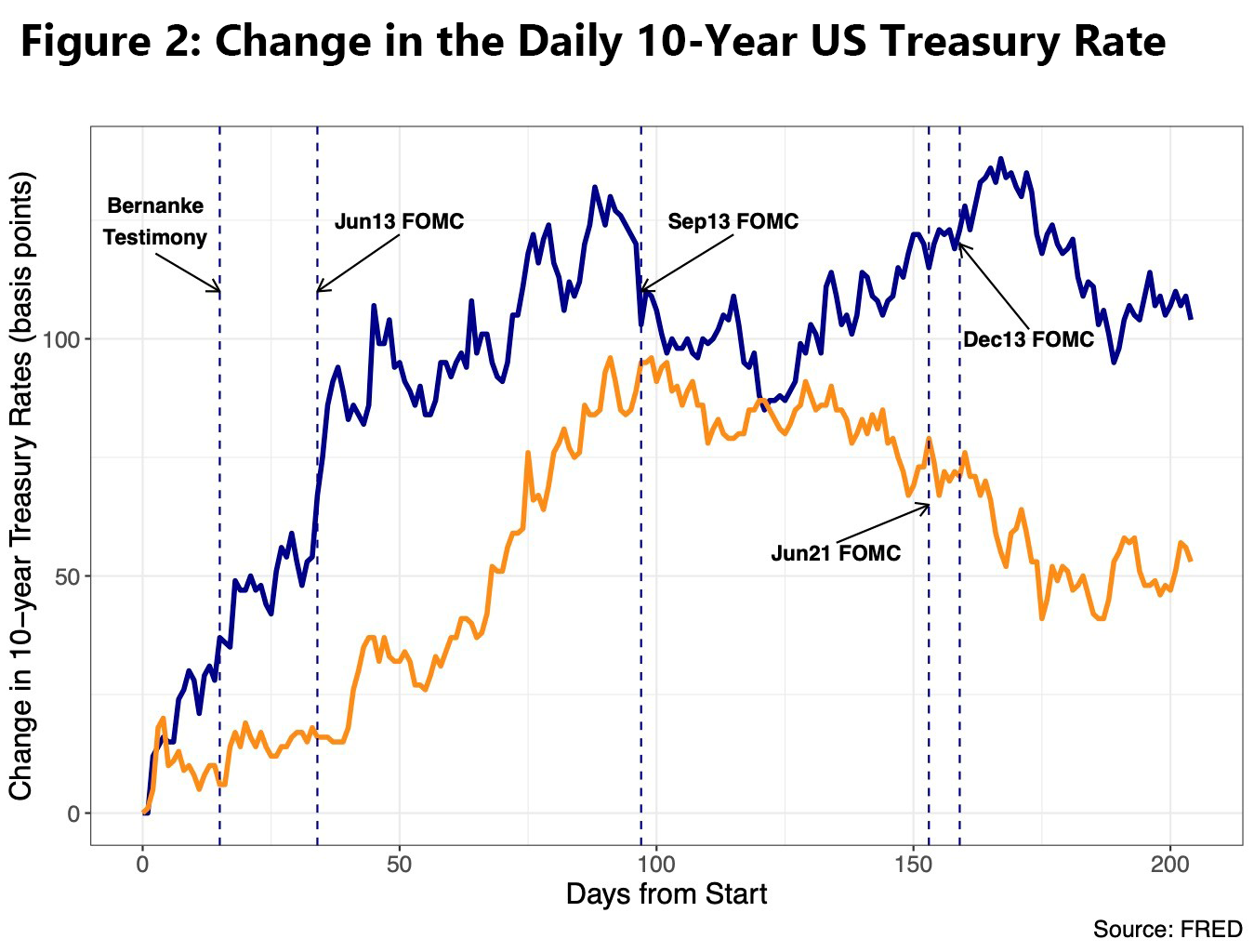 Note: The blue line represents the change from May 1, 2013, to February 24, 2015. The orange line represents the change from November 5, 2020, to August 27, 2021.
The Committee's June 2013 statement on monetary policy changed little from its May statement, but the expected path for the fed funds rate had already steepened (compare the dashed blue line with the orange line in figure 1). Notably, it was over the six days that followed the June FOMC statement that the 10-year Treasury increased by 40 basis points (see the blue line in figure 2). Many believe this increase in the 10-year rate was due to Bernanke's comments during the post-FOMC press conference when, in responding to a question about asset purchases, he said it would be appropriate to moderate purchases "later this year" and to end purchases "around midyear" 2014. However, for our purposes, we point out the muted impact Bernanke's answer had on the expected rate paths plotted in figure 1.
Over the next couple of months, changes in the fed funds rate path continued to be minimal even in response to Bernanke's attempt to calm other markets by assuring market participants the Fed was committed to a highly accommodative monetary policy. By the September FOMC meeting—a meeting sometimes referred to as the "untapering" meeting because the Committee decided to "await more evidence that progress will be sustained before adjusting the pace of its purchases"—the expected funds rate path was statistically indistinguishable from the June rate path (see the dashed black line in figure 1). However, the September announcement to delay the tapering of its purchases appeared to have caught bond investors by surprise. In figure 2, we see that the 10-year Treasury rate (the blue line) dropped by approximately 20 basis points over the coming weeks—all while the market's expectation for the timing of liftoff remained relatively constant.
Over the rest of 2013, the pace of the expected rate hikes stayed relatively stable. Figure 1 shows this stability by the similar curvature of the expected path lines from September to December. Interestingly, the December FOMC formal announcement that the Fed would begin to reduce its monthly purchases of Treasuries and mortgage-backed securities (MBS) by $5 billion each did not change the market's expectations for how long it would be before liftoff (see the solid black line in figure 1). We interpret this as market participants having formed their expectations about the future pace of interest rate hikes when the Treasury rates had increased and as policymakers were beginning to talk about tapering and not when the Fed announced the actual date and pace of its shrinkage in asset purchases.
Now compare figure 1 to the sequence of expected rate paths plotted in figure 3 for the time interval of November 5, 2020, to August 11, 2021. Early in this time period, the orange line in figure 2 shows the 10-year Treasury rate increasing 95 basis points from November 2020 to the end of March 2021 (the high point of the orange line in figure 2). This increase in the 10-year rate was due in part to the improving economic conditions and optimism around the advent of COVID-19 vaccines. This time period also corresponds with a steepening in the market expectations for the fed funds rate path seen in figure 3. The "lower for longer" policy of the Fed can be seen in the flat November FOMC rate path (compare the orange rate paths in figures 1 and 3). But as in figure 1, the expected rate paths in figure 3 gradually steepen while the 10-year rate is increasing.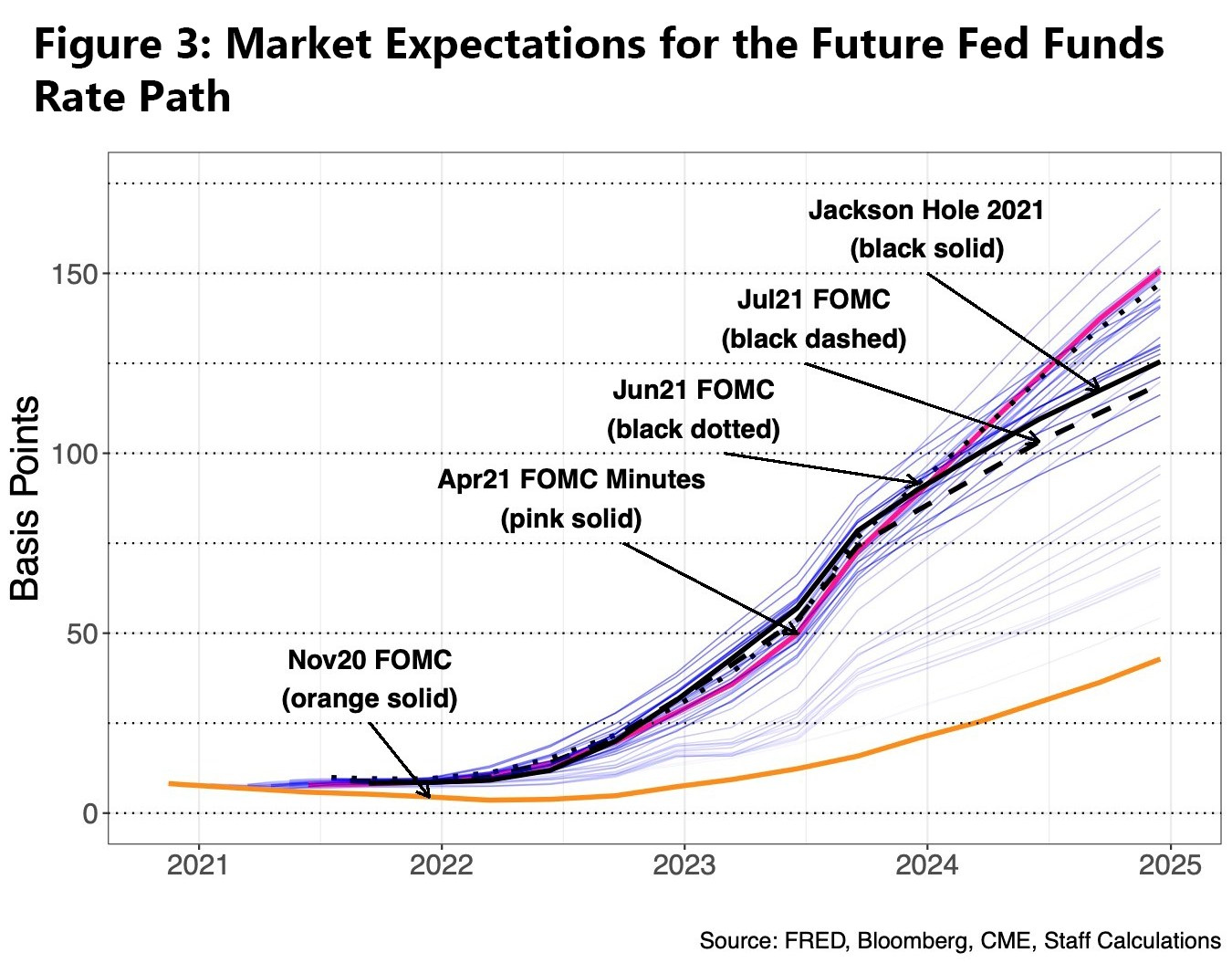 Note: The fed funds rate path was computed from daily option data on Eurodollar futures contracts from November 5, 2020, to August 27, 2021. Each unlabeled line represents the market's expected path for monetary policy given the data as of Wednesday of the week
The minutes from the April FOMC were released to the public on May 19, 2021 (see the pink rate path in figure 3). These minutes describe several participants suggesting that "it might be appropriate at some point in upcoming meetings to begin discussing a plan for adjusting the pace of asset purchases." Discussion about shrinking the monthly purchases of assets continued into the June 2021 FOMC meeting. Importantly, at the June FOMC press conference, Fed chair Jerome Powell responded to a question about the timeline for reducing asset purchases by saying that people can think of the June meeting as the "talking about talking about" meeting.
The market's expectation about the fed funds rate path to this taper chatter was muted. Market expectations for the first rate hike had already moved up from the middle of 2024 to the first half of 2023. Given the similarity in the paths at the FOMC meetings in June (see the dotted black line in figure 3) and July (the dashed black line in figure 3), and after Chair Powell's Jackson Hole speech (the solid black line), market participants did not alter their expectations about liftoff. Not even the June FOMC's hawkish Summary of Economic Projections affected the views of market participants on the future course of interest rates.
Comparing the sequence of 2013 and 2020–21 rate paths plotted in figures 1 and 3, we might believe that those who think tapering in 2021 will lead to a similar market reaction as in 2013 are right—but only in the sense that both events corresponded to a sizeable increase in the 10-year Treasury rate and not the actual taper.
That being said, after the rate paths in figures 1 and 3 steepened, the limited impact that taper talk had on the rate paths lends support to those who expect tapering to be a nonevent. The relatively constant pace of expected rate hikes found in 2013 and 2021 suggests that a formal announcement by the Fed on reducing its purchases of Treasuries and agency MBS will likely have a limited effect on the market expectations for the pace of future rate hikes. This is especially true for the 18- to 24-month time horizon of the rate paths.
Regardless of whether we believe that there will or will not be a "taper tantrum" similar to the one in 2013, the market expectations calculated from the Eurodollar futures market clearly show two common effects from the events of 2013 and 2020–21. The first is that as the 10-year Treasury rate begins to rise, market participants expect the Fed to start raising the fed funds rate earlier than before. The second effect is that after the first effect, the expected pace of future rate hikes does not appear to be very responsive to taper talk. Hopefully, knowledge of these tapering-related empirical regularities will help market participants form more accurate predictions about future interest rate policies.
August 20, 2021
How Does a Household's Exposure to Monetary Policy Vary over the Life Cycle?
A recent study by Feiveson et al.

establishes the Federal Open Market Committee's interest in the distributional effects of monetary policy. The size and the composition of household income exhibit large variation over the life cycle, so it is likely that household exposures to monetary policy also depend on age. This post summarizes new research by Daisuke Ikeda and me that uses a life cycle model to measure the age profile of household exposures to monetary policy. In the model, a higher nominal interest rate increases the wealth and consumption of households between the ages of 60 and 80, but it reduces the wealth and consumption of younger working-age households and the oldest retirees. The former group also has the highest net worth, and it follows that net worth and consumption inequality increase in the model.
Our new research took as its jumping-off point the premise that a household's age affects its economic opportunities. Both the size and the sources of income vary with age. On average, 55-year-old workers have higher earnings than 25-year-old workers and also higher earnings than 65-year-old workers. Other research by us documents this result for the United States and Japan, but age-earnings profiles are hump-shaped in other high-income economies, too. Beyond age 65, an increasing fraction of individuals in high-income economies have low or no labor earnings as they transition into retirement. Retirees have no labor income, and an important source of income for them is their public pension, which typically only replaces a fraction of their previous labor earnings.
Individuals understand these constraints and cope with them by making asset-allocation decisions. Table 1 depicts the age profile of household net worth and a decomposition of net worth into two categories: liquid assets and illiquid assets. Liquid assets include deposit accounts, CDs, bonds, and all loans, while illiquid assets consist of physical assets like homes, cars, and financial assets such as stocks, which are more costly to acquire and sell. We use Japanese survey data because they provide considerable detail on the various components of household net worth. Younger households have low net worth and negative holdings of liquid assets (they are net borrowers), but they hold positive amounts of illiquid assets. Net worth increases with age up to retirement, which typically occurs between the ages of 60 and 69 and then declines during retirement. Older working-age households and younger retirees hold positive amounts of both liquid and illiquid assets. A limitation of our data is that they don't provide details about asset holdings of the oldest households. Indirect evidence we discuss in Braun and Ikeda (2021) suggests that some older households have negative holdings of liquid assets too.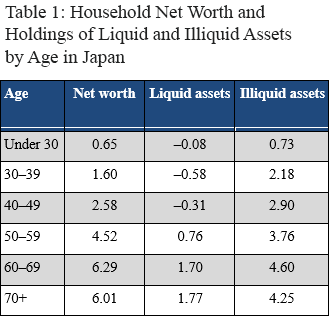 Source: 2014 National Survey of Finances, Income and Expenditures, total households. See Braun and Ikeda (2021) for more details.
Note: The age of a household is indexed by the age of the household head. Liquid assets are net of all household borrowing, and net worth is the sum of liquid and illiquid assets. All numbers are divided by income of the 50–59 age group.

We expect that similar patterns also occur in other countries. However, the specific magnitudes of the age profiles of income, net worth, and their components will depend on institutions in a given country. For instance, households in countries that offer free tuition for higher education will have less student loan debt.

A tighter monetary policy (in other words, a higher policy nominal interest rate) is generally associated with higher real interest rates on deposits and loans (liquid assets), weaker performance of stock and real estate markets (illiquid assets), and slower growth in employment and wages. Given that the size and composition of income and net worth vary with age, one might surmise that a household's overall exposure to monetary policy also depends on its age. Retired households, for instance, may gain because they have no direct exposure to the labor market and hold large positive amounts of deposits whose return goes up. Young working-age households, in contrast, may lose because they have low net worth, loans, and low labor earnings.

Unfortunately, finding data that can be used to directly assess these hypotheses is challenging. In the United States, there is reasonably good survey data about how labor income and financial assets vary by age, but much less information about the size and value of household holdings of physical assets like homes, cars, and TV sets. Moreover, even in countries like Japan, where reasonably comprehensive survey data are available, a cross-sectional snapshot is produced only once every five years. Even if we can identify exogenous changes in monetary policy, we lack high-frequency data to measure how household exposures to monetary policy vary by age.

An alternative approach is to use an economic model. To see how this works, we define wealth as a household's net expected present value of future income from labor, assets, and the government. Wealth is an important economic concept because standard economic theory predicts that a household that sees its wealth increase from a tighter monetary policy will consume at least a fraction of its bonus. Conversely, a household whose wealth falls will consume less. Recent work by Auclert

builds on this insight. He uses a model to specify the dynamics of household income and decompose a household's consumption response to a change in monetary policy into four components:
The income component captures the impact of changes in monetary policy on labor and government income.
The unexpected inflation component captures net capital gains or losses associated with holdings of nominal assets. For instance, most government debt is nominally denominated, and a change in monetary policy affects the inflation rate and thus the real value of this nominal asset.
The unhedged real interest rate component captures net real capital gains on household assets that are coming due at the time of the shock. For instance, a higher real return on deposits is good for a saver who has no loans, but a higher real interest rate can be bad for a borrower who enters the period with a maturing loan and faces a higher real cost of paying it off.
Finally, the substitution component captures how a change in the interest rate affects a household's tradeoff between consuming today and saving today, which allows it to consume more tomorrow.
In our working paper, we propose a model designed to measure how household exposures to monetary policy vary over the life cycle. We specify the model to reproduce the main features about how household income, net worth, and portfolio allocations vary over the life cycle using data from Japan. Our model is rich in the sense that households are active for up to 100 years. They work and make asset-allocation decisions over time and interact in markets with households who have different ages and thus different asset-allocation priorities. Further, we model a government that taxes households, issues nominal debt, and runs a public pension program. Finally, the monetary authority sets the nominal interest rate on liquid assets using a simple rule. Fortunately, the model also has sensible implications for how nominal and real interest rates, wages, and government income respond to a tighter monetary policy.
Our model may sound rather sophisticated, but we make many simplifying assumptions. For instance, we are silent about what determines cross-sectional differences in income and wealth among households with the same age. In addition, households have only two assets that they can use to borrow or save. These simplifications make it easier to understand how age affects a household's exposure to monetary policy.
Figure 1 reports the age profile of household consumption responses to a surprise tightening in monetary policy in the year that monetary policy is tightened (left panel) and its decomposition into the four components we discussed above (right panel).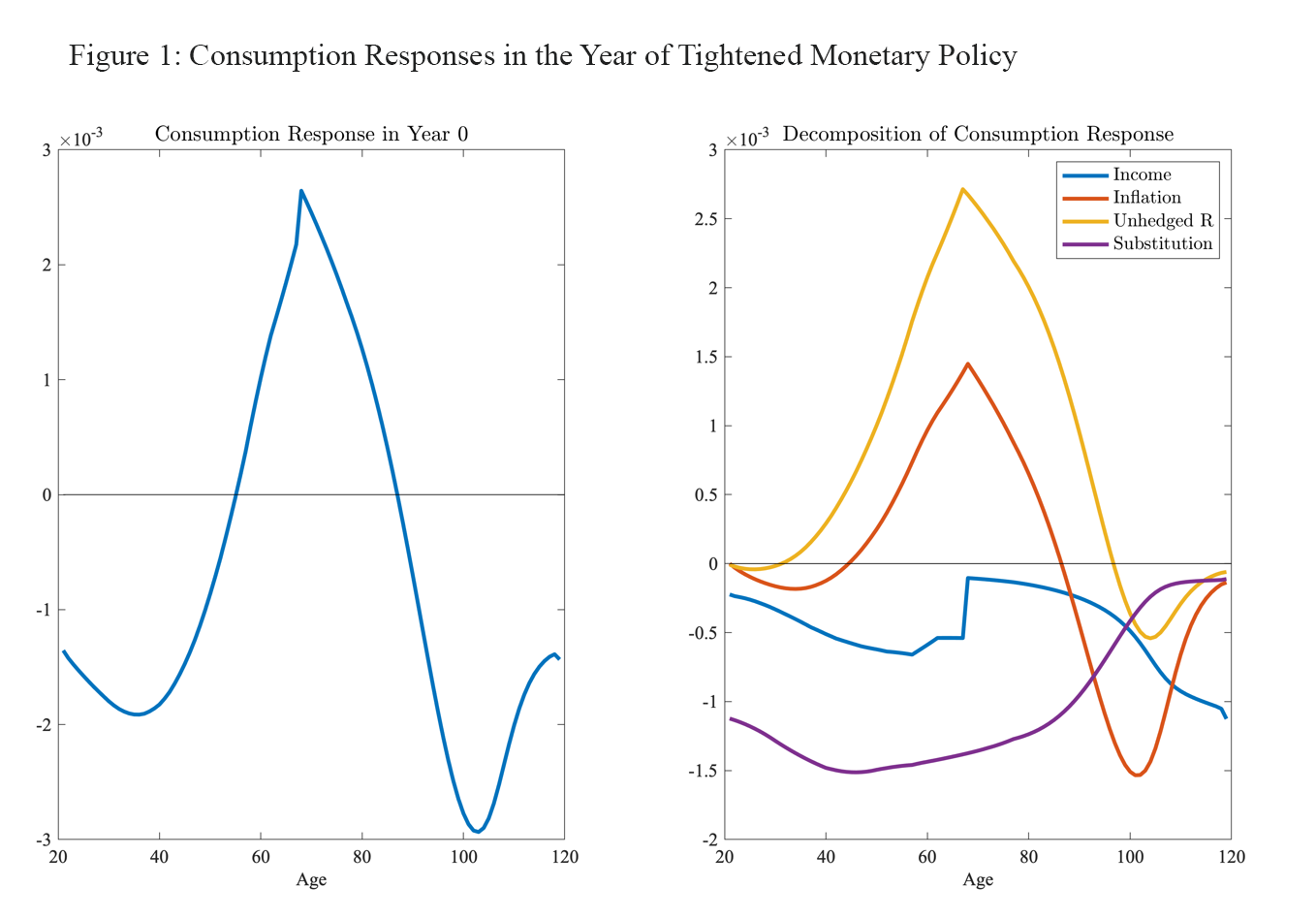 Source: Braun and Ikeda (2021)

The sign of the consumption response varies with age in figure 1. Households close to age 68 are increasing their consumption in response to higher wealth, while older retirees and younger working-age households are facing wealth losses. Another way to ascertain differences in exposure is to measure the magnitude of the consumption response. Households around age 30 reduce their consumption most, households close to the retirement age of 68 in the model increase their consumption most, and households that survive to about age 100 reduce their consumption. The magnitude of the consumption response is an imperfect measure of exposure because net worth also varies by age, as reported in table 1. In the model, the two groups who are reducing their consumption most have relatively low net worth. Younger workers are borrowers, and old retirees of age 100 have lived well beyond their expected life span and exhausted their savings. Thus, the biggest negative exposures to a tighter monetary policy in the model are among younger workers and oldest retirees.

The right panel of figure 1 reports the Auclert decomposition of consumption responses. For younger working-age households, the negative income component and the negative intertemporal substitution component are the two biggest factors. They have lower labor income and are at the age of their life cycle where they are accumulating assets, so movements in interest rates are particularly important for them. The other two factors are less important because their net worth is low. For households between 60 and 80, the income component is small, and the two asset-income components primarily drive their consumption responses. A lower inflation rate benefits this group because they are holding relatively large positive positions in nominally denominated liquid securities to provide for their retirement. The unhedged real interest rate component (unhedged R in the chart) is large because these households are savers and are at the stage of the life cycle where they draw down their assets to smooth their consumption during retirement.

In the model, life expectancy is 83 years, and households who survive beyond this age experience declines in all four components. They have been consuming their savings since age 68 and have low net worth. Also, some members of this group have debt. This age group also receives lower net income from the government. Government labor tax revenue is down and interest rate expenses on government debt are now higher so net government transfers to households fall, and this decline is significant for the oldest households in the model.

Taken together, these findings imply that inequality in net worth increases in the model in the year that monetary policymakers tighten policy. The highest net-worth age groups see their net worth increase, and the age groups with the lowest net worth see it fall. Consumption inequality also increases in the model because households with lower net worth tend to adjust their consumption by more than households with high net worth.

Hopefully, our findings have piqued your interest and left you with new questions. How large and persistent are the changes in inequality? What are the properties of an easier monetary policy? Does the amount of government debt in the economy matter? What about the effective lower bound on the nominal interest rate? I encourage you to read our working paper to find out.

I conclude with an old saying from economics: for each borrower, there is a lender. In our model, monetary policy alters interest rates, and a higher interest rate affects borrowers and lenders differently. It's a burden on younger working-age households and on the oldest retirees who are borrowers, but it's a boon for households close to age 68 who are the savers who provide the funding for the loans to the other two groups.
May 27, 2021
The Role of Central Banks in Fostering Economic and Financial Resiliency
The Atlanta Fed recently hosted its 25th annual Financial Markets Conference, with the theme of Fostering a Resilient Economy and Financial System: The Role of Central Banks. The conference addressed both the adequacy of the monetary policy toolkit and the role of the U.S. dollar (USD) in international financial markets. The conference included two keynote talks. The first day featured a keynote speech by Federal Reserve Board vice chair Richard Clarida, followed by a discussion with Atlanta Fed president Raphael Bostic. The second day began with an armchair discussion featuring Harvard professor Larry Summers and Atlanta Fed research director David Altig. A video of the conference is available here


. This post reviews some of the highlights from the conference.
Keynote talks
Vice chair Clarida's keynote speech

focused on global factors that help determine the yield curve for sovereign bonds. Clarida observed that studies of domestic and major foreign government markets have found that most of the movements in the term structure of interest rates can be explained by the overall level of the curve and the slope of the curve. He then reviewed work suggesting that a global factor—one that is highly correlated with estimates of the neutral real interest rate—has a great influence on the level of the curve. Given this information, central banks may not have much ability to influence the yield curve's level unless they are willing to unanchor inflation expectations in their domestic market. Clarida then presented evidence that the slope of the U.S. yield curve is highly correlated with its monetary policy, specifically the deviation of the U.S. neutral nominal policy rate from the actual federal funds rate. He acknowledged that correlation does not equal causation but provided some evidence that central bank decisions (by the Fed and major foreign central banks) have a causal relationship with the slope of the yield curve. These observations led Clarida to conclude that "major central banks can be thought of as calibrating and conducting the transmission of policy...primarily through the slopes of their yield curves and much less so via their levels."
Professor Summers raised a variety of concerns about current policy and the risks to the financial system in his chat on the conference's second day. One of these concerns relates to the monetary policy projections, which suggest that inflation will remain sufficiently low so that the Fed's policy rate may not increase for several years. This expectation of low rates may create a "dangerous complacency," according to Summers, that will make it more difficult to raise rates. The result may be that nominal policy rates remain too low, producing higher inflation that leads to even lower real rates and even higher inflation. The result could be not only a "substantial pro-cyclical bias in financial conditions" but also a threat to financial stability if the low nominal rates result in excessive financial leverage.
Monetary policy panel session
The monetary policy toolkit received some scrutiny in a panel titled "Is the Monetary Policy Toolkit Adequate to Meet Future Challenges?" It was moderated by Julia Coronado, president of MacroPolicy Perspectives. Coronado promised a session with some provocative comments, and each of her panelists delivered. Among the problems addressed by the panelists was central banks' limited ability to counteract economic downturns. Historically, central banks have lowered their nominal interest rate target by several percentage points in response to the onset of a recession, or even the elevated risk of one. The continuing decline in nominal rates, however, has reduced central banks' ability to use rate reductions to fight recessions, instead forcing them to rely more on quantitative easing (or more accurately, large-scale asset purchases). Joseph Gagnon, a senior fellow at the Peterson Institute for International Economics, and Willem Buiter, a visiting professor at Columbia University, provided two alternative ways of restoring the central bank's ability to lower nominal rates by more than 1 or 2 percentage points.
Gagnon's analysis was based on the Fisher equation, in which the nominal interest rate is approximately equal to the real rate of interest plus the rate of inflation. Gagnon observed that central banks, including the Fed, had set a target inflation rate of 2 percent back when the equilibrium real rate was higher (likely around 2 to 3 percent). Establishing this target rate resulted in equilibrium nominal interest rates around 4 to 5 percent, which gave central banks considerable room to respond to a recession. However, in the period since the inflation targets were set, equilibrium real rates have fallen by 1 to 2 percentage points. This decline greatly reduced central banks' ability to lower rates without taking them negative. Thus, to restore the ability of central banks to respond to higher inflation, Gagnon argued that central banks' inflation target should be increased to 3 to 4 percent.
Buiter implicitly started from the same point: that the decline in the equilibrium real rate had left central banks with too little room to cut interest rates. However, rather than raising the inflation target, Buiter argued that a better solution would be to accept deeply negative nominal interest rates. Several central banks in Europe, as well as the Bank of Japan, have lowered their rates below zero but never as much as 1 percent below zero. Buiter recommended that central banks take the steps necessary to be able to have deeply negative interest rates if that is appropriate for conditions.
Simon Potter, vice chairman at Millennium Management, noted an international dimension to the Fed's policy setting. Potter observed that many emerging markets had taken on considerably more debt to respond to the ongoing pandemic. He argued that these countries would need fast U.S. growth, and the accompanying increase in exports to the United States to be able to service their debt. Absent such increased debt service capacity, he pointed out that changes in the structure of these countries' debt markets would make rescheduling their debts even more difficult than it had been previously.
These provocative comments did not go unchallenged, however, as the other panelists raised concerns about the feasibility and/or desirability about each of these policy recommendations in the subsequent discussion that Coronado moderated.
Global dollar policy session
A panel on the conference's second day had the provocative title "Is the Financial System's Backbone, the U.S. Dollar, Also a Transmitter of Stress?" The panel's moderator was Federal Reserve Bank of Dallas president Robert Kaplan, who began the discussion by highlighting the importance of the USD in both international trade and international financial markets.
Stanford University Professor Arvind Krishnamurthy's presentation
supplied further evidence on the importance of the USD in trade and financial markets. He suggested that the USD's important role resulted in it providing a convenience yield to its users, which resulted in lower USD interest rates for those borrowing USD—both domestic and foreign borrowers. These lower rates, however, came with some financial risks, according to Krishnamurthy. For one, lower rates may induce greater financial leverage in U.S. borrowers. Additionally, foreigners who borrow USD to take advantage of the lower rates may be creating a mismatch between the currency they receive as revenue (especially from sales in their domestic markets) and the USD they need to repay their debt.
Thomas Jordan, chairman of the governing board of the Swiss National Bank, also noted the dominance of the USD in international markets and discussed its implications from the Swiss point of view. He noted two ways in which Switzerland is especially vulnerable to developments regarding USD. First, Swiss banks hold substantial amounts of USD assets and liabilities. Second, the Swiss franc is a safe haven currency that experiences increased demand in times of international financial stress. These result in Switzerland having a strong interest in global financial stability and especially in the stability of USD-funding markets. In this respect, Jordan observed that the Federal Reserve's swap lines with other central banks, including the Swiss National Bank, has been "very crucial." The swap lines provide an important liquidity backstop that recently proved valuable during the COVID-19 crisis.
Michael Howell, the managing director at CrossBorder Capital, focused on the potential for another currency to displace the USD in international markets. In his presentation
, he argued we should not be "shortsighted" in dismissing other currencies. In particular, he pointed to China, saying that China sees the USD as a rival and wants to displace it, particularly in Asia. He then went on to discuss some of the steps that China would need to take—and is taking—to displace the USD.
After these remarks by the panelists, Kaplan moderated a question-and-answer session that took a closer look at these and other issues.