About
---
Policy Hub: Macroblog provides concise commentary and analysis on economic topics including monetary policy, macroeconomic developments, inflation, labor economics, and financial issues for a broad audience.
Authors for Policy Hub: Macroblog are Dave Altig, John Robertson, and other Atlanta Fed economists and researchers.

Subscribe by email

Subscribe by RSS
Comment Standards:
Comments are moderated and will not appear until the moderator has approved them.

Please submit appropriate comments. Inappropriate comments include content that is abusive, harassing, or threatening; obscene, vulgar, or profane; an attack of a personal nature; or overtly political.

In addition, no off-topic remarks or spam is permitted.
Useful Links
April 7, 2021
CFOs Growing More Optimistic, See Only Modest Boost from Stimulus Plan
During the past few months, alongside an increase in COVID-19 vaccinations and amid a fresh round of fiscal support, optimism about the economic recovery from the COVID-19 pandemic has grown. Although reasons for concern over the potential unevenness of the recovery still exist, many economists

, policymakers

, and market participants

have ratcheted up their growth expectations for 2021.
This growing optimism extends to decision makers who participate in The CFO Survey

—a collaborative effort among the Atlanta Fed, Duke University's Fuqua School, and the Richmond Fed. CFOs and other financial decision makers in our survey grew more optimistic about the U.S. economy and their own firms' financial prospects, according to the first quarter's data released on April 7. Moreover, these firms see stronger prospects for sales revenue and employment growth in 2021 (similar to results from other business surveys, including the Atlanta Fed's Survey of Business Uncertainty).
Many people think the recently passed $1.9 trillion American Rescue Plan Act

(ARPA) is behind these brighter expectations. However, the results of our CFO Survey suggest that many firms anticipate that the fiscal stimulus will have only a modest impact on their own future business activity.
In the first-quarter CFO Survey (fielded March 15–26, 2021), we posed a question asking respondents about the impact that ARPA might have their own firm's revenue growth, number of employees, representative price (the price of the product, product line, or service that accounts for the majority of their revenue), and total wage and salary costs (see chart 1). Firms had five response options, ranging from "decrease significantly" to "increase significantly." A majority of firms expect the recent fiscal measure to have "little to no impact" across all areas of their business activity. The results are perhaps most striking for employment, as nearly 80 percent of firms anticipate ARPA to bring little to no change in that area.
Considering the tepid impact of the stimulus on employment expectations, the survey results for total wage and salary costs are also interesting. Here, nearly 30 percent of the panel anticipates modest to moderate upward pressure on wage and salary costs, with another 5 percent or so expecting "significant" impact on their wage bill. The reasons for the expected effect on firms' total wage and salary costs are unclear, but we should note that labor quality and availability remain very high on CFOs' list of most pressing concerns.
Expectations around ARPA's impact on revenue growth appear a bit more diffuse. Though the survey's typical (or median) firm still anticipates that the bill will bring little to no change in sales revenue growth, nearly 40 percent of respondents expect the legislation to have a positive impact on sales, and a very small share of firms anticipate a negative impact on revenue.
Given the nature of these responses, we were curious whether CFOs who anticipated a positive impact from ARPA also held higher quantitative expectations for firm-level growth than firms who saw little-to-no impact. t. The CFO Survey elicits firms' quantitative expectations for sales revenue, employment, price, and wage growth early in the questionnaire, providing a useful way to check for consistency. Table 1 reports these results.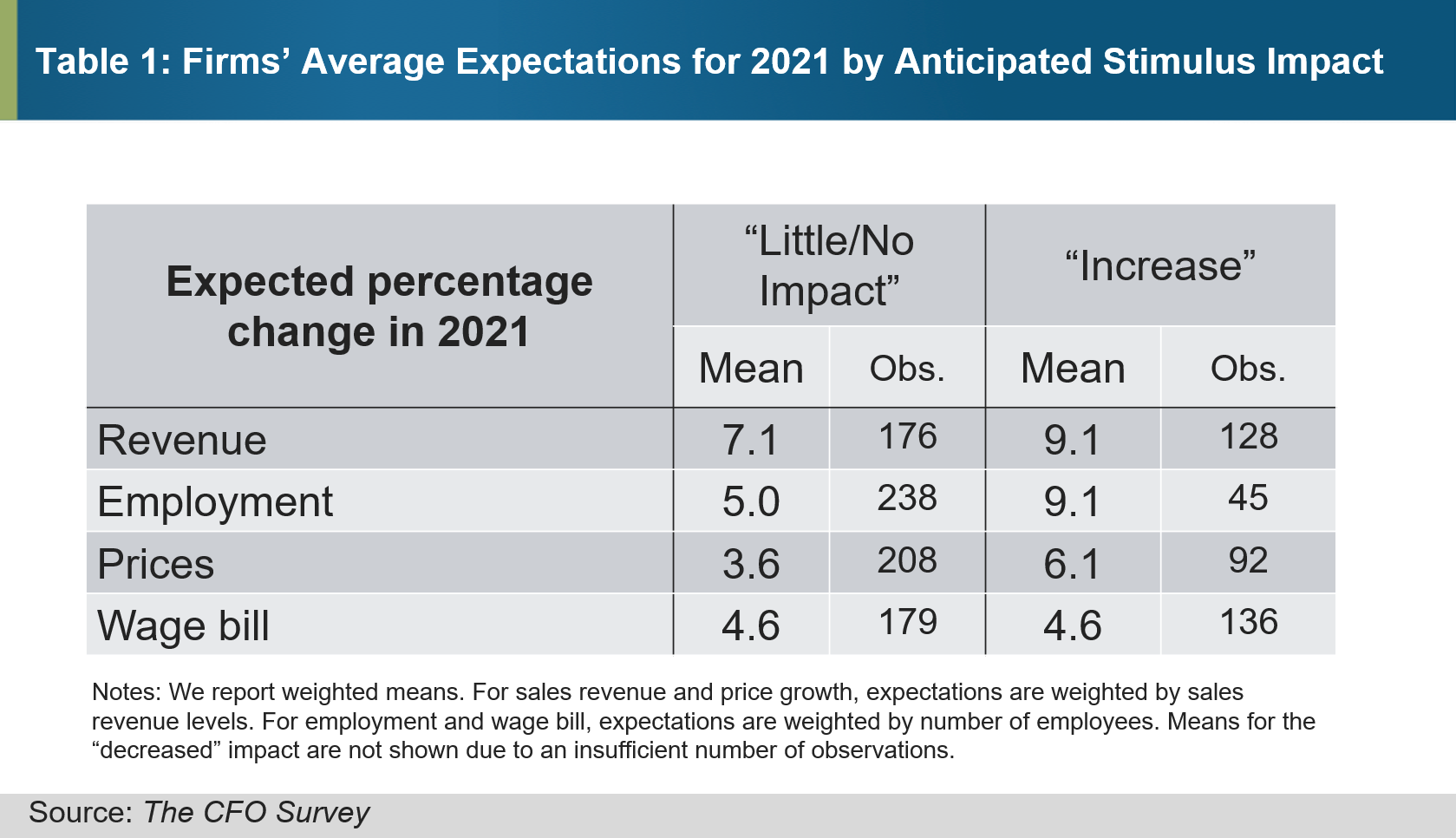 Apart from firms' anticipated growth in wage and salary costs, it does appear that firms that foresee a boost from the fiscal stimulus also hold higher growth expectations. The increase in expectations is particularly stark for employment growth and prices.
If we dig a little deeper into the small share of firms anticipating increased employment due to the stimulus—45 total—we find that 40 of them are in service-providing industries and employ fewer than 500 workers. We know from academic research

, government statistics

, and anecdotal reports

that the COVID-19 pandemic has hit smaller, service-providing firms particularly hard, so it's perhaps not surprising to see these types of firms expecting the stimulus to aid in a rebound. These firms are also anticipating a stimulus-induced boost to the prices they can charge. The price growth for services has slowed markedly since the onset of the pandemic. As the economy begins to open up more fully

, these firms might believe that measures to bolster household income (among other aspects of ARPA

) will lead to a bit more pricing power.
Overall, however, our results suggest that the majority of firms anticipate ARPA to have little to no impact on their sales revenue, employment, prices, and wages. The smaller share of firms that do anticipate increased activity resulting from the stimulus largely expect the increase to be modest to moderate.
Importantly, these results do not rule out a surge in growth as the pandemic recedes and the vaccination rollout continues. As we've noted, most CFOs expect growth to occur regardless of ARPA's role in that growth. But the survey shows that firms, in general, do not pin any surge in demand on the legislation.
January 17, 2018
What Businesses Said about Tax Reform
Many folks are wondering what impact the Tax Cuts and Jobs Act—which was introduced in the House on November 2, 2017, and signed into law a few days before Christmas—will have on the U.S. economy. Well, in a recent speech, Atlanta Fed president Raphael Bostic had this to say: "I'm marking in a positive, but modest, boost to my near-term GDP [gross domestic product] growth profile for the coming year."
Why the measured approach? That might be our fault. As part of President Bostic's research team, we've been curious about the potential impact of this legislation for a while now, especially on how firms were responding to expected policy changes. Back in November 2016 (the week of the election, actually), we started asking firms in our Sixth District Business Inflation Expectations (BIE) survey how optimistic they were (on a 0–100 scale) about the prospects for the U.S. economy and their own firm's financial prospects. We've repeated this special question in three subsequent surveys. For a cleaner, apples-to-apples approach, the charts below show only the results for firms that responded in each survey (though the overall picture is very similar).
As the charts show, firms have become more optimistic about the prospects for the U.S. economy since November 2016, but not since February 2017, and we didn't detect much of a difference in December 2017, after the details of the tax plan became clearer. But optimism is a vague concept and may not necessarily translate into actions that firms could take that would boost overall GDP—namely, increasing capital investment and hiring.
In November, we had two surveys in the field—our BIE survey (undertaken at the beginning of the month) and a national survey conducted jointly by the Atlanta Fed, Nick Bloom of Stanford University, and Steven Davis of the University of Chicago. (That survey was in the field November 13–24.) In both of these surveys, we asked firms how the pending legislation would affect their capital expenditure plans for 2018. In the BIE survey, we also asked how tax reform would affect hiring plans.
The upshot? The typical firm isn't planning on a whole lot of additional capital spending or hiring.
In our national survey, roughly two-thirds of respondents indicated that the tax reform hasn't enticed them into changing their investment plans for 2018, as the following chart shows.
The chart below also makes apparent that small firms (fewer than 100 employees) are more likely to significantly ramp up capital investment in 2018 than midsize and larger firms.
For our regional BIE survey, the capital investment results were similar (you can see them here). And as for hiring, the typical firm doesn't appear to be changing its plans. Interestingly, here too, smaller firms were more likely to say they'd ramp up hiring. Among larger firms (more than 100 employees), nearly 70 percent indicated that they'd leave their hiring plans unchanged.
One interpretation of these survey results is that the potential for a sharp acceleration in GDP growth is limited. And that's also how President Bostic described things in his January 8 speech: "For now, I am treating a more substantial breakout of tax-reform-related growth as an upside risk to my outlook."
May 5, 2017
Slide into the Economic Driver's Seat with the Labor Market Sliders
The Atlanta Fed has just launched the Labor Market Sliders, a tool to help explore simple "what if" questions using actual data on employment, the unemployment rate, labor force participation, gross domestic product (GDP) growth, and labor productivity (GDP per worker).
We modeled the Labor Market Sliders after the popular Atlanta Fed Jobs Calculator. In particular, the sliders take the rate of labor productivity growth and the rate of labor force participation as given (not a function of GDP or employment growth) and then asks questions about GDP growth and labor market outcomes. Like the Jobs Calculator, the sliders require that things add up, a very useful feature for all those backyard economic prognosticators (we know you're out there).
Let's look at an example of using the sliders. The Congressional Budget Office (CBO) projects
that the labor force participation rate (LFPR) will maintain roughly its current level of 62.9 percent during the next couple of years, as the downward pressure of retiring baby boomers and the upward pressure from robust hiring hold the rate stable. The CBO also projects that labor productivity growth will gradually increase to almost 1 percent over roughly the same period.
Suppose we want to know what GDP growth would be over the next couple of years (other things equal) if labor productivity, which has been sluggish lately, returned to 1 percent, as projected by the CBO. By moving the Labor Productivity slider in the tool to 1 percent and the Months slider to 24, you will see how productivity alone affects GDP growth: it increases to about 2 percent (see the image below). In this experiment, the unemployment rate, average job growth, and LFPR are constrained to current levels.
However, there's more than one way to achieve GDP growth of 2 percent over the next two years. Let's take a look.
Hit the reset button, and productivity, GDP growth, and months revert to their starting values. Then move the Months slider to 24 and the GDP Growth slider to 2 percent. You then see that—at current levels of labor force participation and labor productivity growth—achieving 2 percent GDP growth over the next two years would require the economy to create about 200,000 jobs per months (see the image below), which would push the unemployment rate down to 3.1 percent (a rate not seen since the early 1950s).
Hit the reset button again. Achieving 2 percent GDP growth over the next two years is also realistic with a higher LFPR, some other things equal. First, move the Months slider to 24, then move the Labor Force Participation Rate slider to 63.7 percent. The higher LFPR is consistent with about 2 percent growth in GDP and roughly 200,000 additional jobs added each month (see the image below). (This scenario constrains the unemployment rate and labor productivity growth rate to their current levels.) Of course, we haven't seen the LFPR at 63.7 percent since 2012, but that's another discussion.
What if we wanted something a bit more ambitious, such as averaging 3 percent GDP growth over the next couple of years? Hit the reset button again, and try this scenario. Keep Labor Force Participation Rate at its current level (consistent with the CBO's projection), set Labor Productivity growth to 1 percent (also using the CBO projection as a guide), move the Months slider to 24, and the GDP Growth slider to 3 percent. The Labor Market Sliders allow us to see that the economy would need to add an average of about 240,000 jobs each month for those two years. This scenario, the tight-labor-market method of achieving 3 percent GDP growth, would bring the unemployment rate down to 2.6 percent.
However, suppose the United States were somehow able to recapture productivity growth of around 2 percent, which we experienced in the late 1990s and early 2000s. In that case, 3 percent GDP could be achieved at the current employment growth and unemployment rate.
I encourage you to play around and devise your own "what if" scenarios—and use the Labor Market Sliders to make sure they add up.
March 2, 2017
Gauging Firm Optimism in a Time of Transition
Recent consumer sentiment index measures have hit postrecession highs, but there is evidence of significant differences in respondents' views on the new administration's economic policies. As Richard Curtin, chief economist for the Michigan Survey of Consumers, states
:
When asked to describe any recent news that they had heard about the economy, 30% spontaneously mentioned some favorable aspect of Trump's policies, and 29% unfavorably referred to Trump's economic policies. Thus a total of nearly six-in-ten consumers made a positive or negative mention of government policies...never before have these spontaneous references to economic policies had such a large impact on the Sentiment Index: a difference of 37 Index points between those that referred to favorable and unfavorable policies.
It seems clear that government policies are holding sway over consumers' economic outlook. But what about firms? Are they being affected similarly? Are there any firm characteristics that might predict their view? And how might this view change over time?
To begin exploring these questions, we've adopted a series of "optimism" questions to be asked periodically as part of the Atlanta Fed's Business Inflation Expectations Survey's special question series. The optimism questions are based on those that have appeared in the Duke CFO Global Business Outlook survey
since 2002, available quarterly. (The next set of results from the CFO survey will appear in March.)
We first put these questions to our business inflation expectations (BIE) panel in November 2016
. The survey period coincided with the week of the U.S. presidential election, allowing us to observe any pre- and post-election changes. We found that firms were more optimistic about their own firm's financial prospects than about the economy as a whole. This finding held for all sectors and firm size categories (chart 1).
In addition, we found no statistical difference in the pre- and post-election measures, as chart 2 shows. (For the stat aficionados among you, we mean that we found no statistical difference at the 95 percent level of confidence.)
We were curious how our firms' optimism might have evolved since the election, so we repeated the questions last month
(February 6–10).
Among firms responding in both November and February (approximately 82 percent of respondents), the overall level of optimism increased, on average (chart 3). This increase in optimism is statistically significant and was seen across firms of all sizes and sector types (goods producers and service providers).
The question remains: what is the upshot of this increased optimism? Are firms adjusting their capital investment and employment plans to accommodate this more optimistic outlook? The data should answer these questions in the coming months, but in the meantime, we will continue to monitor the evolution of business optimism.