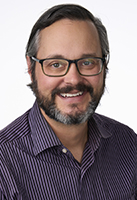 Patrick Pontius
Principal Adviser
patrick.pontius@atl.frb.org
Areas of Expertise:
Housing and neighborhoods
Recent Work:
Economic mobility, place-based community development, and fair housing
Biography

Patrick Pontius serves as a principal adviser at the Federal Reserve Bank of Atlanta, providing leadership to the Bank's outreach strategy and working closely with president Raphael Bostic and the Management Committee to advance the Bank's strategic plan. He started at the Bank as a senior adviser on the community and economic development team in 2017. Before relocating to Atlanta, he served for six years in the federal government in several roles. As the executive director of the White House Council on Strong Cities, Strong Communities, Pontius led an interagency team that piloted an innovative model of federal-local collaboration. He also served as a senior policy adviser at the U.S. Department of Housing and Urban Development (HUD) and as a special assistant to the assistant secretary for Policy Development and Research, focusing on a number of issues related to fair housing, inclusive economic growth, access to opportunity, community development, and regional planning. Prior to joining HUD, Pontius worked at the Urban Land Institute as a research director in Los Angeles and as a director of the Education and Advisory Group in Washington, DC. He started his career as a third-grade Teach For America teacher in Compton, California, and then worked for the organization as director of mid-Atlantic recruitment in Washington, DC. Pontius earned dual master's degrees in planning and real estate development at the University of Southern California and a bachelor of arts at the University of Virginia.

Publications

Articles

Brittany Birken, Ann Carpenter, Karen Leone de Nie, Sameera Fazili, Mary Hirt, David A. Jackson, Sarah Miller, Patrick Pontius, Julie Siwicki, Sarah Stein, Nisha Sutaria, and Janelle Williams. "Tackling the Unknown Together: Community Responses to the COVID-19 Pandemic." Federal Reserve Bank of Atlanta Partners Update (March/April 2020).