For generations, community leaders have struggled to elevate the importance of race in public policy conversations in America. Data on the pandemic's economic and health-related impacts and videos of police brutality offer the latest evidence that those leaders continue to be correct: economic inequality and systemic racism are intertwined in America. The unrest in our city streets and the disparities evident in our hospital beds compel our nation's leaders to face this fact head-on and act.
To that end, the Federal Reserve Banks of Atlanta, Boston, and Minneapolis have launched a series focused on the role structural racism plays in our economy and society. We are striving to improve our own decision making as key players in the economy and in national and regional community development. We also hope to leverage our knowledge, expertise, and relationships to provide a jumping-off point for leaders looking to disrupt the racial injustices that create a drag on our economy.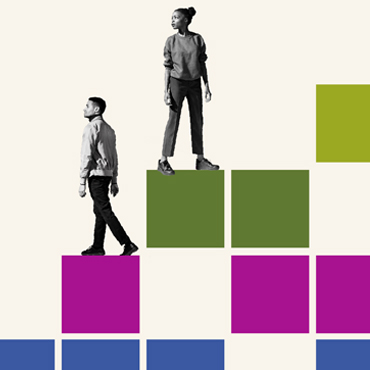 Our Racism and the Economy sessions focus on two of the most pressing questions facing our economy: how did systemic racism bring us here, and how do we find new ways forward? The Federal Reserve's strength often lies in interpreting these questions through an economic lens. To supplement our own expertise, we are bringing together academics, community leaders, advocates, and other practitioners to identify expressions of and solutions for systemic racism.
We are two sessions in, and our guest speakers have already covered a lot of ground. Four principles have emerged that cut across disciplines and ideologies—and highlight critical considerations for community development work.
First, people working in community and economic development must acknowledge race as an important factor in our society's inequities. We can rarely solve a problem without addressing its causes. Many of the policies that created economic gaps are still relevant today. While the lawmakers who created inequitable rules and regulations may be long gone, the systems they created continue to reinforce racist ideals.
For example, at a session focused on the labor market, Rebecca Dixon of the National Employment Law Project talked about how agriculture and domestic jobs—largely held by people of color—were excluded from Social Security in the 1930s as part of a bargain with openly racist lawmakers. Decades later, childcare and home health care providers continue to earn low wages and lack benefits such as paid sick leave even as they perform linchpin work within our economy.
As Ai-Jen Poo, executive director of the National Domestic Workers Alliance, put it, these workers are too often considered essential, but treated as disposable.
Second, we have heard about the importance of reframing the narrative about racial divides. For example, the education system and job market often operate in a racially segregated way. This leaves many workers of color with fewer credentials than similarly skilled white peers. When employers focus on credentials instead of skills, workers of color receive lower pay. Today's narrative often suggests that the workers are at fault and fails to see systemic barriers creating these conditions.
Conversations about workforce development could shift from workers' degrees and pedigrees onto their skills and performance. This would recognize the millions of workers—disproportionately, workers of color—whose skills are not clearly acknowledged by employers in the labor market. For better outcomes for a more diverse group of people, employers can rethink the way they hire new talent, promote the existing workforce, and advertise for jobs.
Third, we must improve our use of data to understand the country's progress on racial inequities. The Fed is making strides on this front. Our Bank presidents openly discuss the importance of disaggregating data to understand the various ways our communities experience the economy and the effects of our policies. Fed staff also employ analytics and engage in community outreach to try to fill in the gaps that often exist in big-picture data sets.
Data increase our understanding of disparities and can also create accountability in efforts to address them. For example, if institutions like the Fed are going to track the nation's progress on ending racial disparities, that progress must be measured. If data are too limited to serve that purpose, work must be done to improve it.
This conversation is particularly relevant as the Fed modernizes its approach to the Community Reinvestment Act (CRA) of 1977. At its core, that legislation aims to give all Americans equitable access to the nation's financial services system. The CRA focuses on geography and is race-neutral in its language. Lived experience and data tell us that changes to the law will nevertheless carry disproportionate weight in America's communities of color, whether in Indian Country, in rural settings, or in the densest urban areas.
Finally, we must acknowledge that progress is possible if we use our "radical imaginations," as our guest speaker Angela Glover-Blackwell, founder of PolicyLink, suggests. Atlanta Fed president Raphael Bostic pointed out that the persistence of racial income gaps is evidence of systemic racism. But evidence also exists that policies designed with race explicitly in mind—in employment, but also in education, housing, criminal justice, and more—can make an impact.
The Fed is actively asking how our own policy choices can better address questions of race. Minneapolis Fed president Neel Kashkari noted that the Fed can do a better job understanding how its macroeconomic data often present only one story when, in reality, communities experience the economy in many ways. We can be leaders in our communities through our own initiatives and the particular role we play in the financial system.
And the Fed's research can shine a light on how other policymakers' decisions might influence the economy. Boston Fed president Eric Rosengren noted that decisions by the nation's legislators, mayors, and other local leaders in response to the economic fallout from the pandemic will almost certainly carry racially disparate impacts.
Given the long chronicle of social and economic disenfranchisement experienced in our country, an event series on racism's role in the economy could have taken place at any point in American history. The pandemic leaves the country with no way to hide painful truths about the structure of our economy. Jobs predominately held by workers of color are deemed essential even as the same jobs offer poor benefits, low wages, and heightened health risks. COVID-19 isn't just reminding us of racial gaps in income and well-being; it is reinforcing them.
We invite you to join us on January 12 for the next session in our series on Racism and the Economy. This event will focus on education. Throughout much of 2021, we and our colleagues at the other Federal Reserve Banks will wrestle with how racism has an impact on the economy through the spheres of health, wealth, housing, small business, and more.
By Prabal Chakrabarti, Boston Fed executive vice president of regional and community outreach, Karen Leone de Nie, Atlanta Fed vice president of community and economic development, and Alene Tchourumoff, Minneapolis Fed senior vice president of community development and engagement