What happens when an economic development organization determines that addressing employment barriers for low-income families is a leading strategy for talent and business growth? They partner, plan, and create an economic mobility blueprint.
Our Atlanta Fed's Community and Economic Development (CED) team is learning firsthand how a community-based, multi-year initiative named Prosperity Broward engages community leaders and residents to advance economic mobility. The initiative emerged from the Greater Fort Lauderdale Alliance Foundation (GFLA Foundation), an economic development organization in Broward County, Florida, and is a robust partnership of municipal leaders, funders, educational institutions, social service and faith-based organizations, business leaders, and residents. Together, through Prosperity Broward, they are identifying assets and planning to collectively address barriers in local communities with low labor force participation rates and high concentrations of poverty with a solution-oriented community engagement plan.
The Origin
In 2016, the Greater Fort Lauderdale Alliance (the Alliance) conducted a data-driven community analysis in Broward County. It showed significant disparity in individual, family, and child poverty rates and unemployment rates. It spurred the Alliance's affiliated foundation, the GFLA Foundation, to act.
Bob Swindell, president of the Alliance, noted: "We got the data, and it reflected what we expected....The unemployment rate countywide was 5 percent, but in a few zip codes the rate was in excess of 16 to 17 percent.... Then we began to talk about, you know, as an economic development organization, what's our role in this?"
The GFLA Foundation thus launched Prosperity Broward in 2018, an initiative seeking to advance economic mobility for everyone living in the county's six highest-unemployment zip codes.
The Journey to Action
The journey from recognizing need and opportunity to taking action has been diligent and intentional. Prosperity Broward is bringing together community stakeholders to codesign interventions that will enable low-income families to sustainably improve their economic status.
At the outset, the Alliance asked community leaders to set strategic priorities. They identified:
Wrap-Around Support—Coordinate and align services and providers across the county to promote social services for residents.
Training/Education—Equip residents with the skills to match prospective employers' needs.
Jobs—Connect job seekers to opportunity employment career pathways that have low educational requirements and lead to economic self-sufficiency.
Employer Engagement—Leverage employer connections to increase the probability of ongoing job recruitment from the targeted zip codes.
Policy—Advance policy changes that will eradicate system barriers in the zip codes.
With these strategic priorities in place, the Alliance engaged the Federal Reserve Bank of Atlanta to provide additional due diligence for informing the work ahead. The alignment between Prosperity Broward's goals and the Atlanta Fed's strategic priority of economic mobility and resilience made the decision for us to support the project an easy one. Furthermore, as Dave Altig, executive vice president and chief economic advisor, observed: "We also have deep connections already established within Broward County through the Regional Economic Information Network. So, from our point of view, this was exactly the type of initiative and engagement that we could be involved in and be helpful with their mission."
The Atlanta Fed's CED team partnered with Prosperity Broward to assist with data analysis, strategic project planning, and opportunities for leveraging research and tools related to barriers to economic mobility.
Data analysis and listening sessions with residents of the priority zip codes identified local assets and challenges that informed a targeted approach and a framework for program and policy considerations. At this stage community partners also agreed that interventions would be best designed through a smaller-scale pilot before implementation throughout the wider county. Analysis identified Lauderdale Lakes as a Broward County city with high opportunity for meaningful impact. Out of the 12 cities included in the project's scope, Lauderdale Lakes had among the highest unemployment rates and number of households in poverty. Leaders there demonstrated the organizational capacity and political will to collaborate, too. In 2022, Lauderdale Lakes city council officials formally entered the Prosperity Broward partnership with seed funding to engage residents and develop a community action plan.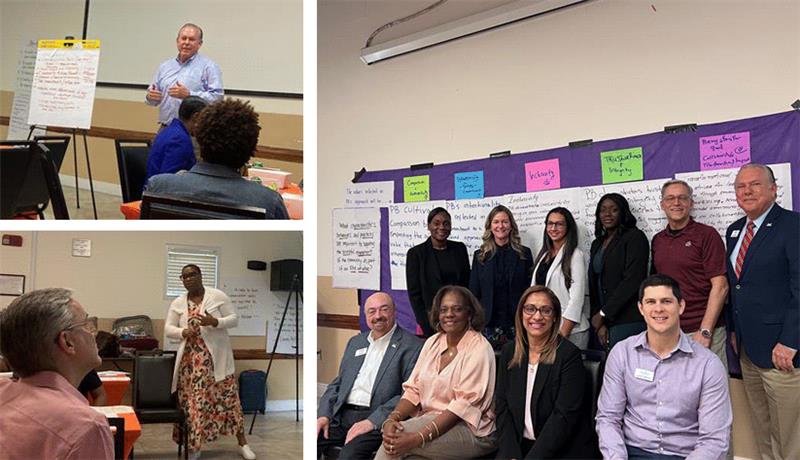 Community leaders, the Greater Fort Lauderdale Alliance, and the Atlanta Fed came together in Lauderdale Lakes for level-setting sessions in February, 2023.
Dismantling Barriers Together
One group that experiences barriers to economic mobility is single mothers, and Prosperity Broward is increasing recognition of the challenges these women face. Veronica Jones and her daughter live in Lauderdale Lakes. When Veronica's rent suddenly increased by $400 in January 2023, it added a tremendous strain to her already precarious financial situation. Making ends meet became impossible for the single mom whose main source of income was already spread thin.
During a phone call in early April, Veronica said: "I've never had this happen to me, where I'm worrying about coming home to an eviction notice on my door and seeing all our things packed up....If I could just get through it, if I could just get a couple months ahead, I could it figure it out....I wish I could get a second job to help me get out from under this, but I have to think about my daughter. She's 16, in high school, and I don't have after-school care."
Now 55 years old, Veronica tried to get a bank loan but was denied due to the $60,000 outstanding debt that's followed her since she was 25. She's tried to apply for rental assistance with her job, but was told because she previously received aid, she doesn't qualify a second time.
Trying to keep up with bills is a reality for many of Lauderdale Lakes' low-income families like Veronica's. Their stories illustrate the complex set of challenges that can hinder economic mobility.
"It's a lot I'm dealing with, but you couldn't tell by looking at me," says Veronica, who stays positive—and engaged—as she looks for ways to catch up on her bills. A key component of the project is to engage the community in finding solutions. Therefore, participation and partnership of community residents like Veronica are critical to the pilot's design. Veronica sits on a Lauderdale Lakes community action board made up of employers, direct-service providers, civic leaders, and residents in the community. Together they act as co-researchers to collect information and use it to develop targeted recommendations and interventions.
For Veronica, being able to play a prominent role in the initiative's pilot is a crucial first step toward addressing barriers that single moms face. She hopes for strategies and resources that improve support services from employer engagement to education and training—anything to turn all the talk into positive action for herself, her daughter, and her community.
By taking an integrated, collaborative, community-driven approach, Prosperity Broward intends to develop a strategy for moms like Veronica to prosper and, ultimately, to be a blueprint across Broward County and communities across the nation.
By Brittany Birken, CED director and principal adviser, Khara Persad, senior internal communications specialist, and Julie Siwicki, CED adviser. The views expressed here are the author's and not necessarily those of the Federal Reserve Bank of Atlanta or the Federal Reserve System. Any remaining errors are the author's responsibility.