Utility Bill-Payment Programs Offer Benefits to Underserved
October 24, 2019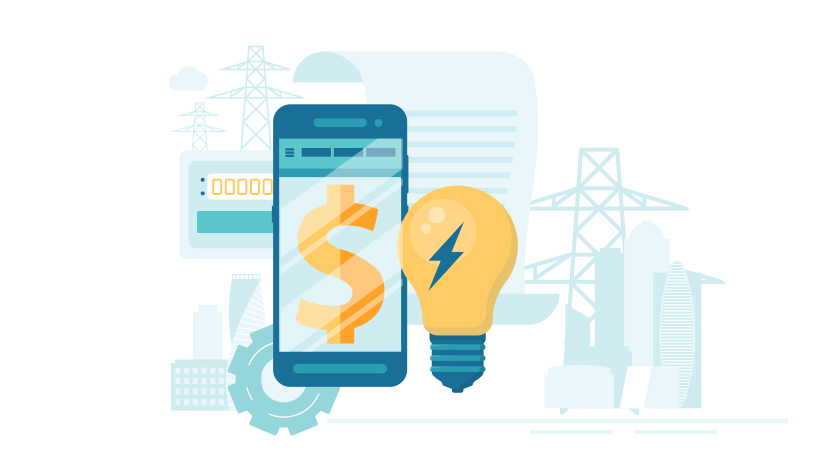 For consumers who manage their affairs outside of the traditional banking system, technological innovations have the potential to help pay bills for basic and critical services more conveniently and efficiently. Nowhere is that potential becoming more evident than the utilities sector.
Utility bill-payment services are gaining a firmer foothold, made possible by technologies that connect power companies and payment processors with different points of sale. Gone are the days when electricity and natural gas bills could only be paid by mail or required waiting in long lines at a payment office.
Across the Atlanta Fed's district, which includes Alabama, Georgia, and Florida and parts of Mississippi, Louisiana, and Tennessee, utility companies are partnering with payment providers to simplify payment for customers, especially those who mainly pay with cash or are unbanked or underbanked. Metro Atlanta, which sees more than 70 percent of U.S. payment card transactions flow through the area, has become known as "Transaction Alley."
Jessica Washington, a payments risk expert with the Retail Payments Risk Forum at the Atlanta Fed, expects more products catering to low- and moderate-income consumers to be available in the future. "Payments themselves aren't going to change someone's economic resilience," Washington said, "but payment innovations matched with thoughtful partnerships will give consumers more options instead of one size fits all."
Buy some milk, pay some bills
Two years ago, Atlanta-based Georgia Power began offering a service that would allow its customers to pay their bills in cash at some popular retail locations by scanning a barcode at the checkout counter. The company found that nearly 70 percent of customers had shifted from using traditional business offices and mail to electronic payments and authorized payment locations. Customers can make full or partial payments on their utility bills at the same time they buy milk and other products, and the payment is credited to their account within minutes.
The Georgia Power payment option was facilitated by a partnership between PayGo Utilities, a metro Atlanta-based software provider, and InComm, an Atlanta financial technology firm that creates the barcode utility that customers can scan at a store checkout counter to make their payments.
Robert Skiba, executive vice president with InComm, said that offering opportunities to pay utility bills at popular retail locations can particularly benefit unbanked people or those who have limited mobility and rely on public transportation. "More and more retailers are accepting it," he said.
Georgia Power customers can pay their bills at national dollar stores, convenience stores, and pharmacies, so consumers can make payments when the power company's offices are closed. InComm said Alabama Power and Mississippi Power—like Georgia Power, subsidiaries of Atlanta-based Southern Company—also offer the pay-at-retail service.
Alabama Power introduced self-service payment kiosks in 2017 to give consumers a faster, easier way to make payments. Terri Tucker, accounting services manager at the utility company, said the standalone kiosks—available at company offices and some drive-up payment machines that are accessible 24 hours a day—are handy for customers who tend to pay with cash. Of kiosk payments, about 44 percent are made with cash, Tucker said.
Though all Alabama Power consumers can use the kiosks—which charge no fees—they are perhaps especially helpful for unbanked customers who had been paying their power bills with money orders left in after-hours drop boxes, Tucker said.
"This is a way that customers can pay on their own schedule and pay with cash," Tucker said. This year, the kiosks began accepting credit and debit cards for payment as well.
Exploring other payment methods
Alabama Power, along with Georgia Power and Mississippi Power, are currently setting up an automated voice response system that will allow customers to speak and pay by phone, Tucker said. "We're constantly looking at ways the customer can self-serve and make payment transactions faster and easier," she said.
Many utility companies including Georgia Power also allow customers to prepay for electricity service using an option similar to pay-as-you-go cellphone plans. Consumers can also make periodic payments on their account, monitor their power consumption, and receive notifications when they need to add to their balance.
Prepaid plans are gaining appeal across the country, as the use of smart meters allows consumers greater flexibility in how they use and pay for power, said Jeff Weiser, chief executive with PayGo Utilities, which produces software that links with smart meters to monitor energy usage. "There are a lot of consumers interested in and concerned about sustainability who realize that with better [consumption] information they can change their behavior," he said.
Low- to moderate-income residents in Georgia who use prepaid plans benefit from energy usage information, said Liz Coyle, executive director of Georgia Watch, a consumer advocacy group. She said account status alerts and tips on adjusting thermostats that prepaid programs offer customers "have really helped people maintain their service." Coyle added that prepaid plans don't require a security deposit—which can run into the hundreds of dollars—to turn on service, which especially helps lower-income consumers.
At the same time, Coyle cautioned that fees tied to utility bill-pay programs can be a drawback. The retail bill-payment service and prepay plans typically include a charge for each transaction. Since prepay customers tend to make payments as many as four times a month, even a modest fee per transaction can add up, she said. "It's important for utilities to keep in mind that additional costs can be a real burden for some of their customers," particularly those who live paycheck to paycheck, Coyle said. In 2020, Georgia Power will eliminate transaction fees, and the fee associated with credit and debit card payments, for customers who pay their bills at payment locations that currently charge fees, said Allison Gregoire, a company spokeswoman.
Coyle said lower-income consumers rely on cash and tend to take advantage of bill-pay options such as authorized payment locations and prepay. "One of the reasons people of low income have such a high energy burden is that their monthly budgets are smaller and their homes are energy-inefficient," she said.
Research shows that people who manage their financial affairs outside the traditional banking system rely heavily on cash. Unbanked consumers make more than half—56 percent—of their transactions with cash, according to the 2019 findings from the Diary of Consumer Payment Choice, a survey conducted by the Federal Reserve.
A 2017 survey from the Federal Deposit Insurance Corporation found that 66 percent of unbanked households paid bills with cash in a typical month, compared with 26 percent of underbanked households and 9.8 percent of those that were fully banked (see the table).
A Typical Month's Bill-Paying Methods
| | | | | |
| --- | --- | --- | --- | --- |
| | All | Unbanked | Underbanked | Fully Banked |
| Electronic payment from bank account | 68.4 | 2.5 | 67.2 | 73 |
| Personal check | 61.3 | 1.2 | 52 | 67.8 |
| Debit card | 47.3 | 3.1 | 63.1 | 45.9 |
| Credit card | 24.8 | 8.4 | 25 | 25.8 |
| Bank money order/cashier check | 5.7 | 13 | 11.8 | 3.5 |
| Cash | 15.9 | 66.1 | 26.2 | 9.8 |
| Nonbank money order | 6.9 | 39.1 | 24.2 | 0 |
| Prepaid card | 2.3 | 22.1 | 4 | 0.5 |
Note: Data depict payment methods, in percent, for all households that paid bills and received income in a typical month.
Source: 2017 FDIC National Survey of Unbanked and Underbanked Households
Sue Brown, director of prepaid advisory services with Mercator Advisory Group, which provides research services to companies in the payments and banking industries, said the retail bill-payment options for utility customers provide benefits for retailers in the form of additional foot traffic that could drive incremental sales while also helping utilities. "The utility companies like it because they have fewer collection problems and fewer turnoffs," Brown said.
The Atlanta Fed moderates all comments posted by visitors to this website. We reserve the right to delete content that is abusive, harassing, or threatening; or obscene, vulgar, or profane. In addition, no off-topic remarks or spam is permitted. Learn more at our Disclaimer & Terms of Use and Online Privacy Policy.