January 28, 2020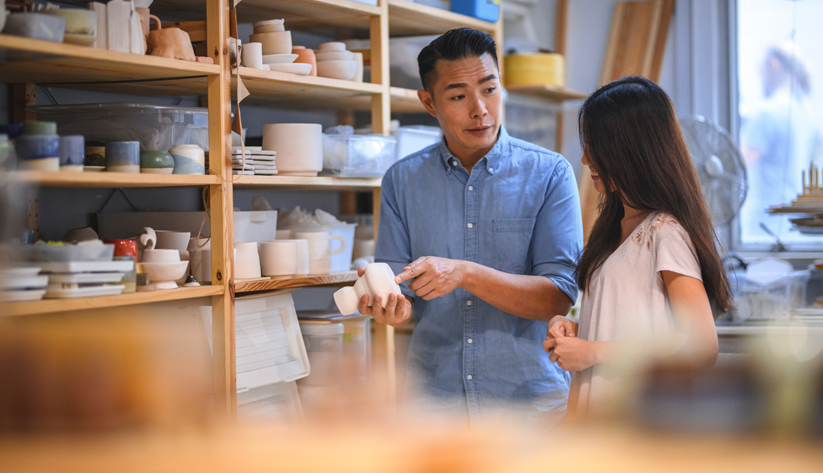 Small businesses owned by minorities have more difficulty than White-owned firms gaining approval for loans from banks. They also tend to underperform White-owned companies in terms of profitability and revenue growth, an analysis of Federal Reserve survey data concludes. (The U.S. Small Business Administration generally defines businesses with fewer than 500 employees as small.)
Two recent reports from the Federal Reserve delve into differences in the financing experiences of minority-owned firms. A November 2019 article by Mels de Zeeuw of the Federal Reserve Bank of Atlanta and Brett Barkley of the Federal Reserve Bank of Cleveland explains these differences, and de Zeeuw shares additional insights about the experiences of minority-owned firms in a separate 2019 report. Both pieces of research are based on results of the latest Federal Reserve Small Business Credit Survey that polled business owners in 2018.
Asian-, Black- and Hispanic-owned firms that didn't apply for financing are less likely than White-owned businesses to report having sufficient levels of funding, the report by Barkley and de Zeeuw states. Black-owned businesses, in particular, continue to face tough challenges acquiring capital. The Barkley and de Zeeuw article notes that they are less likely than their White-owned counterparts to be approved for bank financing. Data show the differences in how minority-owned firms confronted financial challenges (see the tables).
| How Small Firms Addressed Financial Challenges | |
| --- | --- |
| Used Personal Funds | |
| White | 67 percent |
| Black | 80 percent |
| Asian | 67 percent |
| Hispanic | 66 percent |
| | |
| Took Out Additional Debt | |
| White | 45 percent |
| Black | 35 percent |
| Asian | 42 percent |
| Hispanic | 44 percent |
| | |
| Cut Staff, Hours, and/or Downsized Operations | |
| White | 30 percent |
| Black | 31 percent |
| Asian | 35 percent |
| Hispanic | 41 percent |
| | |
| Made a Late Payment | |
| White | 28 percent |
| Black | 31 percent |
| Asian | 23 percent |
| Hispanic | 27 percent |
Source: Small Business Credit Survey, 2019 Report on Minority-Owned Firms
The findings are significant because minority-owned businesses are an important source of jobs and asset building in their communities. Previous research has shown that businesses owned and run by minorities tend to hire more minorities, said de Zeeuw, a senior analyst in the community and economic development team in the Atlanta Fed. "Improving access to financing for minority-owned firms can ultimately help decrease disparities in unemployment rates between whites and minorities," he said.
Statistics highlight disparities
The 2019 Small Business Credit Survey report on minority-owned businesses states that White-owned firms perform better than their minority counterparts on a number of measures. For example, 55 percent of White-owned firms were profitable at the end of 2017, compared with 51 percent of Asian-owned small companies and 46 percent of Black-owned businesses. Minority-owned businesses also did not fare as well with loan applications. Sixty-four percent of Black-owned applicant firms and 65 percent of Hispanic-owned applicant firms gained approval for some of the funding they sought, compared with 76 percent of Asian-owned firms and 80 percent of White-owned businesses, de Zeeuw and Barkley observed.
When outcomes were controlled for company characteristics (such as credit history, credit score, and wealth) and performance, Black-owned businesses still had more difficulty securing credit. Compared with similar White-owned companies in terms of credit risk, profitability, and other factors, Black-owned firms seeking financing were 7 percent less likely to obtain credit overall. They were 20 percent less likely to do so at large banks and 17 percent less likely at small banks, de Zeeuw and Barkley said in their paper.
De Zeeuw's report does not delve into the causes of disparities in financing for minority and White-owned small businesses. But in an interview about his findings, de Zeeuw noted that minority-owned firms more frequently lack networks and relations with small banks that could help in the loan approval process. "When applying at small banks, minority-owned firms are less likely to say that they have an existing relationship there," he added.
Bias seen as having role
Advocates who work with Black-owned businesses said other factors can also help explain the financing differences. Connie Evans, chief executive of the Association for Enterprise Opportunity (AEO), a Washington-based nonprofit whose member organizations provide training and resources to entrepreneurs, said that although fewer connections to bankers and credit scores play a part in credit disparities, institutional racism and unconscious bias have also been found to affect loan approval rates for Black-owned businesses at traditional banks compared with similarly situated White-owned firms. "Racism and discrimination, unfortunately, are still inherent in our financial markets," Evans said.
A 2017 AEO report, The Tapestry of Black Business Ownership in America, states that bias based on race and ethnicity is the reality for many small business owners: "Empirical research has found that Black-owned firms experience higher loan denial probabilities and pay higher interest rates than White-owned businesses, even after controlling for differences in creditworthiness and other factors."
Money is not the sole factor that keeps Black-owned businesses in particular from reaching their potential, Evans said. The AEO report explains that the interplay of lower starting wealth, limited access to capital, and a trust gap creates colossal challenges for Black business owners.
The trust gap shows up in various ways, Evans pointed out. Black-owned businesses tend to receive lower amounts of capital than they apply for from banks, perhaps reflecting a lack of trust on the part of banks that the firms will spend the money as agreed to or pay it back. Moreover, the perception of bias that many Black business owners have could keep them from taking actions to expand their firms. The Fed report on minority-owned companies found that 27 percent of Black-owned businesses that didn't apply for credit believed they would not obtain approval, compared with 28 percent and 24 percent of nonapplicant Hispanic- and Asian-owned firms, respectively, and just 13 percent of White-owned companies that didn't apply for financing.
Minorities and alternative funding sources
Though large banks remain the most popular financing source for all kinds of small firms, minority-owned businesses have had more success obtaining financing from nonbank sources, the Fed report noted. For example, a higher percentage of Black- and Hispanic-owned businesses went to online lenders for financing than did White-owned firms. Black-owned firms also sought out credit unions and community development financial institutions relatively frequently (see the tables).
| Sources Approached for Loans and Lines of Credit | |
| --- | --- |
| | |
| Large Bank | |
| White | 47 percent |
| Black | 51 percent |
| Hispanic | 59 percent |
| | |
| Small Bank | |
| White | 46 percent |
| Black | 35 percent |
| Hispanic | 28 percent |
| | |
| Online lender | |
| White | 32 percent |
| Black | 41 percent |
| Hispanic | 43 percent |
| | |
| Credit union | |
| White | 9 percent |
| Black | 19 percent |
| Hispanic | 9 percent |
| | |
| CDFI | |
| White | 5 percent |
| Black | 17 percent |
| Hispanic | 3 percent |
Note: Data indicate the percentage of applicants for loans, lines of credit, or both.
Source: Small Business Credit Survey, 2019 Report on Minority-Owned Firms
"We actually don't see any significant difference in terms of approval rates between comparable White-owned and Black-owned businesses at an online lender," de Zeeuw said. "That is very different at small and large banks, so in that sense, you can say that online lenders are a particularly important addition to the small-business financing market for minority-owned firms," he added, also noting one potential drawback associated with this trend: credit from online lenders can be more expensive than from traditional banks.
Evans said that many online lenders typically rely on criteria other than FICO scores to make loan decisions, a factor that could explain why they appear to be a more popular source of financing for Black-owned firms. Online lenders' "underwriting algorithms use many more elements to make a loan decision that go way beyond what banks are using," she said. Such elements include information about bank accounts, cash flow, college degrees, and work history.
The Fed small business report also found that minority-owned companies tend to apply more frequently for higher-cost credit products. For example, 15 percent of Hispanic-owned firms applied for merchant cash advances, which provide funds in exchange for a percentage of a business's income over time, compared with 8 percent of White-owned businesses. "Merchant cash advance products can come with higher average costs and less transparent terms," de Zeeuw said. As de Zeeuw noted in his 2019 report, "The United States has a fast-growing minority population, so a healthy and thriving ecosystem for minority-owned businesses is increasingly important to economic opportunity and broader economic growth."