Homebuilders, Brokers Expect Lower Sales and Construction, Atlanta Fed Poll Shows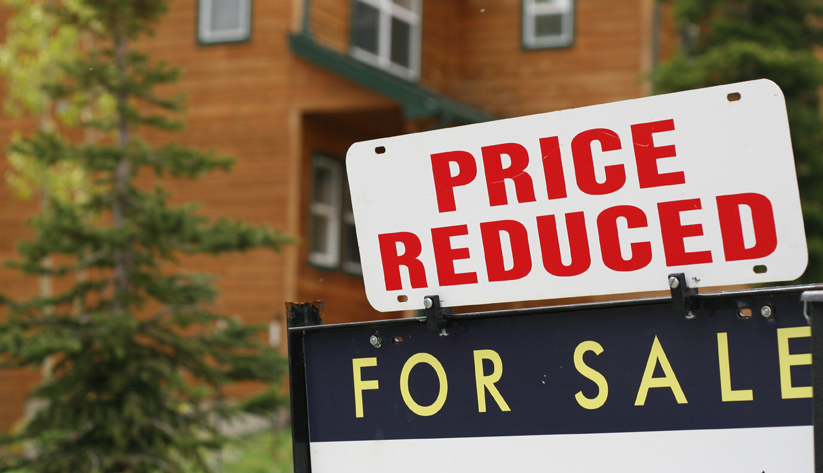 Southeast homebuilders and real estate agents expect the COVID-19 pandemic to dampen buyer traffic and home sales activity over the next few months, a Federal Reserve Bank of Atlanta survey finds.
The majority of housing professionals responding to the Southeast Housing Market Poll, a monthly, periodic survey, said they expected home sales and construction activity to fall over the next three months. Effects of the coronavirus outbreak were evident at least by the end of March, they indicated.
"Buyer traffic appears to be the dimension of business that COVID-19 has most adversely affected," said Jessica Dill, director of the Atlanta Fed's Center for Housing and Policy.
Real estate brokers expect the health crisis, which prompted states to issue shelter-in-place orders to help slow the transmission of the coronavirus, will dampen the number of home purchase offers in the coming months, according to the survey. Builders indicated the pandemic would slow the timeline for local government plan reviews.
Many aspects of business have been hurt in the near term, the poll showed. Fifty percent of brokers surveyed said COVID-19 had a noticeable, unfavorable influence on the number of offers during April, while 73.3 percent of all respondents cited a major negative effect on buyer traffic.
Seeing glimmers of optimism
But respondents' sentiment appears to have improved in some ways in April compared with March. In April, 36.7 percent of brokers and builders said they expected COVID-19 to depress buyer traffic to a major extent, compared with 75.7 percent of respondents to the survey in March. Last month, nearly 52 percent of respondents said the health crisis would have some effect on the prices home buyers are willing to pay, down from 81 percent in March.
"Results indicate that business contacts still anticipate adverse impacts over the next three months, but not to the same degree as in March," Dill said.
The April poll was conducted April 24 to May 1 among homebuilders and real estate agents throughout the Sixth Federal Reserve District, which includes the states of Alabama, Florida, and Georgia and parts of Louisiana, Mississippi, and Tennessee. The March survey took place from March 26 to April 2.
From promising momentum to a sudden decline
The construction and real estate industry began the year on a promising note, but sales are expected to fall during the current quarter, according to April's Beige Book report on regional economic conditions. Contacts across the Southeast said they expect COVID-19-related disruptions in home appraisals, permits, notarizations, and deed filings.
"We are running the business in defensive mode, watching our costs, watching our overhead, not spending money on land or development," said Cory Boydston, chief financial officer with Ashton Woods Homes, a private homebuilder based in the Atlanta area that operates in Florida, Texas, Arizona, Georgia, and the Carolinas. The company laid off 12 percent of its employees at the end of March.
Home sales have suffered over the past month and a half (see the chart). Boydston said cancellations of home contracts have picked up since March as the virus took a toll on the economy but added that canceled contracts have not shot up dramatically. Atlanta-based PulteGroup said during an April conference call that new orders topped 800 homes during the first full week of March but had dropped to 140 homes the last week of the month.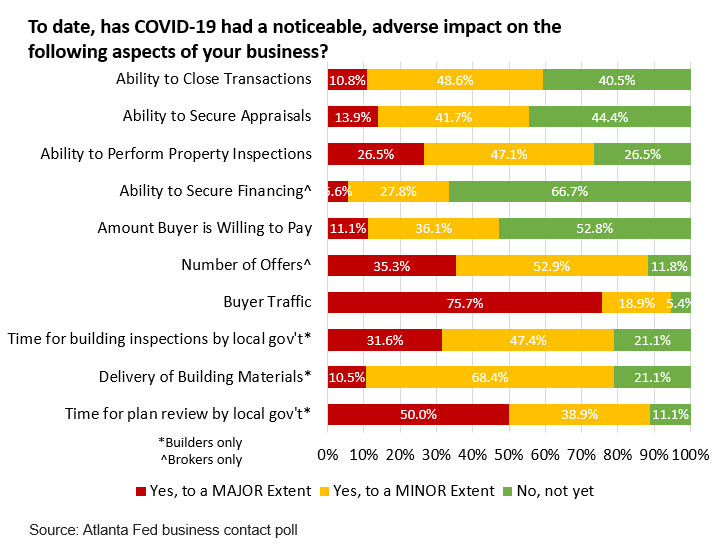 Dwight Sandlin, the chief executive officer of Signature Homes in Birmingham, Alabama, said his company's sales have been constant except for higher-end homes priced well above $500,000. He said consumers who have signed contracts to have homes built have fears about whether the houses will be completed. "The biggest question we get from our customers is, 'Are you going to be able to perform?'" Sandlin said.
With the outlook uncertain, homebuilders are thinking ahead and accelerating the development of digital platforms that allow potential buyers to shop for houses online. While stay-at-home orders kept people from traveling, homebuilders have bolstered virtual interactions with customers and are using technology to enable consumers to view computer-generated house plans and select lots, sign contracts, and in some cases close on a house.
"We have sold several homes without people ever seeing them in person," Boydston said. "This crisis has forced a lot of innovation in our industry and thrust us forward in technology."
The Atlanta Fed moderates all comments posted by visitors to this website. We reserve the right to delete content that is abusive, harassing, or threatening; or obscene, vulgar, or profane. In addition, no off-topic remarks or spam is permitted. Learn more at our Disclaimer & Terms of Use and Online Privacy Policy.