New Atlanta Fed Research Examines Student Outcomes at HBCUs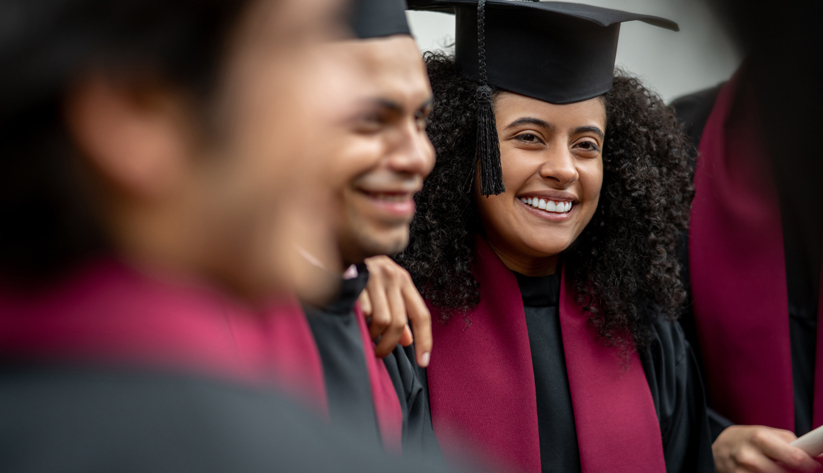 The coronavirus pandemic has raised troubling issues for higher education officials. Many fear enrollments, and thus critical revenue from tuition and room and board, could plummet. Leaders of historically Black colleges and universities (HBCUs) are no different. But for those schools, existential questions are not particularly novel.
Many HBCUs in recent decades have struggled with declining enrollments and financial troubles. About a dozen HBCUs have closed since 1980, and several others are clinging to life after losing accreditation and in turn access to federal funds, according to various reports. Ron Stodghill, an associate professor of journalism at the University of Missouri and author of a 2015 book about HBCUs, has said he fears that many more HBCUs could close.
Those struggles are not isolated to HBCUs. Many small colleges have faced questions of survival. However, HBCUs occupy a position as wellsprings of the Black middle class, as for many decades they were the only way most African Americans could receive a higher education.
Understanding the entire education journey
A new research paper from the Federal Reserve Bank of Atlanta helps to identify ways HBCUs might improve student performance measures—such as graduation rates and graduates' incomes—relative to predominantly white institutions. Like some other recent research, a key element of the Atlanta Fed study is that it adds important context by considering the circumstances under which HBCU students arrive on campus, and how those circumstances contribute to the challenges the schools face. In other words, the research accounts for where students start their higher education journey, not just where they finish.
For example, compared to predominantly white schools, a larger share of HBCU students are the first in their families to attend college, meaning that many new students at HBCUs lack the guidance from relatives that most college-bound young people take for granted. Moreover, more HBCU students require financial aid, as two-thirds receive Pell grants compared to roughly a third of students at other colleges, according to the research paper's authors' calculations from the U.S. Department of Education's Integrated Postsecondary Education Data System.
So HBCUs might consider channeling more resources into programs designed to support first-generation college students, said Atlanta Fed research economist Julie Hotchkiss, one of the paper's authors.
Hotchkiss and her coauthors on the research—Sameera Fazili, director of engagement in the Atlanta Fed's Community and Economic Development (CED) group, and Mels de Zeeuw, senior CED analyst—address broad questions of what mechanisms might deserve more attention in achieving better outcomes considering the characteristics students bring to campus. The goal, the researchers said, is to help HBCUs devise strategies to help improve student outcomes in the short and medium term. In no way, the authors stress, does the work minimize the need to eliminate systemic barriers to all students arriving at college prepared for success.
HBCUs play a prominent role in the educational and economic fortunes of African Americans. More than half of Black judges, doctors, and teachers in the United States are HBCU graduates, according to the Hechinger Report, a publication that covers higher education. Historically Black institutions are fixtures in the Southeast, especially. The six states of the Atlanta Fed district are home to 40 percent of the nation's roughly 100 HBCUs. Combined, the Southeast's 40 Black colleges and universities enroll nearly 130,000 students.
Facing the moral and economic imperative to end racism
The new paper is part of a larger Atlanta Fed effort to advance economic mobility and resilience, particularly in minority and low- and moderate-income communities. This work to boost economic mobility and resilience, in fact, is a principal way the Atlanta Fed can help dismantle racial inequities that plague the U.S. economy, said Atlanta Fed president Raphael Bostic.
Indeed, the Reserve Bank maintains numerous research and outreach programs aimed at untangling the causes and addressing the effects of limited mobility and resilience. For example, as the coronavirus pandemic halted swaths of economic activity, the bank's Center for Workforce and Economic Opportunity devised the Unemployment Claims Monitor, an online tool rich in demographic and other data that clarify who is bearing the brunt of pandemic-related job losses. In the Southeast, according to the tool, the burdens have fallen disproportionately on Black workers, though the precise reasons for that are not entirely clear.
In addition to the HBCU research and the Unemployment Claims Monitor, CED staff regularly conduct surveys to gauge pandemic-induced economic distress in minority and low- and moderate-income communities and among businesses and nonprofit organizations that serve those communities. Reserve Bank researchers have also examined "spatial mismatches," or the sizable physical distances that separate low-income neighborhoods and concentrations of jobs in metro areas, childcare challenges facing front-line workers, affordable housing, benefits cliffs, and other issues that particularly weigh on minority communities' economic prospects.
Further, CED's Ann Carpenter has spearheaded research on the problem of heirs property, which refers to land that ends up with no clear ownership after the original owner dies without a probated will. Heirs property conditions have led thousands of African Americans, particularly in the Southeast, to lose family property that in some cases becomes valuable, thus depriving the former owners of wealth and economic opportunity.
The Atlanta Fed moderates all comments posted by visitors to this website. We reserve the right to delete content that is abusive, harassing, or threatening; or obscene, vulgar, or profane. In addition, no off-topic remarks or spam is permitted. Learn more at our Disclaimer & Terms of Use and Online Privacy Policy.