Atlanta Fed Report: Small Businesses Need Targeted Investments to Recover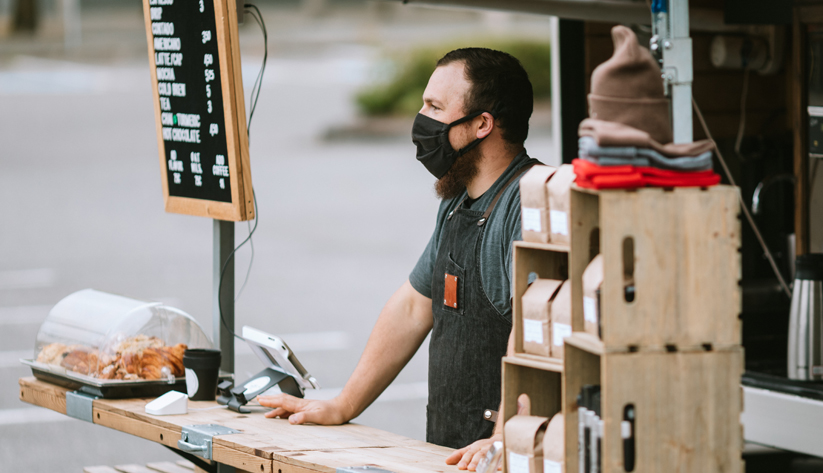 The COVID-19 pandemic represented a huge setback for small businesses in every industry, but many are trying to find ways to get back up and dust themselves off. To do this, they need programs tailored to their particular needs, according to a Federal Reserve Bank of Atlanta report.
To understand the challenges small businesses (firms with fewer than 500 employees) faced during the coronavirus outbreak, the Atlanta Fed's Community and Economic Development group interviewed organizations that provide financial assistance and operational support to these firms. The Atlanta Fed's district—which includes the states of Alabama, Florida, and Georgia and parts of Louisiana, Mississippi, and Tennessee—has more than 5.5 million small businesses that employ nearly 44 percent of all workers in the Southeast.
The chief concern of the small business funders surveyed, which included community development financial institutions (CDFIs) and other nonprofit local lenders, was that many of the firms they serve did not have adequate capital reserves to survive, meaning even a brief business shutdown could result in permanent closure. "We heard that loud and clear," said Janelle Williams, a senior adviser in the Atlanta Fed's Community and Economic Development group.
The institutions interviewed by the Atlanta Fed said demand for their services increased dramatically as small businesses applied for funds and sought deferment of payments and other relief in the wake of the pandemic. In some cases, staff and funding constraints made addressing those spikes in demand challenging.
Additionally, funds from initial rounds of the Paycheck Protection Program (PPP),which was set up to help businesses keep their workers on payrolls, did not reach many small companies. Some businesses were hindered by the lack of a preexisting relationship with banks that dispensed the money. Interview respondents cited a need for additional rounds of funding from the federal program to help small businesses recover, Williams said.
Racial disparities seen in business-owner decline
Data from recent months suggest thousands of small businesses have folded during the pandemic. Citing government statistics, an August report from the Federal Reserve Bank of New York showed, the number of active U.S. business owners fell 22 percent from February to April 2020.
When analyzed by race and ethnicity, results were even starker. The number of Black business owners fell 41 percent from February to April 2020, the study found. That decline was the steepest one across communities of color. Latinx business owners dropped 32 percent, and the ranks of Asian business owners fell 26 percent. In contrast, the number of white business owners decreased 17 percent during that period.
Williams said small business owners of color have traditionally been concentrated in the service sector, which is significant because those industries have seen the most disruption from mandatory shutdowns and social distancing requirements during the pandemic. "Service industries were particularly vulnerable to disruption in response to stay-at-home orders to help manage this public health crisis," Williams said.
In the Atlanta Fed's district, the hardest-hit sectors included hotels and food service; arts, entertainment, and recreation; travel; transportation; and retail (except grocery and pharmacy). Employees of small businesses in the hardest-hit industries in the Southeast tended to be younger, less-educated people of color. Asian American workers, in particular, were significantly overrepresented in the hardest-hit industries in the Southeast, Williams said.
The Atlanta Fed report shows the share of small businesses operating in the hardest-hit industries in the Southeast was higher than for the nation as a whole (see the table). Small businesses in industries that have suffered most from COVID account for nearly one-third of employment across the Southeast.
Pandemic Affects Southeast Businesses
| | |
| --- | --- |
| State | Share of Small Businesses Operating in Industries Hit Hardest by COVID-19 |
| Alabama | 31.3 percent |
| Florida | 23.9 percent |
| Georgia | 27.5 percent |
| Louisiana | 29.0 percent |
| Mississippi | 34.3 percent |
| Tennessee | 31.8 percent |
| United States | 23.2 percent |
Source: Atlanta Fed Partners Update, "Southeastern Small Businesses in the Face of COVID-19"


Black-owned firms more likely to be located in COVID hot spots
Just as communities of color have had higher rates of COVID-19 infections during the pandemic, minority-owned businesses have taken a harder economic hit. The New York Fed report noted that data from U.S. counties show Black-owned firms were more likely to be located in COVID-19 hot spots, while white-owned firms were less likely to be in areas most heavily affected by the coronavirus.
The New York Fed study also found that PPP loans reached just 20 percent of eligible companies in states with the highest proportions of Black-owned firms. For example, in Fulton County, Georgia—which includes the city of Atlanta—a total of 20.8 percent of businesses received loans from the program. In Florida's Miami-Dade County, just 15 percent of eligible firms obtained PPP funds.
"Not only were small and minority-owned businesses less likely to have received the PPP dollars, but they were also less knowledgeable of the technical resources available to assist them," said Mary Hirt, an Atlanta Fed engagement analyst in the Community and Economic Development group. That's notable because some financial institutions processed PPP loans on digital platforms.
Even before COVID, small minority-owned businesses generally had weaker cash positions and faced more difficulties obtaining bank financing than white-owned firms. Williams cited significant differences in interest rates and loan approval rates for minority-owned businesses compared with their white-owned counterparts. Although factors such as a lack of relationships with banks can help explain these differences, discrimination has also been found to affect loan approval rates. "There are many inputs in the underwriting process that are ripe for implicit biases that disadvantage Black and brown business owners" when they apply for loans, Williams said.
The road to recovery from the pandemic may not be easy, but programs and policies tailored to the specific needs of smaller businesses can help, according to the Atlanta Fed report. Specifically, representatives of institutions who were interviewed cited a need to devote targeted investments to firms in rural communities and areas of persistent poverty. They suggested the philanthropic community play a role in helping small businesses by offering more venture capital funds that could be distributed by CDFIs to minority-owned firms.
"Respondents felt that to create a more thriving, inclusive community, we have to target strategies for groups that have been persistently left behind," Williams said.
Noting that many small businesses—especially small businesses owned by people of color—were in a precarious state before the health crisis, respondents said that aid programs should be designed to help put small companies that are still in business on a more sustainable financial footing in the longer term than they were before the health crisis.
"Many of the organizations were concerned with the accessibility of credit for the smallest of small businesses," Hirt said. She said many nonprofits were reaching out and forming partnerships to understand how they could operate more efficiently to address small business issues that come up in real time.
The Atlanta Fed moderates all comments posted by visitors to this website. We reserve the right to delete content that is abusive, harassing, or threatening; or obscene, vulgar, or profane. In addition, no off-topic remarks or spam is permitted. Learn more at our Disclaimer & Terms of Use and Online Privacy Policy.