Faces of the Atlanta Fed: Marilyn Nieves, Head of the Miami Branch's Law Enforcement Unit
May 13, 2022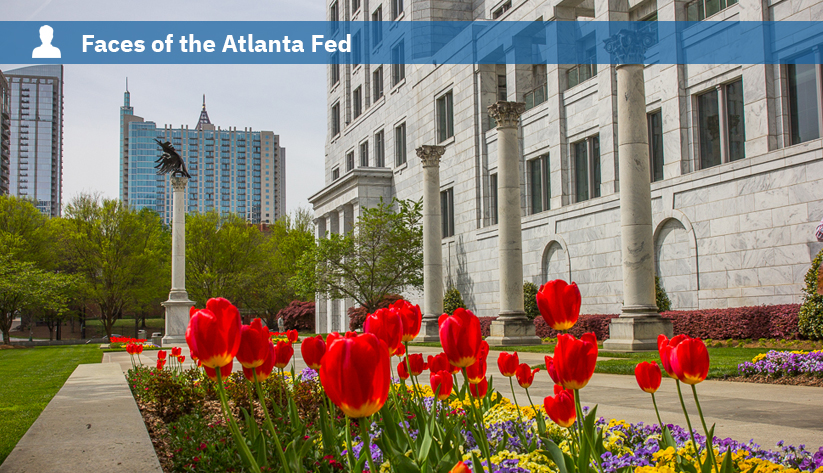 The effort to recruit women into the law enforcement division of the Federal Reserve Bank of Atlanta's Miami Branch is benefiting from lessons learned during the pandemic.
"In law enforcement, we tend to be intentional, risk adverse, as does the Bank," said Marilyn Nieves, chief of the law enforcement division at the Miami Branch. "COVID put us in the position where we had to change that thought process, where we had to adapt our operations on the fly. That was a challenge."
Through adaptation, Nieves said, Miami's law enforcement department, while fulfilling its duties to secure the Bank's premises and personnel, is applying those lessons of managerial agility to the effort to recruit women.
It's an uphill push, even in a law enforcement department that's the first in the Atlanta district to be led by a woman. At the most recent recruiting event in Miami, not a single woman applied—a departure from past recruitment pushes, Nieves said, when each event conducted over a 10-year period attracted a couple of women applicants.
Changing a longstanding reputation
Beyond the national shortage of workers for all types of jobs, law enforcement has a durable reputation as a male bastion that dissuades some women from joining. Women accounted for about 12 percent of full-time sworn officers in local police departments in 2016, according to a 2019 analysis by the US Department of Justice that was updated in 2021. Twice as many women served in big-city police departments (defined as jurisdictions of 250,000 or more residents) as in smaller jurisdictions. Women accounted for 3 percent of chiefs and about 17 percent of intermediate supervisors, sergeants, and first-line equivalents in 2016, the DOJ report showed.
These issues unfold against a national backdrop of dwindling police ranks. The number of full-time sworn officers in local police agencies fell by about 23,400 between 2013 and 2016, to a number last seen in 2007—even as the US population grew by about 7.2 million residents from 2013 to 2016, according to a DOJ report issued in 2018. Retirements and resignations in the wake of recent protests against law enforcement in cities across the nation may have exacerbated this trend, according to a number of published accounts.
Nieves is quick to acknowledge that recruiting women depends on overcoming the profession's male dominance. She is optimistic, however, about increasing law enforcement's female ranks within the Atlanta Fed, in part because of progressive steps taken by the Atlanta district to recruit and promote women.
"I will say this—it is challenging to make this job attractive to women," Nieves said. "There is the narrative that they don't have many opportunities. That is a challenge locally in recruitment. We don't have women applying. I've talked with talent acquisition about what platforms we can use to reach people. The questions we face include: How do we get women to apply? How can we get into different forums to reach out and find an audience?"
This is where the Atlanta Fed's record of opportunity comes into play.
"I think we've done a phenomenal job of giving women in law enforcement an opportunity to advance," Nieves said.
Nieves pointed to women who are rising through the ranks across the district, serving in leadership positions in branches including Jacksonville, New Orleans, and Atlanta. In terms of recognition, Corporal Julieann Ayala-Garcia of the Atlanta office was among three officers who received the department's highest honor, a 2021 Professional Service Award. Ayala-Garcia's peers and managers recognized her for consistently outperforming others in her position. The promotions and honors involving female officers are part of the district's comprehensive effort to promote diversity of thinking, outlook and practice.
Adding her own story to the narrative
Nieves—who has served as Miami's chief since January 2019, after joining the Bank in 2010 following service in the US Army—cited her career trajectory as partly the result of male colleagues in the Miami Branch supporting the advancement of a female officer. She said no single act had marked her for promotion. Rather, she achieved the top spot because Atlanta Fed leaders recognized and rewarded her consistent work ethic and results.
Nieves is quick to credit her colleagues. "This was not an individual accomplishment; it never has been," Nieves said of her ascension through the ranks to the top job. "I've had great mentors, both chiefs I've worked for and my management team. They took me under their wing and said, 'Let me walk you through what the job entails.'"
A new program offers new possibilities
Another ray of hope for hiring more women into law enforcement emanates from the 30x30 recruitment program, Nieves said. It's among a number of efforts to attract more women into the profession. The name 30x30 refers to a goal of recruiting enough women nationally into law enforcement to reach a goal of 30 percent of police officers being women by 2030. The program is run by the New York University's law school with support from organizations including the National Association of Women Law Enforcement Executives.
The list of participants in 30x30 includes police agencies in each state in the Atlanta Fed's district—Alabama, Florida, Georgia, Louisiana, Mississippi, and Tennessee. Member agencies agree to share best practices for reaching women and recruiting them. Nieves said she's watching the program, hoping to apply the program's successful ideas to efforts to recruit women into the branch's law enforcement department.
Nieves is aware of the unfavorable spotlight police forces across the country have been put under, and the challenge it poses to recruitment.
"In the past couple of years, law enforcement has not always been seen in the most favorable light," Nieves said. 'Unfortunately, the small number of bad cops has an impact, an influence, on people's sentiment toward police. There are really good cops out there and, when you come into this profession, you have a passion for it and want to take care of people and the community. I want to highlight this as well. The majority of people are in law enforcement because they care."
The Atlanta Fed moderates all comments posted by visitors to this website. We reserve the right to delete content that is abusive, harassing, or threatening; or obscene, vulgar, or profane. In addition, no off-topic remarks or spam is permitted. Learn more at our Disclaimer & Terms of Use and Online Privacy Policy.