More Than Just Music City: Nashville Cultivates Diverse Economy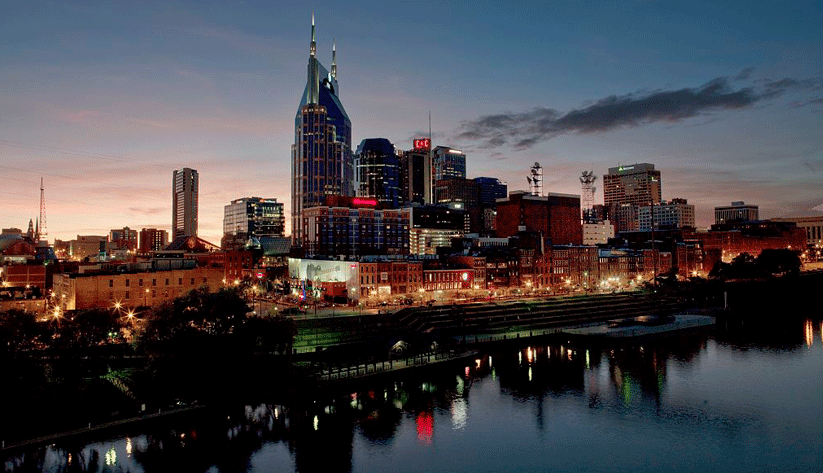 Downtown Nashville. Photo by Carol Highsmith and courtesy of the Library of Congress photographic archives
For decades, Nashville boosters asked themselves why their city wasn't keeping up with regional peers like Atlanta, Orlando, and Charlotte.
Through most of the 20th century, "Music City" played second—or even third or fourth—fiddle to other southeastern metropolitan areas when it came to population and economic growth. That's not even counting the juggernauts of Atlanta and Miami. As recently as 1990, Nashville was barely bigger than Birmingham, roughly the same size as Memphis, and smaller than metro New Orleans (see the chart).
No more.
Nashville is one of the nation's postrecession economic stars. At the end of 2018, it boasted the lowest unemployment rate among U.S. metropolitan areas with a million or more residents, according to the U.S. Bureau of Labor Statistics (BLS). Among those 52 metro areas, Nashville is second in percentage growth of nonfarm employment from 2009 through 2018. (Only Austin, Texas, has done better.)
Just as impressively, Nashville has more than doubled the national pace of overall economic expansion and job growth since the Great Recession, data from the BLS and the Bureau of Economic Analysis show.
Various forces have powered Nashville's rise.
A blend of stable employers in fields including health care management, higher education, and auto manufacturing, and the absence of a spectacular housing boom—and bust—helped cushion the recessionary blow. A combined Nashville-Davidson County metro government and economic development agencies have aggressively courted businesses and invested public dollars in projects like a massive convention center and a hockey arena that fueled a downtown resurgence.
Finally, there is the allure of the Music City "brand." Hatched some 15 years ago, the Music City promotional campaign is an exception among city marketing efforts, Aaron Renn of the Manhattan Institute think tank writes in CityLab, an online journal about urban issues. Those campaigns tend to highlight commonplace amenities like bike trails and coffee shops. But Nashville touts more distinctive attributes, according to Renn, including home-style meat-and-three restaurants and, of course, a music milieu that encompasses more than just commercial country.
The marketing has paid dividends: tourism has surged. The number of visitors rose from about 10.1 million in 2010 to about 15.2 million in 2018, according to the Nashville Convention and Visitors Corporation. Fifteen hotels opened last year, the group's statistics show, and 21 more are scheduled to open their doors in 2019.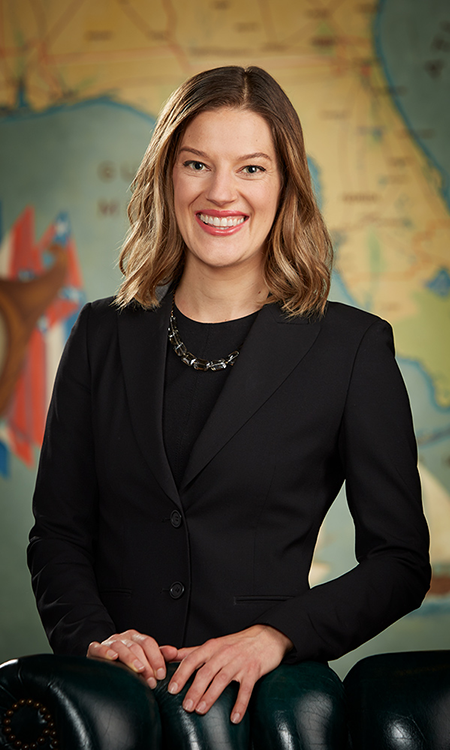 Nashville Branch regional executive
Laurel Graefe
More people, especially young adults, are also moving to Nashville. Among people aged 25 to 34, the metro area ranked 10th in average annual net in-migration from 2012 to 2017, outdrawing boom towns such as Atlanta, Orlando, and Tampa, according to an analysis of census data by William Frey of the Brookings Institution.
Laurel Graefe, the Atlanta Fed's Nashville Branch regional executive, has felt the vibe during her five years in Nashville. Graefe's two next-door neighbors are both there largely because of the music scene. Generally a skeptic about the tangible economic benefits of promotional campaigns, Graefe believes Nashville's brand plays a genuine role in attracting tourists, residents, and businesses.
"I continue to hear anecdotes from employers about getting applications from people who chose to move to Nashville and then started looking around at jobs," said Graefe, who gathers economic information from business, civic and community leaders.
Learning to love "hillbilly music"
Music City did not always so fervently embrace its music. After a local insurance company launched a radio station in 1925, a program of what was then commonly called hillbilly music quickly became a staple. The show "Barn Dance" morphed into the now-legendary Grand Ole Opry. Despite the show's national popularity, many locals were embarrassed about their city's association with hillbilly tunes, according to Fortunes, Fiddles & Fried Chicken, a book on Nashville's business history published in 2000.
Even the station owner, National Life and Accident Insurance Company, for many years did not commercially exploit its radio hit, but the music's ubiquity broke down lingering reluctance. Eventually, the firm's door-to-door salesmen would listen for the music emanating from homes to identify receptive prospects.
In hindsight, National Life and Accident was probably the most important business in Nashville's history, argues Bill Carey, the author of Fortunes, Fiddles & Fried Chicken. The firm launched country music in Nashville, which begat tourism. National Life and Accident also started a bank. So the company played a leading role in establishing Nashville not just as the commercial center of country music but also as a southern locus of insurance and finance in the early 20th century.
A 1909 photo of Vanderbilt University, one of Nashville's largest employers. Photo courtesy of the Library of Congress photographic archives

Workers assemble a fuselage in a Nashville factory in 1942. Photo courtesy of the Library of Congress photographic archives

Often referred to as "the Mother Church of Country Music," Ryman Auditorium is the former home of Nashville's fabled Grand Ole Opry. Photo by Carol Highsmith and courtesy of the Library of Congress photographic archives

In the engine installation section of Nashville's Vultee Aircraft Company in 1942. Photo courtesy of the Library of Congress photographic archives

Workers outside Nashville's May Hosiery Mills in 1910. Photo courtesy of the Library of Congress photographic archives

Tennessee Manufacturing Company in Nashville. Photo courtesy of the Library of Congress photographic archives
The firm's influence lives on. The successor companies of National Life's entertainment unit still own the Grand Ole Opry, the massive Opryland Resort, the historic Ryman Auditorium, and other music venues. And insurance, particularly health insurance, remains an important industry in Nashville.
Music may be Nashville's identity. But in purely economic terms, health care is significantly more important. The Nashville region is home to companies that manage 70 percent of all beds in for-profit hospitals across the country, according to the Nashville Area Chamber of Commerce. One of the nation's pioneers in the for-profit hospital business, Hospital Corporation of America, or HCA, launched in Nashville in 1968. Spinoffs and similar companies soon followed. Today the health care industry directly employs more than 250,000 people in the city, the chamber reports.
The good books were good business
But before the hospital managers, claims processors, and even fiddlers and recording engineers, there were the Methodists. In the 1840s, the northern and southern wings of what was then known as the Methodist Episcopal Church split over the issue of slavery. About a decade later, the southern church opened the Southern Methodist Publishing House in Nashville. When a Baptist press came to Nashville in the 1920s, religious publishing—of hymnals, bibles, and Sunday school materials—became a significant business in the city, according to Carey. (The two organizations still operate in Nashville, though on a smaller scale than in earlier decades.)
The Methodists made another contribution that proved more significant than publishing—they founded Vanderbilt University in 1873. Named for its original benefactor, Cornelius Vanderbilt, the university is a major cultural and economic force. With more than 20,000 workers, Vanderbilt University Medical Center is by far metro Nashville's largest nongovernment employer, and the university itself employs another 6,900 people, according to the chamber of commerce.
Like much of Nashville, the leafy campus's neighborhood is changing. Carey notes that a new building "the size of an aircraft carrier" along 21st Avenue blocks the late afternoon sun from nearby houses.
That is just one small example of the growing pains confronting a booming Nashville. Housing affordability has become a bigger concern. Rising costs in general could trouble a place where businesses and residents have taken affordability largely for granted. Meanwhile, a transit referendum was voted down last year, and traffic congestion continues to lengthen commutes.
As Amazon this year begins hiring 5,000 people for its Nashville office, and demographers foresee continuing population growth, Music City faces an array of complex issues, stemming mainly from rapid growth. Whether the growth continues its insistent pace or shifts to a slower tempo, Nashville residents await the sound of the city's next stanza.
The Atlanta Fed moderates all comments posted by visitors to this website. We reserve the right to delete content that is abusive, harassing, or threatening; or obscene, vulgar, or profane. In addition, no off-topic remarks or spam is permitted. Learn more at our Disclaimer & Terms of Use and Online Privacy Policy.