Visit by Atlanta Fed's Bostic Energizes Leaders in Alabama County
March 03, 2023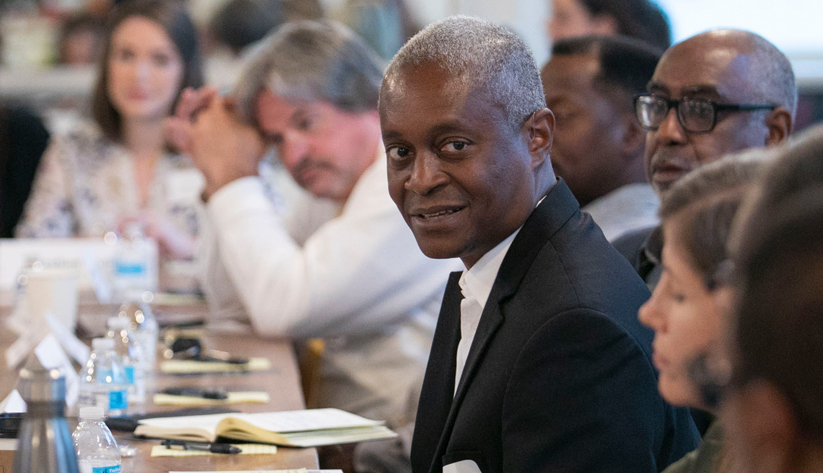 Atlanta Fed president Raphael Bostic met with representatives from nearly 30 community-building organizations during his trip to Hale County, Alabama. Photo by Ted Pio Roda, Federal Reserve Bank of Atlanta
A west central Alabama county once known as a poster child of poverty may be on its way to refocusing its attention on health and human services following a visit led by Atlanta Fed President Raphael Bostic.
While civic leaders in Hale County have made significant progress in improving issues of health, housing, and economic opportunity, a two-day visit in October 2022 by Bostic and others with the Federal Reserve Bank of Atlanta prompted some in Hale County to revive their efforts and talk of more collaboration.
"Having President Bostic come here gives people energy under their wings," Llevelyn Rhone, president of the Hale County Chamber of Commerce, said last month. "It told locals, 'There is someone who influences policies who sees me and sees what we are doing.' It matters having a national opinion leader and policymaker say, 'What you are doing matters.' "
Nivory Gordon Jr., Alabama director of USDA Rural Development, used plain language in his call for renewed collaboration during a roundtable talk at the event: "There's been a disconnect, and we're going to rebuild that disconnect."
Hale County is a place where extreme poverty exists beside rich history:
It's on the Civil Rights Trail, with the Safe House Black History Museum in Greensboro offering tours of the shotgun house where the Reverend Martin Luther King Jr. took refuge from the Ku Klux Klan just two weeks before his assassination.
It's on the Alabama Indigenous Mound Trail, with the Moundville Archaeological Park conserving 29 platform mounds built along the Black Warrior River by the Mississippian culture and thought to have served as the center of the largest city north of Mexico in the 14th century.
It's in the Alabama Black Belt National Heritage Area, which was officially designated in January 2023 to preserve and promote 19 counties for their "historic significance as a center of the South's plantation economy in the early 1800s and the home of the American Civil Rights Movement in the mid-1900s," according to the House report.
It's a destination for bird buffs to view a variety of species that congregate at ponds created to farm catfish, a major cash crop in the region.
It's an hour away from the closest chain hotels in Tuscaloosa.
Hale County also is the origin of content in the 1941 book Let Us Now Praise Famous Men. Author James Agee and photographer Walker Evans would touch the nation's conscience with a nonfiction account of Deep South sharecroppers and tenant farmers. The journalists lived more than a month in Hale County to capture the extremes of real-life rural poverty and human experience that John Steinbeck fabricated in Grapes of Wrath, the 1939 Pulitzer-prize winner about the Dust Bowl migration.
Agee wrote this about Hale County's agrarian economy: "What is earned at the end of a given year is never to be depended on and, even late in a season, is never predictable.… [I]t can be little enough to be completely meaningless: it can be nothing: it can be enough less than nothing to insure a tenant only of an equally hopeless lack of money at the end of his next year's work…"
This is the community, with all its complexities, where Bostic and a group of Atlanta Fed staff spent two days, October 11 and 12, 2022.
The Fed convened nearly 30 entities that represented almost every facet of community-building organizations. Bostic and colleagues toured sites and joined in roundtables to discuss issues of housing, health care, jobs and training, and economic development. Participants included people from five community colleges and universities; two chambers of commerce; seven financial institutions; major employers, including the Westervelt Company; nonprofit civic organizations; a probation office; an extension service; a hospital; and a Habitat for Humanity branch that traveled more than 250 miles from Chipola, Florida.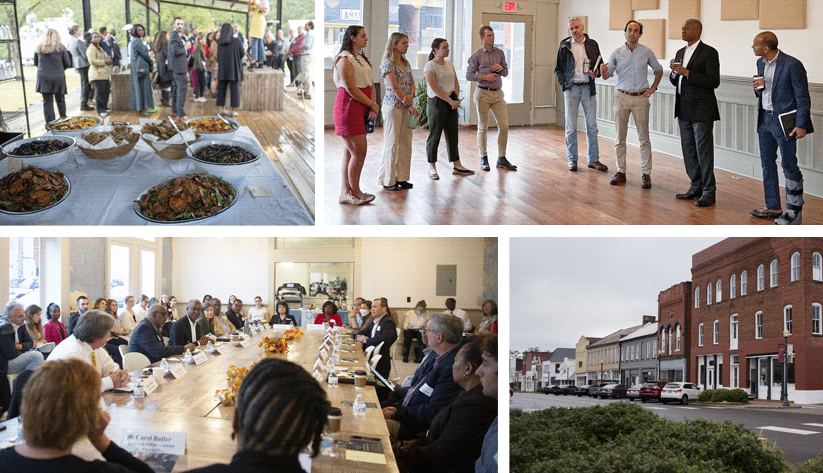 Clockwise from top: (1) Lunch at the Auburn Rural Studio. (2) Rural Studio director Andrew Freear, Project Horseshoe founder John Dorsey, Atlanta Fed president Raphael Bostic, and Anoop Mishra, Birmingham Branch vice president and regional executive, meet at Project Horseshoe Farm. (3) Economic Resiliency Community Roundtable at the Project Horseshoe Farm Community Center. (4) Downtown Greensboro, the county seat of Hale County, Alabama. Photo credits: 1, 3 and 4 by Ted Pio Roda/Federal Reserve Bank of Atlanta. 2 by Monique Broughton Knight/Federal Reserve Bank of Atlanta
The work of two community partners was featured. Rural Studio is an internationally acclaimed, community-oriented design-build program of Auburn University's College of Architecture, Design, and Construction. Project Horseshoe Farm is a nationally respected nonprofit initiative that works to promote community health and groom what it calls "citizen servant leaders."
Rural Studio dates to 1993 and retains a founding aspiration that homes should be designed to inspire even if they are low in cost. The first house was made of hay bales wrapped in polyurethane, tied together with wire, and covered with stucco. A leadership change in ensuing years resulted in greater attention to community structures and an increased focus on the practical aspects of architecture and design in the 170-plus structures designed and built by Rural Studio students.
Project Horseshoe Farm began in 2007 as an initiative to improve the health and quality of life of Hale County residents. Horseshoe Farm now provides an array of health and social services, especially to the young and old. The work is done by an assortment of volunteers, some of whom are paid a small stipend. The program also provides students in health professions an elective rotation for community health leadership.
Bostic, in his roundtable remarks, drew a straight line from housing to health and beyond in the continuum of economic development. He observed that Hale County's efforts in housing and human services appear to exceed the efforts of some of its peers.
According to a transcript, Bostic observed that if "your housing isn't stable, nothing else you are going to try to do is going to be stable.… Stability [provides] peace of mind, and that mental health issue has physical health benefits.… I see a lot of places who need this to be gotten right, and they're not as far along, I don't think, as this area is."
The health of Hale County residents exceeds federal expectations. The county's collective health metrics are among the top in a swath of the Appalachian Mountains that reaches from Alabama into New York and is home to more than 26 million residents, according to a report by the Appalachian Regional Commission (ARC). A partnership of the federal government and 13 state governments that has focused since 1965 on promoting economic development in 423 counties, the ARC affirms Bostic's perspectives on Hale County's health and welfare efforts in its report.
Hale County outperformed on 15 of 19 health-outcome benchmarks, based on its characteristics and resource levels. Consequently, the ARC cites Hale County as a role model for other resource-constrained counties. The report noted that the "better-than-expected results are likely influenced by local conditions and initiatives that improve overall well-being." For example, results for chronic obstructive pulmonary disease mortality were 32 percent better than expected. Numbers for both excessive drinking and infant mortality were 13 percent better than expected.
The ARC report doesn't portray Hale County as a Shangri-La, just better off than many of its peers. A stream of other reports cites structural impediments to economic development. The United Nations identified Alabama's rural regions in its 2017 report on extreme poverty in the United States for the common practice of dwellings discharging untreated sewage to nearby trenches or pits.
In Hale County, 65 percent of 411 dwellings assessed have an unlicensed sewage discharge system, according to a 2017 US Environmental Protection Agency webinar, "Surface Discharge of Raw Wastewater among Unsewered Homes in Central Alabama."
The 2022 edition of the "Black Belt" series of policy briefs, a project supported by a partnership of two research centers at the University of Alabama and AL.com, called out disparities in the Black Belt in policy issues connected to COVID-19, STEM in K-12 education, educational attainment, housing, roads and bridges, broadband, and more.
All these nuances, layers, and complexities don't perplex Rhone, the Hale County Chamber of Commerce president. Rhone was born and raised in Hale County. His grandfather bought 40 acres there in 1918. Rhone moved away but decided to come home to help improve the community. Embracing the visit from Bostic and other Atlanta Fed officials is part of his public service.
"It's clear the Fed is not a grant-making entity, not coming here with a big check," Rhone said. "But it can come with a big foghorn and say, 'Look over there. Someone's trying to make this place better.' All challenges aside, this is a good and decent place to raise good humans and be a good human. I've had the opportunity to live in large cities. But here, basic humanity is not lost."
The Atlanta Fed moderates all comments posted by visitors to this website. We reserve the right to delete content that is abusive, harassing, or threatening; or obscene, vulgar, or profane. In addition, no off-topic remarks or spam is permitted. Learn more at our Disclaimer & Terms of Use and Online Privacy Policy.