Beige Book: Tight Labor Market Crimps Hiring, Boosts Training
June 5, 2019
During April and early May, southeastern businesses continued to adjust to a tight labor market, according to the Federal Reserve Beige Book report
of economic conditions issued on June 5. For about five years, Atlanta Fed contacts have remarked on the difficulty of finding qualified workers in certain occupations. More recently, some executives have said that labor market tightness was slowing their pace of hiring and constraining business growth.
In the most recent report, some firms mentioned that spending on training was beginning to affect the size of starting salaries. Some noted that they are avoiding the higher cost of hiring new talent by boosting retention efforts.
Annual wage increases, on average, remained between 3 and 4 percent, the Beige Book reported. However, many Atlanta Fed contacts said that labor costs accelerated, once total compensation costs such as health care, bonuses, and other incentives were factored in.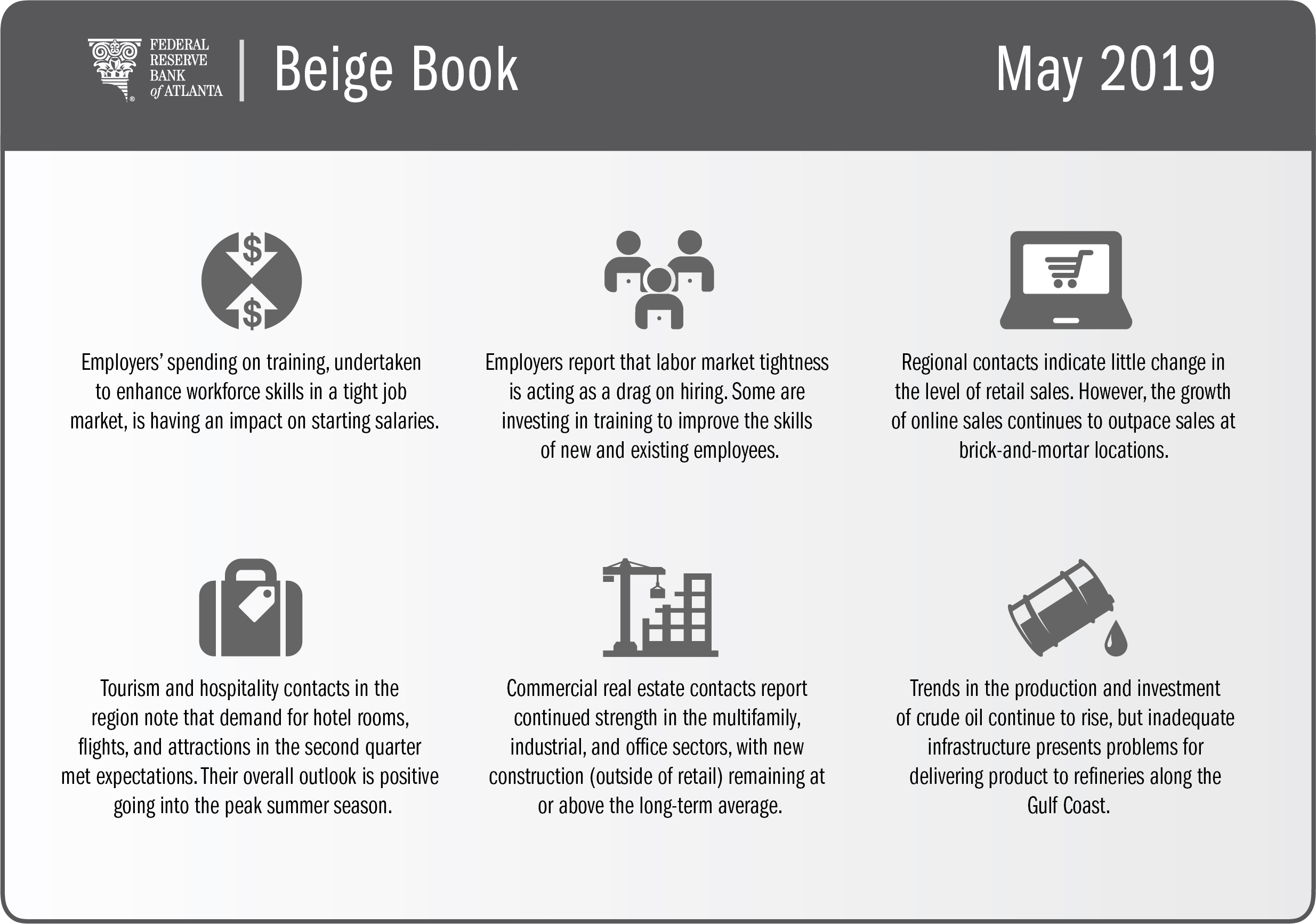 Upward pressure on wages remained most acute among low-skill, trucking, construction, technology, and medical positions.
The Beige Book also reported on other sectors:
Transportation: Some contacts developed contingency plans to reduce capital expenditures and employment to offset tariff-related revenue shortfalls. Port contacts said they expect freight shipments to pick up before tariffs take effect and then drop off in the second half of the year.
Energy: Crude oil production and investment kept climbing, though a lack of adequate infrastructure to transport product to Gulf Coast refineries remained a challenge, contacts noted. Renewable energy contacts noted the recent announcement of wind farm projects in Florida and the imminent completion of new solar farms in Georgia.
Manufacturing: Contacts told of a moderate rise in overall business activity since the last reporting period. Most firms indicated that new orders and production levels increased while finished inventory levels declined.
Agriculture: Heavy rains interfered with fieldwork in Louisiana and Mississippi, where both soybean and rice planting were behind five-year averages. Alabama, Georgia, and Tennessee were ahead of the five-year average in cotton planting, and Alabama, Florida, and Georgia were ahead of their five-year planting averages in peanuts. Several contacts reported that the combination of low commodity prices and rising input costs was squeezing margins.
The Atlanta Fed moderates all comments posted by visitors to this website. We reserve the right to delete content that is abusive, harassing, or threatening; or obscene, vulgar, or profane. In addition, no off-topic remarks or spam is permitted. Learn more at our Disclaimer & Terms of Use and Online Privacy Policy.