Beige Book: Overall Activity Expands, but Coronavirus Concerns Weigh
March 5, 2020
Economic activity in the Southeast expanded modestly at the beginning of the year, but business contacts in several sectors expressed concerns about potential risks from the global coronavirus outbreak, the Federal Reserve's latest Beige Book report showed.
On Tuesday, the Federal Reserve announced an emergency reduction in the fed funds target rate by a half percentage point to support the economy in the wake of the spread of the virus. During a news conference, Fed chair Jerome Powell said the disease and moves under way to address it will weigh on global economic activity for some time. "We are beginning to see the effects on the tourism and travel industries, and we are hearing concerns from industries that rely on global supply chains," Powell said. He said the policymaking Federal Open Market Committee "judged that the risks to the U.S. outlook have changed materially. In response, we have eased the stance of monetary policy to provide some more support to the economy."
In the Federal Reserve Bank of Atlanta's coverage area, which includes Alabama, Georgia, Florida and parts of Louisiana, Mississippi, and Tennessee, retailers and automotive dealers anticipate increased uncertainty because of disruptions in deliveries of parts and merchandise from China, where the new strain of coronavirus—officially known as Covid-19—first appeared late last year.
The southeastern travel and hospitality sector fared well in the first five weeks of the year as visitors to the region rose from a year earlier, but tourism contacts noted they are watching for potential unfavorable effects as the coronavirus spreads.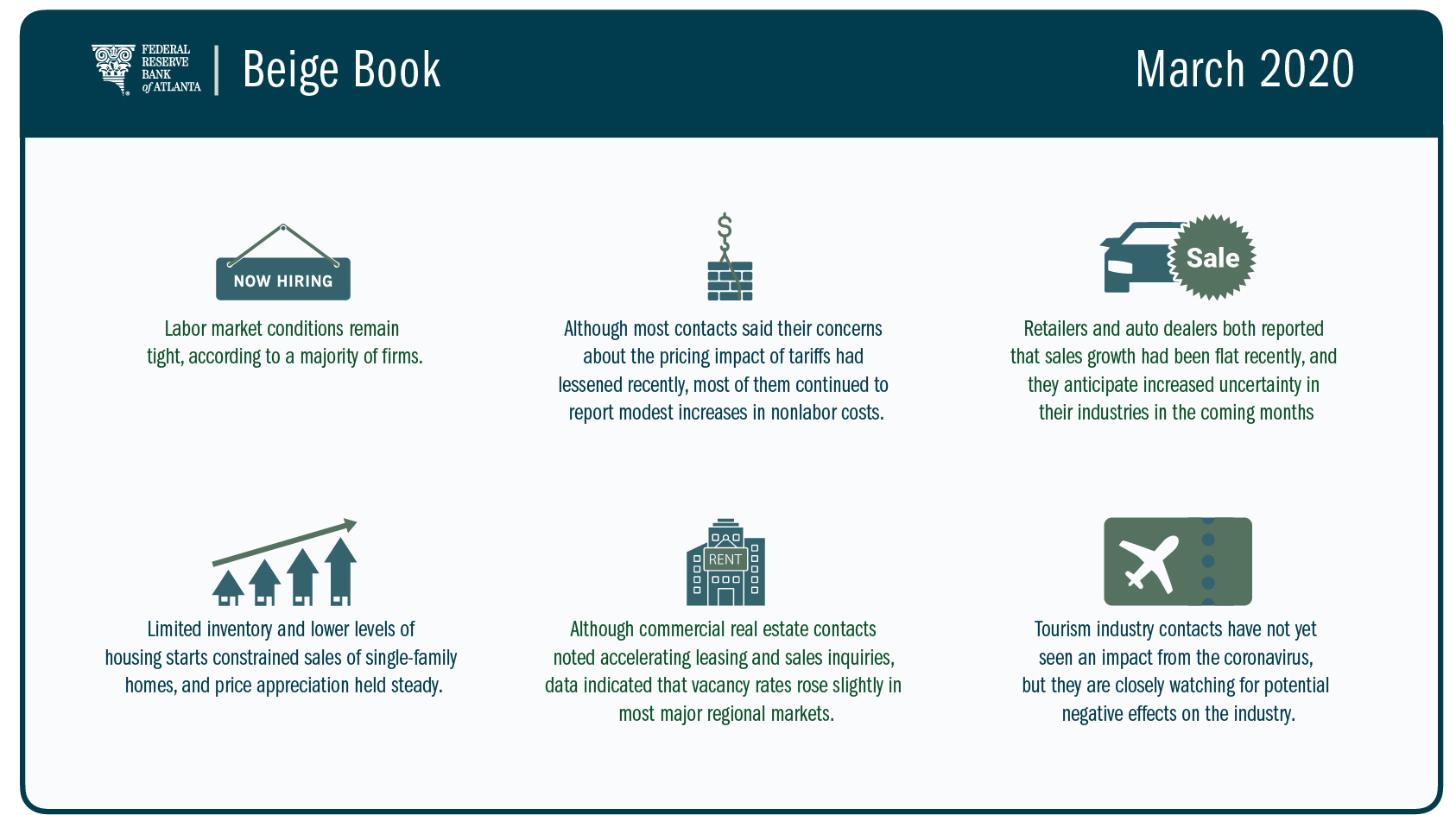 Lower air cargo volume in the wake of the cancellation of flights to China is expected to dampen first quarter revenues, transportation contacts noted. Softer demand from China resulting from the virus has contributed to rising global supplies of liquefied natural gas and crude oil, the Beige Book noted.
The Beige Book report on economic conditions precedes each meeting of the Fed's policymaking Federal Open Market Committee. The March 4 report covers the period from January to the middle of February.
In other sectors:
Companies continued to grapple with a shortage of workers for lower-skilled jobs and specialized positions. Wages were expected to continue to rise.
Demand for residential housing was healthy in the Southeast, though limited supply and lower construction levels restrained single-family sales. Concerns about affordability persisted.
Financial institutions reported weaker demand for commercial and industrial loans. They also noted that underwriting standards for credit cards and auto lending tightened.
Manufacturers said new orders fell in the latest period, but most contacts were expecting higher levels of production in the coming months.
The February production forecast for Florida's orange crop fell, and the grapefruit forecast rose.
Commercial real estate contacts noted steady leasing and sales activity but cautioned that higher building costs were affecting the start of some new projects.
The Atlanta Fed moderates all comments posted by visitors to this website. We reserve the right to delete content that is abusive, harassing, or threatening; or obscene, vulgar, or profane. In addition, no off-topic remarks or spam is permitted. Learn more at our Disclaimer & Terms of Use and Online Privacy Policy.