Beige Book Picks Up Mixed Signals from the Southeast Economy
September 8, 2022
The regional economy expanded in recent weeks, but mixed signals characterized anecdotal reports from across the Southeast compiled in the Atlanta Fed's section of the newest Beige Book.
For example, labor markets remained tight, and several business leaders said they continue to automate certain tasks so they can operate and grow with fewer workers. Contacts also reported that lack of housing affordability and higher costs of living also limited the pool of available workers in some places. At the same time, several contacts said they expect to lay off employees later this year or in 2023 because of slowing demand.
On the pricing front, the story was similarly varied. Costs for gasoline, freight shipping, and some inputs including lumber and steel softened. However, rent, utilities, and food prices continued to rise, and reports indicated pervasive uncertainty about the effect inflation might have on demand in the short run.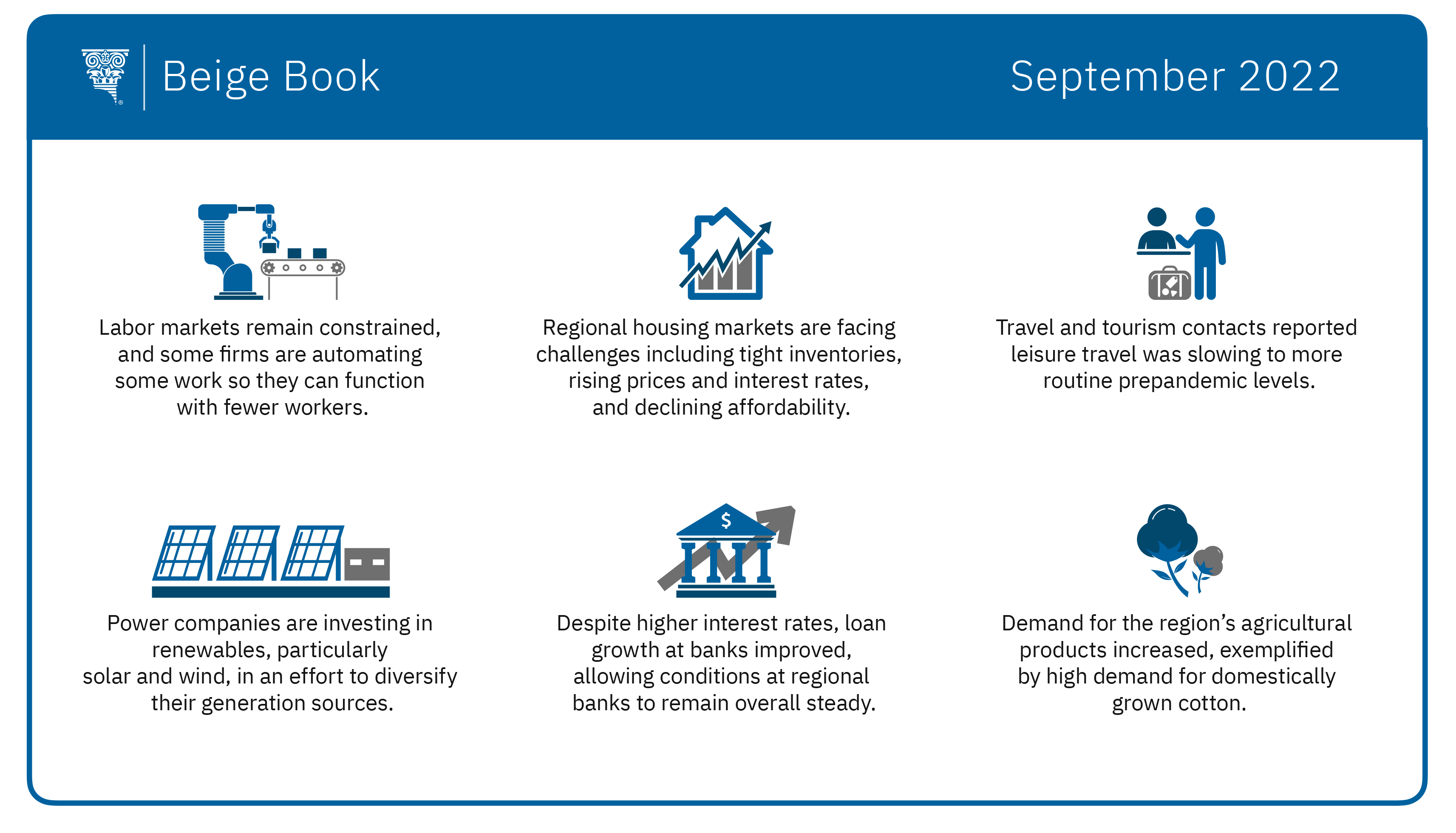 Turning to housing, markets across the Southeast continued to confront challenges rooted in rising prices and interest rates, declining affordability, and inventory shortages. Mortgage originations and pending home sales decreased from a year ago, and the share of homes on the market with reduced asking prices increased.
Reports from commercial real estate contacts were also mixed. On one hand, there was positive news from property owners in apartment and warehouse markets. However, a spate of restaurant closings was pinching some commercial landlords. Finally, contacts reported growing concerns about the possibility that commercial property values could fall as the difference between asking prices and bid prices widened, the number of buyers shrank, and more buyers sought concessions.
In other sectors, the Beige Book found:
Travel and tourism contacts reported that leisure travel was slowing to around prepandemic levels. Meanwhile, business travel and convention activity continued to recover, and contacts said they posted healthy bookings for the fall, though they have not yet returned to 2019 levels.
Energy contacts said natural gas production ramped up as exports "soared," and utilities reported rising demand but also rising costs, which translated into higher utility bills for customers. Power companies continued to diversify their generation sources, including investing in renewables, particularly solar and wind.
About two-thirds of manufacturing contacts noted concerns about the possibility of a recession, but most also were expecting sales over the next year to be similar or slightly higher than prepandemic levels.
In the transportation industry, container seaports continued to handle record volumes. But for some carriers, trucking and rail activity slowed.
Banking conditions were steady, as loan growth improved despite higher interest rates.
Demand for agricultural products stayed strong. Although hot weather and dry spells hurt crop yields, most notably corn, restrictions on imports from China boosted demand for domestically grown cotton. Slow deliveries of machinery forced many farmers to use decommissioned equipment, and some small farms lost crops because they were unable to replace inoperable equipment.
The Federal Reserve publishes the Beige Book before each meeting of the Federal Open Market Committee. The next meeting is scheduled for September 20 and 21.