Beige Book: Housing, Child Care Continue to Constrain Labor Supply
March 8, 2023
Economic activity across the Southeast grew modestly in January and early February as employers reported some easing of labor shortages despite continued reports that scarce affordable housing and child care discouraged some low-wage workers from seeking full-time jobs, according to the Federal Reserve Bank of Atlanta's new Beige Book report of economic conditions in the Southeast.
Nonprofits that serve low-income households in the Southeast reported that even briskly rising wages have not yet offset obstacles workers confronted, including limited child care, affordable housing, and transportation. Consequently, some people have chosen to work part-time, work for themselves, or do gig work.
Meanwhile, even amid broad economic uncertainty, retailers in the district reported higher-than-expected sales. Pent-up demand continued to fuel solid automobile sales. Despite ongoing inflationary pressures and rising interest rates, retail and auto contacts generally expressed cautious optimism that the good times will last through at least the next few months.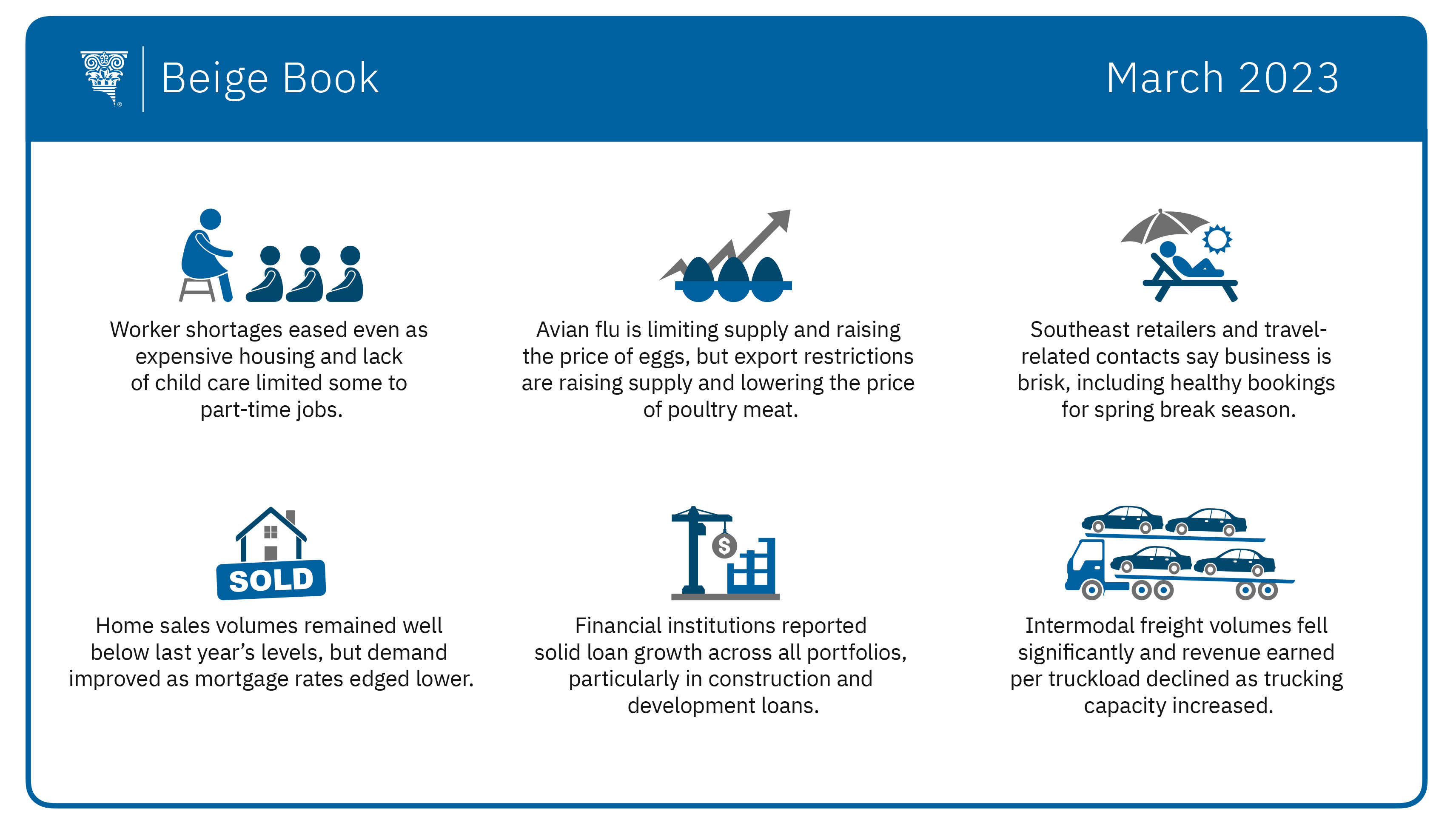 Travel and tourism contacts likewise noted continued strong demand for leisure travel—including healthy bookings for the March and April spring break season—and growth in business travel and conventions. In general, business travel has been slower to rebound from the COVID-19 pandemic than leisure travel. Hotel occupancies and average daily room rates topped prepandemic levels, although on-site spending, such as at spas and gift shops, softened slightly.
In other sectors:
Agricultural contacts noted that the avian flu continued to limit supplies and thus raise the price of eggs. On the other hand, flu-related export restrictions dented global demand for poultry meat, which increased domestic supplies and lowered prices enough that companies reported losing money.
Contacts expect to keep raising wages this year, though many firms plan more modest increases than last year.
The Atlanta Fed's Business Inflation Expectations survey showed year-over-year unit cost growth at 3.5 percent, on average, in February, down from 4.3 percent in January. Firms' year-ahead inflation expectations were relatively unchanged at 2.9 percent in February, on average.
While home sales volumes remained well below levels of a year ago, housing demand improved since the previous Beige Book as mortgage rates edged lower. Though down from recent peaks, year-over-year home price appreciation in the Southeast outpaced price increases in the nation as a whole.
In commercial real estate, a downward trend in the office sector eased as more employers required staff to return to the office.
Transportation contacts said intermodal freight volumes—cargo that is transferred from ships to rail to trucks—fell significantly, and revenue earned per truckload declined as trucking capacity increased.
District financial institutions reported solid loan growth across all portfolios, particularly in construction and development loans.
In the energy sector, a few contacts described reduced investment in the gasoline industry as consumption slowed amid improvements in fuel efficiency and rising demand for electric vehicles.
The Federal Reserve System publishes the Beige Book before each meeting of the Federal Open Market Committee. The committee is scheduled to meet March 21 and 22.