Museum of Trade, Finance, and the Fed at the New Orleans Branch
Visitors are required to show proof of vaccination or a negative PCR or antigen rapid test. At this time, masks are optional if you are fully vaccinated.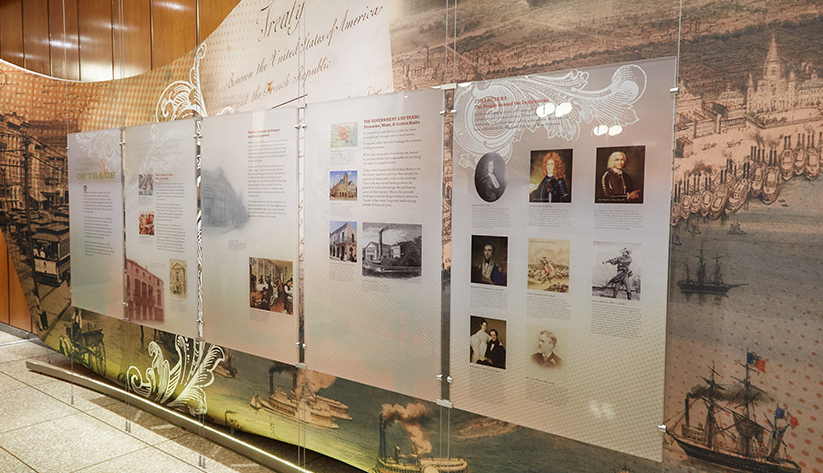 About
Welcome to the Museum of Trade, Finance, and the Fed at the New Orleans Branch of the Federal Reserve Bank of Atlanta. Here, you can explore how finance grew from trade, how New Orleans evolved into a bustling port and financial center, and how, over the centuries, the institutions, instruments, and people of New Orleans made it all possible.
Our museum content links the financial history of New Orleans through the money that circulated here, the historical figures that lived here, and innovations in our banking system that resulted from the business done here. Trace the evolution of the money we carry and discover the origins of the Federal Reserve and the purposes it serves.
The museum features a brief introductory video, a timeline of the financial history of New Orleans, a display about money throughout the history of New Orleans, an interactive exhibit that lets you design your own banknote, an interactive quiz to test your new knowledge, and more!
You can read more about the Museum of Trade, Finance, and the Fed in this introduction to the museum and get a preview of the exhibits.
While you're here, pick up our brochure to learn about the New Orleans Branch. And, as a bonus, the brochure includes a mapped, self-guided walking tour of significant sites in our financial history located in the area around the New Orleans Branch and the French Quarter.
Before you leave, be sure to pick up your free shredded currency souvenir. Each packet contains currency that was removed from circulation right here in the New Orleans Branch.
Plan Your Visit
All visits to the museum are self-guided and limited to the exhibit area.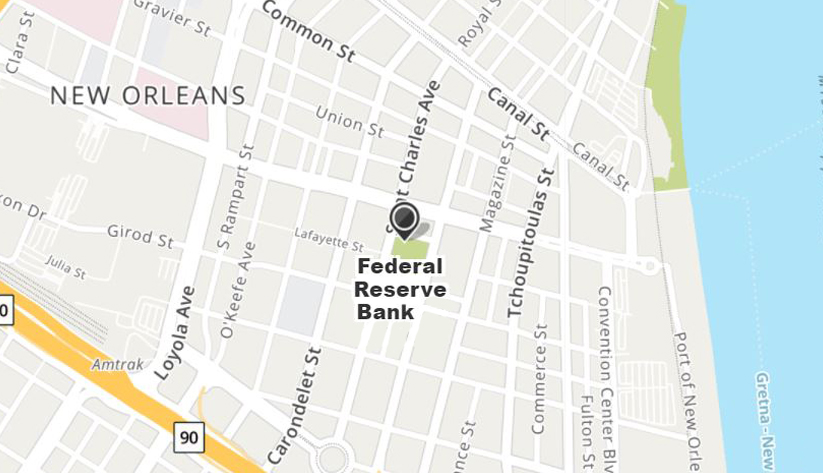 Individuals or groups of fewer than 10 people are welcome to visit the exhibits Monday through Friday, 9 a.m. to 4 p.m. (CT). Walk-in visits do not need to be scheduled. Guided tours are not available at this location, and this museum cannot accommodate field trips or other large groups.
Visitor guidelines
COVID-19 requirements for visitors (as of December 30, 2022)
COVID-19 community levels in Federal Reserve Bank of Atlanta locations currently are Jacksonville (low levels); Atlanta and New Orleans (medium levels); and Miami (high levels). In these conditions, all adult visitors and minors aged 5–17 entering the Atlanta Fed main office or one of our Branches must provide proof of full vaccination or proof of a negative PCR or antigen rapid test result (no at home tests). Proof of vaccination or a negative test are not required for children under the age of 5. If you are unvaccinated and use a negative test result to enter, you must have taken the test on or after the Friday preceding the day you enter the building. In addition, you must wear a mask if unvaccinated. If you are vaccinated, check the location where you will be entering for mask requirements.
Note: Please check this page often. You can check infection levels in your community on the CDC website.
To ensure the safety of visitors and staff, all visitors must walk through a metal detector. Please be prepared to remove all objects from your pockets and place them in the bins. If you are unable to walk through the detector, the officer will screen you by hand with an electronic wand.
Please note the following:
We do not allow any weapons, including pepper spray and pocketknives, into the museum.
The Bank prohibits photography as well as audio and video recording.
Adult visitors to the museums must present a valid form of government-issued ID. Minors must be accompanied by an adult (such as a parent, guardian, teacher, or chaperone).
Thank you. We hope you enjoy your visit.