Federal Reserve Bank of Atlanta
1000 Peachtree St. NE
Atlanta, GA 30309
The Federal Reserve Bank of Atlanta and the Volcker Alliance are cohosting "FY2020 State Fiscal Conference: Truth and Integrity in State Budgeting—Looming Risks, Durable Solutions," an event to be held at the Atlanta Fed on July 10–11, 2019. This event builds on the grades, conclusions, and best practice recommendations contained in the Volcker Alliance's 2018 report, Truth and Integrity in State Budgeting: Preventing the Next Fiscal Crisis.
The conference is expected to attract state lawmakers, budget officials, investors, Fed officials, media, and representatives of national associations of budget officers, legislators, and finance officials to discuss strategies for meeting critical challenges. Attendees will also gain useful information on budgetary risks and best practices.
The event will kick off on the evening of Wednesday, July 10, with an optional guided tour of the Federal Reserve Bank of Atlanta's Monetary Museum, followed by a dinner with former Atlanta mayor Shirley Franklin and James Salzer, assistant senior editor for state government and politics sat the Atlanta Journal-Constitution.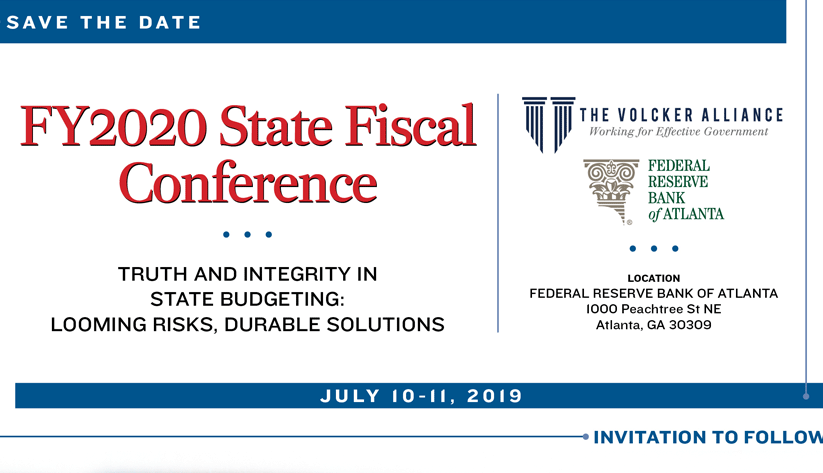 On Thursday, July 11, panel topics will include:
Better Budget Forecasting: Identifying and Lessening Revenue Risks
Infrastructure: Quantifying Risks Better to Reap the Rewards
Workforce Development: Challenges, Solutions, and Budget Consequences
Rainy Day Funds and Reserves: Ameliorating Revenue Risks
Featured speakers will include:
Raphael Bostic, president and CEO, Federal Reserve Bank of Atlanta
Shirley Clarke Franklin, former Atlanta mayor and Volcker Alliance board member
William Glasgall, the Volcker Alliance's senior vice president and director of state and local initiatives
Gabriel Petek, legislative analyst, California
Tracy Gordon, senior fellow, Urban-Brookings Tax Policy Center
Sheila Amoroso, Franklin Templeton Fixed Income Group's senior vice president and director of the municipal bond department
Please contact events@volckeralliance.org with any questions.