Presented by Supervision, Regulation, and Credit
Greater uncertainty and high inflation in a rising-rate environment make the future path of commercial real estate fundamentals and values more challenging to understand. The webinar discussed:
Rising rates and slowing inflation
Greater CRE stress in a changing economic environment
Back to work we go, and the impact on the office sector
Underwriting: The good, the bad, and the risky
UP & DOWN: Cap rates UP / Value DOWN?
Is CRE at an inflection point?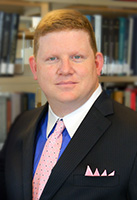 About Brian Bailey, CRE, CCIM
Brian Bailey is a subject matter expert in the Supervision, Regulation, and Credit Division of the Federal Reserve Bank of Atlanta. He is responsible for providing thought leadership and monitoring emerging trends in commercial real estate. He provides guidance on the commercial real estate industry's dynamics, valuation, operation, and finance issues. Brian has been actively involved as a lead wholesale reviewer in the annual stress test and capital review conducted on the nation's largest financial institutions. Brian has shared his insights on commercial real estate at numerous venues including the Federal Reserve System, multiple US federal agencies, educational institutions including the Wharton School, industry conferences, and syndicated radio.