Presented by Supervision, Regulation, and Credit
Housing demand across the country is weakening due to an unprecedented decline in home ownership affordability since the beginning of 2022. This has increased uncertainty for trends in home sales, prices, and new home construction in the months ahead. This webinar discussed the following:
Inflation and its effect on consumers
Effects of a record surge in home prices and rising rates on affordability
Emerging trends in consumer sentiment
Implications of current inventory trends for the housing market's future
What consumer credit quality suggests about current housing market dynamics
Outlook for housing in the coming year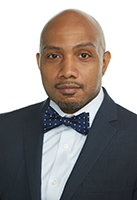 Domonic Purviance
As a subject matter expert in the Supervision, Regulation, and Credit (SRC) Division at the Federal Reserve Bank of Atlanta, Domonic Purviance is primarily responsible for conducting an ongoing assessment of risks associated with residential real estate markets and the potential effects they may pose to the financial system. This includes analyzing conditions within individual markets and the effects of external forces on real estate. In addition, he is responsible for developing real estate-related analytical reports and internal tools used throughout the Federal Reserve System to aid in risk surveillance and banking supervision, and external tools such as the Home Ownership Affordability Monitor (HOAM). Purviance also frequently engages in public outreach on behalf of the Federal Reserve by speaking at conferences and events and contributing commentary to the Beige Book, a publication produced by the Federal Reserve on economic conditions by District.