Presented by Supervision, Regulation, and Credit
Home ownership has long served as a primary source of wealth for most American households. With home prices rising in most markets, the dream of home ownership has become out of reach for many, and affordability has emerged as a major issue for potential buyers in the post-pandemic housing market.
In this webinar, Atlanta Fed residential real estate expert Domonic Purviance was joined by Wei Gan, cofounder of Ribbon; Matthew Neisser, chief executive officer of Lending One; Karen Gados, managing partner at Pikes Peak Capital Holdings; and Nik Shah, chief executive officer of Home.llc to discuss these topics:
Housing demand has weakened recently as economic uncertainty, historically high home prices, and rising rates weigh on consumers
Widespread decline of home ownership affordability throughout the nation has sparked increased interest in innovative ways to make owning a home more attainable for consumers
Several recent innovations that have emerged seek to increase home ownership attainability, including increasing the competitive position of consumers when purchasing a home and increasing affordability through shared equity.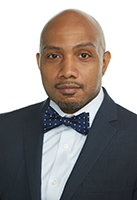 Domonic Purviance
As a subject matter expert within the Supervision, Regulation, and Credit (SRC) Division at the Federal Reserve Bank of Atlanta, Domonic Purviance is primarily responsible for conducting an ongoing assessment of risks associated with residential real estate markets and the potential effects they may pose to the financial system. This includes analyzing conditions within individual markets as well as the impacts of external forces on real estate. In addition, he is responsible for developing real estate-related analytical reports and tools used internally throughout the Federal Reserve System to aid in risk surveillance and banking supervision, as well as external tools such as the Home Ownership Affordability Monitor (HOAM). Purviance also frequently engages in public outreach on the behalf of the Federal Reserve by speaking at public conferences and events and contributing commentary to the Beige Book, a publication produced by the Federal Reserve on economic conditions by district.