Mississippi River a Vital but Troubled Economic Asset
The Mississippi River remains a critical economic asset to the Southeast and the nation, but the waterway system is beset by challenges ranging from disappearing coastal wetlands to aging locks and dams, according to a recent discussion at the Federal Reserve Bank of Atlanta's New Orleans Branch.
Draining a watershed encompassing 31 states and two Canadian provinces, the Mississippi and its tributaries support more than a million jobs and account for roughly $200 billion in annual economic activity, Dominik Knoll, chief executive officer of the World Trade Center of New Orleans, said at the June 4 Public Affairs Forum. If the river were a state, at $200 billion it would boast an economy slightly larger than Alabama's and just smaller than Oregon's.
Fundamental rethinking needed
Knoll joined David Batker, chief economist and executive director of Earth Economics, and Atlanta Fed President Dennis Lockhart to explore the economic future of the river that flows less than a mile from where they sat. Lockhart moderated the discussion.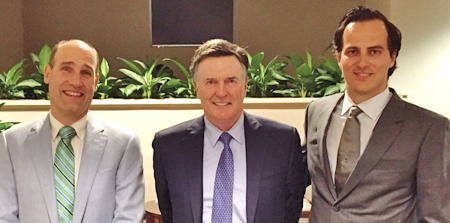 Pictured (L-R) David Batker, Earth Economics; Dennis Lockhart, Atlanta Fed; and Dominik Knoll, World Trade Center New Orleans
Batker, a noted ecological economist, said the Mississippi is the heart of perhaps the earth's most economically valuable river system. "This basin absolutely dwarfs economically any other river basin in the world for agriculture, for energy, for shipping, for manufacturing," he said. "It's really remarkable."
Some fundamental approaches need to change, Batker observed. Policymakers should think of the river, the land around it, its ports, and other river infrastructure as a unified, holistic system, he said. That was not the case in the 20th century, Batker noted. Instead, agricultural practices and projects like levees were designed to address a single problem in a single location with little regard for downstream effects.
Economic, environmental objectives often complementary
Knoll and Batker agreed that immense challenges face the river and, therefore, the millions who depend on it. At the same time, they both voiced optimism about maintaining the Mississippi as a healthy ecosystem and economic engine. Those two objectives, though at times seemingly contradictory, in fact are complementary, they said.
If Louisiana's coastal wetlands continue to deteriorate, for instance, damage from hurricanes will intensify and the Gulf of Mexico will creep ever northward and ultimately jeopardize the very existence of the city of New Orleans.
To be sure, restoring coastal wetlands, repairing decaying locks and dams, dredging river channels—those activities are hugely expensive, Batker and Knoll acknowledged. Yet, Batker explained, investing in coastal restoration would actually bring a "very high rate of return." Nurturing wetlands and barrier islands would bolster protections from storm surges, for example, and thus make future storm damage far less expensive, he said.