Progress is being made to reestablish relations between the United States and Cuba, but the two countries must move beyond their tumultuous history to forge a path to normalization, said educator and former Cuban diplomat Carlos Alzugaray Treto during a recent presentation at the Federal Reserve Bank of Atlanta's Public Affairs Forum.
U.S. President Barack Obama ordered the restoration of formal diplomatic relations with Cuba in December 2014, marking a monumental shift in U.S. policy toward engagement with the Communist-led country. Since then, the United States has relaxed some trade limits and restrictions on travel by American citizens to Cuba.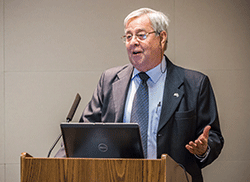 The new approach reflects the Obama administration's position that the United States can more effectively press Cuba, which has been cited by international organizations for human rights abuses and limits on speech and press freedom, for democratic reforms through openness rather than isolation. For full normalization to be realized, the decades-long Cuban trade embargo would need to be lifted by the U.S. Congress.
"It's going to be a long process," Alzugaray, a Havana native who spent 30 years as a foreign service officer working in Cuban embassies worldwide, said of the renewal of ties between the two nations. "We have to shed part of that baggage of history that is behind us."
Alzugaray outlined recent "unprecedented" developments along the path to thaw U.S. relations with the Caribbean island, including the removal of Cuba from the list of terrorism-sponsoring states, the reopening of embassies in Havana and Washington, and trips to Cuba by U.S. cabinet members. Obama's late March 2016 visit to the country, during which Major League Baseball's Tampa Bay Rays played the Cuban national team in an exhibition game, marked the first time in more than 80 years that a sitting U.S. president has traveled to the island country.
Even as he lauded Obama's historic actions, Alzugaray called the trade embargo an obstacle to progress. "There is promise in diplomacy but the embargo is the elephant in the room," Alzugaray said. He also noted that a future U.S. president could reverse Obama's moves.
As the countries reopen ties, business opportunities abound in industries such as tourism and aviation, he said.
Alzugaray said Cuba and the United States must have mutual respect for each other and be willing to explore a new relationship. "We have had problems and differences, but we have to look to the future," he said.