Public Affairs Forums
New Federal Reserve Bank of Atlanta President Raphael Bostic continued his mission to learn the Southeast and its economy firsthand with an August 10 visit to the Bank's Jacksonville Branch.
About 130 Florida business and community leaders gathered at a Public Affairs Forum to discuss the economy and the Federal Reserve's work and to meet Bostic. He became the Atlanta Fed's 15th president in early June. From 2012 to 2017, Bostic served as the Judith and John Bedrosian Chair in Governance and the Public Enterprise at the Sol Price School of Public Policy at the University of Southern California.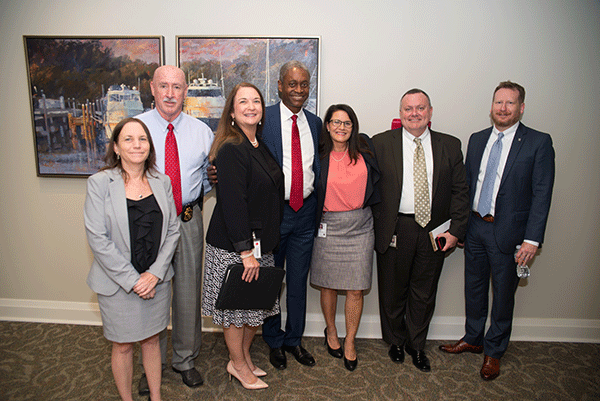 Raphael Bostic (center) with Jacksonville Branch employees.
In Jacksonville, Bostic explained that although economic data can explain much, personal interactions are crucial to deepening his and the Atlanta Fed staff's knowledge of conditions in the region.
One of the Atlanta Fed's main channels for grassroots information is the Regional Economic Information Network, REIN. REIN encompasses staff in Jacksonville and the bank's four other branches, who communicate with a diverse array of business, civic, and community leaders. Because the Southeast's multifaceted economy is a microcosm of the country's, this regional view provides a helpful snapshot of the national situation, Bostic explained to the forum audience.
"The data are less clear than I'd like them to be," he said. "We have a need for on-the-ground intelligence to help us understand where the economy is headed."
This is especially true today. As Bostic pointed out, the nation's economy appears "conflicted." Employment continues to climb steadily, anecdotal reports abound of employers unable to fill open positions, and yet wages and prices are not rising vigorously. Decoding the contradictory currents is central to formulating sound monetary policy, the Atlanta Fed president noted.
Bostic suggested that widespread caution among consumers and business decision makers could be contributing to the gradual pace of recovery. Consumers and businesses might still be reluctant to make major financial commitments because they remain affected by the severity of the Great Recession, Bostic said.