About
---
Take On Payments, a blog sponsored by the Retail Payments Risk Forum of the Federal Reserve Bank of Atlanta, is intended to foster dialogue on emerging risks in retail payment systems and enhance collaborative efforts to improve risk detection and mitigation. We encourage your active participation in Take on Payments and look forward to collaborating with you.

Subscribe by E-mail

Subscribe by RSS
Comment Standards:
Comments are moderated and will not appear until the moderator has approved them.

Please submit appropriate comments. Inappropriate comments include content that is abusive, harassing, or threatening; obscene, vulgar, or profane; an attack of a personal nature; or overtly political.

In addition, no off-topic remarks or spam is permitted.
January 30, 2023
What Does Generative AI Mean for Payments?
When the latest news in natural language processing (NLP) hits the newspaper comics

on a Sunday, you know you've got a phenomenon on your hands. Perhaps you, like me, are asking yourself some questions: What the heck is ChatGTP

? What does it mean for payments? How can I think about the risks? And what new ideas will the capabilities of NLP inspire?
What is ChatGPT? Like a lot of people in the past few weeks, I asked ChatGPT to tell me. The answer: "ChatGPT is a large language model that has been trained to generate human-like text. It can be used for a variety of natural language processing tasks such as language translation, question answering, and text generation."
Let's unpack this answer. "Large" means that the model is trained on vast amounts of data—that is, text created by humans. A "language model" is designed to understand written or spoken text. "Generate" means create content, which is a key capability to think about in the context of payments. Large language models like this one, using a massive amount of computing power and human training, are taught to pretend to be human in responding to written or spoken text.
How successful is this charade? A lot depends on the questions you ask and how you ask them. Your human input is still important. When you give the model a prompt, you are "programming" it to give you a list of Alfred Hitchcock's most famous movies or the ingredients for coq au vin. When you "program" a search engine by asking such a question, you see a list with links (that is, sources for the information). When you program a natural language model, you get sentences and no source for the information. The lack of sourcing is a critical distinction when it comes to assessing accuracy or bias.
Setting accuracy aside, the answers I got sounded human enough to me, maybe a bit stilted. Let's look at the opportunities and risks for payments.
Opportunity. Generative AI has the potential to make customers feel like they are chatting with a person when they are interacting with a bot. For customers like me, that could cut down on trudging through FAQs to get an answer—or even a hint to an answer—depending, of course, on how well trained the bot is. Chatbots could become more responsive to me personally.
Risk. Generative AI has the potential to enable fraud. New tech = new fraud, as we learned with new tech for making remote payments. The ability to create plausible content and mimic human conversation is chilling in the context of phishing—for example. ChatGPT already can pretend to be an ATM information screen.
Opportunity. Generative AI has the potential to prevent fraud. NLP tools can find patterns in data, perhaps leading them to detect fraud created with these very same tools. We've seen this pattern before in payments, with innovations in fraud followed by innovations in fraud prevention and detection, et cetera, et cetera, et cetera. As previously pointed out by the Federal Trade Commission, however, AI is no silver bullet in fighting fraud.
When I asked the model, "What practices are most important to prevent payments fraud?," I got an error message. Too complicated? Too dependent on common sense? Too speculative? Therefore, without AI assistance, here are this earthling's thoughts about ways to prevent payments fraud in the era of generative AI:
Keep your tech and tools up to date.
Share information across the payments industry.
Educate employees and end users.
Use dual controls when possible.
Practice password hygiene.
Always keep an eye out for The Next Big Thing.
To learn more, check out two podcasts I found informative:
January 23, 2023
The Year of the Mobile Payment—Really!
Since the launch of payment wallets in 2014–15, several of my colleagues and I have facetiously joined in the chorus of mobile payment advocates that "20xx (pick your year) is the 'Year of the Mobile Payment.'" Well, it appears that 2021–22 can be legitimately declared as the year when consumer adoption of mobile devices (smartphones and tablets) for payments reached the tipping point.
The Federal Reserve's Survey and Diary of Consumer Payment Choice showed that in October 2021, a little over two-thirds (68 percent) of a nationally representative sample of more than 4,600 consumers used their mobile devices for at least one payment in the previous 12 months. This was an increase from 46 percent from the October 2020 study, as the chart shows.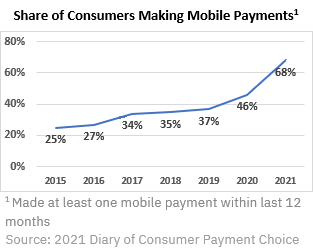 Clearly, the increased adoption was significantly assisted by the COVID pandemic. That's when consumers shifted to online shopping due to health concerns or physical retail businesses closed or reduced their operating hours. Responding to this change, retailers have made major investments in their ecommerce channel to be able to provide shopping convenience to their customers with a variety of delivery options.
One of the pressing questions we're faced with as the consumer economy comes out of the post-lockdown period is whether these shifts in payment use will continue or will slowly return to pre-COVID patterns. If the recent Thanksgiving-Black Friday-Cyber Monday shopping numbers are any indication, payments with mobile devices are here to stay. One firm reported

that 55 percent of online sales on Thanksgiving Day came through a smartphone, an increase from 51 percent in 2021. Mobile sales continued to represent most sales (51 percent) during Cyber Week. The report noted one interesting change in consumer shopping habits: curbside pickup was used in only 13 percent of online orders on both Thanksgiving and Black Friday, which was a decrease from 21 percent in 2021. Christmas sales figures have yet to be reported but I expect more of the same trend.
So I ask you with a loud voice to join me in the mobile payments chorus as we acknowledge that the Year of the Mobile Payment has finally arrived!
January 17, 2023
Consumer Research Finds an Association between BNPL and Overdrafts
In our 2021 and 2022 blogging about buy now, pay later (BNPL), we have told an on-the-one-hand, on-the-other-hand story.
On the one hand:
On the other hand:
Two papers, each analyzing large data sets of consumer transactions, add to this weighing up by finding a relationship between use of BNPL and incurring overdraft fees. These papers compare pools of consumers who have used BNPL to pools of consumers with similar characteristics who have not used BNPL.
Both papers find that total spending increases after an individual starts using BNPL.
Neither paper can establish, however, which comes first: the choice to use BNPL or the tendency to overdraft. As deHaan and coauthors write, "the results cannot differentiate between a causal effect of BNPL versus consumers experiencing a coinciding shock (e.g., a layoff) that causes both BNPL adoption and declines in financial health."
For a pay-in-four purchase, payments are made at the time of purchase and then automatically over the next six weeks. The CFPB has reported

that nine in 10 BNPL payments are made with a debit card. Automatic debit payments imply that the harmful effects and the full costs of BNPL can occur at not only the BNPL lender but also at the customer's financial institution, where overdrafting could occur. This makes it difficult for those effects to be fully quantified. These findings on overdrafting pose a challenge for consumer protection and consumer education.
These papers add to our understanding of consumer finance and consumer decision-making. I encourage you to read them.
January 9, 2023
Open Banking's Slow March Advances
In June, I wrote about the revived and deliberate process of the Consumer Financial Protection Bureau (CFPB) in developing rules covering the implementation of open banking in the United States. I promised that the Retail Payments Risk Forum would continue to follow developments in open banking, so in this post, I'm providing a small update.
In an October 25 speech

at this year's Money20/20 conference, CFPB director Rohit Chopra delivered a detailed roadmap and timeline for the rulemaking process for open banking. Chopra noted, "While not explicitly an open banking or open finance rule, the rule will move us closer to it, by obligating financial institutions to share consumer data upon consumer request, empowering people to break up with banks that provide bad service and unleashing more market competition." Concurrent with Chopra's speech, the CFPB issued a 71-page document

outlining the proposals and possible alternatives to open banking.
As I noted in my earlier post, before the CFPB can formally issue proposed rules, it must convene a panel of federal agencies representing "small entities" (businesses, government agencies, and organizations) to provide recommendations on regulatory alternatives to minimize the burden on impacted small entities. The agencies on the panel are the CFPB, the Small Business Administration's Office of Advocacy, and the Office of Information and Regulatory Affairs in the Office of Management and Budget. The CFPB is also conferring with other federal regulatory agencies and stakeholders.
The feedback from the affected small entities is due by January 25, 2023, and is expected to be published by the end of the first quarter of 2023. Taking into consideration the input received, the CFPB will issue a set of proposed rules covering data sharing later in 2023. There will be a public comment period with the expectation that the final rule will be issued sometime in 2024 with an implementation date.
In the published outline of the proposed rule, the CFPB makes clear that this will be an incremental process as far as the scope of coverage is concerned. The proposed rules will initially cover only Regulation E (deposit transaction accounts) financial institutions, Regulation Z (credit cards) issuers, and non-financial institutions that "issue digital credential storage wallets." These groups are referred to as "covered data providers." The proposed rule also addresses requirements for third-party data processors—those that receive or aggregate data authorized by the consumer. In particular, the CFPB is soliciting feedback on the disclosures that the data provider must offer the consumer and on how the covered data providers will verify that the third party has the authority to obtain the consumer's data.
We will continue to follow and report on the developments relative to the implementation progress of open banking in the United States.