About
---
Take On Payments, a blog sponsored by the Retail Payments Risk Forum of the Federal Reserve Bank of Atlanta, is intended to foster dialogue on emerging risks in retail payment systems and enhance collaborative efforts to improve risk detection and mitigation. We encourage your active participation in Take on Payments and look forward to collaborating with you.

Subscribe by E-mail

Subscribe by RSS
Comment Standards:
Comments are moderated and will not appear until the moderator has approved them.

Please submit appropriate comments. Inappropriate comments include content that is abusive, harassing, or threatening; obscene, vulgar, or profane; an attack of a personal nature; or overtly political.

In addition, no off-topic remarks or spam is permitted.
January 18, 2022
Pandemic's Arrival Spurred Change in Payments Behavior
Cast your mind back to spring 2020, the early months of the COVID-19 pandemic. With my apologies for the bad flashback, did you change how and where you shopped that spring? Maybe you ordered groceries online for the first time. Maybe you decided to skip browsing at your favorite clothing store. Maybe you exchanged eating out for ordering in.
You can see glimmers of your behavior—and that of consumers and businesses here in the United States—by looking at fluctuations in the mix of credit and debit card payments made remotely and in person in spring 2020.
Perhaps you remember making fewer in-person payments in spring 2020 because you were reluctant to be out and about, you worked at home, or businesses were closed. The Federal Reserve Payments Study

(FRPS) recently reported that the number of in-person card payments dropped 19 percent from the first quarter of 2020 to the second.
Perhaps you moved some shopping online. The number of remote payments (including purchases and bills) was up 18 percent from Q1 to Q2 2020. You can see the combined effect of these changes in the chart below. As a percentage of general-purpose card payments by number, in-person payments dropped from more than 68 percent in the first quarter to less than 60 percent in Q2 (shown by the red line in the chart below).
In-person payments as a share of all card payments recovered somewhat in later quarters to total 64 percent of all general-purpose card payments for the year 2020 (the blue line in the chart), a substantial drop from 72 percent in 2019.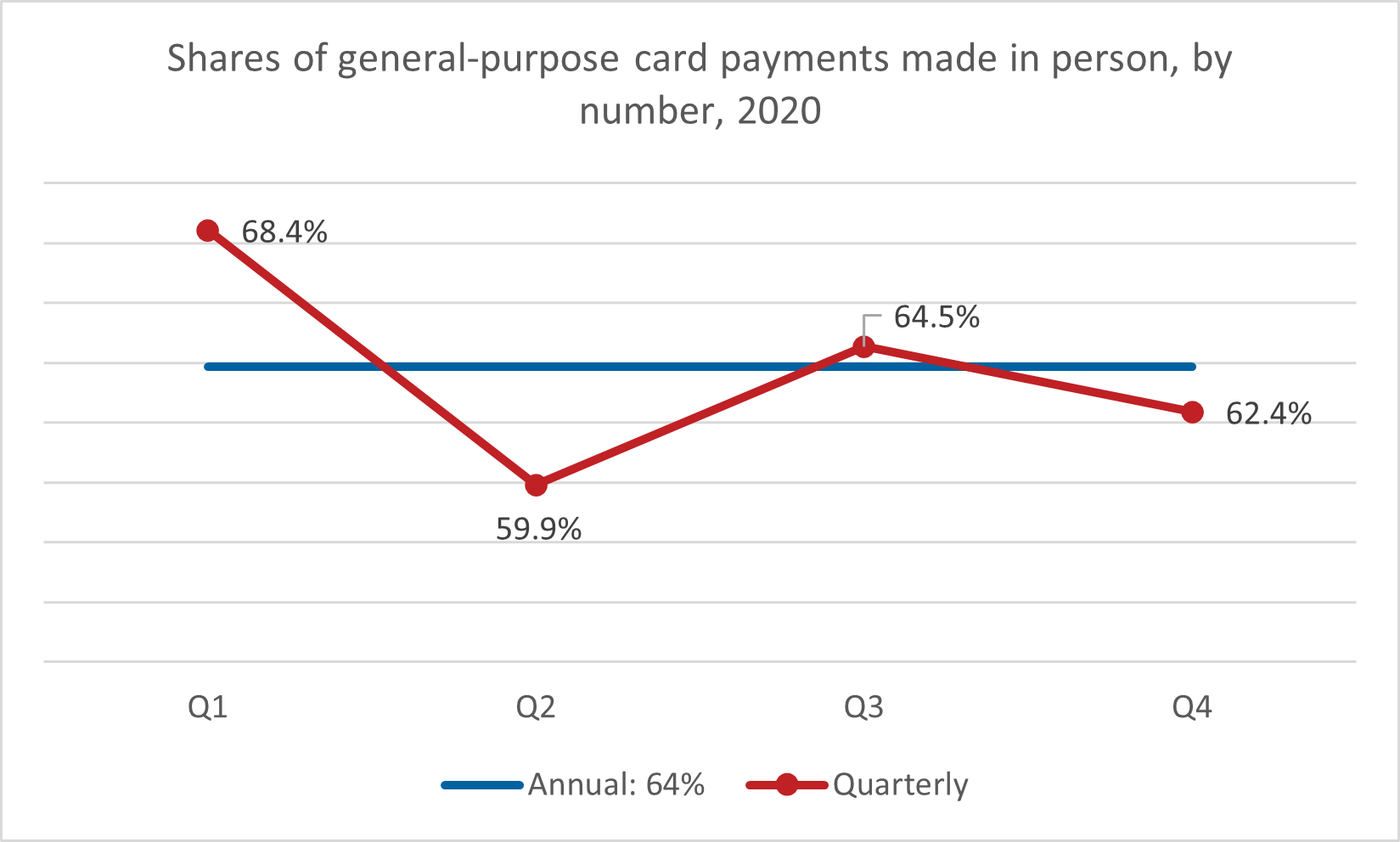 The December report, Developments in Noncash Payments for 2019 and 2020: Findings from the Federal Reserve Payments Study

, also contains quarterly data for depository institution accounts with digital wallet activity and with P2P activity using bank-sponsored apps.
January 10, 2022
What We'll Be Watching in 2022
At our end-of-the-year Talk About Payments webinar

in December, we noted that the global pandemic has touched every aspect of our personal and professional lives. The tragic loss of life, risk of illness, surge in remote work, restrictions on or shutdowns in business operations, and supply chain disruptions: these are the factors that affected the behavior of consumers and businesses.
As we enter 2022, none of us knows what lies ahead for consumer payments behavior. After all, as one Nobel prize-winner said, "We are prone to overestimate how much we understand about the world and to underestimate the role of chance in events

."
For that reason, we are not making any predictions when it comes to payments. Instead, each of us in the Retail Payments Risk Forum will be closely watching the trends and issues in 2022. Throughout the year, we will blog on these items based on research from the Federal Reserve or external sources.
Nancy Donahue: As the United States continues to expand and improve broadband infrastructure, I am interested in the long-awaited 5G rollout currently scheduled to begin January 19. As we start the year with a return to virtual learning in some school districts and continued remote work for many people in the labor force, access to high-speed broadband internet remains on the forefront as an important component of financial and economic inclusion.
Claire Greene: Flashing my phone or tapping my watch is fun, but I'm enamored of the information content that flows along with newer ways to pay. So for 2022, I'm excited about QR codes. Increasingly since March 2020, QR codes have shown their value as a physically distanced information delivery system. I can access menus, maps for museums and walking trails, theater programs, even my vaccination card. My question for next year is: In the United States., will QR codes become a popular way to pay?
Scarlett Heinbuch: Cash—its preservation, usage, and merchant acceptance—remains an interest area to watch in 2022, along with the rise of digital currency. I am interested to see how these payments streams converge and coexist in the coming years.
Mary Kepler: Although contactless payments have been around for quite some time, the concept didn't seem to catch on in the United States until the pandemic provided a reason to avoid touching things. I'll be watching for the tap-to-pay trend, and other contactless applications, to continue to grow.
Doug King: The evolution of buy now, pay later (BNPL) as well as the emergence and growth of account-to account payments in retail.
Dave Lott: Since its peak in the second quarter of 2020 at 16.1 percent, ecommerce sales as a percentage of overall retail sales has remained strong. Still, it has declined to 120 basis points over its prepandemic level of 11.8 percent. What levels will in-person shopping reach as we start another year still in the throes of the pandemic? Related to that payment behavior, how will third-party delivery services be affected?
Catherine Thaliath: With the acceleration of digitization efforts in business-to-business payments, I am curious to see what the future holds for accounts payable/accounts receivable automation, paper checks, virtual cards, etc.
Jessica Washington: Risk and fraud mitigation techniques and tools are what I'm watching. We have been seeing rapid growth and adoption of innovative payment services. The payments industry, including banks, fintech and regulators, will need to keep pace and work together on how we fight fraud and mitigate risks.
So, what are your "must watch" payments issues and trends for 2022? Let us hear from you.
Happy new year from the Risk Forum team!

December 27, 2021

Federal Reserve Payments Study Finds Effects of the Pandemic in US Payments

It's the week before the New Year, and we promised not to post this week. But I can't resist letting you know that a new report from the Federal Reserve Payments Study reports quarterly data related to the effects of the COVID-19 pandemic on US payments. This is interesting and important news, so I'm breaking the holiday hiatus.

Developments in Noncash Payments for 2019 and 2020: Findings from the Federal Reserve Payments Study, on the Federal Reserve's website

, includes new information about core noncash payments and some evolving areas of payments:
While data from 2019 largely show a continuation of past payment trends, with card and ACH both gaining share at the expense of check, 2020 data show that payment behavior changed sharply with the COVID-19 pandemic, with ACH gaining substantially as a share of noncash payments by both number and value.
The share estimates combined with other information imply that ACH was the only one of the three core payment systems to grow by number in 2020.
The total number of card payments declined in 2020, driven by a marked decline of in-person card payments. This was the first annual decline in the number of card payments recorded by the payments study.
As in-person card payments dropped in spring 2020, remote card payments took up much of the slack. Later in the year, in-person card payments recovered somewhat.
The pandemic may have helped spur growth of innovative payment methods, such as in-person contactless card, digital wallet, and person-to-person (P2P) payments.


- First-time use of bank-sponsored P2P payments spiked in the second quarter of 2020, a time of business closures and stay-at-home orders.

- First-time use of digital wallets was highest in the third quarter, when some restrictions on in-person shopping were lifted. When used with a mobile device, a digital wallet provides a low-touch option for in-person card payments.
The report covers card (credit, non-prepaid debit, and prepaid debit), ACH, and check payments.
Go to the Federal Reserve's website

to see other findings.
Happy new year! We look forward to continuing the payments conversation with you in January 2022!
December 20, 2021
The Retail Payments Risk Forum staff are taking a little break. We'll be back next week (December 27).