About
---
Take On Payments, a blog sponsored by the Retail Payments Risk Forum of the Federal Reserve Bank of Atlanta, is intended to foster dialogue on emerging risks in retail payment systems and enhance collaborative efforts to improve risk detection and mitigation. We encourage your active participation in Take on Payments and look forward to collaborating with you.

Subscribe by E-mail

Subscribe by RSS
Comment Standards:
Comments are moderated and will not appear until the moderator has approved them.

Please submit appropriate comments. Inappropriate comments include content that is abusive, harassing, or threatening; obscene, vulgar, or profane; an attack of a personal nature; or overtly political.

In addition, no off-topic remarks or spam is permitted.
November 14, 2022
When Speed and Acceptance Collide
Sometimes a person gets cornered into writing a paper check. Today, that person is me.
My final payment for a vacation rental is due this coming Friday. The rental starts in five days, on Saturday. But since the payee is a person, my online banking bill pay won't get the check there until the following Monday: three days late and two days after my check-in.
I'm cornered because two circumstances are colliding. (1) I absolutely, positively have to get the payment there by Friday. (2) My longtime landlord doesn't accept payment via p2p apps or cards. My preference for speed is in conflict with my landlord's preference for paper. And in a two-sided market, like payments, each side has to agree on how to conduct a transaction.
These circumstances call for 18th century technology: it's time to write a paper check. Cue quill pen and ink bottle, cue envelope, cue sleeve protectors, cue stamp.
My initial choice of online banking bill pay is what you would expect given new data from the 2021 Survey and Diary of Consumer Payment Choice, released in mid October. These data show that while the prevalence of checks has declined, they are still used.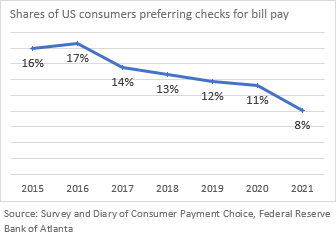 On the "decline" side:
The shares of consumers who prefer to use checks to pay bills dropped from 17 percent in 2016 to 8 percent in 2021.
In 2020, checks were 19 percent of bill payments by number and 23 percent by value. This dropped to 12 percent by number and 12 percent by value in 2021.
In the past 30 days ending in October 2021, more consumers used online banking bill pay (51 percent) than used a paper check (46 percent).
On the "still used" side:
The average dollar value of check payments per consumer in October 2021 was $550.
The average consumer wrote about two checks in October 2021.
The share of consumer with paper checks on hand—three quarters of all consumers—has remained constant since 2019.
In combination, these data say that, sometimes when you're cornered, nothing says speed and acceptance like a paper check.
So while I go off on vacation in my paid-off rental, you can investigate the adoption and use of other payment instruments, as well as consumer ratings and preferences, at the data release of the Survey and Diary of Consumer Payment Choice.
November 7, 2022
More Highlights from the CFPB BNPL Report
My October 3 post on the Consumer Financial Protection Bureau's (CFPB) 2022 report

on the buy now, pay later (BNPL) industry highlighted some of the key metrics from the CFPB's data collection efforts of the five major BNPL operators in the United States. In this post, I review some of the benefits, concerns, and planned actions identified in the report.
The report acknowledges several financial benefits of the "pay-in-four" BNPL loans to the consumer—primarily that they don't charge interest, which makes them an attractive alternative to other forms of credit. For example, the report cites data from a 2021 report on the consumer credit card market

: the cost of credit in 2020 for revolving cardholders using general purpose cards was 17.7 percent.
The main sales pitch that BNPL firms present to the merchant is that BNPL increases the potential for incremental sales; with this option, the customers may purchase a more expensive product or additional products. While the CFPB report does not have any specific metrics on incremental sales, it does cite a number of claims from the BNPL firms about how BNPL could increase average sales amounts and attract new customers. The report mentions another benefit for merchants: the BNPL firm providing the credit assumes all the risk of nonpayment. As I mentioned in my earlier post, the firms reported that 3.8 percent of loans were charged off in 2021—up from 2.9 percent in 2020.
Any extension of credit risks consumers assuming more debt than they can afford. In particular, the report cites "loan stacking" as a possible danger. Loan stacking occurs when the customer obtains multiple BNPL loans from different lenders, "stacking up" the payment obligations of each loan on top of one another. BNPL firms try to minimize this danger by limiting initial loan amounts. However, since most BNPL providers don't report loan activity to the major credit reporting agencies, they can't know how many BNPL loans the consumer may have gotten from other BNPL firms and, therefore, they have no knowledge of the consumer's full debt. This concern is increased by the trend shown in the data that the repeated use of BNPL has increased over the last three years. In the fourth quarter of 2021, the five lenders surveyed reported an average usage rate per unique customer of 2.8 loans used during the quarter. This figure only reflects the number of loans with a particular lender. In the first quarter of 2019, this average was 1.9 loans.
Besides the risk of credit overextension, the report details other potential harms, including:
a lack of clear and consistent disclosures
inconsistent practices regarding merchandise disputes
mounting late fees and bank fees for multiple representments of returned payments
the requirement to use autopay or the difficulty in selecting another payment method
the use of customer data for purposes other than handling the transaction
The next question is this: With this data in hand, what does the CFPB plan to do about rules or guidance for the BNPL industry? In a prepared statement

issued in conjunction with the report's release, CFPB director Rohit Chopra outlined several actions the organization would take immediately, including continually monitoring the BNPL industry. The CFPB staff will identify potential guidance or rules that will require the same consumer disclosures and protection that credit cards are subject to. The CFPB will continue to encourage the development of processes for BNPL firms to work with the credit reporting agencies so that loan experiences are reported regularly and accurately and a consistent methodology is used to estimate the debt burden of a household.
The execution of supervisory examinations has been inconsistent due to the variety of the business structures of the BNPL firms. The CFPB is encouraging voluntary examinations but is also looking into its authority to mandate examinations. Related to consumer data protection and privacy, the CFPB plans to work with the Federal Trade Commission on developing rules that will be applicable to all businesses regarding using data for something other than the BNPL transaction itself.
While the BNPL industry is in its early stages, it is becoming a major part of the retail credit landscape. We will continue to follow and report on developments in this industry.
October 31, 2022

Consumers' Remote Purchases of Food Level Off in 2021

New data from the Survey and Diary of Consumer Payment Choice (SDCPC), released by the Atlanta Fed last week, give some clues to questions many of us are asking these days: Will the changes we've seen during COVID stick? Will we go back to our old ways? Will change accelerate?

Let's look at these questions through the lens of something we all do: eat. Carnivore and vegan, we gobble burgers. Lactose-tolerant and not, we slurp beverages. We shop in person and online, we order in, we eat out.

You and I—and US consumers generally—make many purchases of food to eat at home and away. Together, purchases of groceries, meals at sit-down restaurants and bars, and fast food accounted for four in 10 payments made by US consumers in October 2021, according to the SDCPC.

In a recent paper

, Fed researchers Ruth Cohen, Oz Shy, and Joanna Stavins looked at payment instrument choice for these food purveyors, among other merchants, and found that the shift to remote payments during the COVID-19 pandemic was a driver of the decline in the use of cash in 2020. Their analysis, extended in the chart by Ruth Cohen to include the new 2021 data, found a jump in remote payments for all categories of food purchases during the pandemic year 2020.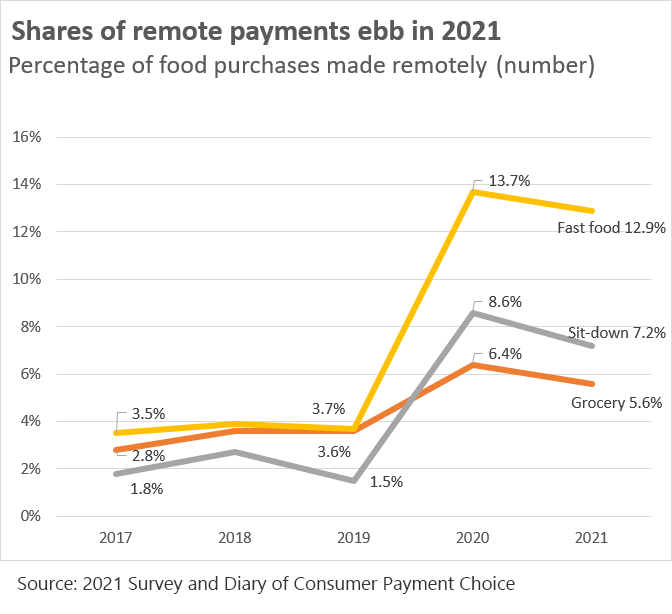 The chart shows that the shares of remote payments in all three food categories are slightly down from 2020, but still well above their 2019 shares. Remote purchases remain a small share of all food purchases—less than 15 percent by number for each category—and the 2021 shares are similar to those seen in 2020.
So, no big jump from 2020, but no retreat either. In 2020, we all changed a lot. Now, we're consolidating and, as I wrote about data from September 2020, our collective reaction to the COVID-19 threat appears to be easing, along with some of the dramatic change from 2019 to 2020.
October 24, 2022
What the Payment Choice Act Means for Cash
Since the first paper bills

emerged in the United States in 1690, cash has been a payment choice for governments, merchants, and consumers in our nation.
The pandemic, though, changed things for cash users. Notices appeared at merchant locations like coffee shops, restaurants, and other retail sites throughout the country: "Credit or Debit Card Only" or "We are going cashless!" Merchants may choose not to accept cash for a variety of reasons, including hygiene concerns, banking office closures or reduced hours that often made it harder to get cash for the till, and coin supply issues that made it hard to make change even when cash was accepted. Surprisingly, even as the pandemic's influence is lifting, some merchants still refuse to accept cash.
However, that may change with the Payment Choice Act of 2021 (H.R.4395), introduced on July 9, 2021, and sponsored by Rep. Donald M. Payne Jr. (D-New Jersey). The proposed legislation is designed "to prohibit retail businesses from refusing cash payments, and for other purposes." The bill passed in the house twice: first on June 21, 2022, as an amendment to the Financial Services Racial Equity, Inclusion and Economic Justice Act

, and on July 14, 2022, as an amendment to the National Defense Authorization Act

. The bill would need to be passed by the Senate

to be enacted and we will keep an eye on its progress. A similar bill, Cash Always Should Be Honored

, was introduced in 2019 by Rep. David Cicilline (D-Rhode Island), who was concerned that cashless businesses discriminate against customers who do not have access to a credit card. The bill did not move forward but the PCA captures the original intention.
Key points in the Payment Choice Act include:
Requires retail businesses—those that sell or offer goods or services at retail to the public and accept in-person payments at a physical location—to accept cash as a form of payment for sales in amounts less than $2,000
Prohibits them from charging cash-paying customers a higher price compared to customers not paying with cash
Provides for enforcement through preventative relief and civil penalties
Our work in payments inclusion informs us that cash is a primary payment choice for about 7.1 million US households (5.4 percent)

that choose not to use banks. These rates are highest among low-income, Black, Hispanic, Native Americans, and people with disabilities. When cash is not accepted, it can create a barrier that excludes primary cash users from the payments system and from getting needed goods and services. This can create hardship for people and may also result in loss of business for merchants.
But isn't cash acceptance a requirement? The answer is no. While cash is US legal tender, merchants don't have to accept it. According to the Board of Governors of the Federal Reserve System

, "there is no federal statute mandating that a private business, a person, or an organization must accept currency or coins as payment for goods or services."
Some states and cities

(New Jersey, Colorado, Washington, DC, New York City, Philadelphia, and San Francisco) have enacted similar merchant cash acceptance policies. Other states, like Georgia

, have bills pending. These legislative actions create a mandate for businesses that may override their choice to not accept cash as a payment option while protecting consumers' preferences to use cash. What do you think?