About
---
Take On Payments, a blog sponsored by the Retail Payments Risk Forum of the Federal Reserve Bank of Atlanta, is intended to foster dialogue on emerging risks in retail payment systems and enhance collaborative efforts to improve risk detection and mitigation. We encourage your active participation in Take on Payments and look forward to collaborating with you.

Subscribe by E-mail

Subscribe by RSS
Comment Standards:
Comments are moderated and will not appear until the moderator has approved them.

Please submit appropriate comments. Inappropriate comments include content that is abusive, harassing, or threatening; obscene, vulgar, or profane; an attack of a personal nature; or overtly political.

In addition, no off-topic remarks or spam is permitted.
April 5, 2021
New Tools to Fight Online Fraud
When consumers shift payments channels, criminals do, too. We have discussed this point in post after post. We've also written on how the pandemic has had a seismic effect on digital payments during the pandemic. This chart sums up the growth pretty handily.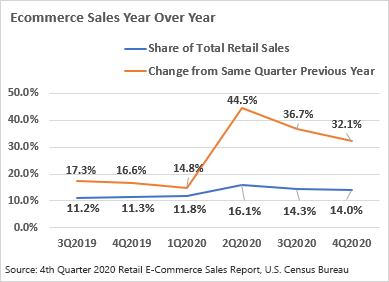 Even before the pandemic contributed to this spike, criminals had been using purloined payment card credentials and in-store or curbside pickup to take advantage of the growth in digital payments. (In-person pickup allows criminals to quickly put their hands on their ill-gotten gains.) To improve ecommerce security, the industry began developing technical specifications and protocols, and in late 2019, the Mobile Payments Industry Workgroup (MPIW) formed a working group to provide a better understanding of these protocols and specifications. This working group published its findings in an educational white paper

just last month. (The MPIW

was facilitated by the Federal Reserve Banks of Boston and Atlanta.)
Among these specifications and protocols the white paper explains is the 3-Domain Secure protocol, released in December 2018, and the initial Secure Remote Commerce specifications, published in June 2019 (both from EMVCo

). It also discusses the WebAuthn specification, which came on the scene in March 2019 and was a product of the World Wide Web (W3C) consortium

working with the Fast Identity Online (FIDO) Alliance

. The white paper identifies the key challenges to adopting these protocols and provides guidance about how they may complement one another to enhance the security of the online and mobile channels.
All these fraud mitigation tools are in their early stages of adoption, with additional development and functionality to come. In the meantime, we hope that the white paper provides you with a solid foundation of knowledge of these new tools and how the industry continues its battle against fraudulent payment activity.
February 16, 2021
Federal Reserve Payments Study Finds Increase in Low-Dollar-Value Card Payments
In a February 2020 post, I reminded myself—and you—that we shouldn't use ourselves for survey research. Isn't it pleasing, though, when the data line up with our personal experience and the anecdotes we are reading and hearing about?
That's the case with some of the data from the Federal Reserve Payments Study (FRPS) released in late October.
The study found that the number of general-purpose card payments for less than $5 grew 16 percent a year from 2015 to 2018, exceeding the 9 percent annual growth rate for all transactions on these cards, which include nonprepaid debit cards, general-purpose prepaid cards, and general-purpose credit cards. This higher growth is, in part, an indication of a continuation of cards replacing small-value cash payments over the period.
The chart below depicts data gathered from general-purpose card networks, showing that from 2012 to 2018, the growth in the number of card payments of less than $15—a category likely to see a lot of cash replacement—was faster than the growth of card payments of higher values.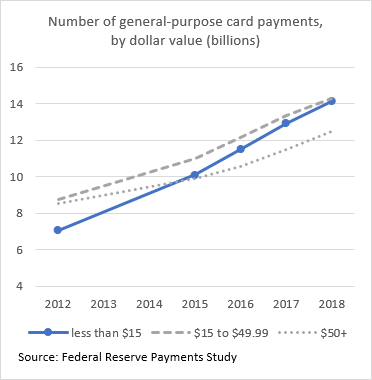 Although the increase is less pronounced than for the smallest-value category, I chose "less than $15" for the comparison to align with research by Atlanta Fed senior policy adviser and economist Oz Shy who, using consumer payments survey data, has found it is likely consumers will choose cash for such small-value payments. (See his paper "How Currency Denomination and the ATM Affect the Way We Pay.") The data from the FRPS show that general-purpose card payments of less than $15 grew a total of 83 percent over the period compared with a total growth of just 46 percent for higher-value payments. (If you like, you can download the detailed data

from the FRPS and arrange the value bins as you prefer.)
These data show what we know from personal experience: we are using cards more and more for micropurchases and have been for a while now. But we can also see the effect of this behavior at the high end of the dollar-value distribution: in 2018, 30 percent of general-purpose card payments were for $50 or more. That's a drop from 35 percent in 2012. Micropayments for less than $5 still have a ways to go, though: they make up just about 12 percent of card payments by number.
To learn more about these data on your own, check out the detailed data release of the 2019 Federal Reserve Payments Study

.
February 8, 2021
An Update on Business Credit Card Use
From 2015 to 2018, payments made by businesses using general-purpose credit cards grew almost 25 percent by value year over year, according to the Federal Reserve Payments Study (FRPS). What drove such strong growth? An increase in the number of U.S. businesses over that time? An increase in corporate travel? The convenience and familiarity of using a card? What about businesses waking up to a way to reduce the costs of products and services, through loyalty programs allowing them to earn points or cash back dollars?
It's common to associate business credit cards with travel to visit a customer or to attend a convention. And smaller businesses may use cards in lieu of a traditional line of credit to buy goods and services and then pay over time. Credit cards also are a way to "make accounts payable a revenue producer," one expert recently commented to me. A retailer I spoke with estimates that its annual rebate due to sharing interchange fees with its card issuer is well into six figures—in effect, a vendor discount you can't get directly from the vendor.
By value, from 2015 to 2018, payments made by businesses via general-purpose credit cards grew faster than consumer credit card payments, as reported in the detailed data release of the Federal Reserve Payments Study last fall. Let's take a minute to dive deeper into businesses' credit card paying trends. (Private-label fleet cards and prepaid and nonprepaid debit cards are outside the scope of this discussion.)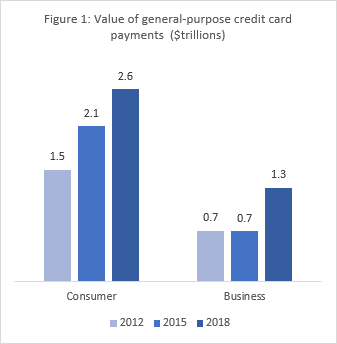 As you can see in Figure 1, businesses' total value of credit card payments was less than consumers' in all three years. In 2018, for example, just one-third of the value of general-purpose credit card payments was for business payments. This reflects the underlying numbers: in 2018, the U.S. population 18 and older was about 250 million, compared to about 32 million nonemployer and employer businesses. Consumers held 408 million general-purpose credit cards; businesses, 38 million, according to the FRPS.
General-purpose consumer credit card payments also grew strongly by value in the years between 2015 and 2018 and on a higher base: by 7.4 percent year over year. In absolute terms, however, the increases in consumer and business credit payments by value over the three years were very roughly the same: $500 billion for consumers and $600 billion for businesses, reflecting, in part, the higher-value payments that businesses make. The average value of a business credit card payment was $263 in 2018, compared to $70 for consumer credit card payments.
Businesses make most of their card payments with credit cards. They make relatively few payments with non-prepaid debit cards. Of general-purpose business card payments by value, 83 percent are credit card payments.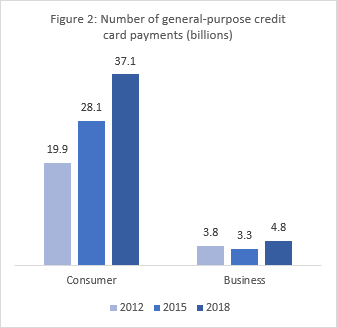 Looking at the number of general-purpose credit card payments (shown in Figure 2), we see less dramatic growth for business credit card payments on a small base. The number of general-purpose credit card payments by businesses grew 13.2 percent per year on average from 2015 to 2018, after declining between 2012 and 2015. To learn more about these data on your own and to explore businesses' and consumers' use of cards, check out the detailed data release of the 2019 Federal Reserve Payments Study

.
November 30, 2020
The Wholesale Story on Wires
Back in 2013, I had a once-in-a-lifetime travel experience: Paris in the spring. Also that year, I had a once-in-a-lifetime payments experience—literally: I walked into my local bank and requested a wire be sent to pay the rent for an apartment on the Rive Gauche. That's my lifetime experience with wires: one payment.
I'll bet your experience is similar; that is, you can count the wire transfers you have personally initiated or received on your fingers, leaving a few digits to spare. New data from the Federal Reserve Payments Study, released in October, show that this is typical for consumers.
The wire transfer systems—CHIPS, operated by The Clearing House, and Fedwire, operated by the Federal Reserve Banks—mostly handle monetary settlement transfers between financial institutions (FIs) and large-value payments by businesses. In 2018, 64 percent of wires were business payments and 25 percent were financial institution (FI) settlements or other FI business. Only 11 percent were initiated by consumers.
By my calculation, wires account for the lion's share of all noncash payments settlement by value: 93 percent of the dollar value of wires, checks, ACH in 2018 together. (Card payments are generally settled via ACH and otherwise do not move the needle in this calculation.) In addition, essentially all wires, by dollar value, are FI or business wires. In 2018, wires initiated by consumers accounted for one-third of one percent (0.33%) of all wires by dollar value. The average value of an FI or other business wire transfer was almost $5 million, compared to just about $120,000 for consumer wires.
While wire payments increased by number from 2015 to 2018, they grew more slowly than other payment methods, just 3.4 percent year over year. And the total value of wire transfers declined 2.5 percent per year. Wires initiated by consumers, that tiny slice of the wires pie, showed double-digit growth in both number and value in every year from 2012 to 2018.
The Federal Reserve Payments Study has been collecting data on wires since 2013. In October 2020, the Fed released allocations of wire transfers for 2012, 2015, and 2018, including by payer (consumer and business), by payee location (domestic and cross-border), and by clearing method (interbank and book transfer). You can download the data here

. As real-time or faster-payments transactions gain popularity, it will be interesting to see if they affect consumer use of wires.
Qu'est-ce que vous pensez?