About
---
Take On Payments, a blog sponsored by the Retail Payments Risk Forum of the Federal Reserve Bank of Atlanta, is intended to foster dialogue on emerging risks in retail payment systems and enhance collaborative efforts to improve risk detection and mitigation. We encourage your active participation in Take on Payments and look forward to collaborating with you.

Subscribe by E-mail

Subscribe by RSS
Comment Standards:
Comments are moderated and will not appear until the moderator has approved them.

Please submit appropriate comments. Inappropriate comments include content that is abusive, harassing, or threatening; obscene, vulgar, or profane; an attack of a personal nature; or overtly political.

In addition, no off-topic remarks or spam is permitted.
December 12, 2022
Digital Divide Trickles Down to Payment Account Adoption
Four in 10 consumers with household income less than $30,000 did not have broadband access or a desktop or laptop computer in 2021, according to Pew Research Group

. One-quarter with household income less than $30,000 did not have a smartphone. This digital divide trickles down to the adoption of payment accounts like PayPal, Venmo, and Zelle, which are predicated on either a computer and internet access or mobile access.
New data from the Survey and Diary of Consumer Payment Choice (SDCPC) show steady growth across all income categories in the use of these digital payment accounts, increasing from 43 percent of consumers using these accounts at least once in the 12 months leading up to October 2016 to 66 percent in 2021.
Diving deeper into use by income, consumers in high-earning households were most likely to use digital payments accounts and those in low-income households were least likely. Eight in 10 consumers with household income north of $125,000 a year used digital payment accounts in 2021, compared to about half of consumers with household income less than $35,000.
These relationships have held true over all the years from 2016 to 2021: members of all income groups became more likely to use digital payment accounts, and lower income groups were less likely than others to use them each year. A snapshot from 2021 illustrates the intra-year differences.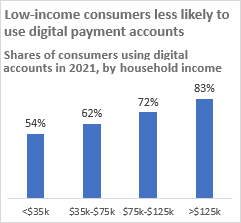 While payments innovation could end up helping lower-income US consumers, these data show that it's important to view payments as part of an ecosystem that includes digital access. As my Atlanta Fed colleague Oz Shy wrote back in 2020, "Low-income consumers are not only constrained with spending, but also with the type and variety of payment methods available to them." Despite the upheaval in the years of the COVID-19 pandemic, the 2021 results for consumers' use of digital payment accounts show that this constraint still exists.
I invite you to play around with the Survey and Diary data.
November 14, 2022
When Speed and Acceptance Collide
Sometimes a person gets cornered into writing a paper check. Today, that person is me.
My final payment for a vacation rental is due this coming Friday. The rental starts in five days, on Saturday. But since the payee is a person, my online banking bill pay won't get the check there until the following Monday: three days late and two days after my check-in.
I'm cornered because two circumstances are colliding. (1) I absolutely, positively have to get the payment there by Friday. (2) My longtime landlord doesn't accept payment via p2p apps or cards. My preference for speed is in conflict with my landlord's preference for paper. And in a two-sided market, like payments, each side has to agree on how to conduct a transaction.
These circumstances call for 18th century technology: it's time to write a paper check. Cue quill pen and ink bottle, cue envelope, cue sleeve protectors, cue stamp.
My initial choice of online banking bill pay is what you would expect given new data from the 2021 Survey and Diary of Consumer Payment Choice, released in mid October. These data show that while the prevalence of checks has declined, they are still used.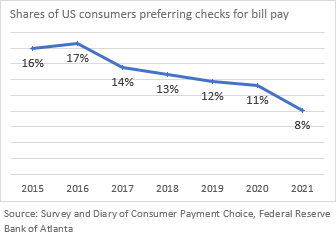 On the "decline" side:
The shares of consumers who prefer to use checks to pay bills dropped from 17 percent in 2016 to 8 percent in 2021.
In 2020, checks were 19 percent of bill payments by number and 23 percent by value. This dropped to 12 percent by number and 12 percent by value in 2021.
In the past 30 days ending in October 2021, more consumers used online banking bill pay (51 percent) than used a paper check (46 percent).
On the "still used" side:
The average dollar value of check payments per consumer in October 2021 was $550.
The average consumer wrote about two checks in October 2021.
The share of consumer with paper checks on hand—three quarters of all consumers—has remained constant since 2019.
In combination, these data say that, sometimes when you're cornered, nothing says speed and acceptance like a paper check.
So while I go off on vacation in my paid-off rental, you can investigate the adoption and use of other payment instruments, as well as consumer ratings and preferences, at the data release of the Survey and Diary of Consumer Payment Choice.
October 31, 2022

Consumers' Remote Purchases of Food Level Off in 2021

New data from the Survey and Diary of Consumer Payment Choice (SDCPC), released by the Atlanta Fed last week, give some clues to questions many of us are asking these days: Will the changes we've seen during COVID stick? Will we go back to our old ways? Will change accelerate?

Let's look at these questions through the lens of something we all do: eat. Carnivore and vegan, we gobble burgers. Lactose-tolerant and not, we slurp beverages. We shop in person and online, we order in, we eat out.

You and I—and US consumers generally—make many purchases of food to eat at home and away. Together, purchases of groceries, meals at sit-down restaurants and bars, and fast food accounted for four in 10 payments made by US consumers in October 2021, according to the SDCPC.

In a recent paper

, Fed researchers Ruth Cohen, Oz Shy, and Joanna Stavins looked at payment instrument choice for these food purveyors, among other merchants, and found that the shift to remote payments during the COVID-19 pandemic was a driver of the decline in the use of cash in 2020. Their analysis, extended in the chart by Ruth Cohen to include the new 2021 data, found a jump in remote payments for all categories of food purchases during the pandemic year 2020.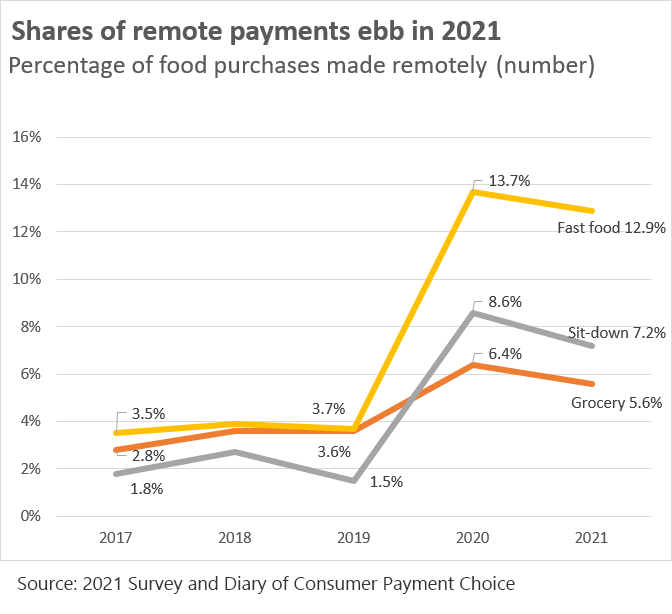 The chart shows that the shares of remote payments in all three food categories are slightly down from 2020, but still well above their 2019 shares. Remote purchases remain a small share of all food purchases—less than 15 percent by number for each category—and the 2021 shares are similar to those seen in 2020.
So, no big jump from 2020, but no retreat either. In 2020, we all changed a lot. Now, we're consolidating and, as I wrote about data from September 2020, our collective reaction to the COVID-19 threat appears to be easing, along with some of the dramatic change from 2019 to 2020.
January 31, 2022
Quarterly Payments Data for 2020 Reflect Pandemic's Early Impact
Cast your mind back to spring 2020, the early months of the COVID-19 pandemic. With my apologies for the bad flashback, did you change how and where you shopped that spring? Maybe you ordered groceries online for the first time. Maybe you decided to skip browsing at your favorite clothing store. Maybe you exchanged eating out for ordering in.
You can see glimmers of your behavior—and that of consumers and businesses here in the United States—by looking at fluctuations in the mix of credit and debit card payments made remotely and in person in spring 2020.
Perhaps you remember making fewer in-person payments in spring 2020 because you were reluctant to be out and about, you worked at home, or businesses were closed. The Federal Reserve Payments Study

(FRPS) recently reported that the number of in-person card payments dropped 19 percent from the first quarter of 2020 to the second.
Perhaps you moved some shopping online. The number of remote payments (including purchases and bills) was up 18 percent from Q1 to Q2 2020.
You can see the combined effect of these changes in the chart below. As a percentage of general-purpose card payments by number, in-person payments dropped from more than 68 percent in the first quarter to less than 60 percent in Q2 (shown by the red line in the chart below).
In-person payments as a share of all card payments recovered somewhat in later quarters to total 64 percent of all general-purpose card payments for the year 2020 (the blue line in the chart), a substantial drop from 72 percent in 2019.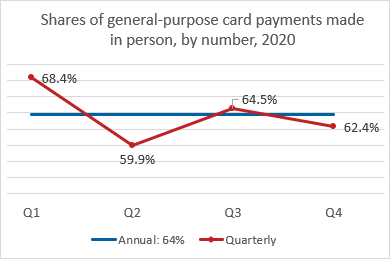 The December report, Developments in Noncash Payments for 2019 and 2020: Findings from the Federal Reserve Payments Study

, also contains quarterly data for depository institution accounts with digital wallet activity and with P2P activity using bank-sponsored apps.