About
---
Take On Payments, a blog sponsored by the Retail Payments Risk Forum of the Federal Reserve Bank of Atlanta, is intended to foster dialogue on emerging risks in retail payment systems and enhance collaborative efforts to improve risk detection and mitigation. We encourage your active participation in Take on Payments and look forward to collaborating with you.

Subscribe by E-mail

Subscribe by RSS
Comment Standards:
Comments are moderated and will not appear until the moderator has approved them.

Please submit appropriate comments. Inappropriate comments include content that is abusive, harassing, or threatening; obscene, vulgar, or profane; an attack of a personal nature; or overtly political.

In addition, no off-topic remarks or spam is permitted.
February 7, 2022
Data Privacy Legislation: Stuck on Pause?
How did you celebrate National Data Privacy Day on January 26? Oh, that celebration didn't make it onto your social calendar? Almost three years ago, I asked on this blog whether a federal privacy law would be passed in 2019. The short answer is no. Nor did a data privacy law pass in 2020 or 2021, despite numerous attempts by sponsors of both political parties. Some of the proposed bills provided comprehensive consumer protections for a business's use of personally identifiable information (PII). Others targeted specific elements of data privacy, such as requirements for businesses to protect data they collect or to notify customers in the event of a data breach.
It was thought that the European Union's passage of the General Data Privacy Regulation, or GDPR, which took effect in 2018, would spur federal activity in the United States. That same year, the state of California passed its comprehensive privacy law, the California Consumer Privacy Act. Some expected that Congress would head off state initiatives by passing federal laws to provide a consistent set of rights and responsibilities for all stakeholders. In the 117th US Congress, 30 data privacy/protection bills have been introduced, 12 in the House of Representatives and 18 in the Senate. Primary points of political disagreement have centered around preemption of state law and a private citizen's right to bring action against the offender rather than the enforcing governmental agency. No bill including either of these provisions has received bipartisan support. Social media platforms and their use of personal data have come under congressional scrutiny on several occasions over the last year with no formal action resulting from those hearings.
With little movement on the federal front, two states—Virginia and Colorado—followed California's lead in passing a comprehensive data privacy/protection law in 2021. Mississippi and Vermont recently introduced comprehensive data privacy legislation. Many other states have introduced some form of data privacy legislation addressing specific types of data such as healthcare or specific classes of people such as minors. The International Association of Privacy Protection

provides an excellent source for tracking federal and state privacy legislation and news about data privacy issues.
We will continue to monitor developments on this important issue. In the meantime, place a candle in your choice of dessert, change your password, and have a belated celebration of National Data Privacy Day.
January 25, 2021
Resolve for Better Data Privacy
On the heels of a year that saw, among other things, ransomware attacks occurring about every 11 seconds

and a significant supply chain breach

affecting 18,000 public and private entities, better data privacy should top our collective list of New Year's resolutions. But if this wasn't among our resolutions, we still have National Privacy Day

on January 28 to remind us of the need to be vigilant.
Frank Sinatra sang to us in "Love and Marriage" that you can't have one without the other. Likewise, you can't separate data privacy from data protection. Organizations that place a high value on data privacy implement strong data protection measures. Without doing so, privacy can't be assured.
The National Cyber Security Alliance

, sponsor of National Data Privacy Day, has created calls to action

employing a few basic privacy concepts that individuals and businesses can follow to keep data safe online.
For individuals: Own Your Privacy
Personal info is like money: Value it. Protect it. Beyond personally identifiable information, this extends to e-commerce purchases, IP address, and location.
Keep tabs on your apps. Don't just click "OK" on those pop-ups asking to access your location, contact lists, photos, and other personal data. Consider why it is needed and how it will be used and stored. Also, closely examine links and attachments in text messages and emails to keep malware and viruses off your mobile device.
Manage your privacy settings. Revisit the data access permissions on your apps and web services.
For businesses: Respect Privacy
If you collect it, protect it. Consider the data your business collects, the business purpose it serves, the way it is stored (such as data encryption), and the length of time it is stored.
Adopt a privacy framework. Establish a privacy culture in your organization that manages risk and promotes transparency.
Conduct an assessment of your data collection practices. Evaluate their adherence to applicable privacy regulations.
Remember that transparency builds trust. Promote transparency with customers in the collection, use, and sharing of their personal data.
Maintain oversight of partners and vendors. Ensure that third-party service providers share your priority for data privacy and protection.
As many of us will likely continue to work remotely well into 2021—and will likely continue our heavy use of the internet and e-commerce adopted last year—the new year provides a good opportunity to examine apps and behaviors that could put your data privacy at risk. For me, this includes reviewing locations where my payment information and other personal data are stored.
How will you resolve to better protect your data in 2021?
August 24, 2020
Facial Recognition Biometrics: Bruised but Still Standing
So far, 2020 has been a rocky year for facial recognition biometrics. In June, Amazon, Microsoft and IBM delivered a body blow, announcing

they would not sell their facial recognition software to law enforcement agencies. They cited a lack of accuracy, a potential for misuse or abuse, and the lack of federal privacy legislation to safeguard individual rights. Widespread use of facial masks due to the COVID pandemic dealt another punch. Masks have generally rendered facial recognition inoperable for any number of applications on mobile phones. The masks have also hobbled the Transportation Security Administration's plans to further automate passenger authentication and check-in processes. Will the technology be able to recover and go another round?
Unfortunately, there is a great deal of misinformation and misinterpretation of studies about the technology behind facial recognition and its use, particularly with regard to claims of racial and gender bias. Critics often point to a 2018 study by MIT and Microsoft researchers in which three facial classification algorithms misclassified the gender of light-skinned males at a rate of less than 1 percent but darker-skinned females as high as 34 percent. Critics of facial biometrics technology have pointed to the research as evidence of bias against various minority groups.
It is important to note that "gender classification" is a very different from "facial recognition," although they are often lumped together in the media. In a gender classification process, a digital facial image of an individual is captured and processed through an algorithm that determines whether the image is that of a male or female. Numerous studies have shown that the accuracy of such classification systems is largely based on the database of images being used to "train" the algorithm—that is, to teach it to properly classify an image. The smaller the database, the less accurate the classification.
In a facial recognition process, the digital image captured by the camera is compared using a recognition algorithm to see if it matches the individual's image in a database or on their identification document. While the top performing algorithms are highly accurate, studies have found that results can vary based on lighting, camera definition, viewing angle, and other factors. While most people think facial recognition is new technology, the casino industry has used it to identify banned players since the 1990s.
In a future post, I will discuss the findings of the National Institute of Standards and Technology in its 2020 evaluation of more than 200 facial recognition algorithms. The promising news is that the top performing algorithms showed no discernible bias.
While there are certainly privacy and other issues connected to facial recognition and other biometric technologies, I believe objective education and discussions can address these issues. So I think the technology is not on the ropes but is ready to go another couple of rounds.
April 27, 2020
My Internet Journey of Self-Discovery
I don't know how many times my social security number has been compromised, much less any other personally identifiable information (PII). Knock on wood, so far I have avoided identity theft, synthetic or otherwise. I have taken all of the recommended steps to protect myself—I get fraud alerts on my credit reports, I've implemented identity monitoring, and so forth. However, given that hackers frequently sell stolen data online, I fear my social security number lingers on the dark web in perpetuity, waiting to be compromised at any time. My curiosity being what it is, I set off on the interwebs to see what I could find.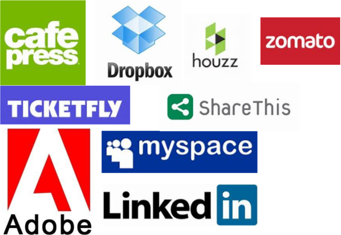 An internet search string asking "How many times has my personal data been breached?" returned some interesting results. According to the website Have I Been Pwned?

, a searchable repository of data breaches, my personal email address has been breached at least a dozen times going back to 2008. Not all these instances were known to me—I do not recall having a MySpace page! I have also been notified of other breaches that were not listed here, including from financial services companies and medical providers, so the number is surely higher.
I was surprised to learn that my email address was discovered in multiple credential stuffing

lists, including "Collection #1," a large collection of credential stuffing lists discovered in January 2019. According to Have I Been Pwned, 773 million unique email addresses and passwords were included. Credential stuffing is an automated cyberattack where criminals attempt to gain fraudulent access to user accounts through use of these types of collections of user names and passwords. On the bright side, if there is one, the website indicated that none of my information had been "pasted," meaning posted on public content-sharing websites frequented by hackers. For over a decade, I have used a password vault to generate and store all of my user profiles and account logins and currently have over 200 different records. I do not reuse passwords, especially for profiles that have payments instruments tied to them, and I believe this practice has provided some measure of protection from this type of activity.
The next stop on my journey was the credit bureau to see what else I could learn about the state of my PII. Experian offers consumers a free "Dark Web Internet Surveillance Report." Although five associated records were located, according to this source, my social security number is currently not on the dark web.
My identity protection monitoring service was the final stop to review my digital exposure report on information about me found on the internet. Relief! My exposure is consistent with the reports from the other sources.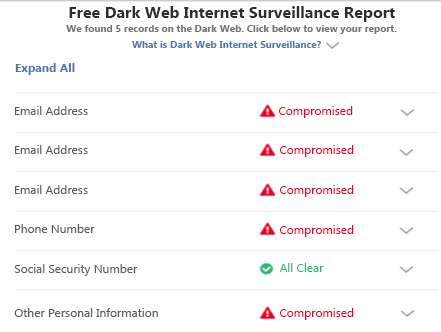 I would rate myself as average in terms of my digital footprint and doubt my internet habits differ from most people's. I doubt my breach experience differs much, either, but from this journey, I've discovered that the safeguards I have in place to protect my personal information seem to be working. Have you taken an internet journey to discover where your personal information may reside? What steps have you taken to ensure your identity remains safe?