About
---
Take On Payments, a blog sponsored by the Retail Payments Risk Forum of the Federal Reserve Bank of Atlanta, is intended to foster dialogue on emerging risks in retail payment systems and enhance collaborative efforts to improve risk detection and mitigation. We encourage your active participation in Take on Payments and look forward to collaborating with you.

Subscribe by E-mail

Subscribe by RSS
Comment Standards:
Comments are moderated and will not appear until the moderator has approved them.

Please submit appropriate comments. Inappropriate comments include content that is abusive, harassing, or threatening; obscene, vulgar, or profane; an attack of a personal nature; or overtly political.

In addition, no off-topic remarks or spam is permitted.
January 27, 2020
Mobile Banking Nearing Ubiquity
In June 2019, eight Federal Reserve districts,1 led by the Federal Reserve Bank of Boston's Payment Strategies Group, surveyed financial institutions (FI) based in their respective districts about their current and planned mobile banking and mobile payment service offerings. The survey defined mobile banking as the use of a mobile phone to connect to a financial institution to access bank or credit account information (including to view balances), transfer funds between accounts, pay bills, set up account alerts, locate ATMs, deposit checks, and more. The term mobile payments described the use of a mobile phone to pay at the point of sale, remotely for a retail item (or items) using near field communication or a quick response code, or via mobile app or web for digital content, goods, or services (such as transit, parking, or ticketing).
You can find the full 2019 Mobile Financial Services Survey report, including the survey questionnaire, on the Boston Fed website

. This collaborative survey effort previously took place in 2014

and 2016

.
The survey found that 96 percent of the respondents currently offered or planned to offer mobile banking services. (As expected, most of the respondents who indicated they had no plans to offer mobile banking—18 of the 23—were the smallest FIs [those with assets under $50 million]). Support for mobile payment services had increased significantly since the 2016 survey, going from 24 percent to 43 percent in 2019, with an additional 26 percent planning to support mobile payments within two years.
Especially interesting to me were the responses to a new survey question regarding FIs' plans to issue contactless payment cards. Many of the largest FIs began issuing contactless cards in 2019. The survey found that while only 5 percent of respondents were issuing contactless cards, 21 percent plan to do so within two years and an additional 18 percent plan to issue them in the next two to five years. As the chart shows, although nearly two-thirds of the smallest FIs indicated no plans to offer a contactless card, a relatively high percentage (43%) of the larger FIs also indicated no plans to do so. I am curious to see how these plan responses change, if any, in future surveys.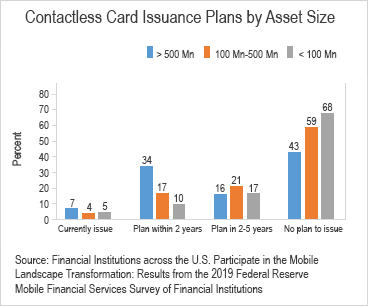 A total of 504 financial institutions responded—337 banks and 167 credit unions (CUs)—which represented 6 percent of all banks and 3 percent of all CUs in the United States. It is important to note that none of the top 100 banks by asset size and only four of the top 100 CUs by asset size are included in the survey. Almost half of the responding CUs have assets under $100 million. The distribution of survey respondents (displayed in the chart below) helps us better understand the development of mobile financial services in the mid- and small-sized FIs.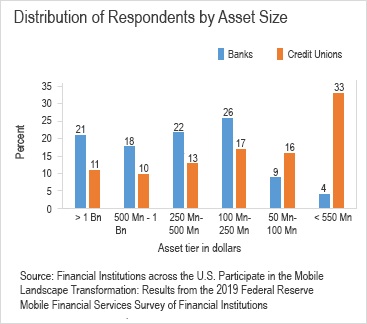 The Boston Fed's Payment Strategies Group will present a webinar on the full survey report later this year. We will be sure to keep Take On Payments readers apprised of those plans. In the meantime, if you have any questions regarding the survey or the results, please be sure to contact me.
1Atlanta, Boston, Cleveland, Kansas City, Minneapolis, Philadelphia, Richmond, and San Francisco
January 6, 2020
Phone Payment Bingo
Let's play a game of mobile payments bingo. Say yes to all five and you win!
In the last three days, did you use your mobile phone to:

Do your answers to these questions give you the idea that you are using your phone more and more to pay? If so, you're in line with the latest results from the Diary of Consumer Payment Choice.
As you can see below, using a phone to pay—especially to pay bills and other people—has increased as a share of payments in recent years. More payments are being made with phones.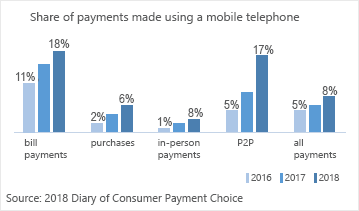 In October 2016, 11 percent of bill payments were made via mobile phone; in 2018, 18 percent.
In October 2016, 5 percent of payments to another person were made via mobile phone, in 2018, 17 percent.
The Diary of Consumer Payment Choice records the daily payments behavior of U.S. consumers 18 and older. Consumers report not only whether or not they used a mobile phone but also if they used a computer or tablet—either remotely or in person—or snail mail to pay. They record the dollar amount of the payment, the payment instrument used (for example, cash, debit card), and the purpose or payee (utilities, grocery store). These consumer behavior data can be analyzed in the context of household income and demographic attributes.
You can read the full report online and download the data for analysis.
By the way, I couldn't complete my bingo card. My answers:
No.
Yes, 34-pound bag of dog food (using the web browser on my phone).
Yes, coffee from my local barista (using a QR code).
No.
Yes, see my answers #2 and #3.
How about you? Did you win?
December 9, 2019
Payments in Review: A Webinar
Whether you are out dipping your payment card at a store, waiting in line behind a check writer, trying to look like you're working while you shop online for last-minute gifts using your digital wallet, or just always looking for more information about payments, grab your headphones for the last Talk About Payments webinar of 2019. On December 19, the Retail Payments Risk Forum team continues its tradition of discussing what we consider to be the significant payments events and issues of the year. We invite financial institutions, retailers, payments processors, law enforcement officials, academics, and other payments system stakeholders to participate.
The webinar 2019: Payments in Review features a live roundtable discussion with payments risk experts Doug King, Dave Lott, and Jessica Washington. You will be able to see how your reflections on 2019 payment events compare to the Risk Forum's perspectives and reflections on the year. To liven up the party, polling questions and real-time questions and comments will let you engage with the speakers.
Last year ended with increasing momentum in technology research and development—distributed ledger technology, contactless, machine learning—which continued into 2019, mixed with the some of the largest fintech mergers and acquisitions the industry has seen. Faster payments started taking new forms with added interest from industry stakeholders. The fight against payments fraud also changed shape during 2019, with some new collaborations and methods worth mentioning. Fintech is surely to be discussed along with other topics such as the proliferation of digital payment methods versus the state of cash.
Find out what you might need to consider as you promote safer payments innovation in the coming year.
The webinar will happen on Thursday, December 19, from 1 to 2 p.m. (ET). Participation is free, but you must register in advance

. Once you register, you will receive a confirmation email with the log-in and toll-free call-in information. A recording of the webinar will be available to all registered participants in various formats within a couple of weeks after the event.
We look forward to you joining us on December 19 and sharing your perspectives on the payment events that took place in 2019.
October 7, 2019
Payments Webinar October 10: Cash in the 21st Century
As I write this, I am drinking my morning cup of joe. For me, that means half caf/half decaf, then cut in half with microwaved nonfat milk. (Slurp.)
Day in, day out, I want it just that way. No sugar for me. Nonfat milk, not 2 percent. Black only when I open the door to an empty fridge.
Odds are, you're like me when it comes to coffee and payments. Your habits—and mine—are sticky. We've found something that works for us and—day in, day out—we take our coffees and choose to pay the same way. These are our preferences.
What happens when we change our minds about what we prefer? Shaun O'Brien at the San Francisco Fed has been looking into the relationship between our stated preferences for making in-person purchases and the payment instruments we use in the moment.
In an economic model that incorporates consumer demographics, household income, transaction characteristics, and the payee, Shaun finds that, over time, a change in stated preference eventually results in an increased probability of using a newly preferred payment instrument.
Note that word eventually.
For example, say I stated a preference for cash in 2016 and then switched to a stated overall preference for debit card in 2017. It might not be until 2018 that you would start to see a small change in my mix of payments, with relatively less use of cash and more of debit. Like a coffee habit, my preferred payments habit is slow to change. (Keep in mind that, as I have blogged previously, preference is one of a number of factors that are important, including, for example, what a payee is willing to accept.)
Whatever your morning beverage, I hope you'll join Shaun, the Atlanta Fed's Oz Shy, and me for the next Talk About Payments webinar, October 10, 2019.
We'll look at current data from the Survey and Diary of Consumer Payment Choice and new research—including Shaun's findings reported above—to investigate the 5 Ws and also the How of cash:
WHAT is happening with cash?
WHO uses cash?
WHERE do consumers use cash?
WHEN do consumers use cash?
WHAT might cause cash users to switch to another payment method?
HOW do consumers get cash?
This webinar is open to the public but you must register in advance to participate. (Registration is free.) You can register online
. Once registered, you will receive a confirmation email with login and call-in information.
Date: Thursday, October 10, 2019
Time: 1–2 p.m. (ET)
Register now!