About
---
Take On Payments, a blog sponsored by the Retail Payments Risk Forum of the Federal Reserve Bank of Atlanta, is intended to foster dialogue on emerging risks in retail payment systems and enhance collaborative efforts to improve risk detection and mitigation. We encourage your active participation in Take on Payments and look forward to collaborating with you.

Subscribe by E-mail

Subscribe by RSS
Comment Standards:
Comments are moderated and will not appear until the moderator has approved them.

Please submit appropriate comments. Inappropriate comments include content that is abusive, harassing, or threatening; obscene, vulgar, or profane; an attack of a personal nature; or overtly political.

In addition, no off-topic remarks or spam is permitted.
January 18, 2022
Pandemic's Arrival Spurred Change in Payments Behavior
Cast your mind back to spring 2020, the early months of the COVID-19 pandemic. With my apologies for the bad flashback, did you change how and where you shopped that spring? Maybe you ordered groceries online for the first time. Maybe you decided to skip browsing at your favorite clothing store. Maybe you exchanged eating out for ordering in.
You can see glimmers of your behavior—and that of consumers and businesses here in the United States—by looking at fluctuations in the mix of credit and debit card payments made remotely and in person in spring 2020.
Perhaps you remember making fewer in-person payments in spring 2020 because you were reluctant to be out and about, you worked at home, or businesses were closed. The Federal Reserve Payments Study

(FRPS) recently reported that the number of in-person card payments dropped 19 percent from the first quarter of 2020 to the second.
Perhaps you moved some shopping online. The number of remote payments (including purchases and bills) was up 18 percent from Q1 to Q2 2020. You can see the combined effect of these changes in the chart below. As a percentage of general-purpose card payments by number, in-person payments dropped from more than 68 percent in the first quarter to less than 60 percent in Q2 (shown by the red line in the chart below).
In-person payments as a share of all card payments recovered somewhat in later quarters to total 64 percent of all general-purpose card payments for the year 2020 (the blue line in the chart), a substantial drop from 72 percent in 2019.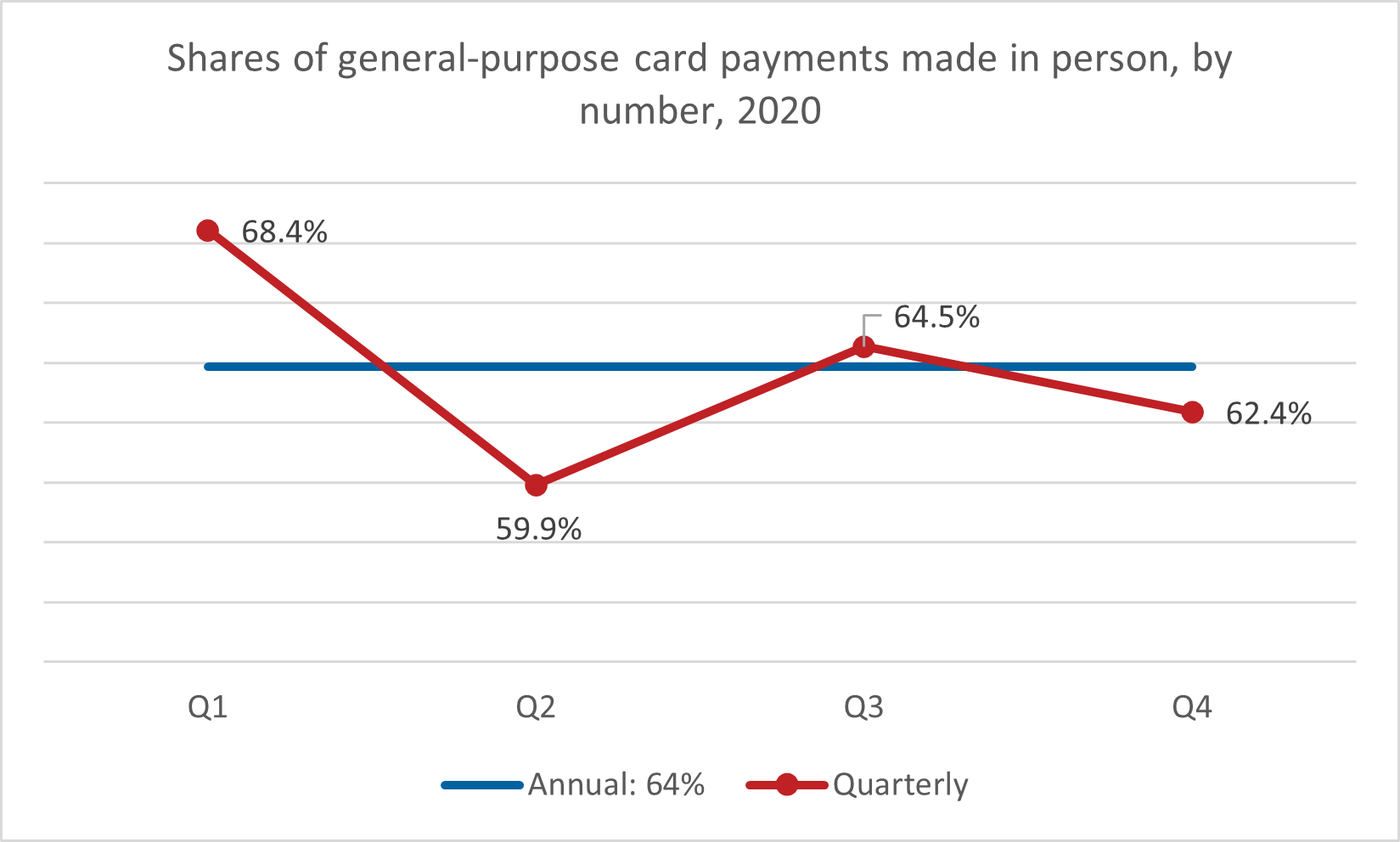 The December report, Developments in Noncash Payments for 2019 and 2020: Findings from the Federal Reserve Payments Study

, also contains quarterly data for depository institution accounts with digital wallet activity and with P2P activity using bank-sponsored apps.
December 27, 2021

Federal Reserve Payments Study Finds Effects of the Pandemic in US Payments

It's the week before the New Year, and we promised not to post this week. But I can't resist letting you know that a new report from the Federal Reserve Payments Study reports quarterly data related to the effects of the COVID-19 pandemic on US payments. This is interesting and important news, so I'm breaking the holiday hiatus.

Developments in Noncash Payments for 2019 and 2020: Findings from the Federal Reserve Payments Study, on the Federal Reserve's website

, includes new information about core noncash payments and some evolving areas of payments:
While data from 2019 largely show a continuation of past payment trends, with card and ACH both gaining share at the expense of check, 2020 data show that payment behavior changed sharply with the COVID-19 pandemic, with ACH gaining substantially as a share of noncash payments by both number and value.
The share estimates combined with other information imply that ACH was the only one of the three core payment systems to grow by number in 2020.
The total number of card payments declined in 2020, driven by a marked decline of in-person card payments. This was the first annual decline in the number of card payments recorded by the payments study.
As in-person card payments dropped in spring 2020, remote card payments took up much of the slack. Later in the year, in-person card payments recovered somewhat.
The pandemic may have helped spur growth of innovative payment methods, such as in-person contactless card, digital wallet, and person-to-person (P2P) payments.


- First-time use of bank-sponsored P2P payments spiked in the second quarter of 2020, a time of business closures and stay-at-home orders.

- First-time use of digital wallets was highest in the third quarter, when some restrictions on in-person shopping were lifted. When used with a mobile device, a digital wallet provides a low-touch option for in-person card payments.
The report covers card (credit, non-prepaid debit, and prepaid debit), ACH, and check payments.
Go to the Federal Reserve's website

to see other findings.
Happy new year! We look forward to continuing the payments conversation with you in January 2022!
January 4, 2021
Two Sides of the Same Story: Electronic P2P Growth in the 2010s
My colleague, T, got married last month. To celebrate, our group at the Atlanta Fed offered best wishes over a video chat and chipped in on a gift. Dispersed to home offices in Georgia, Alabama, Tennessee, and Massachusetts, here's how we anted up:
62 percent used a P2P payment app
25 percent paid with a paper check
13 percent paid with cash
The two-thirds of us who chose an electronic way to pay seem to be aligned with the zeitgeist. For the third quarter of 2020, various P2P payment apps reported strong growth in payment volume. These results could be due to recommendations to social distance that have us worried about getting close enough to a payee to hand over the payment.
Even before COVID-19, however, P2P services were taking off in the United States. During the latter half of the 2010s, Fed survey data show the growth of electronic P2P from the perspectives of both the financial services side and the consumer side of payments execution.
First, the financial services side. According to the Federal Reserve Payments Study

(FRPS), the number of noncash payments through person-to-person and money transfer (P2P&MT) services more than doubled from 2015 to 2018, increasing from 397 million to 841 million (25 percent year-over-year growth). Most of the growth came from payments initiated from websites and apps on mobile devices. Mobile P2P, for example, was up 275 percent over the three-year period. This category aggregates data from the various P2P services to give a picture of all U.S.-domiciled P2P and MT transfers handled by the covered providers but overlooks similar transactions internal to a depository institution or not made on a named P2P or MT system.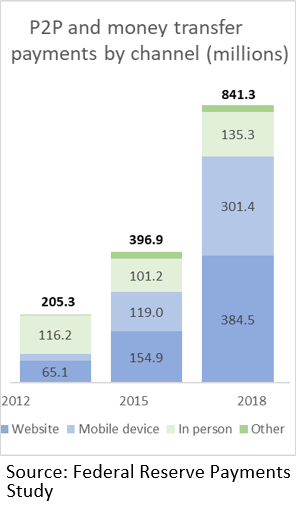 When we think of P2P, splitting the bill at a restaurant comes to mind. The average value of these payments reported in the FRPS, however, tells a different story. The average value of P2P payments drifted down from $446 in 2012 to $349 in 2015 to $246 in 2018—still quite high for a bite to eat. Other uses, such as providing financial support to a family member, repaying a roommate for a portion of the rent, or paying a household employee, are likely important, although smaller-value payments are increasing.
Second, the consumer side. Data from the Survey of Consumer Payment Choice (SCPC) show the whole wallet—that is, cash, paper check, and money order as well as card and digital payments from an account. Consumers also report multiple cards and accounts from (potentially) multiple providers, giving context for payment choice and, like the FRPS, aggregating information from multiple industry sources. As recently as 2017, the SCPC found that 71 percent of consumers' P2P payments were made with a paper payment instrument (cash, check, or money order). By 2019, the share of paper P2P had dropped to 55 percent. One-quarter of P2P payments were comprised of digital payments from an account, which are initiated through online banking by providing a routing and account number to the payee, or through an app such as PayPal, Venmo, or Zelle (which themselves may be executed by a card, ACH payment, or balance stored in a digital wallet). The increase in digital payments from an account and the sharp decline in paper payments reinforces what we've already seen from the financial services providers.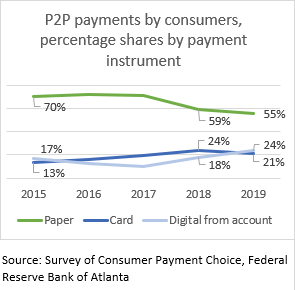 To learn more about these data on your own, check out the detailed data release

of the 2019 Federal Reserve Payments Study or play around with the interactive charts to the Survey of Consumer Payment Choice.
June 22, 2020
United Kingdom Extends Consumer Protection
A key element of a faster payments system is the finality of payment. Once the payer sends the payment (called an authorized push payment, or APP), it's pretty much gone for good. This finality provides a number of valuable benefits to both sender and receiver. But what if the sender has been deceived into authorizing a payment or simply makes an error in the payment destination instructions? In a March 2020 post, I discussed the growing concern in the United Kingdom about consumer liability for APPs. That concern resulted in regulatory action offering potential liability relief to consumers deceived into making such payments.
In an APP scam, a payer is tricked into transferring funds to a fraudster through an electronic payment. We have written in previous posts (including this one) about these advance fee scams; they involve people getting a call notifying them that they've won a lottery or owe delinquent tax payments, or they are asked by someone they've met through a dating site or service to send money. In the United States, once consumers have authorized such transactions, they are generally not protected from these losses by existing consumer protection regulations.
However, in the United Kingdom, the incidence rate for these APP scams reached such a level in 2017 that banking authorities took action. The financial services trade association UK Finance

began collecting APP scam-fraud data and in January 2018 produced a best practices standards document to improve the identification and reporting of APP scams. The trade association noted that for 2019, losses from APP scams were £456 million (approximately US$581 million), compared to £354.3 million (approximately US$468.7 million) in 2018.
Also in 2018, the Financial Conduct Authority (FCA)—the United Kingdom's financial services regulator—began a series of regulatory changes intended to provide consumers with additional rights in APP disputes. Initially, APP fraud claims were directed to the consumer's financial institution, a payment service provider (PSP). The FCA concluded that the PSP receiving the funds was in a better position to investigate the situation and changed its guidelines to mandate including the receiving PSP in the investigation process.
The biggest shift occurred in May 2019, when the FCA launched a voluntary code

regarding APP scams. The code, according to the industry group UK Finance

, says that "any customer of a bank or payment service provider (PSP) which is signed up to the Code will be fully reimbursed if they fall victim to an APP scam, provided they did everything expected of them under the Code." Under the code, a PSP is deemed to be at fault if it has not developed prevention (customer education) and detection programs. Although the code is labeled "voluntary," all the major U.K banks have been required to adopt it. There continue to be efforts in the British Parliament to mandate that all financial institutions, regardless of asset size, adopt the code.
In 2019, there were a reported 122,437 cases of APP fraud reported in the United Kingdom. These cases, which totaled £101 million in losses, were reviewed under the provisions of the code. Of that total, £41.3 million, or 41 percent, was reimbursed to the consumer. My reading of the code makes it seem very subjective; it appears that if the victim didn't believe it was a scam at the time they initiated the payment, they should be reimbursed. The FCA documents concede that there isn't a specific checklist to make such a determination but that each case should be decided on an individual basis—a compliance official's worst nightmare.
In an effort to preempt an unauthorized APP from taking place, the United Kingdom's retail payment operator (Pay.UK) introduced its Confirmation of Payee

service in 2019. This service checks whether or not the payee name attached to the APP is the same name on the account receiving the payment. Originally mandated to be operational by July 2019, the deadline for adoption by the six major banks was extended to March 31, 2020. Then, because of the COVID-19 pandemic impact, the deadline was again extended, this time to June 30, 2020, although some of the big banks have already implemented the service.
As APPs gain popularity in the United States with faster payments and P2P services, what is the likelihood that similar protections will be extended to consumers here? Let us know what you think.