About
---
Take On Payments, a blog sponsored by the Retail Payments Risk Forum of the Federal Reserve Bank of Atlanta, is intended to foster dialogue on emerging risks in retail payment systems and enhance collaborative efforts to improve risk detection and mitigation. We encourage your active participation in Take on Payments and look forward to collaborating with you.

Subscribe by E-mail

Subscribe by RSS
Comment Standards:
Comments are moderated and will not appear until the moderator has approved them.

Please submit appropriate comments. Inappropriate comments include content that is abusive, harassing, or threatening; obscene, vulgar, or profane; an attack of a personal nature; or overtly political.

In addition, no off-topic remarks or spam is permitted.
March 27, 2023
Post-COVID, Canadian Merchants Stay Committed to Cash
New research from Bank of Canada

reveals what merchants in North America were doing vis-à-vis cash and card acceptance in the post-COVID environment of 2021–22. The payments market in Canada differs from the United States, of course, with far fewer financial institutions and different pricing for payment cards. Still, we can learn from this study of small and medium-sized merchants, defined as independently owned and operated merchants with brick-and-mortar operations and fewer than 50 employees.
The telephone survey of about 500 retail, food, and services businesses found that cash is accepted by almost every small and medium-sized business at the point of sale. In addition, card acceptance has increased. Before COVID, two-thirds of the merchants accepted debit cards; after, almost 90 percent. The shares are the same for credit cards.
The smallest businesses, with zero to five employees, changed most during the COVID pandemic. In 2018, 31 percent of these businesses accepted only cash. This share declined sharply to 10 percent in 2021–22. I think this notable change could be due not only to the physical distancing constraints imposed by the COVID pandemic, but also to fintech innovations making it easier and less expensive for the smallest businesses to accept digital payments. That is, the constraints coupled with timely innovations to create an opportunity for growth.
The survey shows increasingly widespread adoption of multiple digital payments methods by the small and medium-sized merchants. In addition to debit and credit cards, 60 percent accept electronic transfers through an account-to-account transfer system (Interac e-Transfer

) and 43 percent take mobile payments.
Prospectively, the survey of merchants indicates cash is not going away anytime soon. Ninety-two percent say they expect to continue accepting cash at the in-person point of sale. Just 3 percent said they are already cashless and plan to remain so for the near future.
For more on the effects of COVID-19 on payment behaviors in the United States, read my Atlanta Fed paper with Joanna Stavins and Ellen Merry, "Has COVID Changed Consumer Payment Behavior?
"
March 13, 2023
Instant Payments and the Challenges of Inclusive Product Design
True confessions: I recently played around with a popular weight-loss app, but I didn't bear up so well under feedback that I'll call—for lack of a better term—negative reinforcement.
Problem: Too many of my foods are in the red zone. Whole milk! Olive oil! A teeny tiny piece of chocolate! Since apparently my eating habits were such a mess, I figured there was no hope. Less than a week in, that app was history.
My experience reminds me of recent work on product design and payments inclusion. Could it be that my whole milk and chocolate are the equivalent in payments of anonymity and low cost? I want both my preferred foods and help to eat healthily. Many consumers, including unbanked consumers, also want two things: the features of cash (anonymity and low cost among them) and help to pay and budget using 21st-century tools.
Data from the Federal Deposit Insurance Corporation

and the Survey and Diary of Consumer Payment Choice

(SDCPC) show that we are not there yet. Each data source finds low rates of adoption of P2P apps, among unbanked households for the FDIC and among unbanked individuals for SDCPC.
This finding is eerily familiar. In 10 years of investigating consumer payments, I've seen a lot of ideas for bringing everyone in the United States into the 21st-century payment system. Especially for US adults without bank accounts, various solutions with seemingly great potential come along and then are just okay. Mobile. Apps. Basic banking. Consumer education. No strikeouts, no home runs.
I'm sure you can think of lots of reasons for these just-okay results: cost (or perceived cost), inconvenient access without a bank account, lack of trust, low adoption rates of smartphones for some groups. But what about product design? One expert, speaking on a 2021 San Francisco Fed podcast episode, said that low-income people have been treated as "secondary users to products that were designed for other people in mind."
Today, with Real-Time Payments and the FedNow Service, we're on the cusp of a new opportunity to make payments accessible for all. The US Faster Payments Council

is advising that products be designed not only to meet the needs of early adopters and existing customers but also to meet the financial lives of the underserved. In other words, treat underserved people as primary users with particular preferences and needs, just as you would treat early adopters and current account holders. For the underserved, faster payments providers should "design for people with tight budgets," include features to ease administrative tasks, and provide mobile-first access, among other recommendations.
Most importantly, providers should include the users in the design process. As a payments innovator

said to me last year, "When it comes to product design, you can't assume you know what someone wants without doing the work." As I learned from the experts at ,Commonwealth

, which offers a toolkit

for inclusive product design: design with people, not for people.
What's your organization doing to make instant payments work for everyone? I'm looking for case studies on this topic. Please be in touch if I can learn from you.
November 14, 2022
When Speed and Acceptance Collide
Sometimes a person gets cornered into writing a paper check. Today, that person is me.
My final payment for a vacation rental is due this coming Friday. The rental starts in five days, on Saturday. But since the payee is a person, my online banking bill pay won't get the check there until the following Monday: three days late and two days after my check-in.
I'm cornered because two circumstances are colliding. (1) I absolutely, positively have to get the payment there by Friday. (2) My longtime landlord doesn't accept payment via p2p apps or cards. My preference for speed is in conflict with my landlord's preference for paper. And in a two-sided market, like payments, each side has to agree on how to conduct a transaction.
These circumstances call for 18th century technology: it's time to write a paper check. Cue quill pen and ink bottle, cue envelope, cue sleeve protectors, cue stamp.
My initial choice of online banking bill pay is what you would expect given new data from the 2021 Survey and Diary of Consumer Payment Choice, released in mid October. These data show that while the prevalence of checks has declined, they are still used.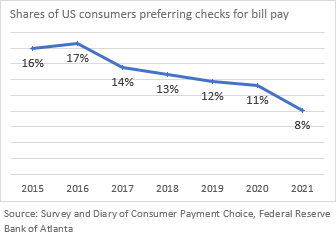 On the "decline" side:
The shares of consumers who prefer to use checks to pay bills dropped from 17 percent in 2016 to 8 percent in 2021.
In 2020, checks were 19 percent of bill payments by number and 23 percent by value. This dropped to 12 percent by number and 12 percent by value in 2021.
In the past 30 days ending in October 2021, more consumers used online banking bill pay (51 percent) than used a paper check (46 percent).
On the "still used" side:
The average dollar value of check payments per consumer in October 2021 was $550.
The average consumer wrote about two checks in October 2021.
The share of consumer with paper checks on hand—three quarters of all consumers—has remained constant since 2019.
In combination, these data say that, sometimes when you're cornered, nothing says speed and acceptance like a paper check.
So while I go off on vacation in my paid-off rental, you can investigate the adoption and use of other payment instruments, as well as consumer ratings and preferences, at the data release of the Survey and Diary of Consumer Payment Choice.
January 31, 2022
Quarterly Payments Data for 2020 Reflect Pandemic's Early Impact
Cast your mind back to spring 2020, the early months of the COVID-19 pandemic. With my apologies for the bad flashback, did you change how and where you shopped that spring? Maybe you ordered groceries online for the first time. Maybe you decided to skip browsing at your favorite clothing store. Maybe you exchanged eating out for ordering in.
You can see glimmers of your behavior—and that of consumers and businesses here in the United States—by looking at fluctuations in the mix of credit and debit card payments made remotely and in person in spring 2020.
Perhaps you remember making fewer in-person payments in spring 2020 because you were reluctant to be out and about, you worked at home, or businesses were closed. The Federal Reserve Payments Study

(FRPS) recently reported that the number of in-person card payments dropped 19 percent from the first quarter of 2020 to the second.
Perhaps you moved some shopping online. The number of remote payments (including purchases and bills) was up 18 percent from Q1 to Q2 2020.
You can see the combined effect of these changes in the chart below. As a percentage of general-purpose card payments by number, in-person payments dropped from more than 68 percent in the first quarter to less than 60 percent in Q2 (shown by the red line in the chart below).
In-person payments as a share of all card payments recovered somewhat in later quarters to total 64 percent of all general-purpose card payments for the year 2020 (the blue line in the chart), a substantial drop from 72 percent in 2019.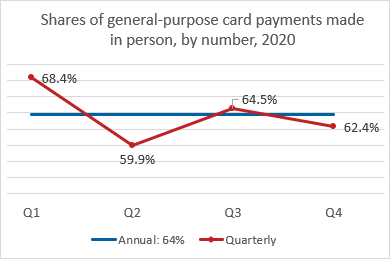 The December report, Developments in Noncash Payments for 2019 and 2020: Findings from the Federal Reserve Payments Study

, also contains quarterly data for depository institution accounts with digital wallet activity and with P2P activity using bank-sponsored apps.