About
---
Take On Payments, a blog sponsored by the Retail Payments Risk Forum of the Federal Reserve Bank of Atlanta, is intended to foster dialogue on emerging risks in retail payment systems and enhance collaborative efforts to improve risk detection and mitigation. We encourage your active participation in Take on Payments and look forward to collaborating with you.

Subscribe by E-mail

Subscribe by RSS
Comment Standards:
Comments are moderated and will not appear until the moderator has approved them.

Please submit appropriate comments. Inappropriate comments include content that is abusive, harassing, or threatening; obscene, vulgar, or profane; an attack of a personal nature; or overtly political.

In addition, no off-topic remarks or spam is permitted.
January 4, 2021
Two Sides of the Same Story: Electronic P2P Growth in the 2010s
My colleague, T, got married last month. To celebrate, our group at the Atlanta Fed offered best wishes over a video chat and chipped in on a gift. Dispersed to home offices in Georgia, Alabama, Tennessee, and Massachusetts, here's how we anted up:
62 percent used a P2P payment app
25 percent paid with a paper check
13 percent paid with cash
The two-thirds of us who chose an electronic way to pay seem to be aligned with the zeitgeist. For the third quarter of 2020, various P2P payment apps reported strong growth in payment volume. These results could be due to recommendations to social distance that have us worried about getting close enough to a payee to hand over the payment.
Even before COVID-19, however, P2P services were taking off in the United States. During the latter half of the 2010s, Fed survey data show the growth of electronic P2P from the perspectives of both the financial services side and the consumer side of payments execution.
First, the financial services side. According to the Federal Reserve Payments Study

(FRPS), the number of noncash payments through person-to-person and money transfer (P2P&MT) services more than doubled from 2015 to 2018, increasing from 397 million to 841 million (25 percent year-over-year growth). Most of the growth came from payments initiated from websites and apps on mobile devices. Mobile P2P, for example, was up 275 percent over the three-year period. This category aggregates data from the various P2P services to give a picture of all U.S.-domiciled P2P and MT transfers handled by the covered providers but overlooks similar transactions internal to a depository institution or not made on a named P2P or MT system.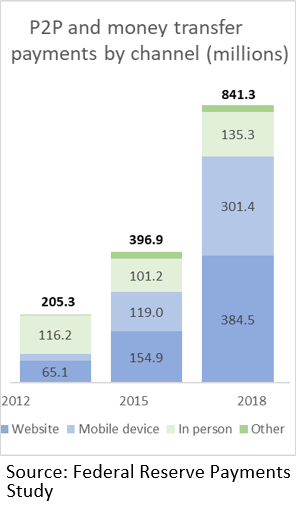 When we think of P2P, splitting the bill at a restaurant comes to mind. The average value of these payments reported in the FRPS, however, tells a different story. The average value of P2P payments drifted down from $446 in 2012 to $349 in 2015 to $246 in 2018—still quite high for a bite to eat. Other uses, such as providing financial support to a family member, repaying a roommate for a portion of the rent, or paying a household employee, are likely important, although smaller-value payments are increasing.
Second, the consumer side. Data from the Survey of Consumer Payment Choice (SCPC) show the whole wallet—that is, cash, paper check, and money order as well as card and digital payments from an account. Consumers also report multiple cards and accounts from (potentially) multiple providers, giving context for payment choice and, like the FRPS, aggregating information from multiple industry sources. As recently as 2017, the SCPC found that 71 percent of consumers' P2P payments were made with a paper payment instrument (cash, check, or money order). By 2019, the share of paper P2P had dropped to 55 percent. One-quarter of P2P payments were comprised of digital payments from an account, which are initiated through online banking by providing a routing and account number to the payee, or through an app such as PayPal, Venmo, or Zelle (which themselves may be executed by a card, ACH payment, or balance stored in a digital wallet). The increase in digital payments from an account and the sharp decline in paper payments reinforces what we've already seen from the financial services providers.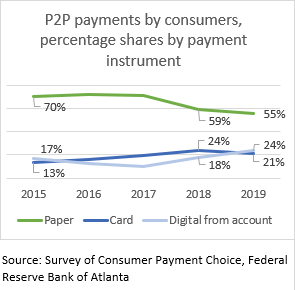 To learn more about these data on your own, check out the detailed data release

of the 2019 Federal Reserve Payments Study or play around with the interactive charts to the Survey of Consumer Payment Choice.
June 22, 2020
United Kingdom Extends Consumer Protection
A key element of a faster payments system is the finality of payment. Once the payer sends the payment (called an authorized push payment, or APP), it's pretty much gone for good. This finality provides a number of valuable benefits to both sender and receiver. But what if the sender has been deceived into authorizing a payment or simply makes an error in the payment destination instructions? In a March 2020 post, I discussed the growing concern in the United Kingdom about consumer liability for APPs. That concern resulted in regulatory action offering potential liability relief to consumers deceived into making such payments.
In an APP scam, a payer is tricked into transferring funds to a fraudster through an electronic payment. We have written in previous posts (including this one) about these advance fee scams; they involve people getting a call notifying them that they've won a lottery or owe delinquent tax payments, or they are asked by someone they've met through a dating site or service to send money. In the United States, once consumers have authorized such transactions, they are generally not protected from these losses by existing consumer protection regulations.
However, in the United Kingdom, the incidence rate for these APP scams reached such a level in 2017 that banking authorities took action. The financial services trade association UK Finance

began collecting APP scam-fraud data and in January 2018 produced a best practices standards document to improve the identification and reporting of APP scams. The trade association noted that for 2019, losses from APP scams were £456 million (approximately US$581 million), compared to £354.3 million (approximately US$468.7 million) in 2018.
Also in 2018, the Financial Conduct Authority (FCA)—the United Kingdom's financial services regulator—began a series of regulatory changes intended to provide consumers with additional rights in APP disputes. Initially, APP fraud claims were directed to the consumer's financial institution, a payment service provider (PSP). The FCA concluded that the PSP receiving the funds was in a better position to investigate the situation and changed its guidelines to mandate including the receiving PSP in the investigation process.
The biggest shift occurred in May 2019, when the FCA launched a voluntary code

regarding APP scams. The code, according to the industry group UK Finance

, says that "any customer of a bank or payment service provider (PSP) which is signed up to the Code will be fully reimbursed if they fall victim to an APP scam, provided they did everything expected of them under the Code." Under the code, a PSP is deemed to be at fault if it has not developed prevention (customer education) and detection programs. Although the code is labeled "voluntary," all the major U.K banks have been required to adopt it. There continue to be efforts in the British Parliament to mandate that all financial institutions, regardless of asset size, adopt the code.
In 2019, there were a reported 122,437 cases of APP fraud reported in the United Kingdom. These cases, which totaled £101 million in losses, were reviewed under the provisions of the code. Of that total, £41.3 million, or 41 percent, was reimbursed to the consumer. My reading of the code makes it seem very subjective; it appears that if the victim didn't believe it was a scam at the time they initiated the payment, they should be reimbursed. The FCA documents concede that there isn't a specific checklist to make such a determination but that each case should be decided on an individual basis—a compliance official's worst nightmare.
In an effort to preempt an unauthorized APP from taking place, the United Kingdom's retail payment operator (Pay.UK) introduced its Confirmation of Payee

service in 2019. This service checks whether or not the payee name attached to the APP is the same name on the account receiving the payment. Originally mandated to be operational by July 2019, the deadline for adoption by the six major banks was extended to March 31, 2020. Then, because of the COVID-19 pandemic impact, the deadline was again extended, this time to June 30, 2020, although some of the big banks have already implemented the service.
As APPs gain popularity in the United States with faster payments and P2P services, what is the likelihood that similar protections will be extended to consumers here? Let us know what you think.
March 16, 2020
Are Emerging Payments More Vulnerable to Fraud?
Whenever I am in a conversation about new or emerging payment products or services, I invariably get asked whether I think they will attract heightened attention from criminals. My personal opinion is, "YES, at least initially!" Why do I have that opinion? The conventional wisdom is that criminals recognize that new payment systems are likely to have some security gaps in the beginning that can be exploited. There are a number of examples I can cite to support this position.
Consider the payment card enrollment process that accompanied the introduction of the Apple Pay wallet in late 2014. Whether it was a rush to get cardholders enrolled or because of loopholes in the Identification and Verification (ID&V) process, a number of the banks offering the service fell victim to fraud early on. Criminals enrolled a number of stolen credit and debit cards in the service and then were able to make high-dollar purchases because of weak verification controls. Some industry observers cited initial fraud losses in the 600

-to-800

-basis-point range at some of the early issuers. This rate compares to an overall in-person, payment card fraud rate of 12.2 basis points in 2015 cited in the Federal Reserve's Payments Study supplement Changes in U.S. Payments Fraud from 2012 to 2016. Fortunately, the affected banks reacted quickly and shored up their payment card enrollment processes.
Also consider the implementation of faster payments in the United Kingdom in 2008. As did other countries implementing faster payments, the United Kingdom tried to limit fraud by taking a measured approach. In the beginning, only credit push transactions with a maximum value of £10,000 (approximately $15,000) were eligible. (Most of the initial participating banks had lower limits.) In 2010, the maximum amount was raised to £100,000. Now the maximum limit is £250,000, although financial institutions may still set lower limits and differentiate between consumer and commercial account payments. My colleague Julius Weyman highlighted some of the fraud risks in faster payments in his 2016 working paper reviewing overall risks in faster payments schemes around the globe. He pointed to the 132 percent increase in online banking fraud the United Kingdom experienced in the year following implementation.
There is growing concern among consumers in the United States and the United Kingdom about the liability for authorized push payments—such as P2P payments—because of their near-real-time nature and their finality. In a future post, I'll examine this issue with authorized push payments and look at how the United Kingdom is dealing with it.
So circling back to my initial question, do you believe that the fraud rates for new and emerging payment products are likely to be higher than the more established payment products? Let us know what you think.
May 6, 2019
Business Email Compromise Moves Mainstream
The Retail Payments Risk Forum has blogged extensively on business email compromise (BEC) over the past few years. With losses attributed to BEC already in the billions of dollars and the number of attacks increasing over 475 percent
from fourth-quarter 2017 to fourth-quarter 2018, the topic warrants continued attention. As the "business email" part of the phrase suggests, businesses and executives of businesses have been the primary targets of this type of fraud. The goal of most of these incidents is to trick businesses into moving funds into the criminals' accounts using wire transfers.
When perpetrators of this fraud scheme experienced great success with businesses and executives as their primary targets, they quickly moved to include ordinary individuals. That is, the fraud has gone mainstream, evolving beyond businesses and executives with wire transfers as the key payment platform. As the scheme has begun to involve employees as victims and reached the person-to-person payment arena, fraudulent transactions are occurring more often using ACH, not just wire transfers. Since BEC is not just for businesses and their executives anymore, BEC is sometimes more aptly referred to as EAC—that is, email account compromise.
In April, CNBC reported
a new scheme whereby the fraudsters are targeting the human resources function of businesses to change employees' direct deposit payroll information to an account held by the fraudster. The fraudster either spoofs an employee's email account or gets access to it and then sends a message to human resources requesting a change to the banking account associated with their direct deposit. While the amounts fraudulently transferred in this scheme are generally well below those of the traditional BEC scheme, they are simple and cheap to execute and could become more attractive for criminals.
In more troubling news on this fraud scheme, the Association for Financial Professionals (AFP) reported
that the number of businesses reporting that they had been victims of actual or attempted fraud increased significantly for both ACH credit and debit transactions, while instances of fraud involving checks, cards, and wire transfers declined. And what could be the reason behind this increase in ACH fraud? According to a representative with the AFP, "a likely explanation for the higher fraud lies in the popularity of ACH…for schemes like business email fraud."
And as I mentioned earlier, fraudsters aren't limiting this scheme to businesses. In fact, I was a target of an EAC scam earlier this year when fraudsters took control of a relative's email account. But for a bit of good news (at least for me), I was immediately suspicious and a phone call to the relative confirmed that my gut feeling was accurate. This image is a screenshot of the text conversation I had with my "relative."
To piggyback on a recent post
by my colleague on using discipline to fight BEC: having the discipline to make a follow-up call to the person emailing a request for funds or a change to bank account information can make the difference between being a victim and being a spoiler.
How are you attacking this growing threat, and what are you doing to educate your employees and customers?